10 Best Color Pickers for Windows 10, 11 in 2023

You may use the color picker tools for Windows listed in this article to choose the perfect color shades for your artwork, website, or other projects.
The world is a color palette. All around us, there are numerous colors in their various shades. Apart from the 12 basic colors, there are innumerable variations of these hues, often it becomes challenging to recall them.
If you wish to make your artwork more aesthetically pleasing, you may use the right shade of color and a combination of colors to add to its attractiveness. However, accurately picking the right color from the spectrum of colors is quite difficult.
Hence, the best color picker for Windows comes in handy to help you identify various color shades precisely from any image or screen to use for your project. Let us move toward the same without any further ado.
List of the Best Color Pickers for Windows in 2023
The following are the best Windows 10 color pickers to help you select the right color and shade of color you may have seen previously on a picture, website, etc. to enhance the look of your project.
1. ColorPic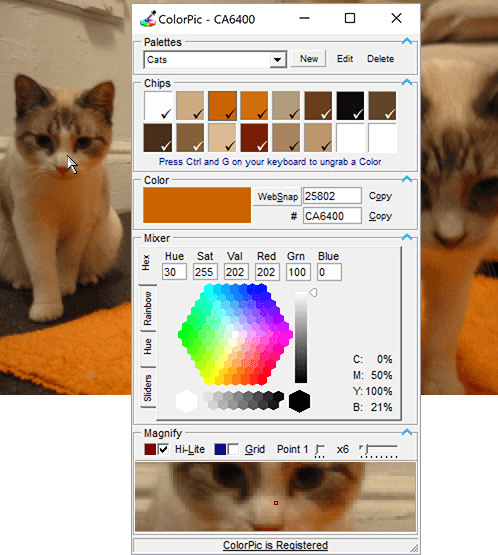 Made by Iconico, ColorPic is among the best color picker software for Windows 10. Web designers often use ColorPic to create stunning websites. You may use this software to point at and select any color on a high-resolution monitor.
Moreover, ColorPic allows you to use palettes of 16 colors at a single time. Furthermore, this software lets you adjust hue, saturation, blues, reds, and greens.
Additionally, there are four high-end color mixers to adjust colors, a magnification area you can resize, and usability with other programs.
Also Read: Best Graphic Design Software for Designers
---
2. Microsoft Free Color Picker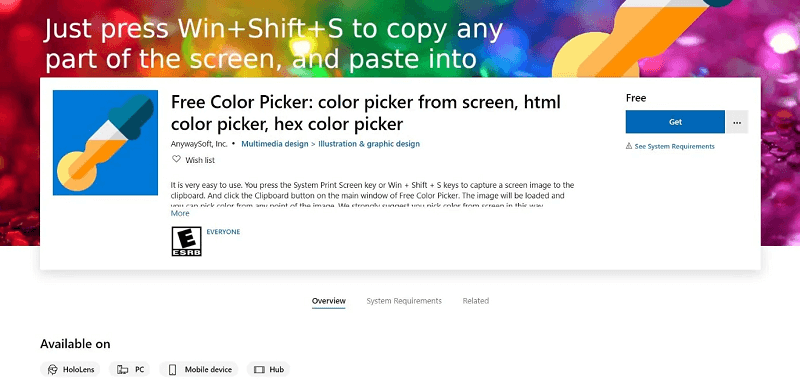 Windows 10 comes with an in-built Microsoft Free Color Picker you can use to select colors from a photo or a screen.
You can access this tool simply by pressing the Win+Shift+S shortcut keys to capture a screenshot and then using the main window's clipboard button to select your desired color.
Moreover, the best thing about this software which makes it one of the top screen color pickers for Windows 10 is that it lets you choose colors in CMYK, Hex, HTML, HSL, and RGB formats.
Furthermore, you can select an image through the screen capture tool, clipboard, or a disk's image file.
---
3. Just Color Picker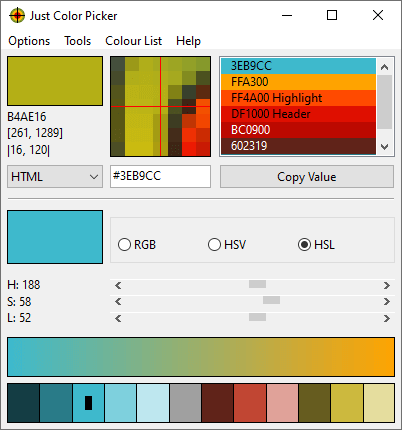 Let us now introduce you to Just Color Picker. It is yet another worth-downloading color picker for Windows 10. The application boasts a simple and clean interface that allows you to view the chosen color with the magnifier at all times.
Additionally, the application comes with support for over 10 color formats and you can choose from RGB, CMYK, HTML, HEX, etc. The software adds all chosen colors to the palette and lets you export or save them to use later.
Furthermore, with Just Color Picker, you can provide additional information about the selected colors through comments and adjust the colors through HSL, RGB, or HSV adjustments.
It is also worth noting that the software supports a gradient view to choose from a wide variety of colors, RYB, and RGB color wheels.
Also Read: Best Free Flowchart Software for Windows and Mac of All Time
---
4. Instant Color Picker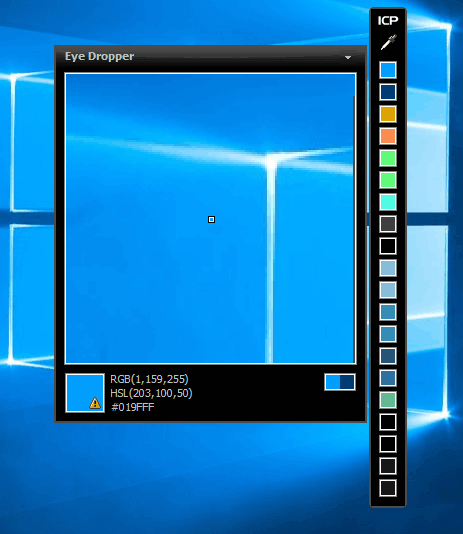 If you are looking for a color picker tool for Windows 10 with a visually appealing and modern UI, you can choose Instant Color Picker. You may click on any color and select it effortlessly using this tool.
In addition to it, there is a magnifier to zoom 8x to easily view the color code even before selecting the color. As far as color sampling is concerned, you get 5×5 or 3×3 single-pixel sampling.
Moreover, there are 20 colors in every palette, you can click on saved colors to view more details about them. These details consist of color variations and codes.
Furthermore, the software lets you adjust the selected color's saturation/lighting. Additionally, there is support for keyboard shortcuts and formats like RGB, CMYK, HSV, HSL, ActionScript, Hex, HTML, Delphi, VB, and VC++ color formats.
---
5. CP1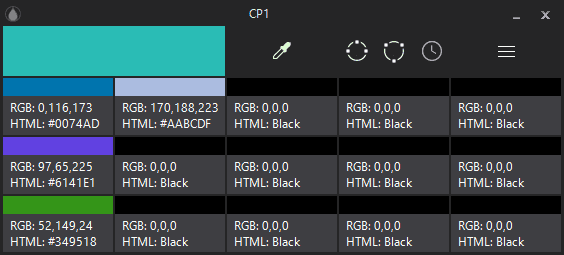 Next, we have CP1 on our list of the best color pickers for Windows 10. It boasts a simple and modern interface that even amateur users can use effortlessly. To copy a color code with this software, you only need to select it.
Moreover, the application supports HTML hexadecimal and RGB formats, along with a magnifier for precise color selection. Furthermore, there are wide and narrow color palettes to get various shades of the chosen color.
Additionally, CP1 also comes with a history palette to save all your chosen colors and an option to export the color palette or save it as a .json or .txt file.
---
6. Pixie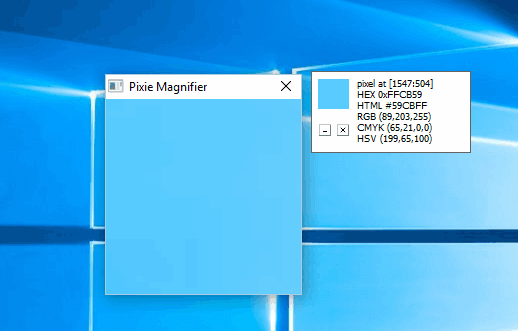 Let us now take a look at Pixie. It is yet another wonderful color picker tool for Windows 10. It is a simple application with a variety of features, such as shortcut support for color picking.
On the main window, you can view HSV, HEX, CMYK, and RGB color codes of the presently chosen color. You should note that Pixie allows you to use the chosen color in any application by simply copying the color's hex value through the shortcut key. Additionally, there is a magnifier to make color selection easier.
---
7. ColorPix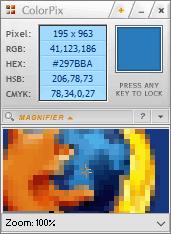 It is impossible to skip ColorPix when discussing the best color pickers for Windows. The software boasts a magnifier that zooms up to 1600% to help you choose the desired color effortlessly.
Moreover, this easy-to-use application lets you choose a color by hovering over the desired color and pressing any keyboard key. After selecting the color, you can view and copy its HEX, CMYK, HSB, and RGB codes to use the color in any application.
Also Read: Best Free Drawing Software/Programs For Windows
---
8. GetColor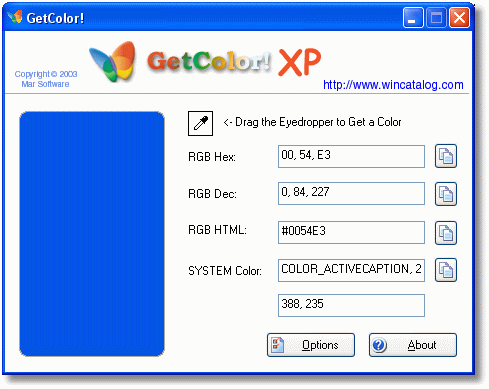 Next, we have GetColor as the best Windows 10 color picker. With this simple and easy-to-use application, you can select a particular color using the drag-and-drop tool.
After selecting the color, you may effortlessly copy the color's code to the clipboard and use it in another application. Talking about the format, GetColor supports colors in RGB HTML, RGB Hex, and RGB Decimal formats.
Additionally, this application lets you preview the chosen color, adding to the reasons GetColor is a popular screen color picker for Windows 10.
---
9. Color Cop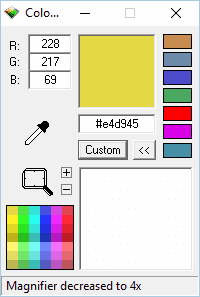 We have Color Cop in the second last position on this list of the best color pickers for Windows 10. It comes with a beginner-friendly interface and a drag-and-drop tool to help you select colors.
Moreover, there is an in-built magnifier that lets you choose any color you wish with accuracy. Furthermore, Color Cop boasts 16x zoom support, automatic copying of the selected color code, web-safe colors, and a color mixer.
As far as color codes are concerned, Color Cop comes with support for Delphi hex, HTML hex, and six other formats. And for sampling, you get 5x5px, 3x3px, and 1px options.
---
10. Hex Color Finder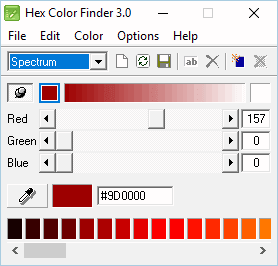 Lastly, we would like to introduce you to Hex Color Finder. It is among the most downloaded color pickers for Windows 10 due to its simple UI and drag-and-drop color selection.
Moreover, Hex Color Finders lets you effortlessly adjust the red, blue, or green amount after picking a color. Furthermore, there is a gradient that allows you to select from a wide range of colors.
Additionally, you get a color palette to store over 30 colors for future use, preset creation for switching between various palettes with one click, and many color customization options.
Also Read: Best Canva Alternatives for Graphic Design
---
Concluding the Best Color Pickers for Windows
In this article, we listed the top Windows 10 color pickers. You may go through the above list and choose the one that perfectly fits your requirements.
If you have any suggestions, questions, or confusion, you may contact us anytime through the comments section. We will return soon with another useful article, until then you may read our other posts to dive deeper into technology.
Niharika is a passionate soul who finds immense satisfaction in putting all her thoughts in writing. Being a technology enthusiast, she loves learning new things about tech and making everyone technologically literate through her articles. When not composing tech articles, you can find her bringing characters to life in her fictional stories, reading something intriguing, or spending time with her near and dear ones.
Subscribe to Our
Newsletter

and stay informed

Keep yourself updated with the latest technology and trends with TechPout.
Related Posts