8 Best Celebrity Look Alike App | Find What Celebrity Do You Look Like
Published Date :
May 03, 2022

If you are searching for the best celebrity look-alike apps, then your search ends here. This article highlights 8 celebrity filter apps that you can consider. Read an entire post for more information. 
Nowadays, in day-to-day life, the most common addiction among all generations is a mobile phone, and social media applications like Twitter, Facebook, Instagram, and Snapchat. Capturing pictures and uploading them along with the location with family and friends are improving daily. In the USA, almost 246 million people used social media platforms for the same purpose in 2020. This figure is set to boost to 267 million in 2023. People are showing tremendous interest in taking selfies and it is settling the entertainment at a great space.
In the technological realm, there are a plethora of applications, providing a decent amount of innovative features that enrich the performance of the user experience to a great extent. Face recognition apps are not an exception. Such apps generally use a special algorithm to detect popular celebrities and tell people which celebrity they resemble. The millennials are crazy as they are stunned by the concept of reaching out to their doppelgangers. For installing such apps no special permissions are required. In addition, there are a lot of people who are eager to know 'what celebrity do I look like', or which popular celebrity looks like me?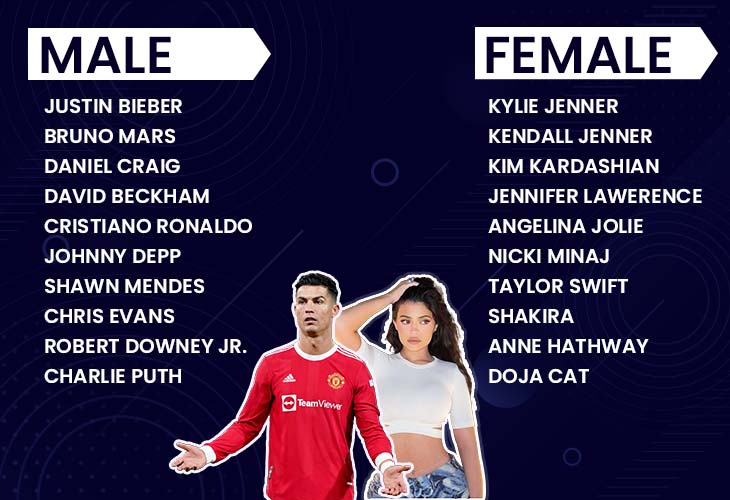 Do you also want to find out your doppelganger? Then, you must be aware of the concept of celebrity filter apps. After reading this article, you will know exactly how to find the best celebrity look alike apps in 2022 for both Android and iOS devices.
Know about: Best Funny Faces Apps for iPhone and Android
8 Best Celebrity Look Alike Apps You can Try in 2022
Get your celebrity look-alikes application from the table shown below which contains, pricing and prominent features of the apps, to make selecting the app pretty easier & quicker for you.
| Name of The App | Supported OS  | Pricing  | Exceptional Features  |
| --- | --- | --- | --- |
| Gradient | Android & iOS | $4.99 Per Week | Amazing AI portraits, Default doppelganger feature |
| Star By Face | Android & iOS | Free | Good collection of celebrities, User-friendly interface with advanced machine learning technology |
| Celebs | Android & iOS | $4.99 Per Week | AI-based face recognition technology, Quick navigation |
| My Replika | Android & iOS | Free | In-built image editor, Great accuracy |
| Y Star | Android & iOS | Free | Generates stunning images, Supports high definition photos |
1. Gradient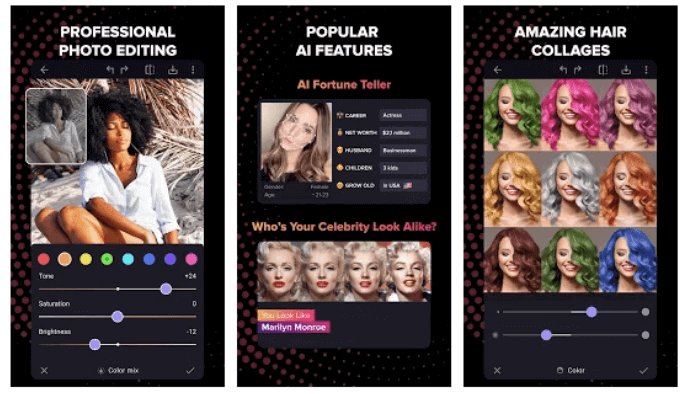 Powered by artificial intelligence, the first app on this list is Gradient which gives you magnificent features and an effortless user experience. The combination of AI and advanced techniques takes the users into an excellent experience. Users' data safety is the main goal of this photo editing app. This top-class celebrity filter app contains a lot of unique and innovative features. The doppelganger feature of this application lets the users just upload their images and wait for a while until the interface comes up with a potential celebrity match that resembles them at least a bit.
Key Features of Gradient:
It has an in-built doppelganger feature.
Packed with tons of handcrafted textures and filters to thoroughly transform the image.
Extraordinary AI portraits.
Great estimation of beauty score with AI technology.
Sharing images with family and friends is very easy.
Amazing hair collages.
---
2. Star By Face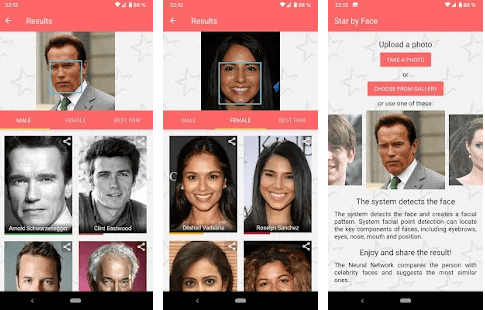 As its name suggests, Star By Face is an app that renders an image that is identical as the celebrity faces. This celebrity look alike filter app uses smart facial recognition technology to detect the facial data as the user uploads an image. The application is available on both Google Play Store and App Store. The app is well-known for offering great data protection. Moreover, the app does not save any pictures unless it is uploaded by other means.
Key Features of Star By Face:
Free download option is available.
Has a good collection of popular celebrities.
User-friendly interface.
Multilingual support.
Automatically detects the face and frames a facial pattern accordingly.
---
3. Celebs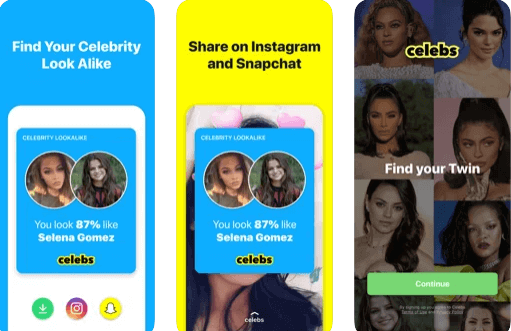 Using this application you can find your celebrity look alike in no time. Celebs is one of the most installed celebrity look alike applications in the niche of editing and photography. This tool is equipped with the latest and advanced machine learning to explore your celebrity twin.
Its smart facial recognition algorithm renders the best-ever experience. All you need to do is – just take a photo of yours and Celebs will exactly show up with your celebrity match. With the help of this application, you can even directly share the results with your friends on different social networks like Snapchat and Instagram.
Key Features of Celebs:
Completely free to users.
Detection of the best celebrity faces that resemble.
Uses advanced filters and face recognition technology.
Allows you directly share results on Snapchat and Instagram.
Easy to use and quick access.
---
4. My Replika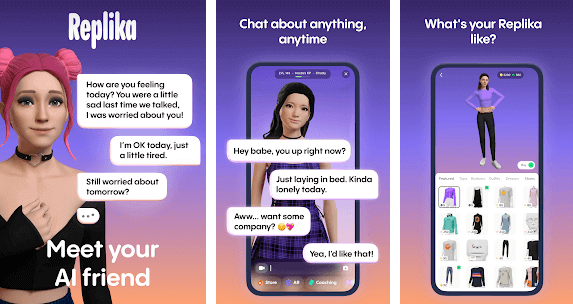 My Replika is an excellent application, especially for individuals who love to add a professional touch to their pictures. The app offers tons of filters that are capable of making the picture look like a real one. By using this application, you can discover exactly what celebrity do I look like. Not only that, but you can also edit your photos using this app. It is a top-notch chatbot companion powered by AI. It has a huge collection of popular personalities & celebrities from a wide range of backgrounds & industries including fashion, politics, music, history, education, leaders, entertainment, sports, business, and more.
Key Features of My Replika:
Highly advanced machine learning technology for image editing.
Easy to use in order to explore your celebrity doppelganger.
Good and accurate results.
Allows you to share the edited photos on numerous social media platforms such as WhatsApp, Facebook, Instagram, and more.
Know about: Best Photo To Cartoon Picture Apps For Android & iOS
---
5. Y Star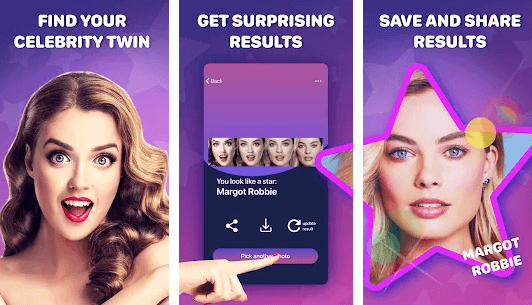 Another best celebrity look alike app on this list is Y Star. The app helps you find your celebrity twin within a few seconds. Accessing this application is as simple as accessing the camera of your mobile phone. All you need to do is – simply capture a photo with a Y Star camera and wait for the app to scan the facial features and find the celebrity match from millions. The app uses numerous facial points incorporating nose, eyes, mouth and etc, for making a suitable face map and locating the ideal celebrity match.
Key Features of Y Star:
Supports even high-definition pictures.
Generates attractive and stunning pictures for users.
Finds the perfect celebrity twin based on several facial points.
Save and share results with your friends through social media like Twitter, Instagram, Facebook, and more.
---
6. Facer – Celebrity You Look Like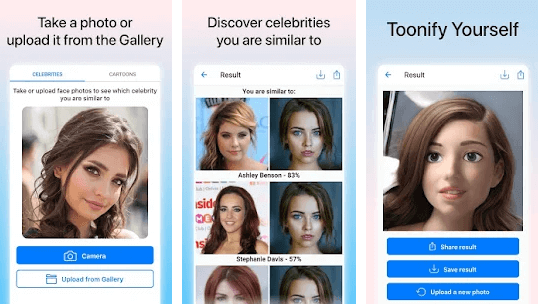 Nowadays, the Facer app is immensely popular among users. It offers a wide range of features and a selection when it comes to finding an exact celebrity twin. It possesses a huge database of superstars' and celebrities' photos, covering more than 1000 renowned faces.
Like other celebrity looks like apps, it matches you with three celebrities, showing a similarity percentage alongside each match. Enabling you to save, edit and share the result along with a lot of tweaks and filters, incorporating a cartoon feature, in order to turn your face into any cartoon or animated character.
Key Features of Facer:
Offers 3 celebrities with whom people have the maximum likeness.
Unique and powerful database with photos of popular celebrities & persons (including, athletes, politicians, bloggers, actors, musicians, etc).
100% free to use.
Shows result with similarity percentage.
AI-based face recognition.
---
7. Celeb Twin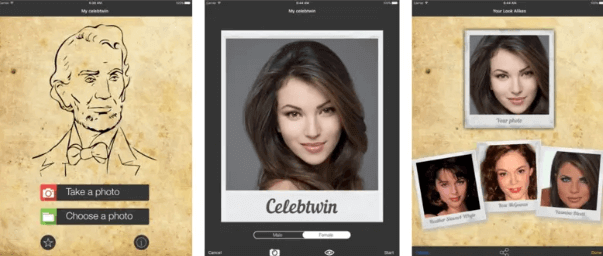 Celeb Twin is another celebrity look alike finder application and is specifically available for iOS devices. In addition to this, the app has numerous innovative and robust features that are similar to other celebrity look alike applications mentioned on this list. Using this tool, you can detect your star doppelganger in no time.
However, unlike others, Celeb Twin provides you with not just a single, but three similar celebrities that resemble the uploaded picture. Apart from that, the app also lets users specify sex.
Key Features of Celeb Twin:
Automatic face recognition and location.
You can even share results with your friends via social networks like Facebook, Instagram, and more.
Simple and quick navigation.
Provides three similar celebrity matches.
---
8. Looky – Celebrity Look Alike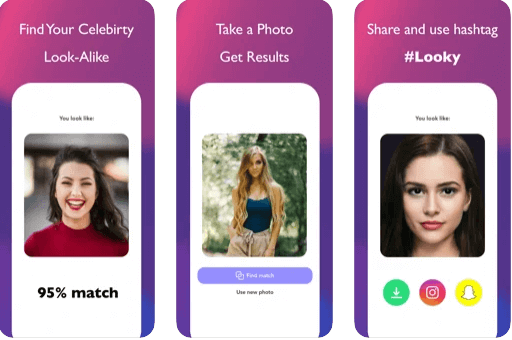 Last but not least, Looky, is an excellent celebrity look alike app for iPhone users. It is a lightweight tool and is extremely simple to use. People need to capture selfies directly from the app. Then, wait for the server to search for the results and display the matches. If you are satisfied with the results, then you can proceed with another attempt. The user-friendly interface and simplicity of the application have made it so popular among users all over the world.
Key Features of Looky:
You can share your match on Twitter, Facebook, and iMessage.
Uses the best machine learning algorithms to detect your celebrity twin.
Simple and quick navigation.
Good results with high accuracy.
Know About:  Best Apps To Blur Photo Background On Android & iOS
---
Closing Words: Best Celebrity Look-Alike Apps for Android & iOS
After reading this blog, if you are looking for a celebrity look-alike app, then we boast powerful skills in finding the perfect app for you. We have above mentioned 8 best applications that can help you reach out to your celeb look alike.
If you have any sort of confusion or doubts regarding the concept we have discussed above, then you can tell us through the comments section below. Not only that but if you have any better recommendations, then drop them in the comments.
Lastly, for reading more informative articles related to technology, do subscribe to our Newsletter. Along with this, you can also follow us on Facebook, Twitter, Instagram, and Pinterest.
Harshita Sharma is a technical writer with quite a distinct understanding of the tech realm. She is a tech enthusiast who believes that tech knowledge should reach one and all and tries to convert the sketchy knowledge into the simplest possible form for making people understand the tech world better. When not playing with words, she loves to travel and explore new places. And, is a coffee & cricket connoisseur.
Subscribe to Our
Newsletter

and stay informed

Keep yourself updated with the latest technology and trends with TechPout.
Related Posts