Why Satellite Technologies Will Become The Next Competitive Advantage For Telecom Operator
Published Date :
Mar 30, 2023

EOS Data Analytics is about to make sat tech much more appealing for telecom companies targeting agriculture industries.
Inflationary pressure, consumer market saturation, and limited average revenue per user force modern telecommunication companies to consider transformation and seek new growth opportunities.
One way for that is to take advantage of new technologies by deploying 5G/6G, building private networks for businesses, and promoting IoT solutions in industries like agriculture, mining, or fleet management.  The other, more prevailing way is to seek partnerships with enterprises and generate more profit from the existing infrastructure assets.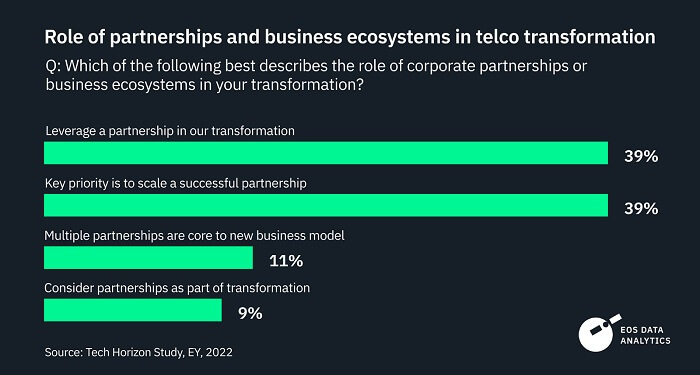 Considering the climate change problem and activists' pressure to improve the businesses' environmental sustainability, the most promising industry where telecommunication companies can make a disruptive impact next is agriculture, with its trend of smart farming tools requiring wide network coverage and massive amounts of data to be exchanged on a daily basis.
However, instead of investing in the expansion of the IoT-enabled telecommunication networks, such businesses can find satellite technology partners and offer their solutions to existing enterprise companies and governments. And here's what it looks like.
How remote sensing companies help telecom businesses enter the farming market
The agriculture industry currently takes the most out of the digital revolution: modern software solutions help farmers and agribusinesses monitor their fields, evaluate crop vegetation, analyze weather data, perform precision scouting, manage farmers, and, ultimately, forecast yields.
For that, sat tech companies leverage the imagery received from commercial satellites in low Earth orbit. To provide accurate analytics out of the retrieved photos, such businesses utilize technologies like artificial intelligence, machine learning, and deep neural network modeling.
"No matter how sophisticated the technologies behind these solutions are, in the end, the user opens a web page or a mobile app of the field management solution to see actionable and up-to-date insights on their crops in an easy-to-use and intuitive interface. And this is what telecom operators can offer to their existing business clients within a week or two after partnering with a satellite technology company like EOSDA," says Brijesh Thoppil, Strategic Partnerships Lead at EOS Data Analytics.
How EOS Data Analytics helps telecom businesses enter agriculture
EOS Data Analytics, a global provider of AI-powered satellite imagery analytics, has been working with telecom companies acting as an intermediary between farmers and the latest agriculture technologies. In 2022 alone, it partnered with REDtone to power up the agriculture industry in Malaysia, and in Zimbabwe, TelOne assists governments and businesses with EOSDA solutions to drive a long-term vision of improving the agriculture sector in the country with innovation and modernization.
When considering the agriculture industry, telecom operators can select one of four ways to take advantage of analytics provided by EOSDA:
1.   Getting the EOSDA Crop Monitoring subscription
EOSDA Crop Monitoring is the leading platform of the company providing up-to-date info on things like soil moisture, plant vegetation, state of the water resources, and weather conditions. It also helps keep track of the users' fields and manage their scouts in case they need to study the fields on the ground often. With EOSDA Crop Monitoring, farmers get actionable and timely insights on how to treat their crops to achieve the highest yield with fewer resources.
Telecom companies can get a yearly subscription to access the platform and distribute this access to their clients. The subscription cost depends on the expected total size of the fields to be monitored within the required period.
Also know: How to Make A Virtual Satellite Online
2.   Reselling EOSDA Crop Monitoring as a white-label solution
In the case when telecommunication businesses want to have customized functionality and visual appearance of the Crop Monitoring platform and resell it under their own brand, the white label solution is available. The partnership and product team at EOS Data Analytics will assist in adjusting the software to the stated needs and will deploy it in a defined timeline.
Depending on the customization requirements and functionality needed, the delivery of a white-label solution can take from four to ten weeks.
3.   Custom EOSDA solutions
Since the agriculture market consists of many different industry players – input suppliers, insurance providers, food producers, agritech developers, and more – many of them have specific problems that can be addressed with EOSDA's custom solutions.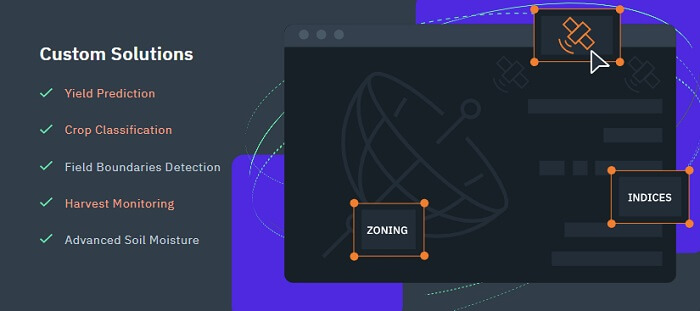 For instance, the company's crop classification will fit perfectly for governmental and environmental entities wanting to keep track of the general state of agriculture in the desired region.
Telecom operators can suggest banking and insurance companies EOSDA's crop yield prediction custom solution to help them evaluate the risks of new farming ventures and make data-driven decisions on loans and benefit payments.
Similarly, harvest monitoring and soil moisture also address the needs of specific agribusinesses and might be of interest to telecom companies targeting certain clientele.
4.   API integration
If a telecom company has already developed or plans to develop its own solution for smart agriculture, it might supplement it with EOSDA's data and analytics through API integration. This way, telecommunication businesses obtain more flexibility with what they can offer to their clients.

With API, partners get access to both current and historical satellite imagery and weather data, as well as any kind of analytics provided within the EOS Crop Monitoring platform.
Also know: Best Graph Databases in 2023
---
The Future of AgriTech for Telecom
Leveraging agritech solutions not only opens telecom operators new B2B growth opportunities, but also offers them ways to assist governments with their sustainability goals, fight climate change, and, ultimately, make the Earth a better place to live. And this approach perfectly fits the vision of EOS Data Analytics to make space tech a global driver of sustainability on Earth.
And just like the telecom industry strives to improve the coverage and quality of service, the agritech also keeps evolving. The most important indicator here is analytics accuracy. Currently, sat tech companies rely on the data provided by third-party satellites to supply their analytics, which often makes businesses dependable on the quality, regularity, and type of imagery they get.
In January 2023, EOS Data Analytics became the first company among remote sensing businesses to launch its own agriculture-oriented satellite into low Earth orbit. It's the first out of seven satellites of the EOS SAT constellation aimed to help the company cover up to 12 million square kilometers per day and reach unrivaled accuracy of the insights provided to its clients.
In the next few years, EOS Data Analytics won't be alone with its constellation in the market. And it's a matter of time before telecom operators start conquering and gaining a competitive edge in the agriculture industry by having a partner with its own satellites in space.
Remy is a technical writer at TechPout. Being an IT enthusiast, he inclines to write about contemporary technology and growing security for machines. One steadfast follower of Baseball, Remy is an active social worker and a gastronome.
Subscribe to Our
Newsletter

and stay informed

Keep yourself updated with the latest technology and trends with TechPout.
Related Posts