How To Download and Update Yamaha USB Midi Driver

Read this article to know the best methods to download, install and update the Yamaha USB Midi Driver on Windows PC.
You can record high-quality sound directly into your laptop or personal computer if you have a Yamaha Midi, which is an audio recording device. Even if you do not have a high-priced recorder, it will nonetheless provide you with the highest possible sound quality. You will be able to obtain a recording that is of professional quality as long as you connect it to a computer running Windows. Most of the time, it performs quite well.
However, there was a possibility that it would experience problems, such as the sound cutting out when you played back the audio. Outdated USB drivers i.e. Yamaha Midi is a significant contributor to this problem. To simplify the process and resolve the problem, you should make it a habit to regularly check for and install any available driver updates. Check out this post and experiment with the various methods presented to update the driver for your Yamaha Midi audio driver so that you can ensure that it is operating at its highest possible capacity.
How to Download, Install, and Update the Yamaha USB Midi Driver for Windows PC
You are free to use any of the approaches detailed below in order to successfully complete the download of the Yamaha USB Midi Driver for Windows.
Method 1: Manually Download the Yamaha USB Midi Driver from Official Site
To obtain the most recent and fully compatible driver for Yamaha Midi, you can visit the official website of  Yamaha. To manually install Yamaha Midi drivers, you will need to have a significant amount of time and expertise in a certain technical field. To update your USB drivers using this method, follow the steps below:
Step 1: Visit the official site of Yamaha.
Step 2: At this point, download the driver's archive file (which will be a zip file), and then unzip that archive file. After that, launch the program that will set everything up.
To successfully complete the installation, it is necessary for you to follow the instructions that appear on your screen. After that is complete, you will need to restart your computer and then connect the device to your system using a USB cord.
---
Method 2: Update Yamaha USB Midi Driver in Device Manager
Downloading the Yamaha USB Midi Driver for Windows 10 is also possible with the use of the Device Manager. To use this method, all you have to do is follow the procedures that are outlined below:
Step 1: On your keyboard, simultaneously press the Windows key + X key. After taking this step, a menu of available choices will appear on your screen. To access the Device Manager, select it from the list of available options.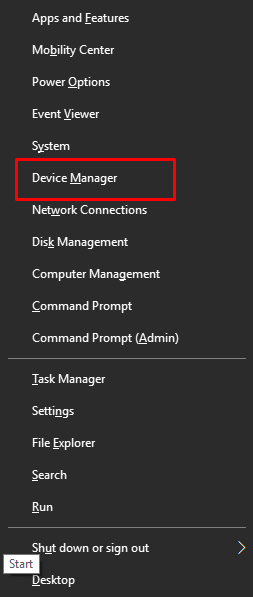 Step 2: Within the window for the Device Manager, check for the categories labeled "Sound, video, and game controllers." After that, expand the category by double-clicking on the same.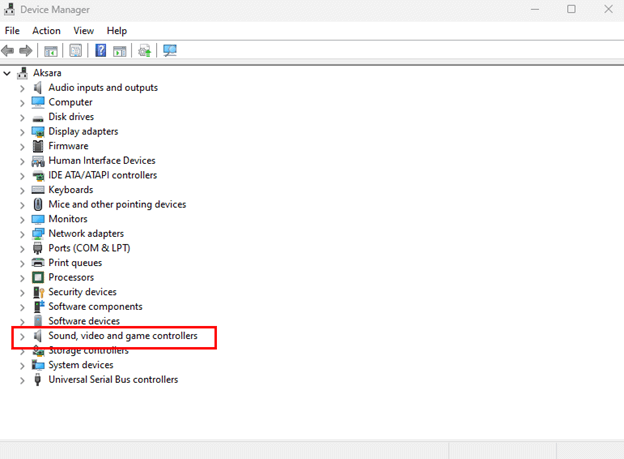 Step 3: To update the driver software for your Yamaha USB Midi Driver, right-click on the driver and select "Update Driver Software" from the context menu that appears.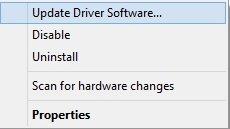 Step 4: You will need to select the option to Search automatically for updated driver software when prompted again.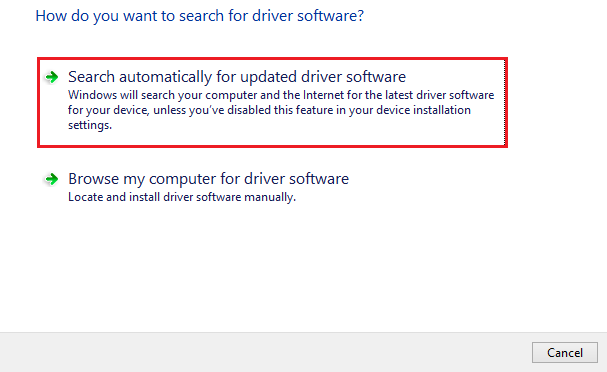 You must now wait while the Device Manager searches for and installs the most recent update for the Yamaha USB Midi Driver that is compatible with your operating system. And once you've finished with everything, you'll need to restart your computer in order to save the modifications you've made recently.
---
Method 3: Use Bit Driver Updater to Automatically Install Yamaha USB Midi Driver (Recommended)
If you find that manually downloading and installing drivers is an inconvenience for you, then you may have the most recent versions of all of your device's drivers automatically installed on your device by utilizing the best driver updater application available, such as Bit Driver Updater.
Bit Driver Updater is one of the simplest and quickest ways to replace all broken drivers with just two clicks of the mouse, making it one of the easiest and most convenient options available. Not only that, but with the assistance of this driver upgrading program, you can also solve other problems associated with Windows, such as a decrease in overall performance, errors that appear on the blue screen, and more.
You have the option of using either the free version or the paid edition of Bit Driver Updater in order to get your drivers up to date. It only takes one click to bring all of the outdated drivers up to date with the pro version. You also get technical help available around the clock as well as a money-back guarantee that is valid for sixty days.
The following is a guide that will show you how to update the Yamaha USB Midi Driver using Bit Driver Updater:
Step 1: The first thing you need to do is click on the icon down below to get Bit Driver Updater.

Step 2: To finalize the procedure, run the setup file and then follow the instructions provided by the installation wizard.
Step 3: Once installation is complete, start Bit Driver Updater on your computer and select the Scan option from the menu on the left.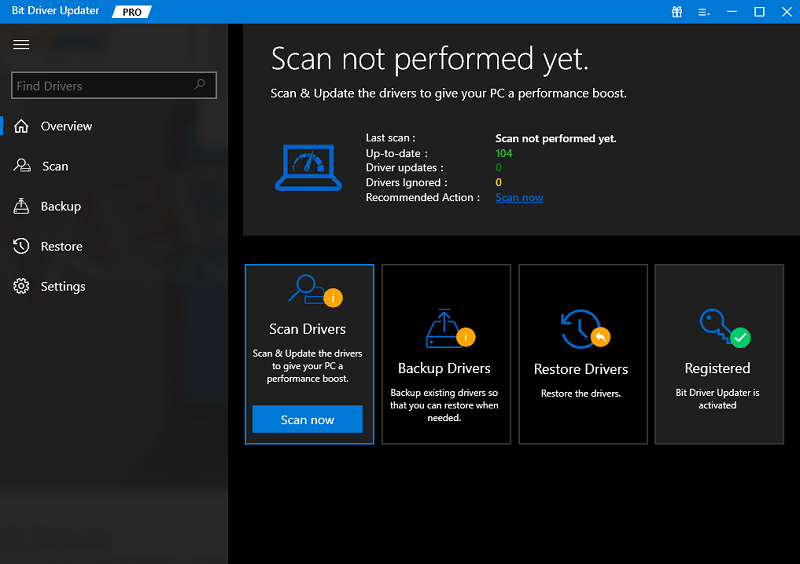 Step 4: Wait till the scanning process is complete. After that, review the results of the scan, and then select the Update All button to install the most recent version of all of the PC's drivers with a single click. If you are utilizing the free version of Bit Driver Updater, then you will need to click on the Update Now button that is located next to the driver that you want to update.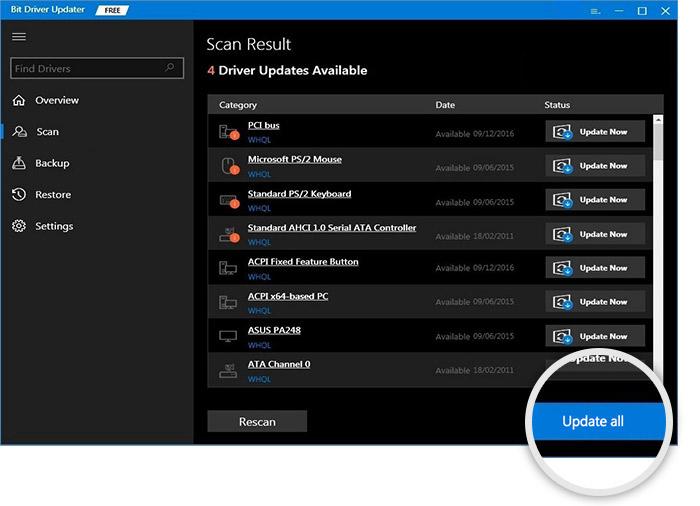 You can now restart your computer to allow the newly installed drivers to take effect and get it working properly.
---
How to Download & Update Yamaha USB Midi Driver: Explained
The steps outlined above were some simple and effective ways to download, install, and update the Yamaha USB Midi Drivers on a Windows PC. We hope that this installation guide for drivers will assist you in locating the appropriate driver for your device.
If you have any questions, concerns, or additional recommendations regarding the same, we would appreciate it if you could let us know. Do subscribe to our Newsletter and follow us on Facebook, Twitter, Instagram, and Pinterest for more in-depth information on the technical aspects of our products.
Harshita Sharma is a technical writer with quite a distinct understanding of the tech realm. She is a tech enthusiast who believes that tech knowledge should reach one and all and tries to convert the sketchy knowledge into the simplest possible form for making people understand the tech world better. When not playing with words, she loves to travel and explore new places. And, is a coffee & cricket connoisseur.
Subscribe to Our
Newsletter

and stay informed

Keep yourself updated with the latest technology and trends with TechPout.
Related Posts