Looking at today's picture, it is clearly evident how WhatsApp has become a chat giant and it is impossible to imagine effective communication without this platform. It has become the most used messaging app in the world and is quite an instant tool when one wants to drop a text.
Apart from the messaging with tons of emojis and GIFs, WhatsApp offers other handy features like individual audio and video calling, group voice and video calling and file sharing. Most people like to keep the WhatsApp accounts for professional and personal purposes separate. It helps them maintain different chats well and lead the effective management.
You can easily install WhatsApp Business application on your phone and sign up with your phone number to keep a separate account for professional purposes. However, if you wish to maintain multiple accounts on WhatsApp, then this section will help you out. You will find how to use two accounts on WhatsApp when you have more than one number. Let's get started.
How To Use Two WhatsApp Accounts On One Smartphone
Users can make calls, messages and operate different tasks using different SIM in a dual SIM smartphone. When it comes to using two WhatsApp accounts on a Dual SIM phone, things become a bit tricky. While it is not a straightforward process to use different WhatsApp accounts on one smartphone, know that it is not impossible.
You can use two WhatsApp accounts on your smartphone and manage communication for different purposes from one device. Before beginning with the process, it is recommended to own a dual SIM smartphone so that your phone number can be identified via a SMS or call easily on your phone and you can easily get started with the sign-up for your WhatsApp account.
There are third-party clone tools that allow you to access two accounts on one phone. Here are the clone apps that you can try out if you want to use two accounts on WhatsApp on a single phone.
1. Parallel Space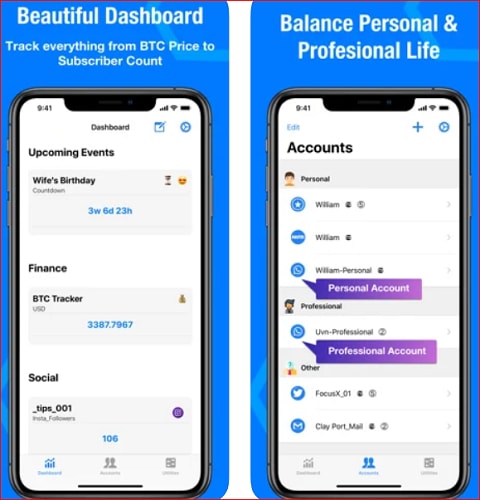 Available: Android & iPhone
Parallel Space is one of the best clone apps that offers you to use multiple accounts for WhatsApp and other social media platforms using one smartphone. You will be able to set up multiple accounts and switch between them in one tap. It boasts providing ad-free operations and lets users access the functionality securely using the security lock feature.
Also Read: Best WhatsApp Sticker Apps For Android and iPhone
On the top, it comes with a simple, clean and neatly designed interface which makes it easy for users to navigate the app. If you are looking for a way to use two accounts for WhatsApp on one phone, you can give this clone app a shot.
---
2. Dual Apps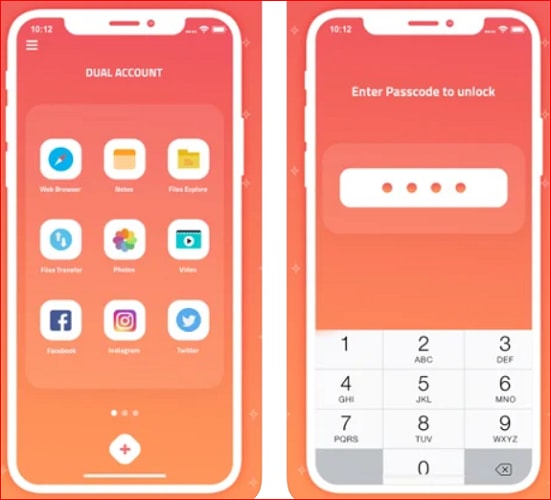 Availability: Android & iPhone
Dual Apps is yet another best clone app on the list that you check out if you are willing to maintain two WhatsApp accounts separately on your Dual SIM smartphone. You can use dual accounts using this app on one smartphone. Apart from WhatsApp, you can use Facebook, Instagram and other such apps. Besides, it allows you access to different accounts privately.
This clone app supports 20 apps which you can use to set up multiple accounts on your phone. Fortunately, it has a simple and neat interface so you won't find any hassle commencing the operations on this app.
---
3. Super Clone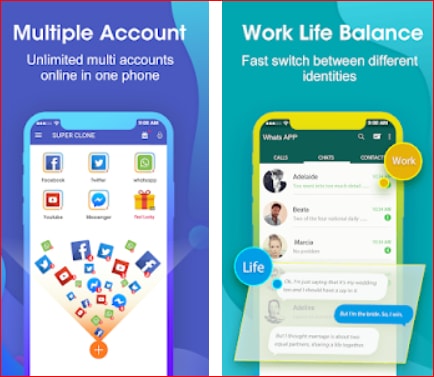 Also Read: How To Send Message To Someone On WhatsApp
If you are an Android user and looking for the best way to use two WhatsApp accounts on your smartphone, then you can try using Super Clone. This clean and easy-to-use clone app allows you to manage two or more accounts on social media and gaming apps.
You can seamlessly switch between multiple WhatsApp accounts using this clone app that also provides private navigation with a locker feature. You can give this one a shot if you wish to use two or more WhatsApp accounts on your phone.
---
Wrapping-Up
There you learned how you can use two WhatsApp accounts on your smartphone. While you can install WhatsApp Business app in order to manage your professional account, any strong clone app will help you manage more than two accounts from one smartphone. Was this section helpful? Let us know by writing in the comment section.
Jyotsana is a technical writer with a non-technical background. An eye of detail and a knack for writing helps her to write technology related content.Apart from writing, she is a coffee connoisseur and an aesthete who rejoices in poetry and music during leisure.
Subscribe to Our
Newsletter

and stay informed

Keep yourself updated with the latest technology and trends with TechPout.
Related Posts