How to Update AMD Drivers on Windows 10,11

Hola! readers, today we've brought the effective ways to update AMD Drivers within just a few minutes!
AMD, Advanced Micro Devices, is a well-known worldwide company that assembles computer peripherals from microprocessors to graphic cards. And, do you know that to set up the connection between the AMD hardware and the operating system of your windows you need a bit piece of software that is encoded in low-level machine language. That bit piece of software is known as Drivers which ensures the speedy performance of your system and continuously works to enhance the accuracy of the system. So, through this write-up, we've tried to educate you about how you can update AMD drivers on your Windows 10 machine. But, before you jump onto the methods, we want to make you understand the necessity to update AMD drivers. Switch to the next section to scratch this!
Why Do You Need to Update AMD Drivers?
If you are a newbie then you must have surely thought about this query, well, no worries, here is your answer! If you want to maintain the accuracy and efficiency rate of your system, or even while playing high-end games. Then, you must make sure that your graphics card driver should be associated with the most recent drivers. Outdated AMD graphics card drivers could result in various causes including frequent shutdowns, monitor issues, yellow screen issues, BSOD issues, and many more. Hence, always keep your drivers up-to-date. Now, without any further ado, let's jump onto our next section that explains ideal ways to update AMD Drivers on windows 10. 
---
How To Update AMD Drivers On Windows 10
Below are the easiest ways to update AMD drivers on Windows 10. You don't need to try all, just choose the appropriate one!

#1 Download & Update AMD Drivers via Official Support Website
One of the most convenient and reliable source to update AMD Graphics driver on Windows 10 is – AMD official website. Though it requires the user's manual touch as well, it is worthwhile. So, if you want to update AMD drivers via the official AMD website then follow the below-shared steps!
Step 1:- Go to the official AMD website.
Step 2:- Thereafter, choose and input the information of the graphics card that you want to update and install.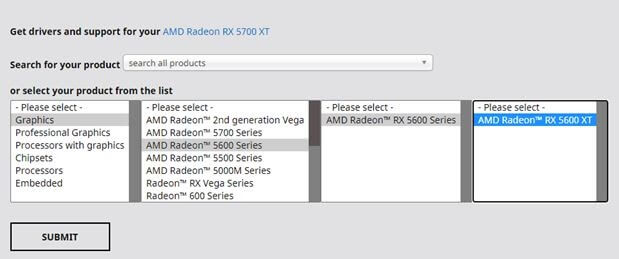 Step 3:- Then, below you'll found the Submit button click on it. 
Step 4:- Now, choose the correct version of your Windows OS.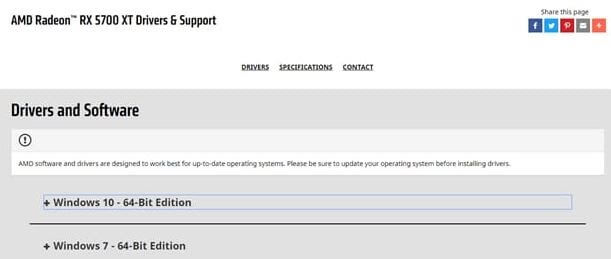 Step 5:- Validate the entire driver details carefully, and thereafter click on the Download tab to download, install, and update AMD graphics driver. 
That is it! You need to do to update and install the AMD graphics driver using AMD's official website. If you want to save much time of yours then go ahead to know the shortest method to perform the same task. 
Read Also: Download AMD Ryzen 3 2200G Drivers For Windows 10
---
#2 Update & Install AMD Drivers via Windows Update
To update & install AMD drivers you can also use Windows Updated. Here's what you can do is to implement this method.
Step 1:- Click on the Start button.
Step 2:- Then, switch to the Settings options.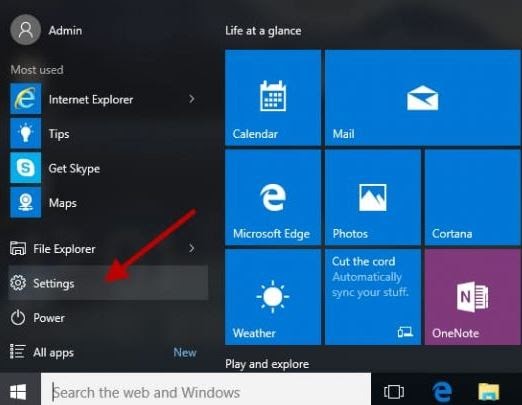 Step 3:- After this, locate the Update & Security option and click on it.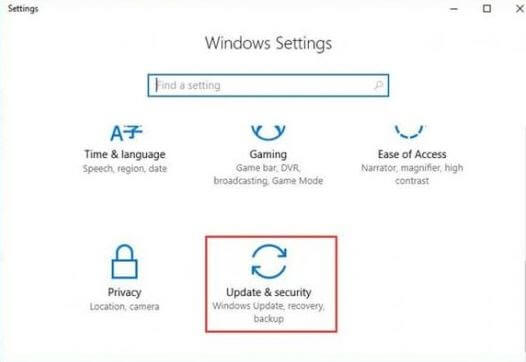 Step 4:- Then, click on the Check for Updates option and wait for a while when Windows scan for the newly available updates. 
If there are any new updates then, Windows will update & install it automatically. And, keep in mind to reboot your computer to save new changes. So, that is how you can easily get new AMD drivers by performing Windows updates. 
Read More: Download HP Webcam Drivers for Windows 10, 8, 7
---
#3 Update AMD Drivers through Windows in-built Functionality Device Manager
Microsoft always gives us more than expected. Isn't it? Of course yes, Windows in-built utility tool Device Manager is the best example for the same. Through Device Manager, you can update AMD drivers, not only AMD but all sorts of drivers too. So, here's how to do it!
Step 1:- In the search box of your Windows, type Device Manager, and choose the best match result. 
Step 2:- Now, click on the Display option twice and then right-click on the AMD graphics card driver. 
Step 3:- Then, select the Update driver option from the list appeared.
Step 4:- After this, choose the Search Automatically for Updated Driver Software.
Once you've done with all this, then follow the on-screen instructions to proceed further. This is how you can update AMD drivers for Windows 10. 
Read More: Best Driver Updater Software for Windows 10, 8, 7
---
#4 Update AMD Drivers through Bit Driver Updater (Recommended)
The above methods require a decent amount of technical knowledge to implement. Just in case, if you are a non-tech person, and then worrying about how you could be able to update the AMD graphics driver. Then, no need to worry, as here comes Bit Driver Updater, a fully automatic tool that updates all the outdated drivers and resolves the driver-related queries. Surprisingly, it doesn't need any manual approach to proceed. Want to know how you can update drivers via Bit Driver Updater, then, follow the instructions given below!
Step 1:- Download, run the setup file, and launch Bit Driver Updater.
Step 2:- Then, be patient and pass your time until the Automatic Scan gets executed.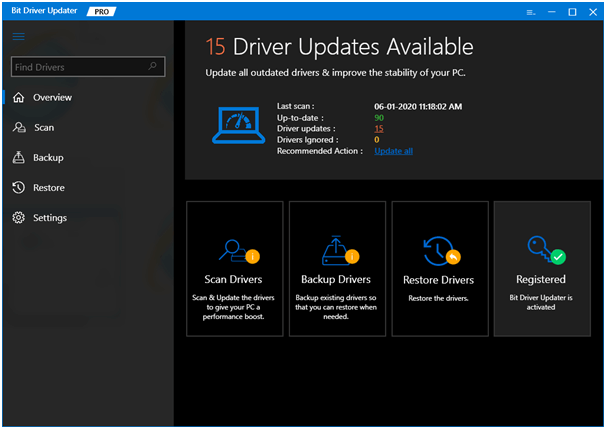 Step 3:- After this, examine the list of outdated drivers thoroughly. 
Step 4:- Now, select the compatible drivers and click on the Update Now option to install the new drivers.
Note: In some rare cases the Automatic Scan isn't get started, if this happens to you, then no need to panic, just click on the Scan option manually to get it started.
That is it! You need to do to update AMD drivers using Bit Driver Updater. Sounds so easy! So what are you waiting for, hit the below download tab to get this amazing driver updater tool!

---
Frequently Asked Questions Related to Update AMD Drivers
You may have some queries related to the procedure to download the drivers or anything else related to this guide. If this is the case, then refer to the frequently asked questions below to get the accurate answer to your queries:
Q.1 Why should I update the AMD driver in Windows 10 and 11?
There are two reasons why you should update the AMD drivers on Windows PC. The first to run the device smoothly. The driver, just like any other device, allows the AMD device to interact and communicate with the system perfectly. Hence, this communication, in turn, allows the user to make the best out of the AMD device as well. The second is to update the performance of the device. When all the devices are working properly and in synchronization, it improves the performance of the operating system as a whole.
Q.2 Where can I find the latest AMD drivers?
Commonly, there are four reliable ways to download and install the latest AMD drivers. You can take the help of the official website of the AMD manufacturers, visit the Device Manager, use the Windows Update utility, or the Bit Driver Updater, a third-party diver updating solution, to update the drivers. All the methods, except the one that states Bit Driver Updater, are manual and tiring. You may even fail the get the required updates using these tools. However, when you use the Bit Driver Updater, you will not face any such problems and can update all the drivers automatically with a single click.
---
Smart Ways to Update AMD Drivers on Windows 10
So, with all this, we've come to the end of this post. We are expecting that now you are familiar with the smartest ways to update AMD drivers on Windows 10. Still, if you are facing any trouble while doing so, then, feel free to contact us. And, share your query with us in the comment box below. We'll surely help you in the best possible ways. Lastly, don't forget to subscribe to our newsletter in order to stay updated always. We will come soon with yet another useful write-up, till then, stay connected with us!
Harshita Sharma is a technical writer with quite a distinct understanding of the tech realm. She is a tech enthusiast who believes that tech knowledge should reach one and all and tries to convert the sketchy knowledge into the simplest possible form for making people understand the tech world better. When not playing with words, she loves to travel and explore new places. And, is a coffee & cricket connoisseur.
Subscribe to Our
Newsletter

and stay informed

Keep yourself updated with the latest technology and trends with TechPout.
Related Posts