[Solved] Inaccessible Boot Device Error On Windows 10
Published Date :
Dec 28, 2020

Want to know how you can fix an inaccessible boot device error? Here are diverse methods that you can opt for fixing this issue.
Well, it is not a rare issue for Windows 10 users. Usually, it is one of the most common issues encountered by Windows 10 users. Basically, it is a BSOD (Blue Screen Of Death) error with having an error code 0*0000007b. During the Windows Startup and after upgrading the Windows 10 you may encounter this issue.
But, have you ever wondered how you get to know that it's affecting you? So, this error basically impacts your system and prevents your system from booting accurately. And, it indicates to the users that their PC has run into an error and needs to restart it again to rectify the error. 
Inaccessible Boot Device error isn't actually tricky to solve. By opting for the easiest methods from the below-shared list you can fix this issue quite easily. Read on for further details!
Ideal Way to Fix Inaccessible Boot Device Error on Windows 10
The quickest approach to fix an Inaccessible Boot Device error is – keeping device drivers up-to-date. Manually it takes time to update drivers, plus, there is a risk of installing the wrong driver. Hence, you can use Bit Driver Updater, to ensure automatic driver updates. It is the tool that keeps your drivers up-to-date as well as optimizes the overall performance of your system. With this tool, you can also fix numerous Windows-related issues like blue screen of death errors, slow performance, weak security patches, frequent breakdowns, and many more. To get Bit Driver Updater installed on your PC, click on the download button below.

Best Methods to Fix the Inaccessible Boot Device Error on Windows 10

 
So, there are numerous troubleshooting methods to fix the Windows 10 inaccessible boot device error. Though, you aren't required to use them all. What you need to do is – just go through every method and keep reading on until you find the suitable one as per your preference!
Method 1: Eradicate Recently Installed Packages
If you have commanded Windows Update to install the recent packages automatically then it will install the recent packages without informing or notifying you. And, sometimes, it will cause an Inaccessible_boot_device error. So, if you remove the packages one by one then, this error can be fixed. Moreover, if you are encountering this issue, you are recommended not to boot Windows 10 usually. 
Read Also: How to Create a Bootable USB Drive for Windows 10
---
Method 2: Turn On AHCI Mode in BIOS
If the above one solution isn't able to fix the windows 10 inaccessible boot device error. Then, you try to turn on the AHCI mode in BIOS. Many users have reported that enabling the AHCI Mode in BIOS can resolve this error. The BIOS process alters majorly between the manufacturers, hence, because of this the troubleshooting procedure may need one accurate approach to explain it. 
Usually, this process requires to enter the BIOS at the time of boot by hitting the Delete, Escape, or one of the Function Keys. After this, switch to the advanced options, then set the AHCI mode and change its status, turn it on. So, that is how to fix an inaccessible boot device on windows 10 by turning on the AHCI mode in BIOS. Try this method, and after implementing it still, the issue remains the same as earlier. Then, switch to more advanced troubleshooting methods below!
Read More: Fix Audio Renderer Error: Please Restart Your Computer
---
Method 3: Upgrade Your Drivers
Undoubtedly, the drivers are the core component that ensures the effective performance of the system. But, when these drivers get outdated or corrupted then these drivers are responsible for the various problems and an Inaccessible boot device is one of them. But, no worries, updating the drivers can solve this annoying error. And, to update the drivers in the least time, we suggest you use the Bit Driver Updater. It is a fantastic driver updater tool that lets you update drivers quickly with no manual support. Want to know the working of the driver updater tool then, here it is!
Download the Bit Driver Updater from the below-given link and launch it.

After launching it, you need to wait for some time until the completion of the automatic scanning process. 

Next, it provides the list of drivers, examines the list quite wisely.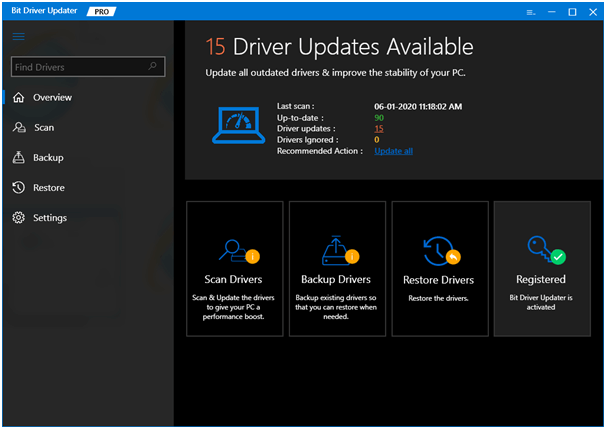 Lastly, click on the Update Now option to update the drivers. 
Bonus Tip: Want to save time? Want to update all the drivers in one click? Then, Bit Driver Updater lets you do so. Just click on the Update All option instead of Update Now.
Now, what are you waiting for, download this magnificent driver updater tool!
Read More: Fix Steam Disk Write Error on Windows 10
---
Method 4: Eradicate Update Pending Packages
One of the most crucial cause, because of which you may encounter the inaccessible boot device error is – pending updates. If the status of the packages is pending and not installing then it can lead to the boot device error. So, to fix this issue, you have to remove the pending updates packages. Follow the below-shared steps to remove the pending updates. 
Step 1:- Open the Windows Settings and then head to the Update & Security option.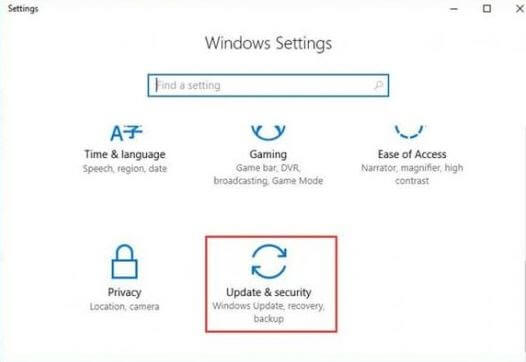 Step 2:- Then, locate Recovery on the left pane side and click on it.
Step 3:- After this, click on the Advanced Startup option and then choose Restart Now.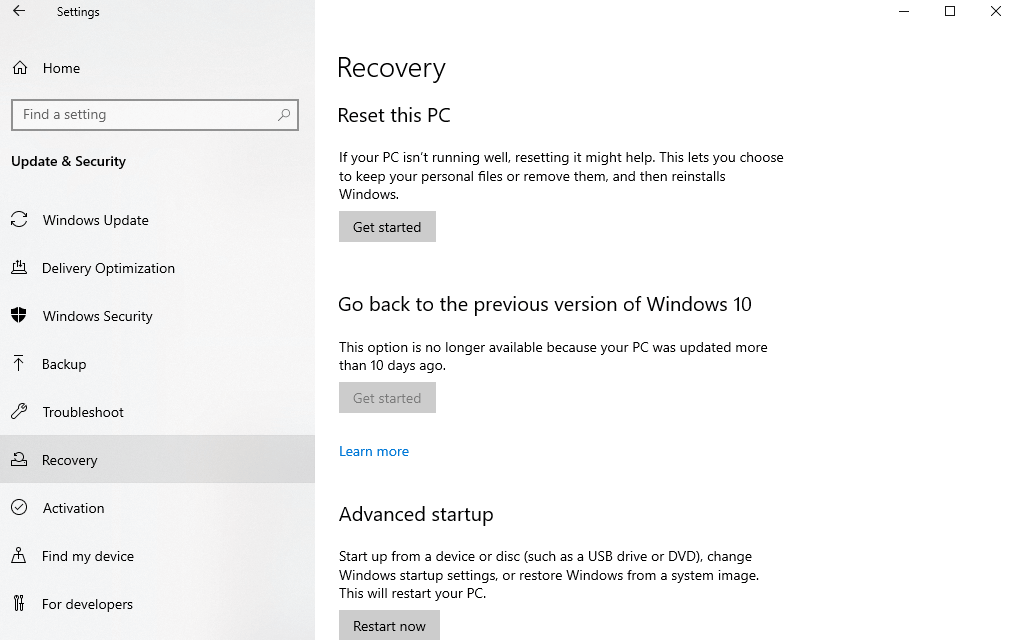 Step 4:- Next, choose Troubleshoot, and then Advanced Option
Step 5:- Later on, select Command Prompt and open it. 
Step 6:- Thereafter, type the following command and hit the enter key after each command.
reg load HKLM\temp c:\windows\system32\config\software
reg delete HKLM\temp\Microsoft\Current Version\Component Based Server
reg unload HKLM\temp
These three commands will eradicate the pending registry key. Lastly, change the package identity with the relevant package name. Thus, you can be able to remove the pending packages. 
---
Inaccessible Boot Device Error on Windows 10 [Solved]
If you are encountering an inaccessible boot device error while updating the windows then try the above-suggested ways to fix this common but annoying issue. So that's all, as for the present moment, hope you liked our write-up. If so, then do not forget to subscribe to our Newsletter and do share our write-up with your friends. Lastly, what are your thoughts on this, tell us in the comment box below, we will be very happy to hear your feedback. We will come soon, till then, stay in contact with us! 
Harshita Sharma is a technical writer with quite a distinct understanding of the tech realm. She is a tech enthusiast who believes that tech knowledge should reach one and all and tries to convert the sketchy knowledge into the simplest possible form for making people understand the tech world better. When not playing with words, she loves to travel and explore new places. And, is a coffee & cricket connoisseur.
Subscribe to Our
Newsletter

and stay informed

Keep yourself updated with the latest technology and trends with TechPout.
Related Posts