Microsoft is Developing a Grammarly-like Chrome Extension
Published Date :
Jan 14, 2020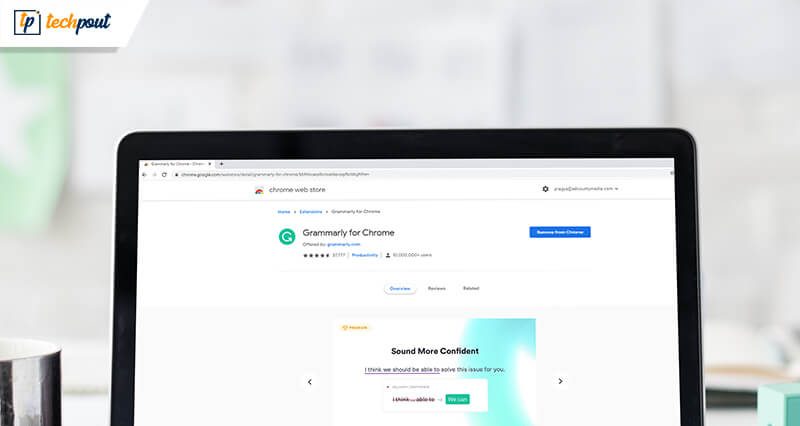 It looks like now Grammarly users can have an alternative choice with Microsoft's spelling and grammar checking tool. The tool is currently under the preview phase and is probably being tested currently. Therefore, it is currently unavailable in the Google Chrome and Chrome Canary browser versions.
The tool will also be available as an extension on the Microsoft Edge browser. This will be similar to the Grammarly browser extension of Chrome. However, it will take some time to roll the Chromium-based Edge browser extension for Microsoft's Grammarly-like tool.
Users will be able to utilize the Microsoft Editor to edit and proofread their written content, check synonyms, spellings, etc. As of now, Grammarly offers the most well-known online grammar and spelling checker service. Grammarly is also available on various browsers in the form of a browser extension tool.
Grammarly is in the market for a considerable period of time and has so far offered satisfactory services to professional users. Grammarly offers a free browser extension as well as a paid version.
The paid version offers better synonyms, use of language, punctuation marks, etc. It also detects the clarity of the context beautifully. Apart from correcting the language, it can also help the writers at making the content more engaging.
Microsoft on the other side is upgrading the cloud-based Office 365 and other relevant services. This is likely to improve the precision of editing, and will enable the tool to offer better correctness suggestions, and would also improve the overall productivity of the Editor's services.
The feature is supposedly first spotted by Twitter user Florian. He tweeted about it, informing everyone that a new tool by Microsoft is available which can now help users with spellings, and grammar. The tool will also suggest vocabulary alternatives to make the content more meaningful.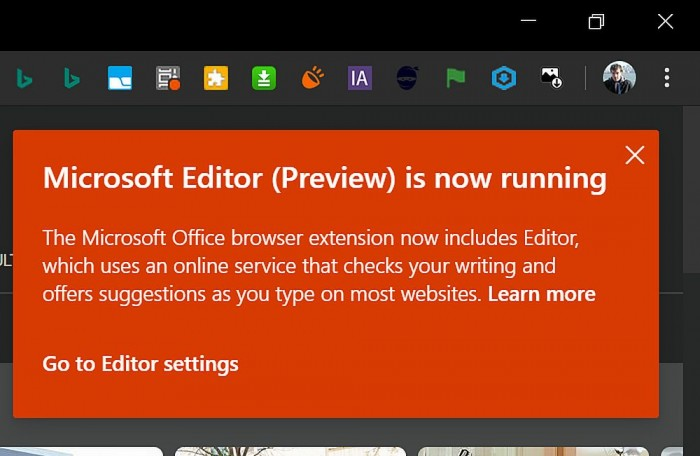 According to the feature description, "Microsoft Office extension now has Editor, which will check your written content and offer an online solution for improving the content."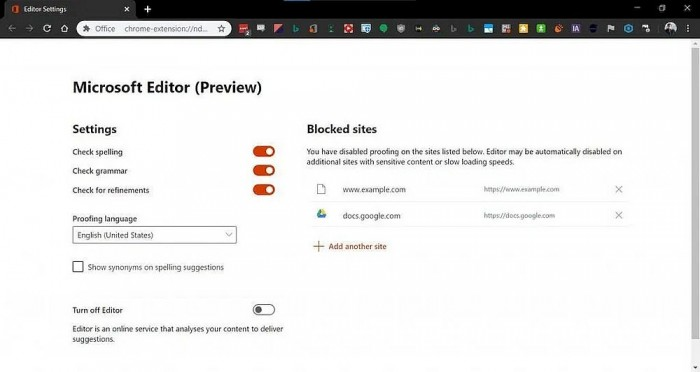 You can also avail the option of disabling the extension on specific websites containing sensitive information. The blocking capability will also be effective on content-rich websites as it will help in loading the website faster.
Existing Grammarly users would easily be able to use Microsoft's grammar and spelling assisting tool on the Mozilla Firefox browser. Users will have the freedom to choose the new extension or continue with Grammarly.
For professional content creators who depend too much on such tools for improving the language, grammar, syntax, and spelling of their created content, they would need to have access to a tool that offers a better library than the other functionalities of the software.
Finally, it can be said that most of us have avidly used Microsoft Office products and the built-in grammar and spelling check program has always proved to be a reliable and worthy companion to all writers whether professional ones or school going kids so far. Hence, Grammarly users can eagerly look forward to the release of the content editing tool from Microsoft in the upcoming days.
In the upcoming months, we will have more updates on the go-live date of the Microsoft Editor extension. Meanwhile, the Chromium-based Edge browser will be released by January 15, 2020.
Image Source: Small Tech News
Snigdha is a technical content writer with expertise in the field of science & technology. Though she has a very diverse academic and professional profile yet she finds writing to be a creative form that she was unable to explore so far. When not writing, she can be found indulging in other forms of creativity like painting or travelling.
Subscribe to Our
Newsletter

and stay informed

Keep yourself updated with the latest technology and trends with TechPout.
Related Posts