Logitech Gaming Software For Windows | Download Latest Version
Published Date :
Apr 08, 2021

If you want to unlock your system's full potential & take PC gaming performance to a whole new level, Logitech Gaming Software is what you need.
The Logitech Gaming Software with its advanced gaming features provides much-needed power and intelligence to your gaming devices.
It is one of the top gaming software that enables you to customize the functions of Logitech gaming devices, such as a mouse, gaming Keyboard, speakers, headset, battery status, multimedia, backlighting, etc.
What is Logitech Gaming Software?
Logitech Gaming Software is a perfect, one-stop solution that helps you get the most out of your gaming device by setting up profiles for each game, recording macros, and allocating them to your G-keys or button settings.
It gives users full access to the amazing customization features like multi-key commands, control illumination, LCD display configuration, voice morphing, game profiles, high-end graphics, and much more.
Apart from those special features, this software can help you manage the surround sound settings, DPI, LED color, controller, and webcam, plus offers dozens of quick-access commands for different game scenarios.
If you're looking for an easy yet efficient way to configure your gaming device and unlock its new features, you can download Logitech gaming software for your Windows 10, 8, 7, Mac and Linux OS.
---
How to Download Logitech Gaming Software?
Step 1: First, go to the Logitech Support Website.
Step 2: Click on the 'Show All Downloads' button and then choose the operating system from the drop-down menu.
Quick Tip: If you don't know the basic information about your computer, you can hold down the 'Windows logo key' and press the 'Pause' button on your keyboard to view the required system properties.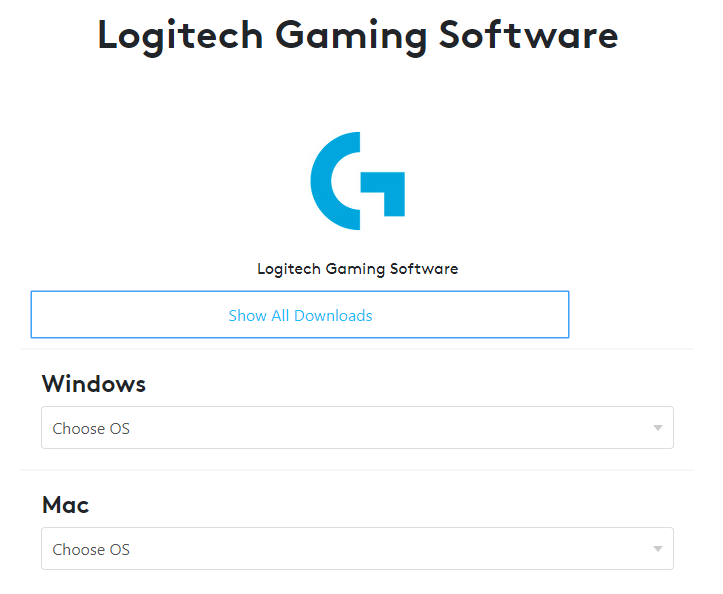 Step 3: On the next screen, select the latest software version and click the 'Download Now' button.
Step 4: Open the downloaded software version (Click 'Yes' to confirm if prompted to do so).
Step 5: Click 'Next'.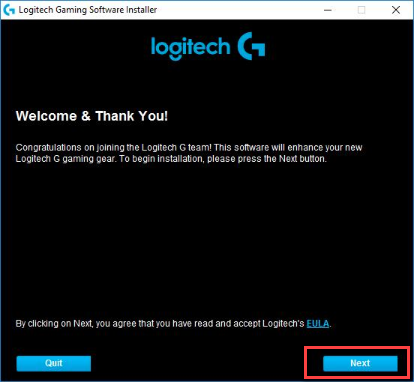 Step 6: Save any open documents, click 'Finish', and then wait for your PC to fully restart.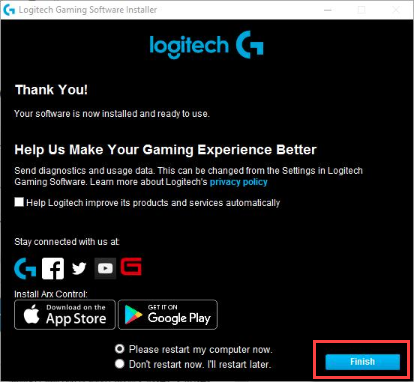 Step 7: This is it! The Logitech gaming software is now installed and you can use it to customize your gaming device functions as per your convenience.
Read More: List of 23 Best Cloud Gaming Services Available in 2021

---
Logitech Gaming Software Features
Here are some of the best features of Logitech Gaming Software:
Using the software you can create your profile and change the settings according to your preference. The changes settings will be set as default for your profile and you don't have to change it every time you start using it.
Using the software you can improve the battery life. You can adjust the lighting which is consuming the battery. Other than this on the dashboard, you can check for the activities which are taking up the battery.
The software offers surface turning features that help in optimizing the mouse for the desk and mouse pad.
---
How to Use Logitech Gaming Software
The Logitech Gaming Software is easy to use, just like any other software you can use this software and customize the hardware you wish to. After launching the software you can adjust the keyboard, mouse, or webcam by just clicking on the bottom left corner.
If you wish to navigate to the settings menu, you need to click any part of the mouse and then you can proceed with the settings.
The best part about the software is that you can save your progress. For instances where you might get new members to play games, they can ruin your ranking or make your win percentage decrease. The software kept this thing in mind and was developed to keep your progress safe.
Also Read: 12 Best Overclocking Software For Windows In 2021
---
Logitech Gaming Software Minimum System Requirement
The Logitech Gaming Software requires the user to have Windows OS 7 or above to install the software other than this the software requires 4GB RAM, 1.5 GB free space on the disk, and Core i3 or above processors.
---
What's New in Logitech Gaming Software?
The software has any new upgrades which you can observe. Some of them are as follows:
Wireless Logitech mouse support
Change in the user interface
Battery indicator for mouse and keyboard
Compatible with latest models of Logitech
G series mouse supported
Pointer perception enhanced
Adjust mouse polling rate
Manage DPI sensitivity to multiple levels
Control DPI speed
---
Bonus Tip
If you want to unlock your system's full gaming potential, you should update the drivers for your Logitech gaming devices. However, if you don't have time or technical skills to manually update your Logitech device drivers, you can always go for an intuitive & easy-to-use driver update utility like Bit Driver Updater to update them automatically.
Bit Driver Updater is a powerful and extremely user-friendly tool that not only takes care of potential hardware and driver-related errors but also gives you a smooth & enhanced gaming performance. Here's how to use it:
Step 1: Download and install the Bit Driver Updater.
Step 2: Once you've installed the application, click the Scan Drivers option to let the software find and detect outdated or missing drivers.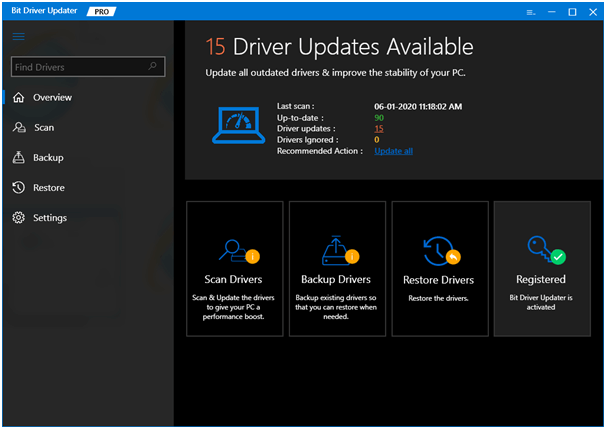 Step 3: Click Update All to automatically download and install the latest manufacturer-recommended driver versions in just one click.
That's all folks! This concludes our guide that will give you a clear insight on how to download and use Logitech gaming software for an improved gaming experience.
Monil is a professional writer whose forte is absorbing a lot of data and help large technical organizations convey their message clearly across multiple products. An engineer by qualification, his affinity for design enables him to write to inspire, energize, and influence various audiences to uncover their true potential. When not writing, Monil is likely to be found listening to music, traveling, or simply excavating into his favourite cuisines.
Subscribe to Our
Newsletter

and stay informed

Keep yourself updated with the latest technology and trends with TechPout.
Related Posts