Instagram Launches New Feature To Discourage Cyberbullying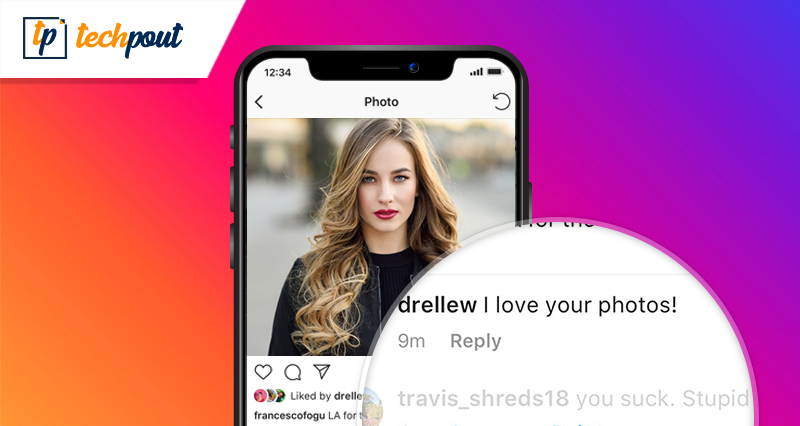 Something to look forward to: In such a fast-moving market, social media has become an integral part of all of our lives.
We use it to connect with friends and family, to catch up on current events, and, perhaps most importantly, to entertain ourselves.
With such a captive audience and big branding opportunities, Instagram has become one of the most popular social media platforms; always bringing something new to the table to help users capture and share the world's best moments with a massive audience.
However, the rise of social media platforms like Instagram and its parent, Facebook Inc. has also brought along a surge in online bullying, trolling and the culture of hate.
We have all seen the unpleasant comments on popular accounts and websites that creep up below the original posts.
These discourteous comments are mostly by bogus profiles, who seem to have created an account for the sole purpose of spewing chauvinism or negativity, under the insurance of anonymity.
More often than not, physical appearance and perceived integrity of social media users are attacked, leading to drastic consequences.
With the prevalence of social media and digital forums, cyberbullying has become such a major problem that can harm the online reputations of everyone involved – not just the individual being bullied, but those doing the bullying or participating in it.
The effects of cyberbullying can be devastating, leaving you feeling helpless, humiliated, angry, depressed, or even suicidal.
In light of this, Instagram has recently introduced several new anti-cyberbullying functionalities to tackle derisive comments & mitigate criticism related to harassment on its platform.
To make Instagram more pragmatic, the social media giant is fighting back to combat cyberbullying by making people think twice before they post a comment.
This new anti-bullying tool relies on artificial intelligence to determine whether the language in a post could be deemed offensive and prompts the users to reconsider the wordings of the sentence before their comment goes live on the platform.
In a blog post, Adam Mosseri—the current chief of Instagram—stated that
"This intervention gives people a chance to reflect and undo their comment and prevents the recipient from receiving a harmful comment notification".
"We can do more to prevent bullying from happening on Instagram, and we can do more to empower the targets of bullying to stand up for themselves," Mosseri writes.
Adam Mosseri also announced plans for an additional anti-bullying tool called 'Restrict,' which allows users to limit their interactions with those who aim to vandalize their online reputation.
According to his blog post, users will soon be able to choose to approve the comments on posts from restricted accounts and make them visible to the public.
In this manner, if the bullies attempt to tag a user in a public post, Instagram won't help them by auto-completing the process.
"Restricted people won't be able to see when you're active on Instagram or when you've read their direct messages," Mosseri adds.
In the next couple of weeks, Instagram will be rolling out another new feature which is meant to give users the ability to "put some space" between themselves and a bully.
Monil is a professional writer whose forte is absorbing a lot of data and help large technical organizations convey their message clearly across multiple products. An engineer by qualification, his affinity for design enables him to write to inspire, energize, and influence various audiences to uncover their true potential. When not writing, Monil is likely to be found listening to music, traveling, or simply excavating into his favourite cuisines.
Subscribe to Our
Newsletter

and stay informed

Keep yourself updated with the latest technology and trends with TechPout.
Related Posts