10 Best Photo/Image Viewers for Windows 10 in 2020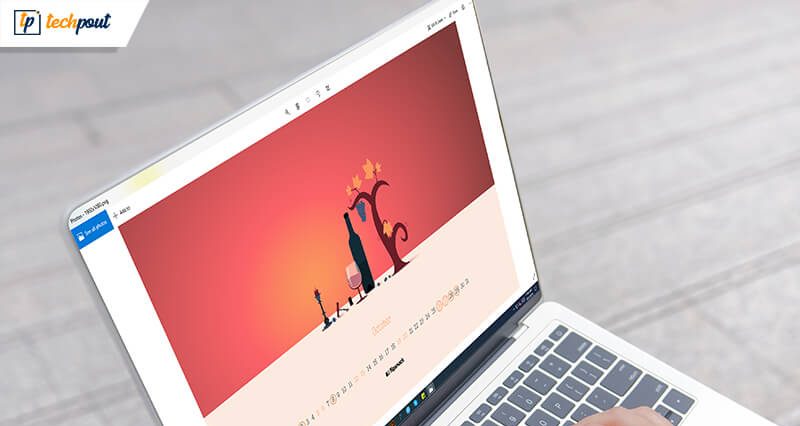 Image clicking and viewing go hand-in-hand. And in this digital age of posting about everything, we need the best photo viewer for our Windows devices.
Well, for years, we have depended upon Windows Photo Viewer to preview our pictures. It set a benchmark because of its simplicity, operation speed, and basic editing features. But with the update to the Windows Photos app, the software has lost its expertise. It is much slower in speed and processing, and the editing tools aren't a good edition.
Due to this fact, many users around the world are looking for a perfect Windows Photo Viewer replacement.
What are the Best Photo/Image Viewers for Windows 10?
The below-mentioned photo viewers are the best for both watching and editing your images. Check them out! 
1. Irfan View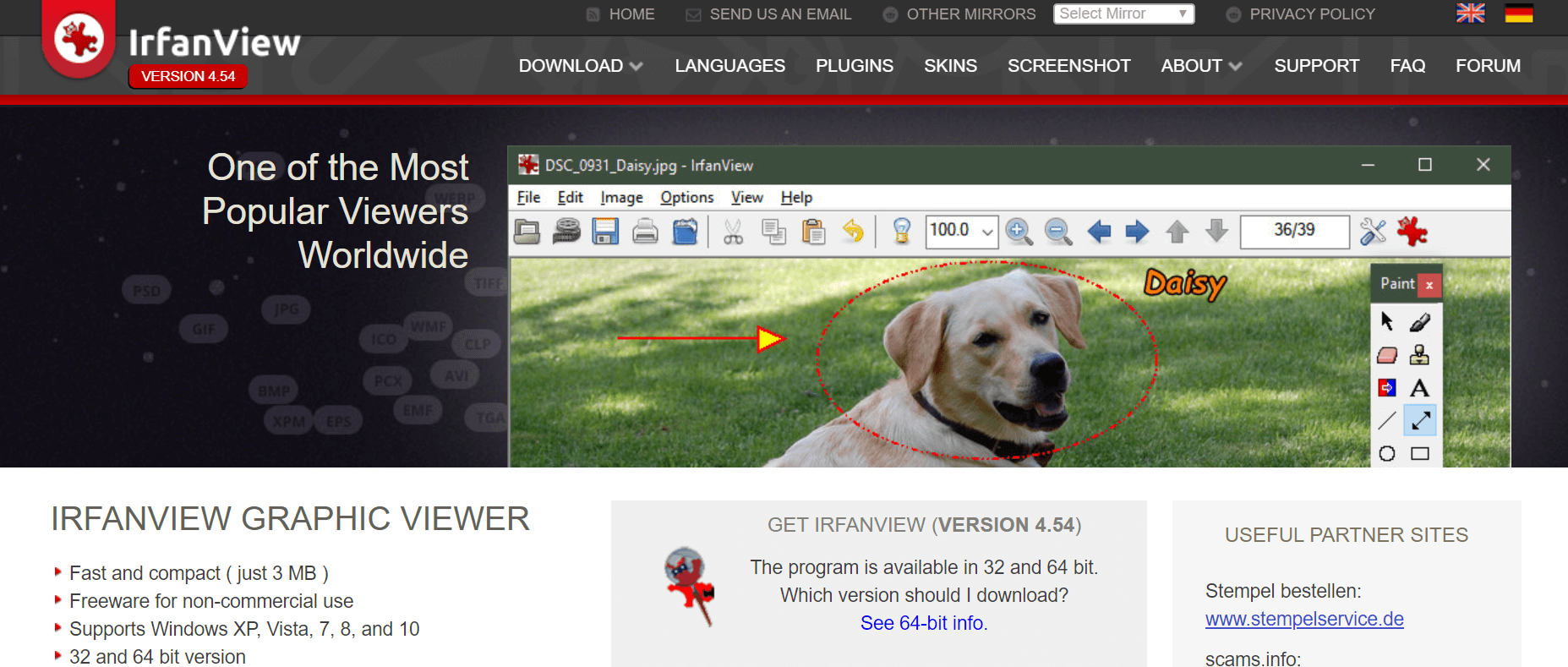 IrfanView is one of the best photo viewers for Windows 10. It has been for a really long time. It's completely free of cost and offers a ton of unique features such as OCR support, basic editing, quick browsing, batch file converter, etc. It even supports batch processing.
It is a pretty lightweight app with a footprint of just 3 MB, so there's no bloatware embedded in the app. It is simple yet powerful as it offers a wide array of editing features as well.
It is great for beginners because of its easy-to-use interface giving users ease-of-use in its operating. And is a perfect replacement to Windows 10 Photos app as it's extremely snappy and is not a laggy mess.
Pros:
It has a versatile file format base.
It's super fast and reliable.
Cons:
It constantly tries to open a non-image while scrolling.
It does not support thumbnail caching and cache image decoding.
2. XnView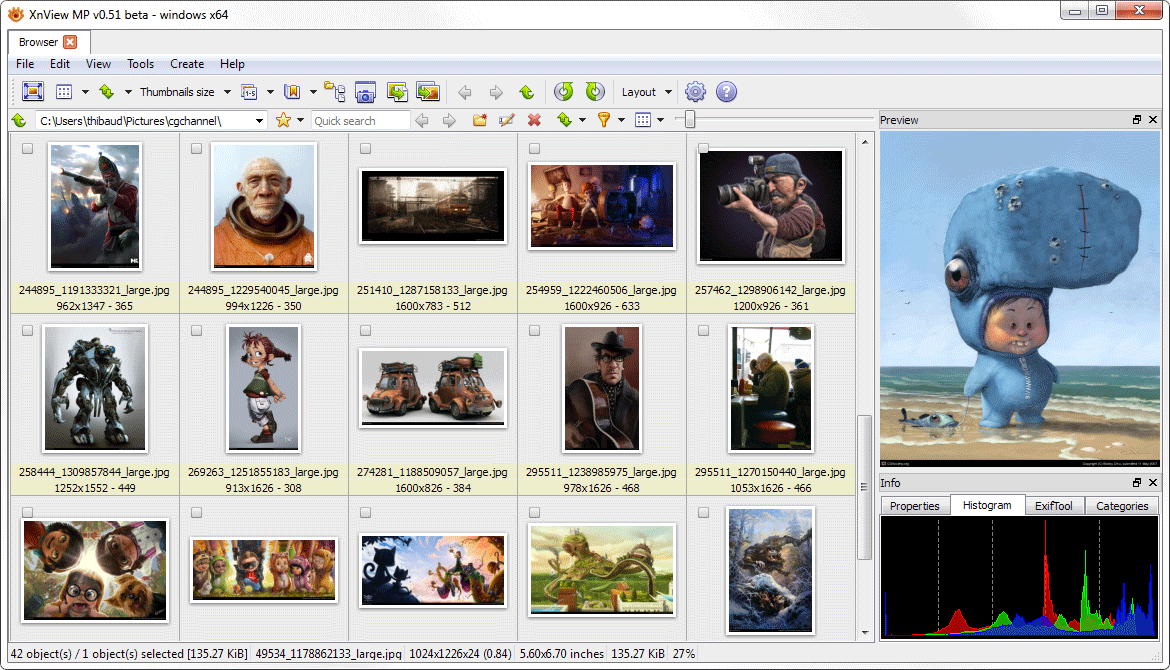 If there ever becomes a survival kit for photographers, then XnView would surely be an essential item in that kit. A near-perfect alternative to Windows Photos App, this robust software is an organizer and editor too. It is everything that you need rolled into one single program.
Know also: CPU Temperature Monitor Tools For Windows
It has a user-friendly interface and also helps users create web pages, slideshows, and thumbnails for videos. It supports more than 500 image formats, including PNG, TIFF, GIF, ICO, etc.
Pros:
It is able to handle multiple images in a single tabbed window.
It easily supports heavy file editing and browsing, despite its smaller size.
Cons:
It lacks some advanced editing features.
It is free of cost for only private usage, for the non-personal one, you have to pay.
3. Imagine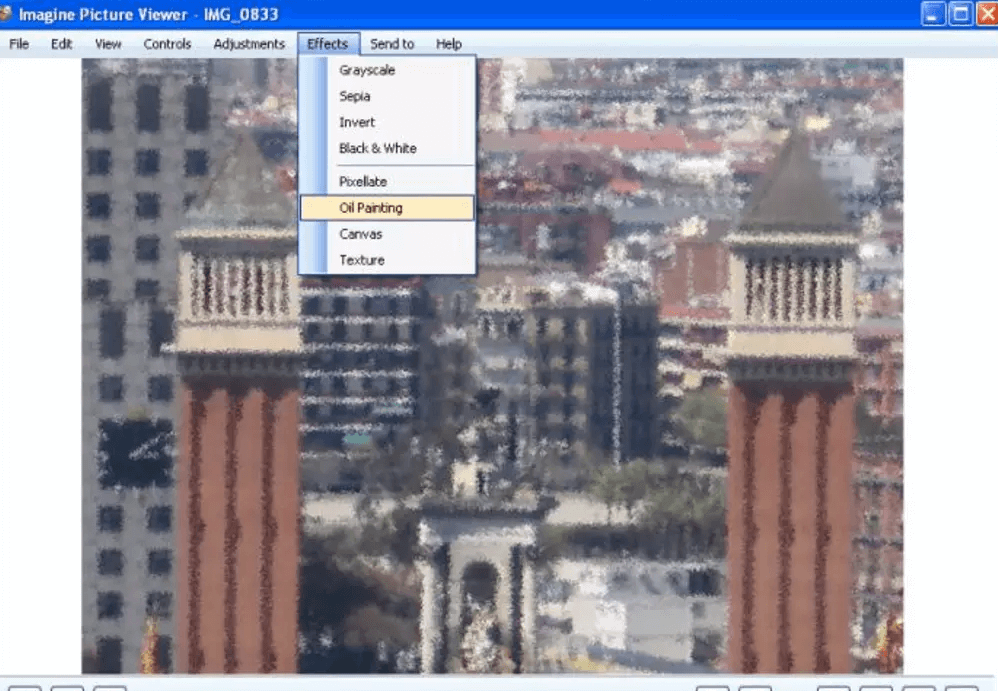 If you're searching for one of the best quick, lightweight, and reliable photo viewers, then Imagine is 'it' for you. It is very efficient in all its functioning and supports all the popular image formats. And not only that, but it also supports formats such as RAR, ZIP, 7Z, and more.
It is a freeware, built on the .NET framework, that has all the basic editing functions such as filters, blur, color balance, etc. with the addition of screen capturing and animal creation.
Pros:
You also get social media and email sharing tools. 
It offers multi-language support.
Cons:
It doesn't support the Thumbnail browser.
It is not completely updated or maintained.
4. HoneyView
Quick and simple third-party image viewer? HoneyView is the answer.
Sometimes you just need a basic and efficient program that gets the job done. HoneyView aims to be all that and more. If kept in front of a high-end editing photo editing software, it might look simplistic, but that is what's special about it. It offers minimal functions like resizing, viewing, and rotating and at the same time, supports multiple mainstream extensions like PNG, JPG, GiF, and more. 
Another good feature is that it lets you bookmark the images you are working on for future references. 
Pros:
You can view images inside zipped archives without extracting them.
It highly resembles Windows Photo Viewer.
Cons:
There are no extensive inbuilt editing tools.
It only has a 32-bit version.
5. Nomacs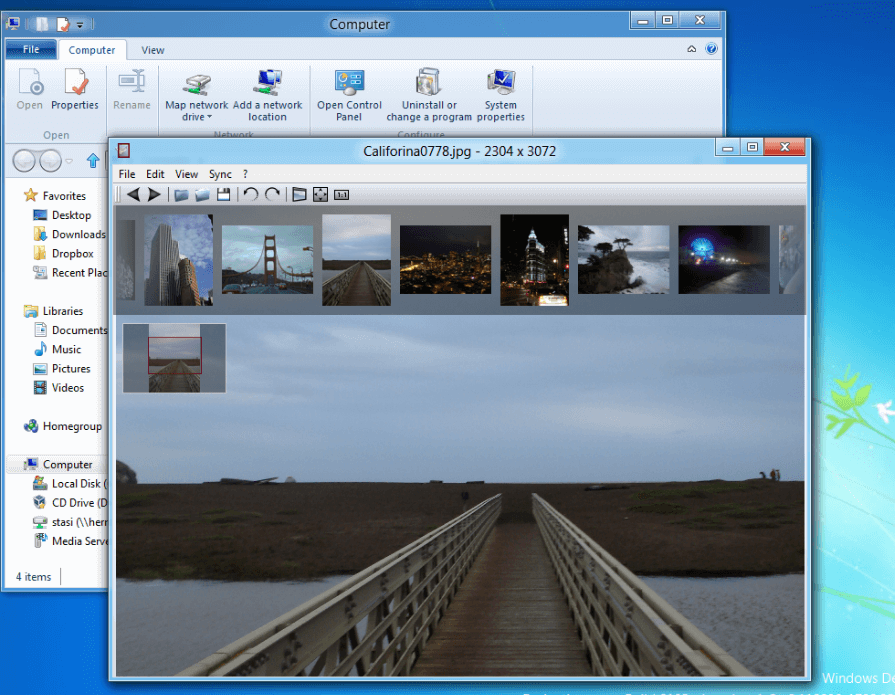 Nomacs is definitely one of the best multi-featured and open-source photo viewers for Windows 10 currently available in the market. It is amazing in both the performance and visual aspects. It supports almost all the extensively used image formats, including camera raw formats and lets you do so much more than just image viewing.
Although the standard interface isn't much to write home about, the wide range of picture editing tools ( resize and crop, exposure, saturation, image quality enhancement, etc.) more than makeup for it.
And did I tell you that you can add notes to your selected pictures while working? 
Pros:
It offers a Viewer Synchronization Function.
It allows you to reduce image switch times by activating cache.
Cons:
The operating speed has become slower due to the recent updates.
It returns to default settings after the update.
6. FastStone Image Viewer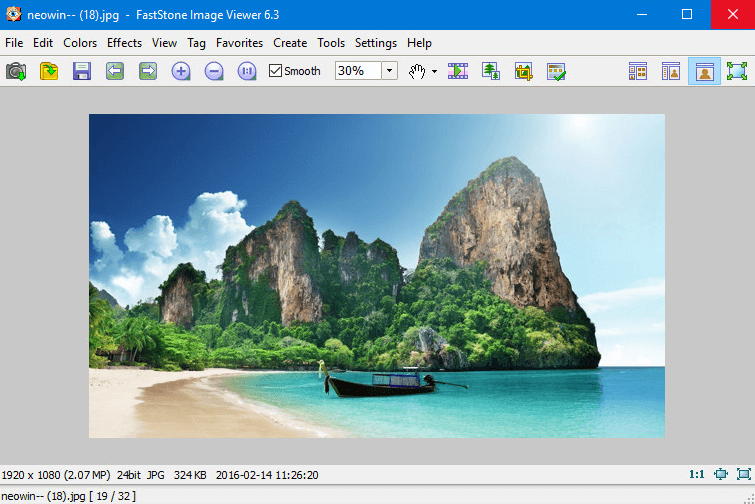 FastStone image viewer, a third-party software, is a free Windows-based image viewer useful not only for looking at pictures from your photo gallery, but also for browsing, editing, converting,  and organizing them. It offers support for multi-monitor configuration, which helps in dealing with a large number of files. Not just that, but FastStone Image Viewer also supports almost all prevalent graphics formats like PNG, GIF, JPEG, etc.
It has a good amount of advanced features such as transitional effects, photo rotation, color adjust, heal, etc.
Read more: PC Optimizer Software For Windows
All in all, it's one of the best, the fastest, and the most powerful photo viewer apps that offer great performance and let you view the images in its complete entirety.
Pros:
There is an email sharing option available for use.
It supports Batch converting and renaming.
Cons:
There is a slow thumbnail generation.
It becomes slow while dealing with batch files.
7. ACDSeeUltimate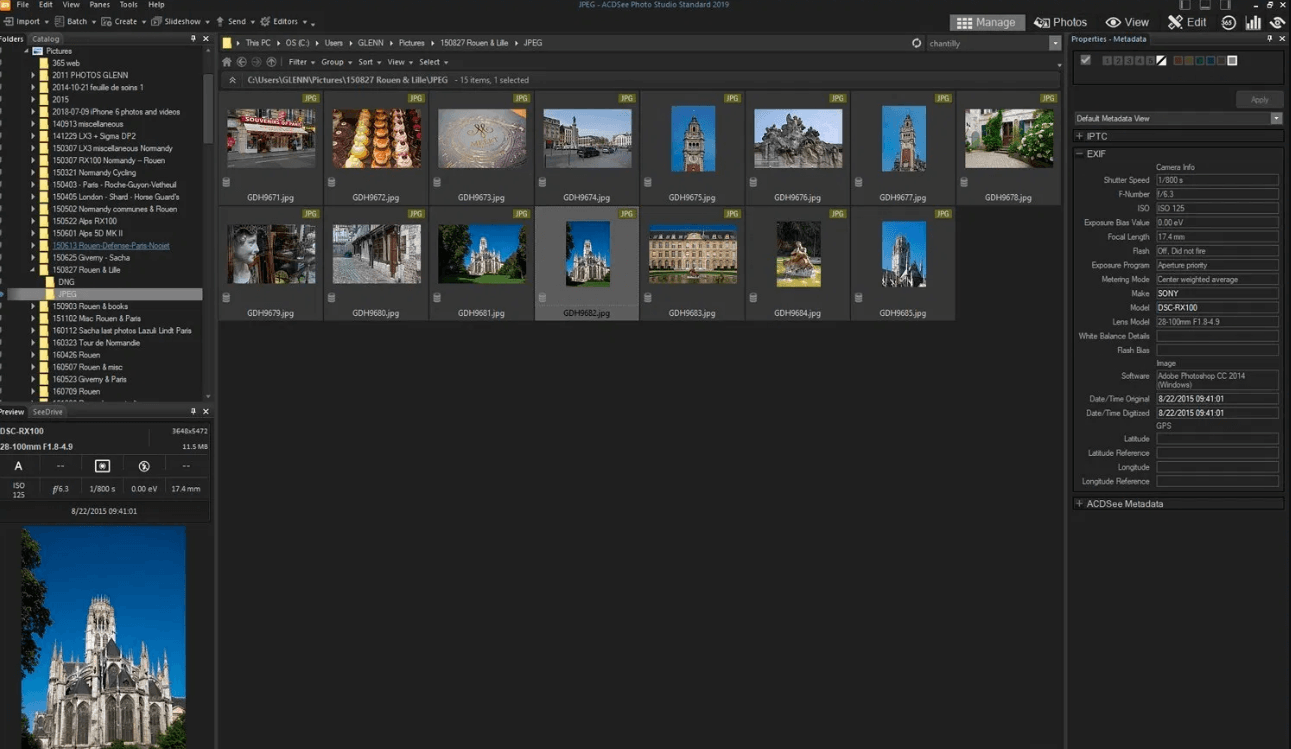 Now, this one is perfect for all the advanced users out there who are also a fan of the AC/DC band (a play on words!) It has one of the coolest and friendliest interfaces and gives you access to a wide array of features. Almost all the essential editing tools are available for use, such as cropping, saturation, red-eye removal, adjust color, and more. And also, most of the raw file formats are easily supported by it.
Pros:
You can share your edited files on social media directly.
You are allowed to look at images inside zipped archives without extracting them.
Cons:
There are some limitations to editing, like you're not allowed to work on to layers.
It burns a hole in the pocket as the paid version costs around $109, and the free trial is only for 30 days.
8. ImageGlass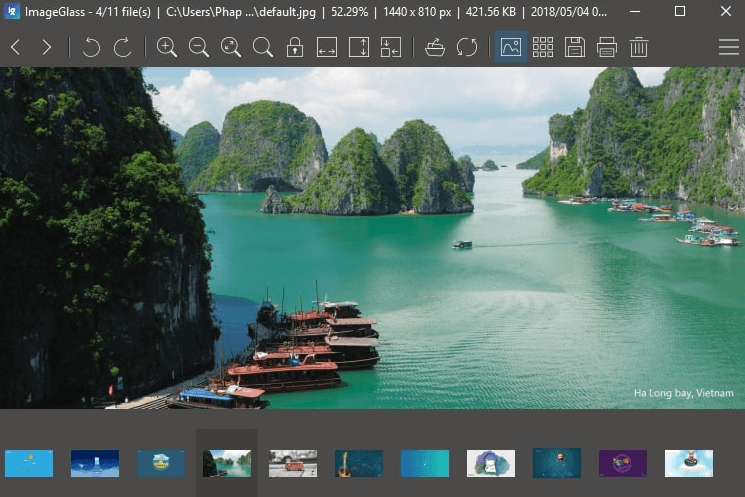 ImageGlass is regarded as one of the best photo/image viewer applications for Windows 10 because of its resemblance to IrfanView. That doesn't mean that it doesn't hold its own ground. It has modern aesthetics. It is also quite a fast and superior performance jump from the indigenous Windows 10 Photos application.
Although its most lovable feature has to be the 'quick menu' it provides on top of the image. This menu is dissimilar to those nested menus in the way that it has quick access to all the important features. 
Pros:
It takes almost a negligible amount of time to load an image
It is very easy to install and handle
Cons:
It is not a good option for advanced users.
Some basic features of editing and retouching are not provided by it.
9. QuickLook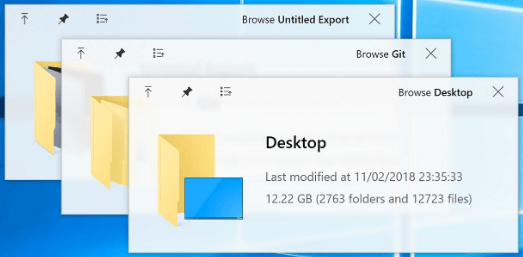 QuickLook is very easy and simple to use. It is developed especially for Windows, as there is a similar macOS tool (by the name Quicklook) which is used for quickly previewing the contents of a file without any hassle. It supports a smooth loading interface with fast response time. Hence, it is proven to be one of the best image viewers for Windows 10. 
To use it, you just need to press the hotkeys "Spacebar" to preview the file contents. And when you feel like closing the preview, press the "Spacebar" again. It's as simple as that. 
Pros:
It is obviously 'quick' and quite responsive because of its lightness.
It supports multiple formats, including text, image, and video files.
Cons:
It doesn't support any option to manipulate the files on its own.
It is not as fast and bug-free as it's macOS counterpart.
10. 123 Photo Viewer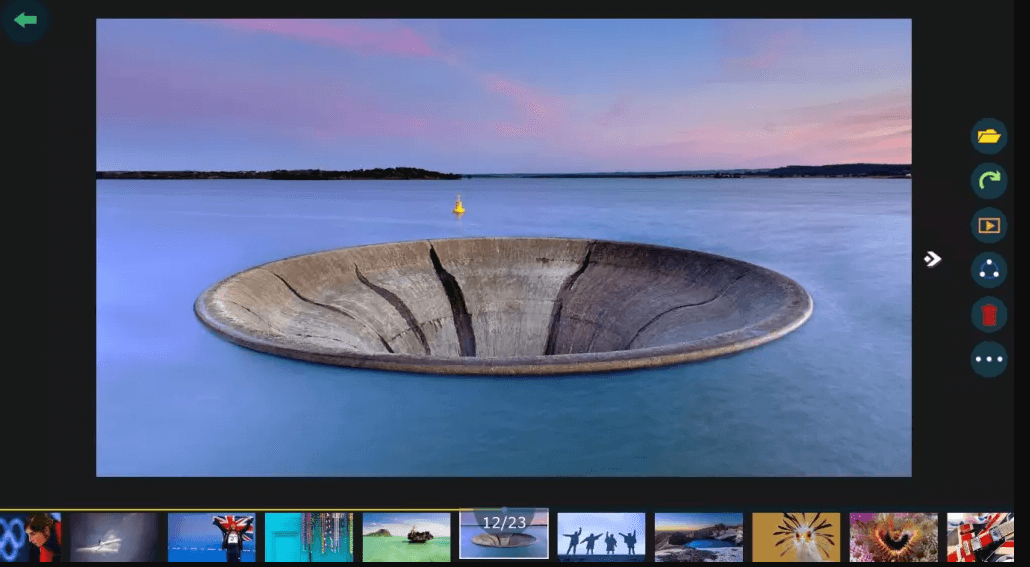 Even though it's at the end of this list, it still is one of the best (and actually the coolest) photo/image viewers for Windows 10. It's efficient and super-fast and does exactly what the user wants, nothing less and nothing more. 
It comes with a quick and fast magnification feature that allows precise image editing without any sort of lags.
Know about: Best Free CPU Benchmark Software For Windows
It opens up TGA and PSD files at a good speed and provides a number of shortcuts. It also supports all the major file formats.
Pros:
It offers an intuitive and simple interface.
It is extremely easy to operate.
Cons:
It doesn't offer any other functions.
It can't customize the interface.
This is it, guys! These are the 10 best photo viewers for Windows 10 in 2020. They are extremely helpful, easy to use, and have fast image loading time. Opting for one, or more from this list will most definitely make your life simpler. Now you never have to suffer through the Windows Photos app ever again. 
Diksha Lalwani is an aspiring content marketer and a self-declared bibliophile. An English honors graduate, she likes to keep up with the recent happenings around the world and form an opinion. Her interest in anything and everything tech made her follow the path into becoming a technical writer.
Subscribe to Our
Newsletter

and stay informed

Keep yourself updated with the latest technology and trends with TechPout.
Related Posts