How to Take A Screenshot on Dell Laptop [100% Working]
Published Date :
Apr 13, 2023

Want to learn how to take screenshots on Dell Laptops? Then, you have come to the right place. In this guide, we are going to explain three different and non-cumbersome methods to capture screenshots on Dell laptops or computers.
Several professionals have looked for various methods to record meetings or capture live screens while working from home. Additionally, this learning is essential for both personal and professional reasons. Even if taking a screenshot on Windows pc and saving it is not difficult, several users have complained about problems. Thus, if you've come here looking for information on how to screenshot on a Dell laptop, continue reading.
The information provided below lists many efficient shortcuts or tools for taking screenshots on a Dell laptop (Windows). It works with laptops running Windows 11, 10, 8, or 7.
A Step-By-Step Guide on How to Take Screenshots on Dell Laptops
Listed below are multiple ways that can help you capture snapshots on your Dell laptop. Without further ado, let's get started to know how to take screenshots on Dell desktops or laptops!
Way 1: Use The Print Screen Key to Take Screenshots on Dell Laptop
The Print Screen key is one of the simplest methods to take screenshots on Dell laptops. Using this method, you can easily take snapshots on Windows 11, 10, 8.1, 8. To do so, just follow the steps shared below:
Step 1: If you want to take a screenshot of the full screen in just one go, then altogether hit the Windows + Prt Sc keys. As you press the keys, your computer screen will flicker for a few seconds, showing that your screenshot has been captured.

Step 2: And, if in case you want to take a screenshot of a single active window, then simply go to that particular window you wish to take the screenshot for and press the same keys. Immediately hit ALT + Prt Sc to capture the screenshot.
As soon as you have captured the snapshots on your Dell laptop, your desired picture would be copied to the clipboard. Moreover, you can also copy & paste the screenshot into any graphics editor and save it for later.
Also Read: How To Take a Screenshot on Windows HP Laptop
---
Way 2: Take Screenshots on Dell Using Windows In-Built Tool
Similar to any other laptop or desktop PC, even Dell systems come with a pre-installed Snipping Tool that enables Windows users to take screenshots in different forms and edit them accordingly. Here is how to take a screenshot on a Dell laptop with a Windows default utility tool called Snipping Tool.
Step 1: Head to the Windows Search bar and enter the Snipping Tool.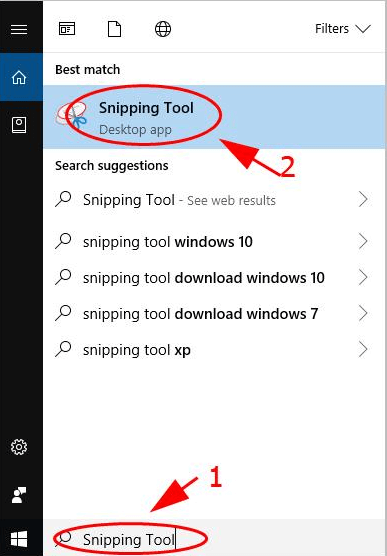 Step 2: Click on the correct result that displays on your computer screen.
Step 3: This will open the Snipping tool on your screen. As soon as the utility launches, you'll see various options to capture snapshots, tools for editing, and more.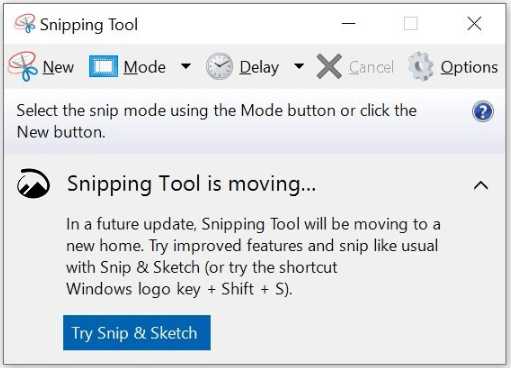 Step 4: In order to start the snapshot-capturing process, you need to click on the New option. Alternatively, you can press CTRL + N keys together from your keyboard. After that, you can select any of the options from Windows Snip, Free Form Snip, or Full-Screen Snip to capture screenshots as per your preferences and requirements.
Lastly, altogether press the CTRL + S keys in order to save the captured screenshot, and also select the destination where you want to save your screenshots.
Also Read: How to Take A Screenshot on a Toshiba Laptop Windows 10
---
Way 3: Use Screen Capturing Software to Take Screenshots on Dell Laptop
Although the methods above are simple and built-in, but their functionality is limited. You need a special and completely dedicated screen-capturing program if you wish to undertake advanced editing. On Dell computers or laptops, there are many specific applications for taking screenshots. Search for advanced print screen software in your web browser and download & install the tool on your device.
You can download one such program, called Free Snipping Tool. It enables you to alter the screenshot taken in real-time. To gain access to the app's additional features, upgrade to the Pro version.
Also Read: How to Take Screenshot on Chromebook
---
How To Take Screenshots on Dell Laptops (Windows 10/11): Explained
So, these were some of the easiest and quickest ways to grab snapshots on Dell laptops. In case, you ask for an expert's opinion, then we would recommend capturing the screenshot using reliable screen-capturing software. The dedicated utility tool helps you quickly take high-quality screens with distinct requirements and orientations. Additionally, these tools come with an in-built video recording feature that helps in capturing on-screen activities even with sound.
That's all! We hope the detailed tutorial on how to take screenshots on a Dell laptop on Windows 10, and 11 helps you in the best possible way. Please feel free to drop your queries or further suggestions in the comments section below.
Do subscribe to our Newsletter and follow us on Social Media so you never miss any tech updates.
Harshita Sharma is a technical writer with quite a distinct understanding of the tech realm. She is a tech enthusiast who believes that tech knowledge should reach one and all and tries to convert the sketchy knowledge into the simplest possible form for making people understand the tech world better. When not playing with words, she loves to travel and explore new places. And, is a coffee & cricket connoisseur.
Subscribe to Our
Newsletter

and stay informed

Keep yourself updated with the latest technology and trends with TechPout.
Related Posts