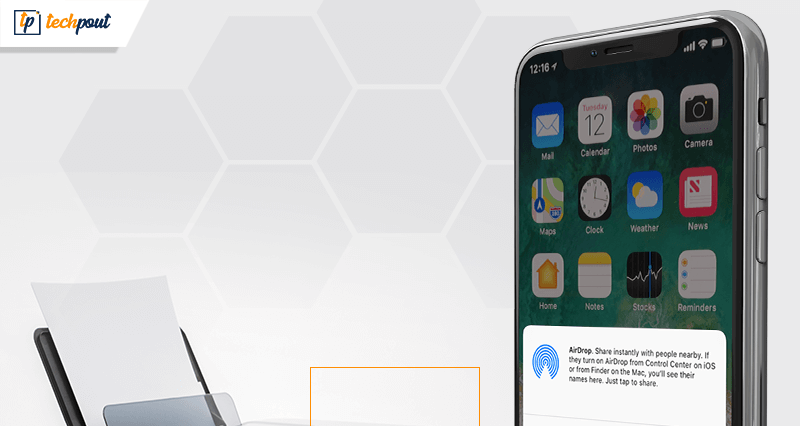 Clicking pictures and admiring them is something that would never change. Be it a digital camera, a Polaroid camera, or our phones, snapping, clicking, commenting, and selfie-ing will always be one constant in our human history. 
But in the time of everything digital, and things always living inside a screen, it's always a forlorn feeling to admire a printed picture. And yet, you sometimes feel the need to. Those old and thick photo albums are loved for a reason. 
What if you could print photos directly from the confines of your iPhone? We'll tell you how.
3 Ways to Print Pictures From an iPhone:
1. Print the Picture From Your Own Printer
Step 1: Open the Photos application on your device.
Step 2: Tap or select the picture you want to print
Step 3: On the lower left-hand corner, you'll find an icon that ooks like a box with an arrow pointing upwards. It's the Share button. Tap on it.
Step 4: A menu on the bottom will appear. Swipe left to get to the Print option (it's at the end) and tap on it. 
Step 5: Click or tap on Select Printer (keeping in mind that your printer is Wi-Fi connected).
Step 6:  Choose and tap on the printer that you would like to use and adjust the number of copies by tapping on a plus and minus buttons.
Step 7: Finally, tap on Print and enjoy your photo creations on paper.
Read More: How to Recover Deleted WhatsApp Messages on iPhone
For iOS 13
With the new iOS update, there have been some changes in the interface of the iPhone, but not a lot of it. It's still a bit of the same process with differing options.
Step 1: Open the Photos app on your iOS 13 operated device.
Step 2: Locate the picture that you wish to print
Step 3: Tap on the Share button (it still looks the same)
Step 4: Scroll down the menu and select Print. A Print screen would now open (only if the printer is compatible with AirPrint).
Step 5: To choose your printer, tap on Select Printer.
Step 6: Then adjust the number of printed copies by tapping the plus and minus buttons accordingly.
Step 7: Finally tap on Print and bask in the glory of you accomplishing this task.
Some printers which are compatible with AirPrint:
HP OfficeJet 250
Canon PIXMA iP110
Brother HL-L8360CDW
EPSON Artisan 730
2. Go to Get It Printed From Outside
Now, this option is suitable for those who like stepping out of the house. If you are one of those, then keep on reading.
There are two ways you can achieve a printed picture in your hand with the use of this option:
A) Upload photos on the app or portal beforehand, and then later pick them up
Many a time, a lot of printing businesses have an app or an online portal, where the user or customer uploads her/his photos and then picks them up from the store afterward. This is perfect for people who don't depend upon their own printers or a completely online store for delivering them the desired results.
This service is currently offered by Walgreens app, Target in association with Shutterfly, and KODAK Kiosks. 
B) Actually going to the offline location and overlooking the whole printing process
Sometimes you feel like experiencing those olden days when you had to physically go to a printing shop, wait for your turn and then wait some more for your prints. Ah! Those were the days, right? 
It can still be experienced…at Walmart. 
Putting the questions like "Does Walmart has a print shop? "or " How to print pictures from iPhone at Walmart?" at rest, we reveal to you the whole deal.
Walmart Photo Centers, located in most Walmart stores, are self-service kiosks that let the customers print digital pictures conveniently and on their own accord. By using these kiosks, one could upload the pictures through a memory card at the kiosk, print and edit the pictures, and even create quirky printed items. All this needs to be done at a nearby (or far) Walmart, and at the customer's own pace. The pay for this service is also not a high amount. Definitely a steal!
Read More: How to Use iPhone as Webcam
3. Using Online Applications to Get Prints and Then Mailed to You
Applications have made our lives exceedingly less laborious and extremely dependent on online sources, for almost every task that we do and think about. It's like they don't want us to do anything manually, except tapping and swiping.
But who's complaining? There is no doubt about the fact that their existence is what's making the world go forward faster. They have made it easier (yes, they have) to be a human being amongst billions of other people, lack of world peace, and a lot of stress all around.
And similarly, we need us some photo printing applications. One just needs to upload the picture(s) she/he wants on these platforms, choose the style or item they want it/them to be printed on, and voila, it'll be done and mailed to you super soon.
P.S.: We are not going to deny the fact that sometimes (not always) the services of these applications may cost a lot (sometimes a hand and a leg), but they are so worth it.
A) Snapfish
Snapfish photo printing app is a great choice for budget prints and gifts. It offers competitive prices, a range of print sizes (glossy or matte), great deals and offers (such as 50% off)
The wide and sheer variety of print products like photo books, posters, personalized gifts and cards, photo blocks, and much more, make it a top favorite on everybody's list. And it doesn't end here; you can even create custom blankets, coasters, iPhone cases, key rings, and cushions with pictures of your choice. 
It's all free to download, and new users get an offer of 100 free prints every month once they sign up (I know, it's awesome).
Although the print quality might not be as good as some other print services, Snapfish photo printing app does the job pretty well for people on a tight budget. 
B) Shutterfly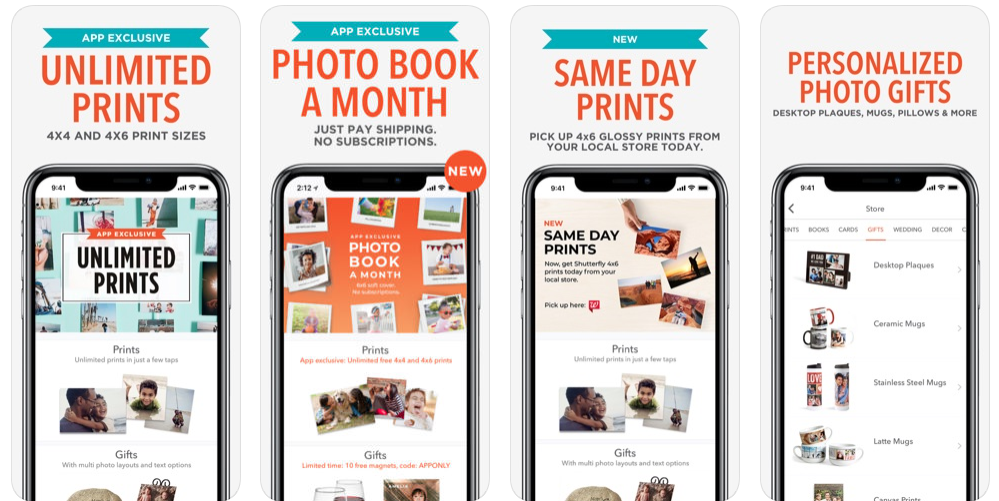 Printing high-quality pictures from your iPhone have never been this easy and fun. Shutterfly is regarded as one of the best printing apps by millions of users worldwide. 
For all those who wonder, "How to print 4×6 photos from iPhone?" or "I need to print 4×4 inch photos from my iPhone, what should I do?" this here is your solution. 
Shutterfly offers unlimited 4×4 and 4×6 inch free prints (SAY WHAT?). The freebies don't end just yet, as you even get a 6×6 inch free photo book every month and a ton of other exclusive deals and offers that you can't miss out on. 
In addition to prints and photo books, Shutterfly offers a selection of personalized print products like greeting cards, candles, mouse mats, mugs, keepsake boxes, and so many others. A wide range of wall artistry also makes the cut in Shutterfly's collection.
And all of this in just one app, which is, my friends, free to download.
And there we have it. These are the ways through which you can print pictures from the iPhone and have a lot of fun sharing and/or hanging them around your place. If you know about anymore that we might have missed, please share it in the comments. 
Diksha Lalwani is an aspiring content marketer and a self-declared bibliophile. An English honors graduate, she likes to keep up with the recent happenings around the world and form an opinion. Her interest in anything and everything tech made her follow the path into becoming a technical writer.
Subscribe to Our
Newsletter

and stay informed

Keep yourself updated with the latest technology and trends with TechPout.
Related Posts