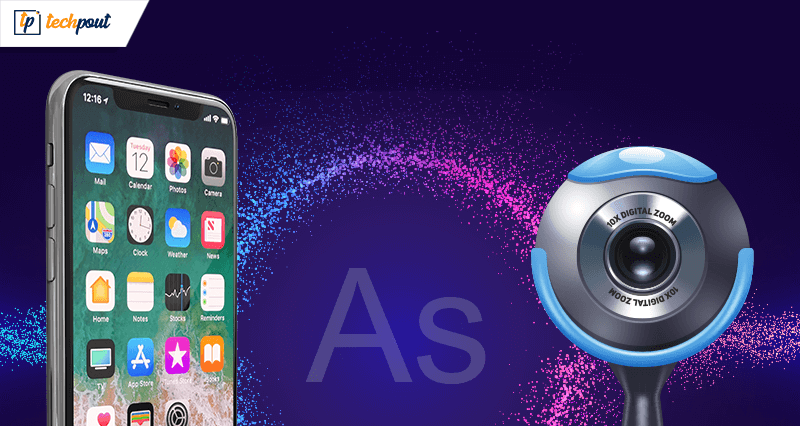 Video calling is the new audio calling. Everyone seems to do it. Be it for work purposes, or for connecting with loved ones, video calling is there everywhere.
Now, a webcam (the one attached to your computer) is also a necessity these days. Many budding YouTubers and gamers rely on this piece of technology for their pursuits. And for the video call lovers, they require it too.
But what happens when it is broken or is not working anymore? Do you sit around feeling remorse? NO! You don't.
What if I tell you that there are ways to gain back a webcam again? Just use your iPhone.
What to Do When You Want to Use Your iPhone as a Webcam?
Your iPhone is capable of doing anything, well almost. It helps you out in almost every possible issue you face. And when your webcam is broken, it would help you there too. There are various apps that would allow you to use your iPhone as a webcam. They are:
1. EpocCam
One of the best and most frequently downloaded applications to use an iPhone as and in place of a USB webcam. Who liked those old webcams anyway?
With great raving reviews about its competence and reliability, EpocCam has made a special place in every video call user's heart.
It comes with two versions: free (with ads and limited functionality), and a paid one called EpocCAM HD which has all unlocked features.
These amazing features include audio support, flashlight ability, focus and autofocus modes, and improvement in video resolution (to 1920×1080 pixels from 640×480 pixels).
It is also a near-perfect app to use the iPhone as a security camera, baby monitor, and spycam. It is very easy to set up and supports both Mac OS X and Windows, but it requires iOS 8.0 or higher for compatibility.
2. WebCamera
WebCamera is a very powerful and staggeringly popular iPhone webcam app. It costs less than $5, way less than what you'll pay for even an off the shelf and no-name webcam.
It uses the local Wi-Fi connection and presents a really good set of video quality, modes, and latency. It lacks HD resolutions, only able to capture videos in resolutions of 640х480, 480×360, and 192×144.
But still, it copes really well with fast-moving objects and low light.
It has compelling and formidable compatibility with Skype, Windows Live Messenger, Google Hangouts, and other instant messaging apps. Along with them, this app also boasts of a great connection with video production software such as Camtasia and Boinx TV (A definite win-win situation!).
3. PocketCam by Senstic
PocketCam is a very well-designed and nifty tool that dabbles in almost everything. It is multi-faceted, multi-talented, and multi-amazing!
It transforms your iOS device effortlessly so that your iPhone can be used as a USB webcam for your Windows or Mac PC.
Setting up the application is a fluent cakewalk; using and configuring it is even easier.
It is the real deal because of its top-notch, yet easy-to-use features and high video quality.
Read More: How To Use Google Maps And Get Traffic Updates
4. iCamSource Pro
iCamSource Pro is another great application that can turn an iPhone into a webcam. The only tag associated with it is a price tag, as it doesn't have a "lite" or a "free" feature-reduced version.
But once you purchase this, you'll need to get the iCam Pro Webcam Streaming app installed too. As soon as you have both the apps involved, streaming live audio and video from any iOS device will be a piece of cake.
You can also employ the assistance of this app to create a neat set up and use the iPhone as a security camera. It sends instant alerts when it detects motion or sound.
Stream multiple live videos instantly, record and playback the motion events, backup the motion event, and do a lot more instantly after recording.
5. iVCam
iVCam is a highly proficient application to turn your iPhone into a wireless webcam.
It is capable of delivering high quality (HD) videos with low latency and supports all standard sizes, including 080p, 360p, 480p, and 720p. The user also has the option to configure the frame rate and audio/video quality.
It comes with two versions as well: a free and a paid one ($5). Although they both share the exact same features, the only difference is that the paid version comes without a watermark embedded in the video.
All one needs to do to use it is, download the application to the phone, download the driver from the app's website to the computer, and finally pair both of them together.
iVCam also supports landscape and portrait modes, face beautification, video flipping/mirroring, and many more incredible features.
The biggest shortcoming of this fully-featured application is that it's not compatible with Mac, only with Windows. So Mac users would have to rely on some other software.
6. Instant Webcam
Instant Webcam streams full-screen videos and audios on devices existing in the common Wi-Fi network.
Its CD-quality AAC audio, sub-100-millisecond latency, and 30 FPS videos make it a favorite amongst many. It also lets users choose their preferred video resolution.
Based on your preference, you can either opt for a front or for the rear camera to shoot videos. Although you would have to record and download the MPG videos in the browser only.
And this is how you can get rid of your worries about an inoperative webcam, and employ the use of the above-mentioned apps to carry on with your video creation and calling.
Diksha Lalwani is an aspiring content marketer and a self-declared bibliophile. An English honors graduate, she likes to keep up with the recent happenings around the world and form an opinion. Her interest in anything and everything tech made her follow the path into becoming a technical writer.
Subscribe to Our
Newsletter

and stay informed

Keep yourself updated with the latest technology and trends with TechPout.
Related Posts