How To Make Slow Motion Video On Android & iPhone

If there's something that excites everyone now and then, it is the existence of slow-motion videos. There's some sort of charm about a motion effect that just breaks down the video pictures into tiny little pieces. Not to mention the fact that it's also superiorly hilarious (see a slow-mo video of a person sneezing, and then you'll know).
If you want to create your own slow-motion creations, then you are just in the right place. We've got a bunch of different options for you.
How to Make a Slow-Mo Video on Android?
If you are working on an Android phone, there are some chances that you might have a "Slo-Mo" video feature already embedded in your in-built Camera application. But if it isn't like that, we present to you a list of incredible applications that would help your videos 'slow down'.
1. Slow Motion Video FX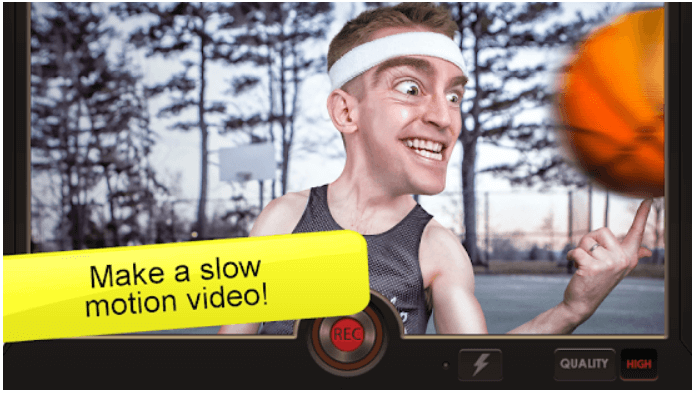 Slow Motion Video FX is a fully-featured and beloved app that helps in creating slow-motion or fast-motion videos. 
The user can choose the speed of the output movie, record her/his speech to make it fast or slow. It is extremely easy to use. 
The output video can be easily uploaded on YouTube or Instagram to get a lot of views. 
All in all, it is a lightweight app and will be a great addition to any budding video maker's collection. 
---
2. Videoshop – Video Editor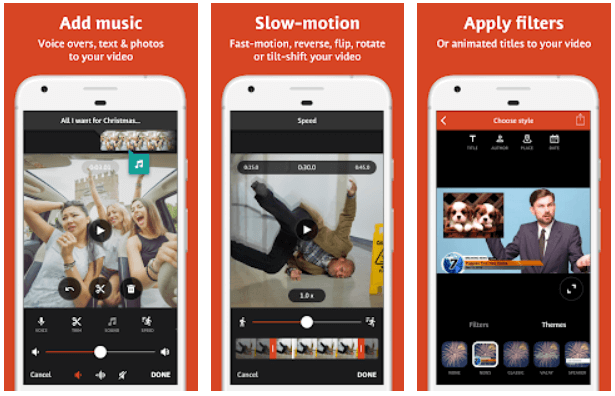 Videoshop is one of those apps that nobody seems to hate anything about. It is perfect for both Android and iOS users. 
One can clip and merge videos, adjust color and hues, add music (either from Videoshop or from personal music library), record voice-overs (like a YouTuber!), even create animated titles, and much more. 
But, hands down, one of its best features is that a user can change the motion of the video (either slow or fast). Which means you can create your very own slow-motion videos. You can choose or select a part of the clip wherever you want to apply a slow-motion effect. 
The app is free to download and has in-app purchases to unlock extra features and remove ads.
---
3. Hudl Technique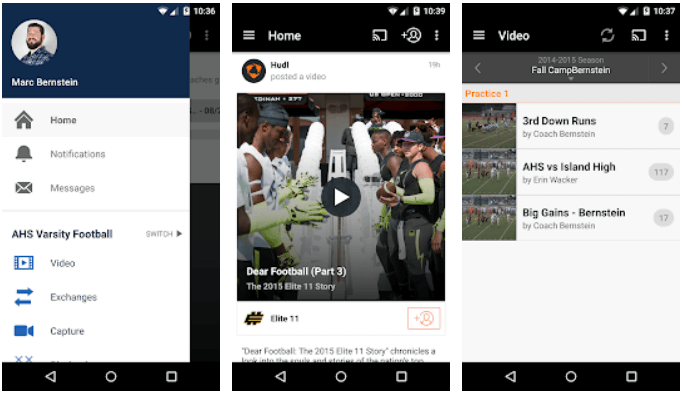 This application is a digital helper for sportspersons all around the world. It lets them watch videos in slow-motion to track or analyze mistakes and skills when they are practicing. 
You can compare and synchronize 2 videos parallelly, side by side (a great feature!) for better research, and can even annotate on the video by writing or drawing over it.
For the sports fanatics, it is a perfect choice to check and compare different techniques of their favorite players, and then incorporate those in their routine.
The only major con to this application is that it doesn't allow any voice recordings.
---
4. Slow Motion Video Maker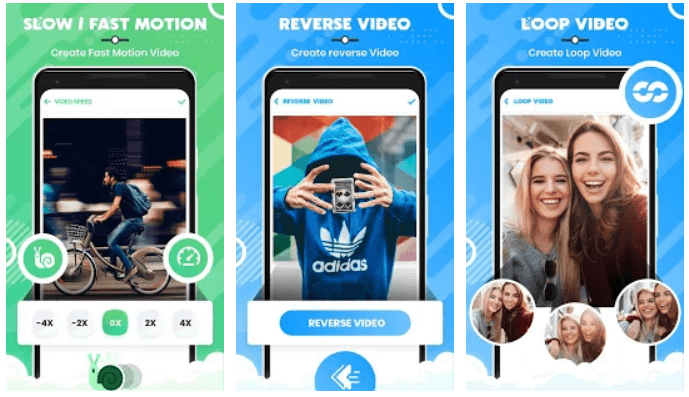 Yet another application by which you can make slow-motion videos is – Slow Motion Video Maker. With this application, you can not only make slow-mo videos but also make fast, reverse loop videos. The app has an in-built processing editor that helps the users to edit the video without the watermark and adjust the speed as well. 
The user interface of the application is slick and pretty easy to use which lets you choose the file directly from the gallery and renders it into slow-mo within a tap. The application allows you to trim, flip, edit, rotate, and control the video speed. You can get this app from the button below.
---
How to Make a Slo-Mo Video on iPhone?
Well, we all know that the birth to slow-motion videos in the pop culture and the millennial world was given by iPhones. There is an in-built function of slow-mo videos in the Camera application. And that is super easy to use and operate. I am sure that you don't require any instructions for that.
But if you are bored with that generic and basic feature, you can also opt for some great video editing applications in your App store.
1. SloPro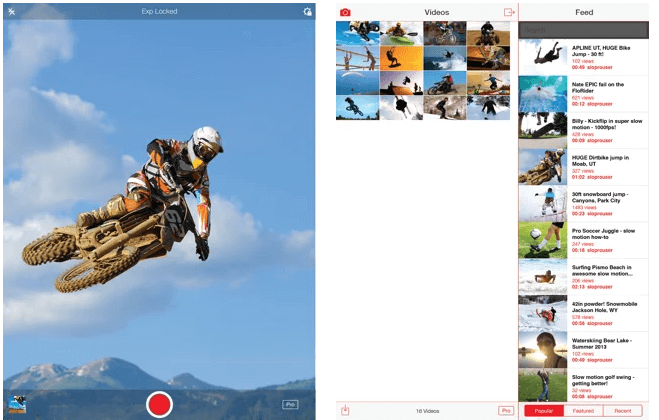 Now, this slo-mo video editor is a PROfessional in its own rights. It is easy to use and has a facility to attain up to 1000 FPS. It is so easy to toggle the functions to turn the video from very fast to very slow, hyper-slow to hyper-fast, or simply fast to slow. 
This application lets the user record, perform editing with an array of tools, and finally share the newly customized creation on various social networks. And did I mention that all of this is for free? 
The major pitfalls of SloPro are that there is no option to add audio to the videos and the presence of a watermark on the edited videos.
---
2. Mogul: Slow Motion Video Camera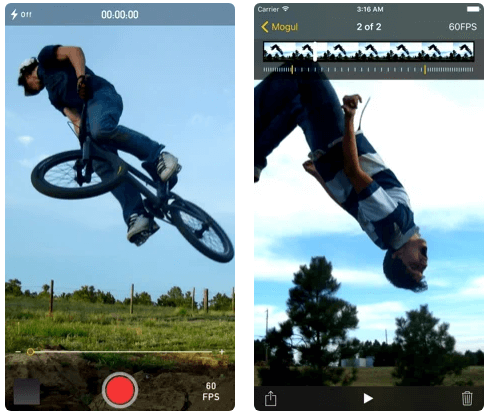 This amazing slo-mo application lets users shoot videos in high frame rate and high definition. You can play back any portion in slow motion.
Capture slo-mo videos at 60 FPS in 720p HD. You can also share your funny and beautiful creations with your friends anytime from anywhere.
---
3. SpeedPro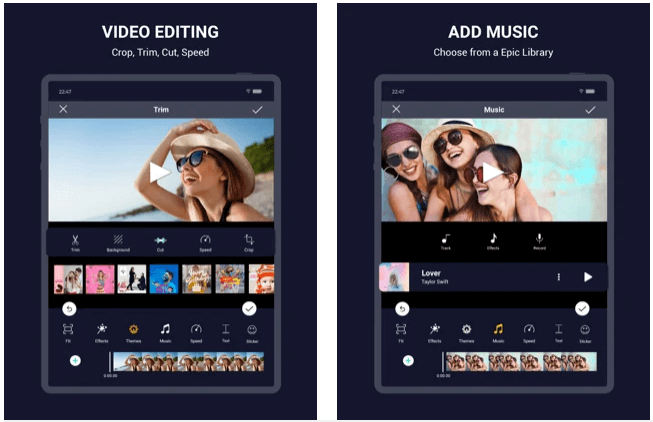 This is regarded as one of the most incredible applications to record slow-motion videos on iPhone. Even though it won't let you record a new clip, you can edit all other recorded videos on your phone.
You can edit and change the speed of distinguished portions of the clip, and have yourself a mixture between time-lapse and slow-motion. 
It is completely free of cost and also lets the user add background music to the videos.
---
There are many great video editing software for Windows too. So, if you want to check them out, you can see them here.
So guys, this is how you can make slow-motion videos on your devices and have a lot of fun sharing them. These slo-mo video editors are excellent and will most definitely be your new best friend.
Diksha Lalwani is an aspiring content marketer and a self-declared bibliophile. An English honors graduate, she likes to keep up with the recent happenings around the world and form an opinion. Her interest in anything and everything tech made her follow the path into becoming a technical writer.
Subscribe to Our
Newsletter

and stay informed

Keep yourself updated with the latest technology and trends with TechPout.
Related Posts