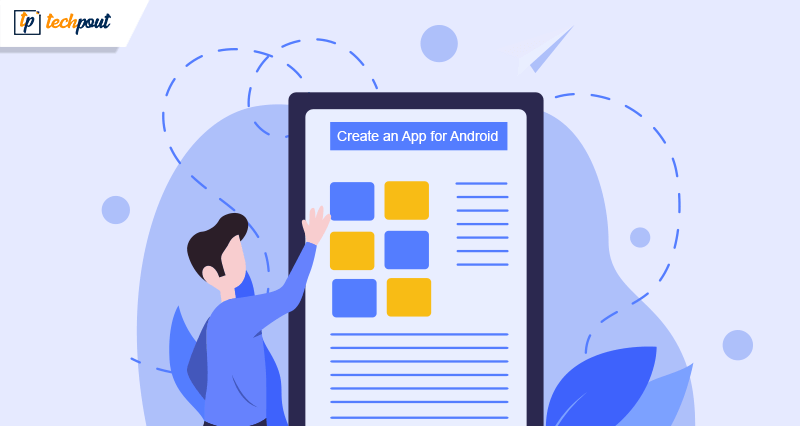 With the fast-paced journey of the technology around us, day-by-day we are becoming more and more dependent and skewed towards digital resources of living, aka gadgets and applications.
The creative soul inside all of us comes alive once in a while for different purposes. Building an app from scratch is one of those purposes. We are surrounded by apps completely (that's literally so true), and it isn't a guess that we would like to have one of our own apps at some point.
And hence, we'll tell you how to create an app using app builders.
Why You Might Want to Create a Mobile App?
There can be a multitude of reasons for your decision to jump into the app development world. You might have the greatest idea the world has seen in a long time. Or an idea that could help a lot of people. Maybe you just want to have fun and not looking forward to an extensively made application. But for many, it's a way to boost up their business and build a more profound consumer-based network.
Why an Android App is Necessary for Your Business?
You can build better customer relationships easily
Your online app business can stay open 24/7
You can reach to your customers all day, every day without fault
You can create better business plans by tracking your customers' choices and needs
Some Basic Steps to Create an App (For Mid-Range to Advanced Developer):
Step 1. Having a great idea for the app.
Step 2. Having a wireframe/ blueprint of all the features in the app.
Step 3. Picking IDE and learning the basics of Java (you have to!)
Step 4. Building the layout and acquiring the images.
Step 5. Finally, writing the code and implementing advanced functionalities.
Step 6. Adding some final finishes and touch-ups.
Step 7. Admiring, publishing, and using your app.
How to Create an App Without Coding?
Not all of our work at Silicon Valley and have great computer skills (and by great, I mean, extraordinary). To be truthful here, heavy coding looks like alien jargon to me. Now don't come at me, I know it's the same for many of you. But that doesn't mean we can't dream, right? 
Keeping us mere mortals in mind, the gods of the tech sector have blessed us with various applications and software that deliver our app dreams to us, without asking for any coding or technical knowledge in return. Some of those incredible creations are:
1. Appy Pie
This is undoubtedly one of the best free app builders out there, regardless you are a coder or not. Even though it has different price points for different tiers of functions, its free version makes up for most of the basic needs of amateur app developers.
This DIY and super easy to use tool helps in making app creation, a fast and unique experience. It comes with an array of unique features and competitive analytical abilities.
It has dragged and dropping a building ecosystem that makes it a favorite of app developers, old and new, all over the world.
2. Mobile Roadie
Mobile Roadie is the big star amongst all the app makers. Its list of clients includes Universal, Disney, and TED.org. Because of such a clientele, it charges quite a bit for its services.
But in its defense, it provides its users with a collection of design choices, amazing templates, and their customization space. It even has community features like chats and fans walls.
However, small businesses and amateur developers hesitate to invest in it just because of its heavy pricing.
3. Andromo App Maker
With a user base of more than 1 million, there are no doubts regarding Andromo App Maker's supremacy and excellence.
It allows access to its users to build their first apps completely free of cost; they just need to sign up with Andromo. They can inculcate all their desired activities like music, videos, surveys, maps, and a lot more features. And with one-click, the app is created and ready to be uploaded.
To all those who always think and ask, "How to create an app and make money?" Andromo app is your solution, people (It claims earnings of around $10,000 for top apps). It has features like polls and ads that you can affix to your app. This way, you build a paying app with ease and simplicity.
4. App Makr
This one is a really basic and humbly interfaced application for people who are miles away from coding knowledge – regarded as one of the best app builders for 2018 and 2019.
One can simply go to the website, enter the preferred app name, and begin to follow the steps by using its easy modules. The designs can be changed or tweaked as per the user's wishes.
App Makr is surely a great app developing a tool for doubtful beginners.
5. MIT App Inventor
Children love it, school kids love it, college students love it, and we love it too. MIT App Inventor has a very basic and user-friendly interface that aids you in developing a high impact and complex app.
It is a block-based tool and doesn't require coding basics for a fully-functional and intuitive app creation.
One of the very best features of MIT App Inventor is that you can see the working of your developed app in real-time by connecting your mobile phone to it.
Best App Builders With and Without Coding Requirements
1. GoodBarber
GoodBarber is the next best friend to those newbies who don't know the ABCs of coding but want a marketable app. It consists of around 50 professional themes, incredible content creation tools, and customization tools.
The interface is similar to a website creating a platform, and the app is highly impactful for organizations like NGOs, restaurants, local businesses, etc.
2. Buzztouch
It is another great comprehensive online tool that allows the user to operate with pre-written plugins and even customize them to form new features without any restrictions.
On its website, one can go through a complete guide about its working and learn a great deal from it.
Buzztouch is a sure shot solution for many Android app developers.
3. Xamarin
Xamarin is a cross-platform tool that is used to build apps using Visual Studio. It lets the user create programs using a single code base (with C#) and ensures a fast and flawless experience. It has comprehensive hardware support and has code reusability attached to it too.
It obviously comes with a bit of a learning curve but is perfect for novices in the coding world.
Now you can put questions like "How to create an app for free?", and "How to create an app and make money?" to rest. These app builders are a great addition and decision to make in your budding app developer life.
Diksha Lalwani is an aspiring content marketer and a self-declared bibliophile. An English honors graduate, she likes to keep up with the recent happenings around the world and form an opinion. Her interest in anything and everything tech made her follow the path into becoming a technical writer.
Subscribe to Our
Newsletter

and stay informed

Keep yourself updated with the latest technology and trends with TechPout.
Related Posts