Highest-Paid YouTubers 2019: Ryan Kaji, Eight-Year-Old Tops List with $26 Million
Published Date :
Dec 23, 2019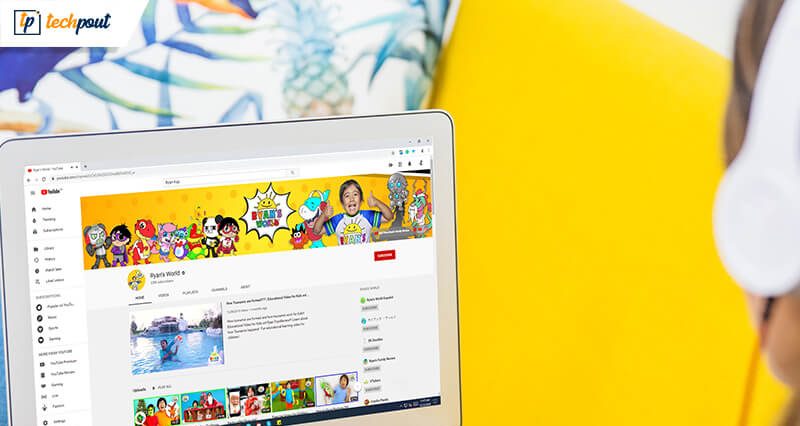 This is the second time in a row that eight-year-old YouTuber Ryan Kaji has made it to the Forbes Magazine list of the highest-paid YouTubers of 2019. According to the recently published list, Ryan's channel called "Ryan's World" earned $26 million and acquired the first spot this year, followed by "Dude Perfect" with $20 million earnings.
"Ryan's World" belongs to Ryan Guan, which had also topped the Forbes list of highest-paid YouTubers in 2018 with earnings of 22 million. His channel was initially called "Ryan ToysReview," which was launched by his parents when he was five years old. The channel mainly featured videos by the young YouTuber opening boxes of toys and playing with them.
The YouTube channel has about 22.9 million subscribers and so far has received 35 billion views since 2015, according to the data analytics report made by the website-Social Blade. Some of his videos have also surpassed 1 billion views individually.
The most popular video on Ryan's channel raked 1.9 billion views. The video runs for 5 min 56 seconds and features Ryan running around his garden on an inflatable to collect plastic eggs with toys inside them. Ryan and his parents regularly release videos on his channel.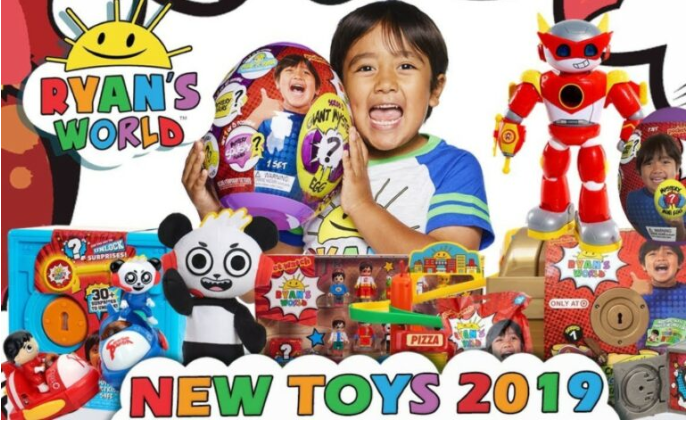 As the young celebrity is growing up, so is the content of the YouTube video channel evolving with the inclusion of educational and informative videos apart from the toy featuring videos.
The channel was later renamed "Ryan's World," after concerns were raised by Truth in Advertising. Truth in advertising lodged a complaint with the US Federal Trade Commission (FTC), accusing Ryan's channel of not appropriately denoting the sponsored videos from various toy brands who wanted their products to feature on his channel due to his high popularity.
The third spot was grabbed in the Forbes list of highest-paid YouTubers of 2019 by "LN Vlog," which is another child star's channel, with $18 million earnings. "LN Vlog" belongs to a five-year-old child from Russia with cerebral palsy, Anastasia Radzinskaya. Her channels, "Like Nastya Vlog" and "Funny Stacy," has over 70 million subscribers worldwide with videos available in English, Russian, and Espanol.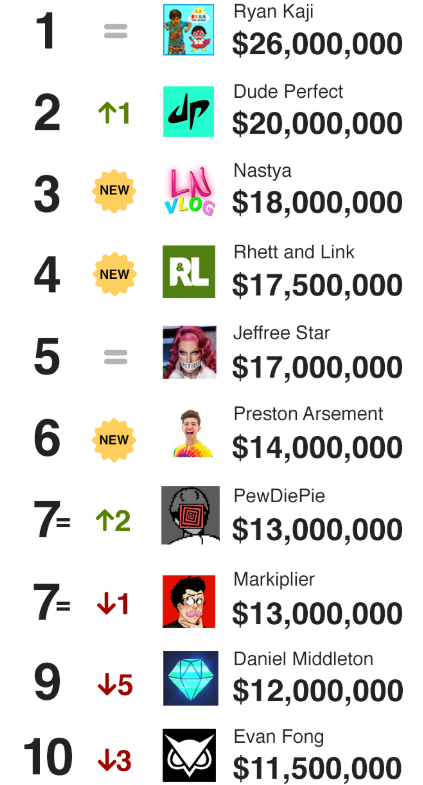 According to a study conducted by the US think tank of Pew Research Centre, YouTube videos featuring children gain more popularity when compared to other forms of videos.
Read More:  YouTube Homepage Brings Useful Features To Desktop and Tablets
According to Chris Stokel-Walker, an internet culture writer and author of "YouTubers", "The huge number of people who start a YouTube channel, or take up the career of an influencer, won't make it far ahead."
"But Ryan is exceptional," he added.
There are several others who have gone up or down in the list. Daniel Middleton, Minecraft, and Fortnite player dropped from the fourth position to the ninth position this year.
PewDiePie climbed up the list from ninth to seventh ranking despite being criticized for releasing videos that have hurt the racial sentiments of some people.
Some YouTube content creators like Logan Paul and his brother were completely excluded from the list.
Thus, it can be said that age is not a factor when it comes to being a YouTube celebrity and becoming the highest-grossing YouTuber nowadays.
Additionally, there is another report which drew FTC's attention and for which YouTube's parent company Google got into trouble this year. FTC accused Google of collecting unauthorized data from child YouTube users for which Google had to agree to pay $170 million fine.
Image Source: Google, BBC
Snigdha is a technical content writer with expertise in the field of science & technology. Though she has a very diverse academic and professional profile yet she finds writing to be a creative form that she was unable to explore so far. When not writing, she can be found indulging in other forms of creativity like painting or travelling.
Subscribe to Our
Newsletter

and stay informed

Keep yourself updated with the latest technology and trends with TechPout.
Related Posts