If you want to know how to get help in Windows 10 for free, then you've come to the right place. We talk about the same in this article. 
Getting help in Windows 10 is easy now, unlike the old times you don't have to take your system to a computer repair shop every time it runs into an error. There are many simple ways using which you can get help for every issue that relates to your Windows.
In the next section of this article, we have mentioned every method in detail to provide you a clear insight on how to get help with Windows 10, easily and quickly.
Without any delay, let's start our discussion with some quick and easy ways on how to get help and support from Microsoft.
Tip: If you want to get the most out of your machine, check out our well-researched list of must-have software for Windows 10.
How to Get Help in Windows 10 For Free From Microsoft Support
Following are a few different ways on how to get help with Windows 10 problems.
1. Press the F1 Key on Your Keyboard
The F1 key is one of the most conventional methods to find help for Windows 10. When the F1 key is pressed on the desktop, it provides users with Bing search results on "how to get help in windows 10."
However, when the key is pressed within a Windows application, it opens a help screen for the active application. For instance, if you press the F1 key on the Windows built-in Device Manager application, it will show you a list of error codes generated by Device Manager on the Microsoft support page. And if you press F1 in your Chrome browser, it will open the Google Chrome Help Center.
Also Read: How to Download & Update Microsoft Mouse Driver on Windows 10
---
2. Search for Help in Windows 10
Another easy way to get help in Windows 10 is to use the Start menu's search feature. This method requires you to enter your query or keywords in the search bar located on the left-hand side of your taskbar to find apps, documents, settings, and get help from the web.
If you prefer talking over typing on the keyboard, you can ask Cortana to answer your doubts. You can enable this Windows built-in virtual assistant to actively listen for your voice commands by turning on the "Hey Cortana" feature in the Settings app.
---
3. Use the Get Help App in Windows 10
This is by far the most convenient and effective way to get help with Windows 10 problems. All you have to do is launch the Windows built-in application called "Get Help" (known as Contact Support before the release of Windows 10 Creators Update) using the Start Menu.
To find solutions for your problems using the Get Help app, you just need to briefly describe your problem, such as "how to update device driver" in the search bar. The application not only provides answers to the users' questions but also offers links to recommended articles for online help.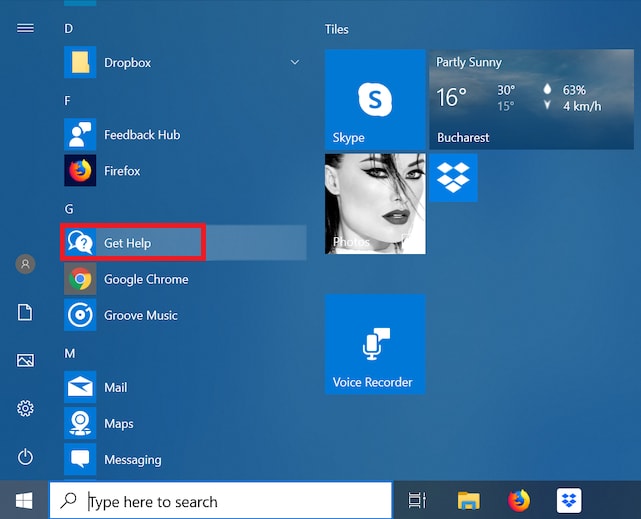 Also Read: Microsoft Releases Optional Features and Driver Updates to Windows 10
---
4. Use the Tips App in Windows 10
Microsoft has built a dedicated Tips app into its operating system that aims to provide an array of useful tips and tricks to help users to make the most out of Windows 10. You can access the application by typing "Tips" in the search box on the taskbar and selecting the Best match result. One can also browse Microsoft Tips through the official support website.
Anyone who wants to get Windows 10 help in using the latest features, apps, and settings should definitely check out the short-and-sweet tips included in the app.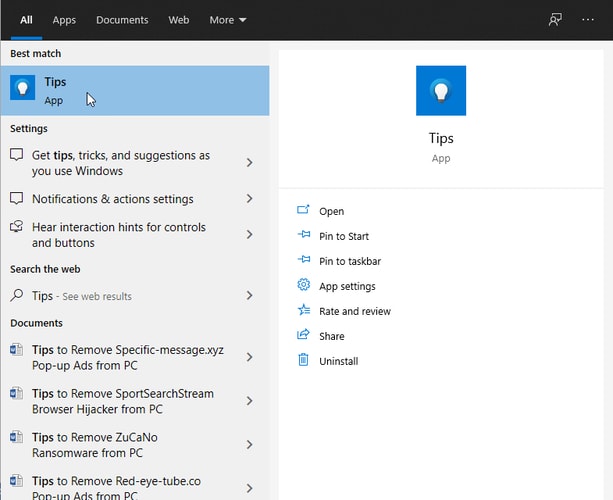 ---
5. Microsoft Support Website
This is, without a doubt, one of the most reliable ways to get help in Windows 10 from Microsoft support. You can navigate to support.microsoft.com/windows and choose your category to access support content. If your category is not listed there, you can type in your question to find the links of recommended how-to support articles.
Also Read: 10 Best Microsoft Edge Themes for Windows 10 in 2021
---
6. Ask the Microsoft Community
The next thing you can do to get help with Windows 10 problems is to visit the Microsoft Answers website. On the website, you need to select the Microsoft product and service from the Browse the Categories section and sign in with your account. This will take you to the Microsoft forum's website where you can view millions of previously answered questions from other knowledgeable community members.
The website also lets you post your own question, respond to someone else's, or join a discussion.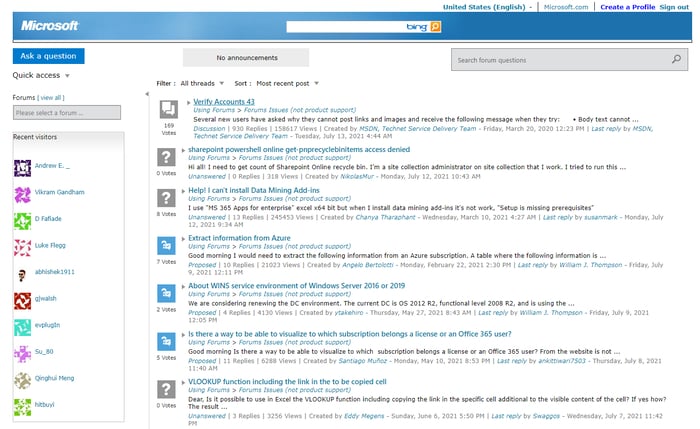 ---
7. Contact Microsoft Support via Phone or Live Chat
If you're unable to find an appropriate answer to your question on the support website, then you can try to connect and speak to a Microsoft support agent directly to get Windows 10 help.
For any further information/assistance, you can scroll down to the More support options section and select the Contact us option. On the Contact Microsoft Support page, you can describe your issue in the search box and tap on the Get Help button to find answers to your questions.
However, if you are not satisfied with the recommended Windows 10 help offered by Microsoft, you can navigate to the Need more help section and start chatting online with a Microsoft support executive. You can also arrange a call-back or contact Microsoft tech support person at phone number 1-800-642-7676.
---
8. Use the Internet to Search For Solutions
The internet is a great place to look for solutions to complex technical problems. So, if you're having trouble finding help in Windows 10, you can try to perform a web search using a search engine like Google or Bing to find answers to your queries.
---
9. Use In-Built Troubleshooters for Windows
In case you experience issues with your Windows device, an in built utility of Troubleshooters can help you. You can find this utility in the following location.
Settings App> Update & Security > Troubleshoot
Else you can simply search for Troubleshoot in the Search section.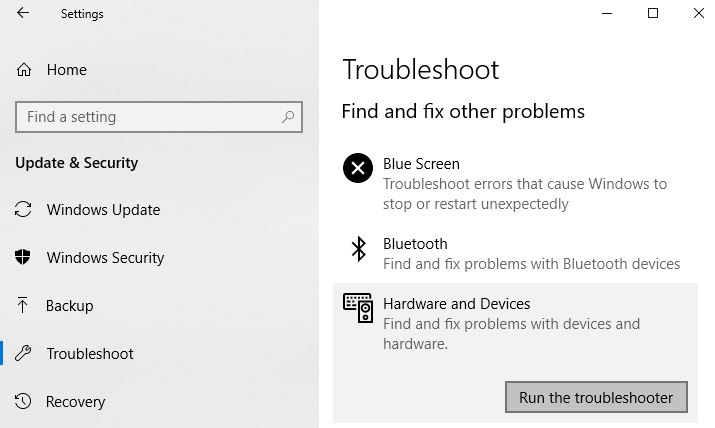 Here, in the Troubleshooters section select the appropriate option. For example, if the problem is related to Connections click on Internet Connections. Now Run the troubleshooter to automatically identify the problem and fix it.
Your Windows device will resolve the issue on its own and offer the solutions or measures that can be taken.
Also Read: Microsoft Windows 11 Release Date, Specs, Price, Features & Other Details
---
Final Words on How to Get Help With Windows 10 Problems
Above we have shared a bunch of useful ways on how to get help in Windows 10 for free. You can try them one by one to find help for Windows 10 whenever you run into a problem.
If you know some other effective ways on how to get Windows 10 help, please share your knowledge with us by leaving a comment below. Lastly, before you leave, do subscribe and join our newsletter to get the latest updates on emerging technology trends.
Monil is a professional writer whose forte is absorbing a lot of data and help large technical organizations convey their message clearly across multiple products. An engineer by qualification, his affinity for design enables him to write to inspire, energize, and influence various audiences to uncover their true potential. When not writing, Monil is likely to be found listening to music, traveling, or simply excavating into his favourite cuisines.
Subscribe to Our
Newsletter

and stay informed

Keep yourself updated with the latest technology and trends with TechPout.
Related Posts