Fixed OBS Dropping Frames [Latest 2023 Tips]

This article guides you through the best possible solutions to the frames-dropping problem of OBS.
OBS (Open Broadcaster Software) is a free open-source software to live stream and record videos. It helps you capture, composite, encode, record, and stream video content hassle-freely. However, issues like OBS dropping frames are hampering the experience of many users with this software.
Are you also one of those users who are troubled with frames dropping in OBS while streaming? If yes, this article is here to help you.
This write-up acquaints you with the tried and true solutions to the OBS frames lagging and dropping problems. However, let us first look at what may have triggered these issues before attempting to fix them since knowing the possible causes helps solve the problem better.
Why Is OBS Dropping Frames
Below may be the possible reasons OBS keeps dropping frames.
Outdated network driver
Hardware problems
Inappropriate bitrate
Interference from your antivirus or Firewall
Multiple background apps hogging the bandwidth
Server issues
Above, we listed some causes of constantly dropping frames in OBS. Now, let us walk you through its fixes.
100% Working Fixes for OBS Dropping Frames
You can apply these solutions to get rid of the frame drops in OBS.
Fix 1: Check for hardware issues
Hardware problems like a malfunctioning router are some common factors that may be responsible for OBS frames dropping. Hence, checking and fixing the hardware issues can help you solve the problem. Below is what you can do to eliminate problems related to the hardware.
Instead of the router, connect the modem directly to your computer's back
Try using another ethernet cable
Switch to a wired connection if you are connected to WiFi
Also Read: How to Fix OBS Not Picking Up Mic Windows 11,10
---
Fix 2: Reduce the bitrate
Bitrate affects the video quality significantly. Hence, a lot of users set a high bitrate to make the video quality better. However, you may experience OBS Studio frames dropping if the software is unable to support the bitrate. Thus, below is how to lower the bitrate to fix the problem.
Firstly, open OBS and navigate to its Settings. You can find the Settings option in the File menu.
Now, select Output from the left menu.
Choose a lower bitrate from the video bitrate and click on OK to save it.
---
Fix 3: Perform network driver update (Recommended)
Outdated drivers often result in many problems like OBS frames dropping. Hence, updating the driver is among the sure-shot ways to fix the issue. You can update the driver manually or automatically.
We do not recommend the manual way to update drivers since it is cumbersome, risky, and time-consuming. In our opinion, the best approach is to update drivers automatically using trusted software like Bit Driver Updater.
The Bit Driver Updater software updates all out-of-date drivers automatically with just a click. Moreover, it boasts many essential features, such as driver download speed acceleration, scan scheduling, backup and restoration of old drivers, and much more.
You can click on the following link to download and install the Bit Driver Updater on your device.

After downloading the Bit Driver Updater software and installing it, either you can wait for the automatic scan to complete (it takes only a few seconds) or run a manual scan. Once the scan completes, a list appears on your screen displaying the outdated drivers.
You can update all these drivers instantly with one click on the Update Now button. If you do not wish to update every driver, you can choose to update only the network driver by clicking the Update Now button.
However, we feel it is always better to update all drivers to get the best PC performance.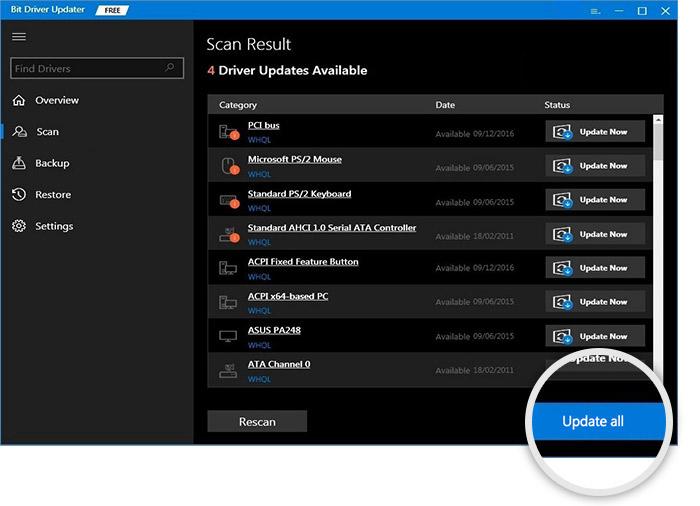 ---
Fix 4: Check your antivirus and Windows Firewall
Your antivirus or Firewall may be interfering with OBS, resulting in frames dropping. Hence, you can disable your antivirus for windows (check the software manual to learn how to do it) or turn off Windows Firewall. Following are the steps to turn off your Windows Firewall.
Firstly, search for and open Windows Defender Firewall on your device.
Now, choose the option to Turn Windows Defender Firewall on or off from the left menu.
Select the option to Turn off Windows Defender Firewall (not recommended) for all network settings.
Finally, click on the OK button to complete the above process.
Also Read: How to Fix Titanfall 2 Origin Overlay Not Working
---
Fix 5: Try changing the servers
You can change the servers if you are experiencing OBS frames dropping with your default server. Following are the directions to do it.
Firstly, launch OBS. 
Now, select Files and click on Settings. 
Choose Steam from the left pane.
Select the service you wish to use and click on Connect Account (recommended).
Use your username and password to log in.
After completing the above steps, click OK to complete the process.
---
Fix 6: Close unnecessary applications
Every application utilizes PC resources to function smoothly. However, some apps run unnecessarily and hog up the system resources, causing Streamlabs OBS frames dropping. Hence, below is how you can close these resource-hogging applications to fix the issue.
Right-click the blank space on the taskbar and choose Task Manager from the on-screen menu.
Now, select the process consuming the most resources and click the End task button.
---
Fix 7: Run OBS as an administrator
Running OBS as an administrator has also fixed frames dropping for many users. Thus, you can also try this hack by following the below steps.
Firstly, search for OBS Studio using the search functionality of your computer.
Now, right-click the first search result, i.e., OBS Studio, and choose Run as administrator from the on-screen menu.
Click Yes to run OBS as an administrator.
Also Read: How to Fix Overwatch Push to Talk Not Working
---
Summing Up
This article discussed the tried and tested solutions to fix the OBS frames dropping. You can apply the above fixes sequentially or save time by directly applying the best solution, i.e., driver update via Bit Driver Updater.
If you have any questions or concerns about this write-up, you can drop them in the comments section. We will be happy to help.
Niharika is a passionate soul who finds immense satisfaction in putting all her thoughts in writing. Being a technology enthusiast, she loves learning new things about tech and making everyone technologically literate through her articles. When not composing tech articles, you can find her bringing characters to life in her fictional stories, reading something intriguing, or spending time with her near and dear ones.
Subscribe to Our
Newsletter

and stay informed

Keep yourself updated with the latest technology and trends with TechPout.
Related Posts