How to Fix Saints Row Not Launching on Windows PC

Are you experiencing Saints Row not launching on Windows PC? Nothing to worry about, this post might help you! Here, you'll find some tips & tricks to resolve the problem, easily and quickly. Read more!
Love playing action-adventure video games? Then, Saints Row will definitely be your top pick. Developed by Volition and published by Deep Silver, Saints Row is one of the best series of action-adventure games on the market.
Recently, its fifth main installment was introduced, following 2013's Saint Row IV. Saint Row 2022, was released on August 23 this fall. The game can run on multiple platforms including Microsoft Windows, PlayStation 4, PlayStation 5, Xbox One, Xbox Series X or S, and Google Stadia. The game got positive feedback and an overwhelming response from people across the world. Irrespective of getting such an amazing response, there are a few users who have encountered issues when playing the game.
So, if you are also running into Saints Row not launching issue, then you're not alone. And, the good news is that the issue is solvable. In this blog post, we are going to discuss a few best practices to overcome this problem.
Before We Start:
Before diving into the solutions for fixing Saints Row not launching, be sure to check the system requirements. Below are the minimum & recommended system requirements of the game:
Minimum Requirements: 
Operating System: Windows 10 64-bit
Memory: 8192 MB RAM
Processor: Intel Core i3-3240 / Ryzen 3 1200
Storage: 50 GB Free Space
Graphics: GeForce GTX 970 / AMD Radeon RX 480
VRAM: 4 GB
Direct X: DX11
Recommended Requirements:
Operating System: Windows 10 64-bit
Memory: 16 GB
Processor: Intel Core i5 12600 / AMD Ryzen 7 5800X
Storage: 50 GB Free Space
Graphics: GeForce RTX 3080 TI / AMD Radeon RX 6800 XT
VRAM: 12 GB
Direct X: DX12
If your system cannot meet the minimum requirements of the game like you are using Windows 8 OS, then try to update your hardware or system to make them qualified. And, if in case, your PC has no issues with the requirements, then jump on to the next section to learn about the fixes to handle problems like Saint Row freezing on PC.
---
5 Solutions to Fix Saints Row Not Launching on Windows PC
Following are the different tactics that you can use in order to resolve issues like Saints Row not launching on PC. Let's get started:
Solution 1: Open Game As an Administrator
First and foremost, we suggest you run Saints Row under administrator's rights on Windows. This might help the game files function properly, avoiding the issues like Saints Row freezing, crashing, or not launching. To do so, you can apply the steps provided below:
Step 1: Locate and click right on the executable file of Epic Games Launcher. Then, click on Properties from the quick access menu list.
Step 2: Head to the Compatibility tab and mark the box before Run this program as an administrator.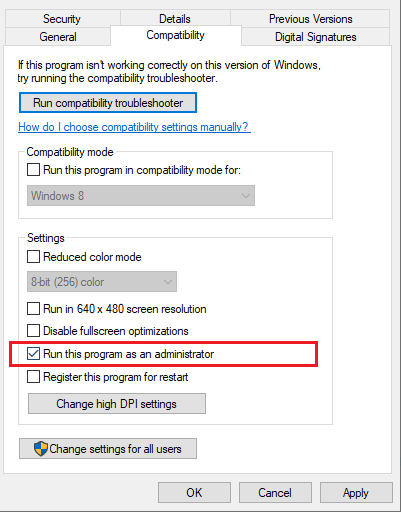 Step 3: To save changes, click on Apply and then OK.
After giving the administrator's privilege to the game, check if the Saint Row 2022 launches in the way you normally do. If not, then try another trick to fix Saints Row crashing.
Also Read: How to Fix Rocket League Not Launching on Windows
---
Solution 2: Close Background Processes
Running too many programs & processes in the system background may lead to some serious problems because these background running apps consume a lot of system resources. So, to fix the issue, you can close unwanted tasks, programs, and processes. Here is how to fix Saints Row not launching on Windows PC this way:
Step 1: Simultaneously, hit CTRL + SHIFT + Esc keys from your keyboard to invoke Task Manager.
Step 2: Next, select the processes or programs you no longer need, and simply click on End Task.
Step 3: After that, go to the Details tab and click right on the Epic Games Launcher.exe or Saints Row's executable file.
Step 4: Then, set the priority to High.
Once done, reboot your system and re-launch the game to check if Saints Row not launching has disappeared or still persisting.
Also Read: How to Fix Resident Evil 5 Not Working on Windows
---
Solution 3: Update your Graphics Driver
Issues like game crashing, freezing, or not launching during the startup majorly occur when your graphics card drivers either have gone corrupted or become obsolete. So, an outdated graphics driver might be responsible for Saints Row not launching on PC. If that happens, updating your graphics card drivers is recommended.
Anyways, updating device drivers should always be your prime priority when something isn't right with your system. You can update graphics drivers by visiting the official website of your GPU manufacturer, then download and manually install the correct driver file which is also compatible with the flavor of your Windows OS.
Are you not confident playing with the PC drivers? If yes, we suggest hassle-free update drivers, with Bit Driver Updater. It is a powerful tool that automatically identifies your system, and downloads & installs accurate driver updates for your PC. The software is available in both Free and Pro versions. You can update drivers with the free version as well, but in order to unlock the complete potential of the utility, you need to rely on its full i.e., the pro version.
Comply with the steps below to update outdated graphics drivers via Bit Driver Updater:
Step 1: To begin the process, download Bit Driver Updater.

Step 2: Follow the setup wizard to finish the installation.
Step 3: Launch Bit Driver Updater and click Scan from the left.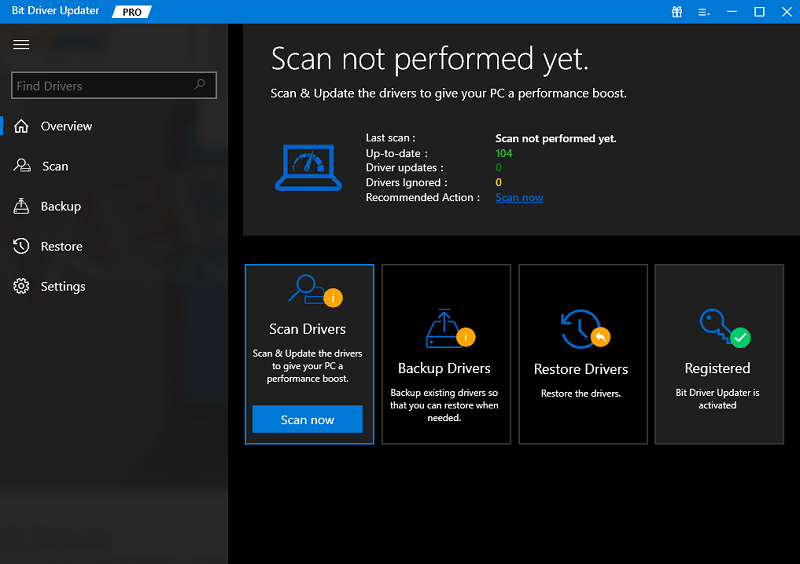 Step 4: Wait for the scanning to be completed. After that, click Update Now available beside the problematic graphics driver. If you are using the pro version, then click Update All to automatically install all PC drivers in one go.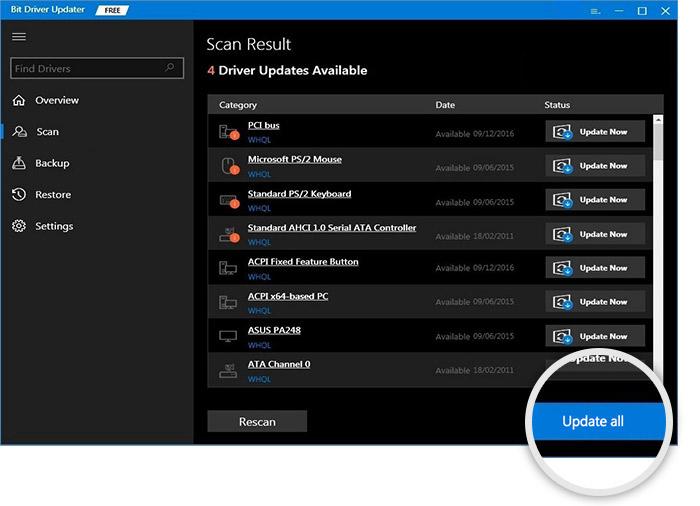 Bit Driver Updater's support team is available 24/7 to help their clients. Moreover, the software possesses a unique money-back policy but for a limited period.
Relaunch the game to test the issue. Proceed with the next solution, if Saints Row not launching on Windows 10 remains the same as earlier.
Also Read: How to Fix Lost Ark Not Launching
---
Solution 4: Repair System Files
Erroneous or damaged system files may be a potential factor for Saints Row not launching on Windows 10 PC. Flawed or corrupted system files can affect the proper and smooth functioning of your PC and game as well. So, you can check for faulty system files. For a better and more thorough scan, you can use any reliable system and file repairing tool. Such tools automatically find corrupted files on your system and remove & replace them with the latest and certified ones.
---
Solution 5:  Install Latest System Updates
None of the aforementioned fixes worked. Don't worry, give this one a try! This will surely help you fix Saints Row crashing at startup. The new Windows components can fix bugs hindering the proper functioning of the apps. So, Windows PC users can try to install all the latest Windows updates when issues occur. Here's how:
Step 1: Press the Windows logo key from your keyboard, and click on the gear (Settings) icon.  Launch Windows Settings.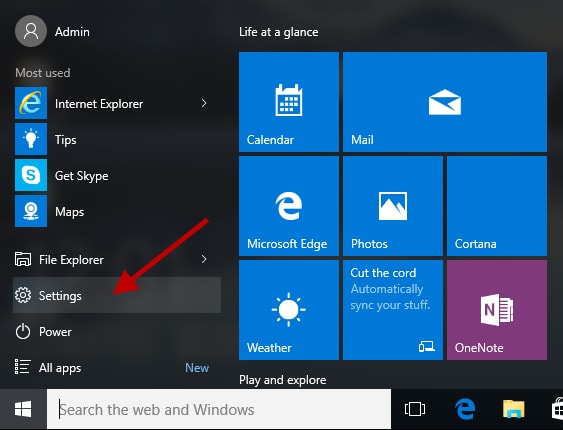 Step 2: From the Settings window, choose Update & Security.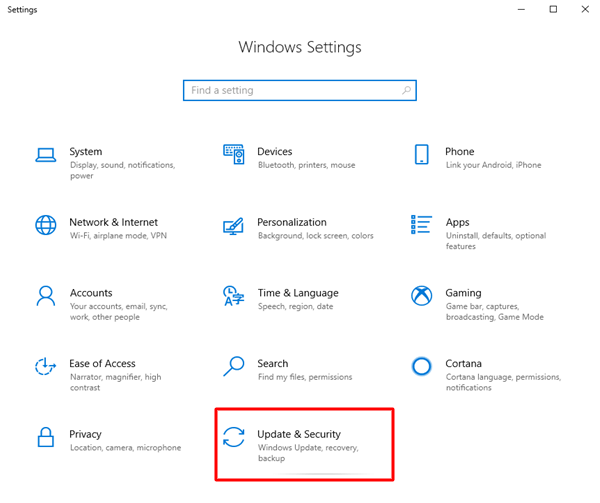 Step 3: Make sure Windows Update is selected from the left pane. Click on Check for Updates.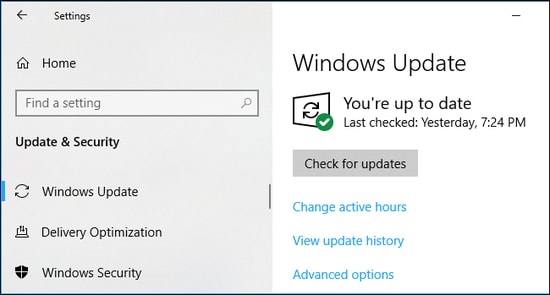 Be patient, wait for Windows to search for the latest updates. If you find any pending updates, then follow the instructions on your screen to download and install them on your device. After installing the latest system updates and security patches, the Epic Games Launcher will start working normally as expected. This will eventually troubleshoot the Saints Row crashing issue.
Also Read: How to Fix Genshin Impact Not Launching on Windows PC
---
Saints Row Not Launching on PC: FIXED
So, these were all the fixes for resolving the Saints Row not opening on Windows 10 PC. We hope, now crashing, freezing, or not launching issues won't occur and hamper your gameplay.
Do you have any better suggestions? If yes, then please feel free to drop them in the comments section below. You can additionally drop your queries & doubts in the comments. We would love to assist you.
For more technical information, news, and articles, subscribe to our Newsletter, moreover, follow us on Social Media: Facebook, Twitter, Instagram, and Pinterest.
Harshita Sharma is a technical writer with quite a distinct understanding of the tech realm. She is a tech enthusiast who believes that tech knowledge should reach one and all and tries to convert the sketchy knowledge into the simplest possible form for making people understand the tech world better. When not playing with words, she loves to travel and explore new places. And, is a coffee & cricket connoisseur.
Subscribe to Our
Newsletter

and stay informed

Keep yourself updated with the latest technology and trends with TechPout.
Related Posts