How to Fix Nintendo Switch Won't Connect to WiFi

Nintendo Switch is the people's choice for gaming on the go but recently, many users have reported that their switch won't connect to wifi and shows errors while doing so. So, are you looking for a tutorial on how to fix Nintendo Switch that won't connect to WiFi? If yes, then you have come to the right place. Here you will learn about different ways to get rid of this issue, in no time. But, before contemplating solutions, let's discuss what's causing the "Nintendo Switch won't connect to wifi" error.
What Causes Nintendo Switch Not Connecting to WiFi?
Following are a few primary reasons that can cause Nintendo Switch won't connect issues.
Nintendo Switch Online or several related services are down.
 Your Wi-Fi network connectivity is not stable.
Possibly your Switch is out of range of the router.
Incompatible security key of your network.
The firewall is preventing the Nintendo Switch from using your network.
Fixes for Nintendo Switch Won't Connect to WiFi
Here are 4 potential fixes that you can use to fix Switch won't connect to the internet, easily & quickly. Now, without further ado, let's get started:
Fix 1: Restart your electronic device
Similar to any electronic device, restarting your Nintendo Switch is the first and foremost step to clear up mild inaccuracies.  However, just by pressing the power button on your Switch, or putting it in Sleep Mode, you can't fully shut down the system. So, there's a pretty fair chance that your system hasn't fully power-cycled in a long time.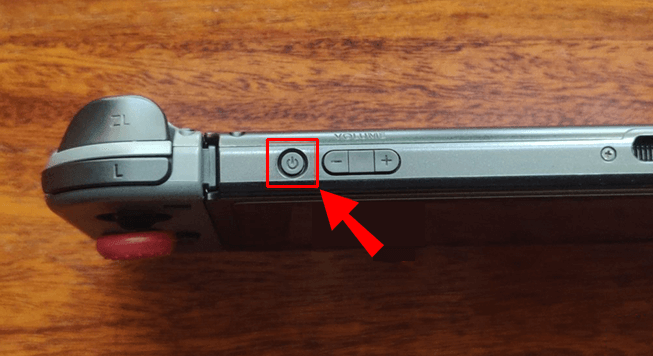 Here's how you can completely shut down your system:
Press and hold the Power button on your system for a few seconds to shut down your system.
On the resulting menu, select Power Options and then click on restart.
After doing any one of these things, your system will reboot. Wait for a few seconds, and then take a look if your "Nintendo Switch won't connect to wifi" error is solved or not.
Also Read: Best Nintendo Switch Lite Games
---
Fix 2: Review your Nintendo Switch's Network Settings
If your Nintendo Switch is still troubling you, then it's the right moment to visit your Switch's internet connection settings and determine where the real problem resides.
Here are the steps to do so:
Open the 'Settings' menu from the home screen.
Then, heads up to the 'Internet' tab.
After that, select 'Test Connection'  to run a quick check and see if everything is nice and smooth.
If you don't see the "Connection test was successful" message, make a note of the displayed error codes as you'll need them in your further research.
To ensure that your credentials are right, open the Internet Settings menu on the previous screen.
Here, select your current network followed by 'Change settings' and check if everything is up-to-date.
Then, select 'Enter Password' to ensure you haven't mistyped the password.
Even if that doesn't work, select 'Clear Settings' to delete that connection and set it up again. It may fix your problem and help your Switch to connect.
You should also test if other devices can connect to your network or not. If not, then that's something different.
---
Fix 3: Install System and Game Updates
If your Switch isn't online, then you can't even imagine downloading an update. Although, it's quite possible that your system has already downloaded an update, but hasn't installed it yet.
Installing the update might work and also resolve the wifi issue you're facing.
Here are the steps to do so:
Go to Settings and then System.
Select System Update to check for updates that are already downloaded and ready to install.
However, there's another scenario that states that online games won't let you access network services unless that game is up-to-date to the latest version.
If your Switch is online but showing errors playing a certain game, you should check if there are any updates available for it.
Games should automatically show you updates, but here's the manual way to do it.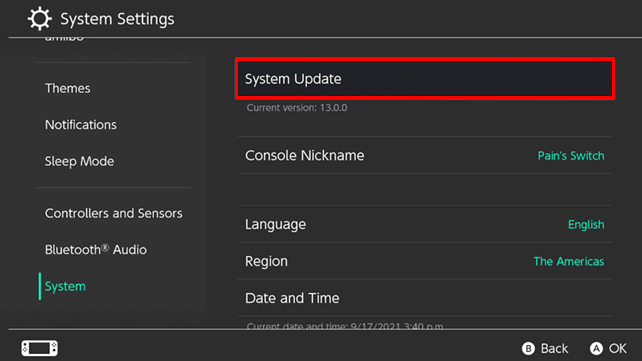 To check the game updates, tap the 'Plus or Minus' button shown when highlighting a game on the home screen.
After that, navigate to 'Software Update' Via the Internet.
Doing so, should update your game and also fix the "Switch won't connect to wifi" error.
---
Fix 4: Ensure Your Switch is not in Airplane Mode
While being used in Airplane Mode, the Nintendo Switch disables all the wireless connections to save in the battery quota. However, this is what you do while using Switch on the go but that's what stops you from getting online.
Your Switch is on airplane mode if there's an airplane icon on the top-right corner of your home screen. Here are the steps to toggle Airplane mode:
Heads up to Settings and then, Airplane Mode.
Then, turn on/off the Airplane mode as per your wish.
You can also hold the Home button to access the Quick Settings panel and easily change it from there.
Make a note that Switch doesn't let you access airplane mode while docked. But,  if you turn on airplane mode in handheld mode and then dock your system, the Switch will stay in airplane mode until you disable it yourself.
Also Read: Best Nintendo DS Emulator for Windows and Mac
---
Nintendo Switch Won't Connect to WiFi: FIXED
Note: Many network connections prohibit gaming connections like the ones in work or schools. So, if you're trying to connect Nintendo Switch to your school's network and facing errors, your network administrator has already prohibited the connection. So, either try connecting to some other network or urge the network administrator to allow the connection.
The above suggested were some of the tried and tested approaches that you can consider to fix the Nintendo Switch not connecting to the internet issue. You don't need to try them all, work your way through them and see which fix is potent enough to solve the "Nintendo Switch can t connect to wifi" error.
Harshita Sharma is a technical writer with quite a distinct understanding of the tech realm. She is a tech enthusiast who believes that tech knowledge should reach one and all and tries to convert the sketchy knowledge into the simplest possible form for making people understand the tech world better. When not playing with words, she loves to travel and explore new places. And, is a coffee & cricket connoisseur.
Subscribe to Our
Newsletter

and stay informed

Keep yourself updated with the latest technology and trends with TechPout.
Related Posts