How to Fix INET_E_RESOURCE_NOT_FOUND in Windows 10

Check out these potential solutions to fix INET_E_RESOURCE_NOT_FOUND in Windows 10 PC.
Undoubtedly, Windows 10 keeps on releasing the latest updates regularly. These updates enhance the complete experience of Windows 10, but sometimes cause issues too, particularly in in-built applications like Internet Explorer or Microsoft Edge.
Quite lately, numerous Windows 10 users have complained that they are getting an error message reading, INET_E_RESOURCE_NOT_FOUND while trying to connect with the internet. If we talk about this error, it mainly appears in Windows' own browser, Microsoft Edge. This error will stop you from accessing the webpage through the Microsoft Edge or sometimes Internet Browser too.
However, there are no specific reasons behind the occurrence of this error. It is just a random issue that can arise without any model. It is worth noting that this error only appears in Microsoft Edge or Internet Explorer, so you can utilize the other browsers like Google Chrome, Bing, and Mozilla Firefox without any hassles.
Coming back to the point, there are a few solutions available that can help you fix INET_E_RESOURCE_NOT_FOUND issue in Windows 10.
Solutions to Fix INET_E_RESOURCE_NOT_FOUND in Windows 10
Here you will learn about the best tips & tricks to resolve the INET_E_RESOURCE_NOT_FOUND error message on Windows 10 PC. Let's read them below:
Solution 1: Disable TCP Fast Open
This solution has been recommended by Microsoft Officials and it worked too. All you have to do is just disable the TCP Fast Open feature from your Microsoft Edge browser which might help you resolve the issue. Follow the steps below to fix INET_E_RESOURCE_NOT_FOUND problem on Windows 10:
Step 1: Invoke your Microsoft Edge browser.
Step 2: And, input about:flags in the Address Bar, then press the enter key from your keyboard.

Step 3: Scroll down to locate Enable TCP Fast Open option under the Networking.
Step 4: Next, make a click on the drop-down menu list and choose Always off.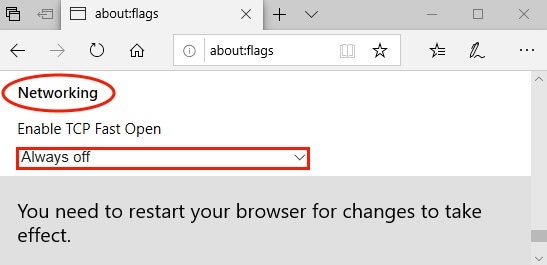 After that, close the Microsoft Edge browser and reboot your computer to check whether the INET_E_RESOURCE_NOT_FOUND in Windows 10 is fixed or not.
Also Read: 10 Best Microsoft Edge Themes for Windows 10 in 2021
---
Solution 2: Updating your WiFi Driver
When your WiFi drivers goes missing or out of date, then you may experience numerous network-related issues or errors like INET_E_RESOURCE_NOT_FOUND. Hence it is recommended to update WiFi drivers from time to time to avoid such glitches. If you are confident about your technical skills then you can update drivers manually by visiting the official website of the wireless network adapter manufacturer.
But, if in case, you don't have enough time and the required skills to search for the correct drivers manually, then use Bit Driver Updater to do the same task automatically within just a few clicks of the mouse. Bit Driver Updater is the best driver updater software available that has the ability to fix all faulty or corrupted drivers in just a single click.
Not only that, but the utility also helps you resolve numerous Windows-related issues like BSOD errors, display-related issues, slow performance, and whatnot. Below is a quick tutorial on how to update drivers with Bit Driver Updater:
Step 1: Download and install Bit Driver Updater on your PC. Below is a download link for the same.

Step 2: Launch the driver updater on your PC and wait for a while until it finishes the scanning process for outdated, broken, or faulty drivers.
Step 3: Check the prompted scan results and click on the Update Now button adjacent to the driver you want to update.
Step 4: Otherwise, click on the Update All button to perform bulk driver downloads at once.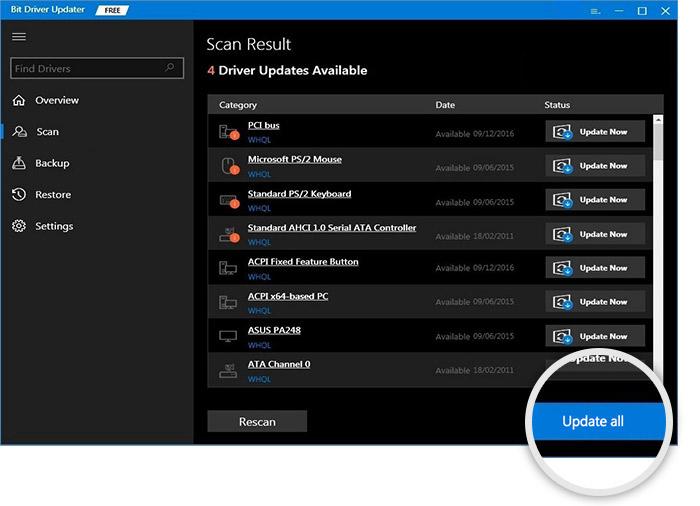 Once done, reboot your computer to apply the recently made changes. In addition to this, it is advisable to use its pro version as it gives you complete access to all its advanced features. Moreover, you will also get 24/7 technical support and a 60-day complete refund policy.
Also Read: How To Fix WiFi Not Working in Windows 10/8/7
---
Solution 3: Use InPrivate Browsing
Another way to fix INET_E_RESOURCE_NOT_FOUND on Windows 10 is to use InPrivate Browsing. Using this, you can browse privately and the browser doesn't track your browsing history. To use this method, follow the below-given steps:
Step 1: Launch Microsoft Edge and make a click on the 3 dots shown at the top right corner.
Step 2: Choose a New InPrivate Window. Alternatively, you can also press CTRL + SHIFT + N keyboard buttons at the same time to open the InPrivate window.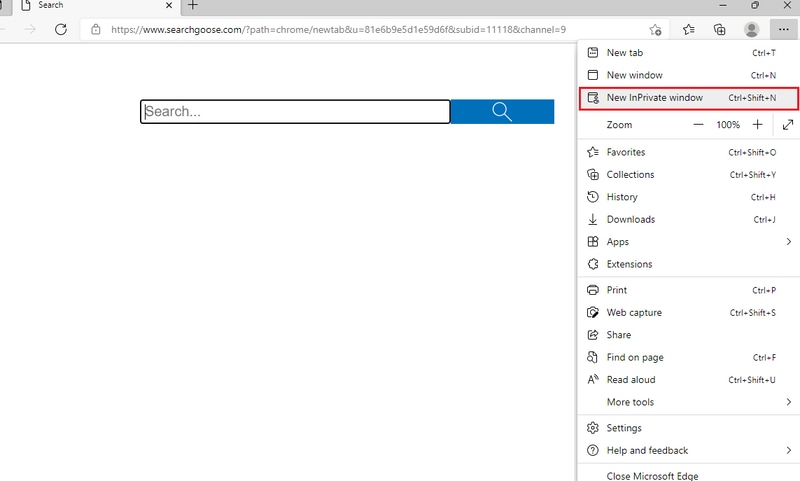 Step 3: Now, you can browse usually.
This is a temporary solution because as long as you use this mode, your browser will work properly. Once you close the InPrivate window, the issue may appear again. So, we recommend you try other solutions.
---
Solution 4: Flush DNS and Reset Netsh
You may encounter this error when your IP of the login webpage of the public WiFi has recently changed. To fix this, follow the steps below:
Step 1: Open the Run dialog box by hitting the Windows logo + R keyboard buttons at the same time.
Step 2: In the Run window, type cmd and hit CTRL + SHIFT + Enter key at a time.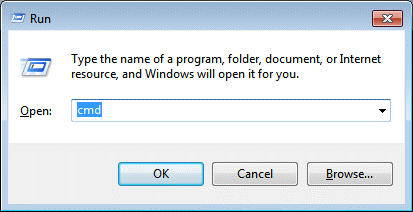 Step 3: The above steps will launch the Command Prompt window as Administrator. Now, copy/ paste the following commands in the window. Press Enter key after each.
ipconfig /release 
ipconfig /flushdns
ipconfig /renew
Step 4: Now, wait for the process to complete. After that, copy/ paste these commands as well inside the Command Prompt window and press Enter after each command.
ipconfig /flushdns
nbstat -r
netsh int ip reset 
netsh winsock reset 
Wait for a while until the process gets completed. Once done, then restart your PC and check to see if the issue is resolved. If you still face the INET_E_RESOURCE_NOT_FOUND error then move on to another fix.
Also Read: How to Fix DNS_PROBE_FNISHED_BAD_CONFIG Error on Windows 10
---
Solution 5: Uninstall Microsoft Edge
Nothing has helped you resolve the same issue? Don't worry, there is the last resort available that you can try, and that is uninstalling the Microsoft Edge. Follow the steps below to do the same:
Step 1: Altogether press Windows Logo + S keyboard buttons and then type System Configuration.
Step 2: Next, choose the best match for it from the search results, that's System Configuration.
Step 3: Head to the Boot tab.
Step 4: Check the box before the Safe Boot option.
Step 5: After that, click Apply and Ok. Once done, restart your PC. It will be started in Safe Mode.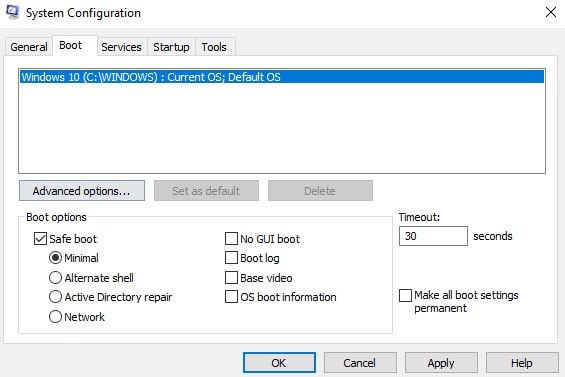 Step 6: Now, open the Run dialog box by using Windows Logo + R keyboard buttons. Type the %localappdata% inside the text field and either hit the Enter key or click on the OK option.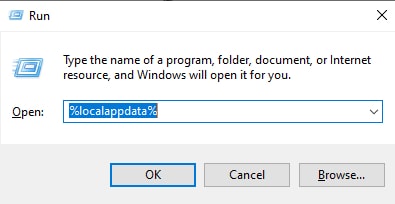 Step 7: Make a double click on Packages and then locate the following folder.
Microsoft.MicrosoftEdge_8wekyb3d8bbwe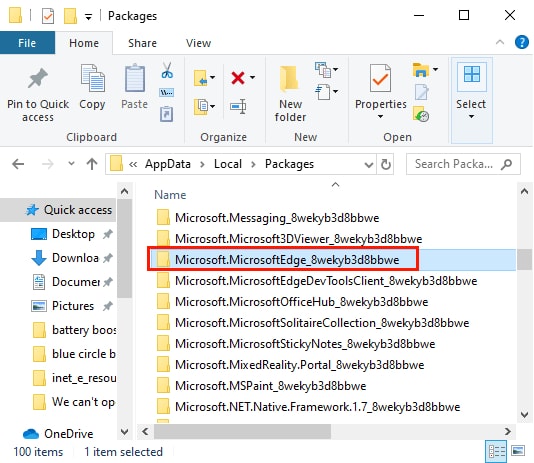 Step 8: Double click the same folder to launch it.
Step 9: Remove or delete everything from the folder.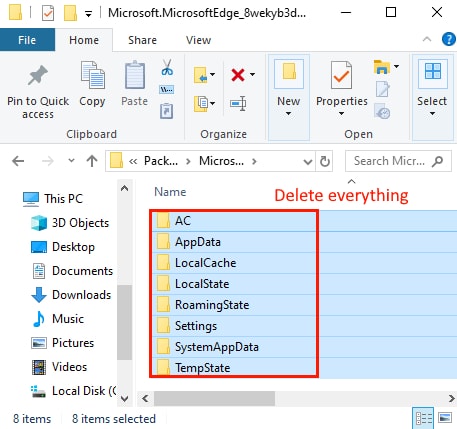 Once the uninstallation is completed, reboot your PC and install the Microsoft Edge browser again on your computer. That's it, now the error will not bother you anymore.
Also Read: How to Get Help in Windows 10 [Complete Guide]

---
INET_E_RESOURCE_NOT_FOUND in Windows 10: FIXED
In this troubleshooting guide, we have discussed multiple ways to get rid of this error. We hope the guide on how to fix INET_E_RESOURCE_NOT_FOUND in Windows 10 helps you.
Apart from this, if you think we missed out on anything then please remind us through the comments box below. Also, let us know in the comments, "which solution worked for you?"
Last but not least, do subscribe to our Newsletter for more similar kinds of information. Furthermore, follow us on Facebook, Twitter, Instagram, and Pinterest.
Harshita Sharma is a technical writer with quite a distinct understanding of the tech realm. She is a tech enthusiast who believes that tech knowledge should reach one and all and tries to convert the sketchy knowledge into the simplest possible form for making people understand the tech world better. When not playing with words, she loves to travel and explore new places. And, is a coffee & cricket connoisseur.
Subscribe to Our
Newsletter

and stay informed

Keep yourself updated with the latest technology and trends with TechPout.
Related Posts