Top 5 Best VisiPics Alternatives For Windows In 2021

Are you looking for the best alternatives to VisiPics? Then, this write-up is only for you. The post highlights the 5 top-notch VisiPics alternatives.
The feeling when we acquire a brand new PC and use it for the very first time is something beyond the words. Isn't it? But, as by time passes, that PC becomes lethargic. Have you ever tried to find out why it becomes snail slow? Well, the only answer is – Duplicate Pictures, which occupies an ample amount of space unnecessarily and makes our system sluggish or dull.
So, if you clean this sort of digital junk from your PC, then you can revive the lost performance of your system. Removing the duplicate files one-by-one is actually a tiresome and very time-consuming job. So, you can use the best software which automatically finds and deletes the thousands of duplicates files in the very least time.
Whenever we search for the ideal software to get rid of digital junk. VisiPics is the only one that strikes at the top position. However, you can choose this software, but there are other best duplicate photo finders and cleaners available in the market that you can consider, which offer to serve you best as compared to VisiPics.
This application is not good enough for novices. Plus, it has stopped releasing new updates to its software. And, mainly for which reason we use such kind of software, this application lags in that particular space. In simple terms, it scans for dupes at a very slow speed.
Coming back to the point, luckily we have some pretty well options rather than this software. Below, we've shortlisted the 5 best alternatives to VisiPics!
List Of 5 Best VisiPics Alternatives To Remove Duplicate Pictures
In our search, we have ended up with numerous amazing tools. But, we've handpicked the 5 leading best duplicate finders and cleaners. All the applications have been chosen after the proper testing in terms of the scan speed, ease of use, capacity to detect the dupes, and filters to deal with duplicates.
So, without further ado, let's read the best VisiPics alternatives!
1. Quick Photo Finder
Runs on: Windows 7, 8, 8.1, or 10
Even a properly functioning PC runs slower or becomes lethargic after some time. But do you know what makes it snail-like slow? An accumulation of duplicate pictures hogs-up your PC and minimizes the speed of your PC's performance. Hence for rescuing your PC from this blunder, you need an ideal duplicate remover software.
Quick Photo Finder is one such ideal duplicate cleaner software that scans your PC for dupe shots and cleans them from your PC. With this tool, you don't require to make any daunting efforts from your end. It is the best alternative to VisiPics.
Read Also: Quick Photo Finder Review 2021
Key Features:
Compatible with all the major image formats including JPEG, TIFF, PNG, BMP, GIF, and many more.
Fast performance and reliable scan results.
Cleans junk even from the portable hard drives.
Massively improved storage space by organizing your picture library and making it clutter-free.

---
2. CloneSpy
Runs on: Windows XP, Vista, Windows 7, 8, 8.1, or 10
Here comes a digital detective that keeps a regular check on the duplicate files hogging your system's storage space. CloneSpy allows you to easily recognize the dupe shots and remove them too. However, the GUI of the software is not user-friendly, but despite this shortcoming, the overall program is extremely very useful. With this software, you can free up a gigantic amount of space on your hard drive. This software is the best duplicate photo finder software that you can consider.
Key Features:
It allows you to find and delete duplicate or similar files in just a few clicks of the mouse.
It scans and finds the no content zero bytes files.
Incorporates multiple modes and options to find and delete duplicate pictures.
Encompasses a guide that highlights how to delete duplicate pictures with ease using this software.
---
3. PictureEcho
Runs on: Windows 7, 8.1/ 8, or 10
PictureEcho, an accurate solution to find and delete duplicate or similar pictures. It uses intuitive algorithms to detect and delete the dupes in order to free-up a decent amount of storage space on your hard drive. It is a lightweight and easy to use tool for finding and eradicating unwanted copies of files on windows PC.
Apart from this, the tool is capable of scanning from more than one or two locations at a time. Thus, we can say, PictureEcho is a tool that you can consider the best alternative to VisiPics.
Read More: Best Free Duplicate File Finder & Remover For Windows
Key features:
Automatically select pictures based on their file, resolution, size, history of a file, and location.
Comes with an in-built Image viewer that lets you preview results and other information before taking the actions.
Detects 100% the same pictures as dupes.
Allows you to move the duplicates to the new folder.
Compatible with all the major file types including JPG, JPEG, PNG, BMP, GIF, and TIF.
---
4. Image Comparer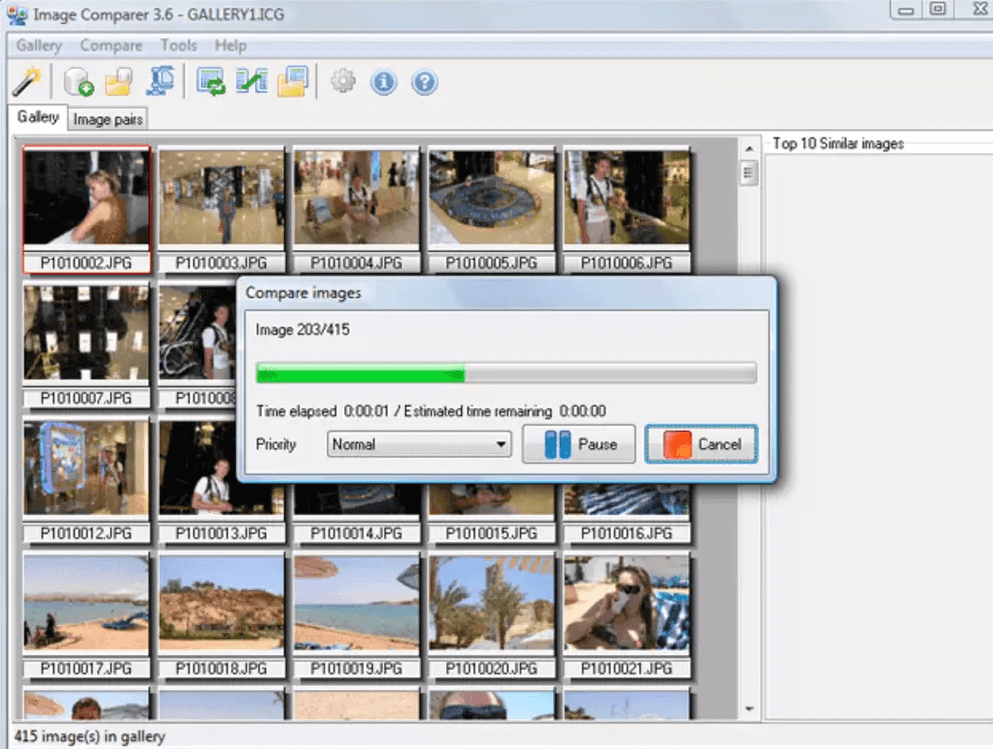 Runs on: Windows XP, Vista, Windows 7, 8, or 10
So, would you like to identify and delete all the digital junk in a couple of few clicks, then, try Image Comparer. The tool uses the intelligent latest algorithms to search for the dupe shots in the least time. With this tool, you can also set the similarity level to find duplicate pictures.
Moreover, it is a software which automatically finds better and poorer quality pictures. In addition to this, the software searches for the rotated, cropped and resized pictures. This software is the preferred bet of every professional photographer.
Key Features:
Has the ability to handle and analyze your overall picture collection.
Its in-built image scanner highlights the difference between similar or identical pictures.
Works perfectly with the pictures having JPEG, RAW, J2K, GIF, BMP, TIF, PNG, TGA, and PSD file formats.
Gives you the power to set the similarity level for finding duplicate or similar pictures.
---
5. SimilarImages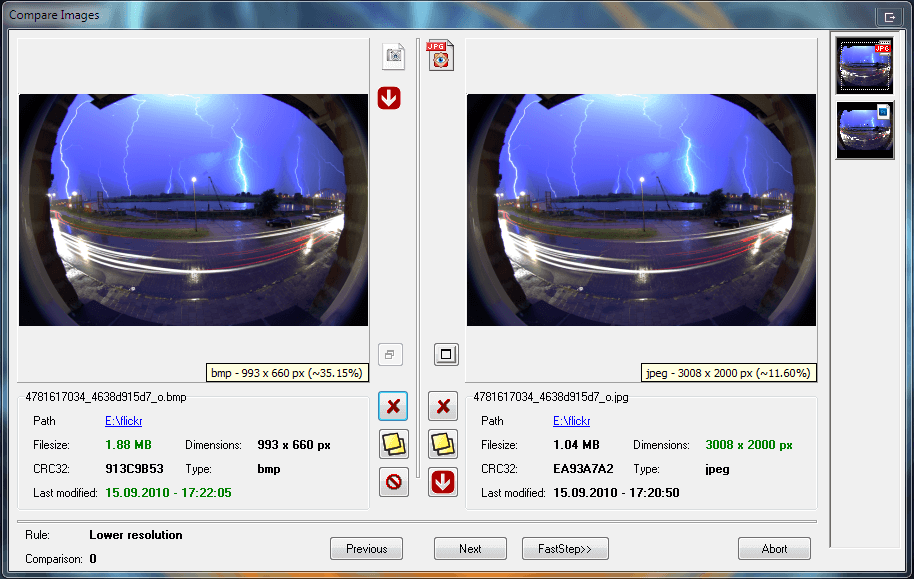 Runs on: Windows XP, Vista, Windows 7/8/10
SimilarImages is a software program that makes recognizing and removing duplicate files an easy to go task on windows PC. And, the best thing about the software is you can enjoy all its features at no cost. Though it is an old utility it does its duties quite fairly.
The software searches for the dupes and shows them in a separate comparison window so the user can decide what to do with the dupes. In simple words, it is an incredible tool that one can use to free up an ample amount of disk space.
Read More: How To Delete Duplicate Photos On Windows 10 Computer
Key Features:
Gives full control to the users to decide what possible actions should be taken with the duplicates.
The user interface is extremely simple to work.
Completely free to use the tool.
It doesn't use too many resources to scan for duplicates or unwanted copies.
---
Closing Words
So, above were some of the best VisiPics alternatives that you can try. We would love to hear which is your preferred bet to get rid of duplicate files, hence, tell us in the comments below!
And, if you want our opinion on this, then we would like to recommend you CloneSpy. The tool has a clean and smooth user interface that lets you quickly locate and remove the dupes. It uses smart and latest algorithms to clear all the digital chunks from your PC. So, if you want to try it, then click on the download link given above.
At last, before you leave, do share this write-up around your circle to help those who are facing the same issue as you. Additionally, for more awesome informative content do subscribe to our Newsletter. Till then, keep your PC free from the digital junk!
Harshita Sharma is a technical writer with quite a distinct understanding of the tech realm. She is a tech enthusiast who believes that tech knowledge should reach one and all and tries to convert the sketchy knowledge into the simplest possible form for making people understand the tech world better. When not playing with words, she loves to travel and explore new places. And, is a coffee & cricket connoisseur.
Subscribe to Our
Newsletter

and stay informed

Keep yourself updated with the latest technology and trends with TechPout.
Related Posts