7 Best Unroll.me Alternatives You Can Use in 2021
Published Date :
Aug 27, 2021

If you are looking for Unroll.me alternatives that can help you in unsubscribing all the unwanted emails, then this is the right article for you. Below we have shared the 7 best alternatives to Unroll.me that you can try.
There are thousands of websites that take our email id for access. After we are done using the website you might still get numerous emails from them. At times these mails can be frustrating and can even fill cloud space. Manually unsubscribing to these emails can be a tiring and time-consuming job. To help every user with these mails, developers have created software that automatically unsubscribes to all the unwanted emails.
Unroll.me is one of the most popular software which is used by the majority of the users. In the past few years, the data leak has been a major concern for all the users, and Unroll.me has no proven verdict about data storage. This concern of users has led to the search for the best software like Unroll.me.
If you are one of those users who are looking for an alternative then worry not as we have personally checked and then found the best Unroll.me like software that you can use. So, keep reading to know more about the software and their offerings.
Top 7 Best Unroll.me Alternatives to Pick in 2021
Here are some of the best alternatives to Unroll.me that you can use for getting rid of all the unwanted mails.
1. Leave Me Alone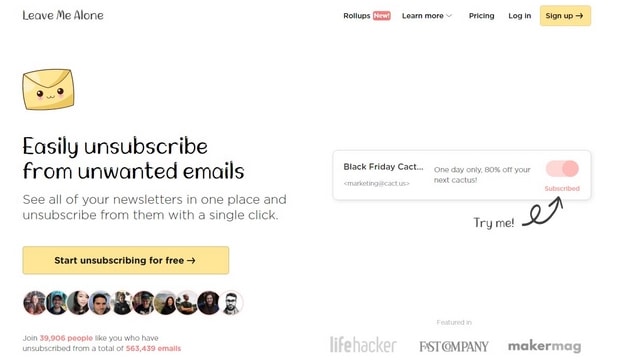 Leave Me Alone is one of the best Unroll.me alternatives that you can try. As the name suggests this software works effectively in removing all the unwanted emails in no time. For unsubscribing you have to create an account on this software and then start removing them.
Also Read: 11 Best Email Marketing Software To Grow Your Business
The first five unsubscriptions are free, but after that, you have to pay $2.5 for 50 unsubscriptions. Similarly, for more unsubscriptions, you have to pay $9.9 for 50 and $16 for 200 unsubscriptions.  Though this cannot be considered as the free alternative to Unroll.me but the charges are minimal and can be afforded. In our view, the software is a great alternative that you can try.
---
2. Unlistr for Outlook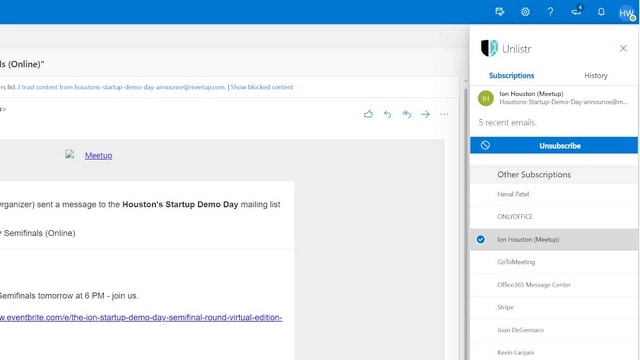 If you are an Outlook user then this is the best option to unsubscribe from all the unwanted mails. The reason why we are adding it to the best Unroll.me alternatives list is because it is designed for Outlook separately. The software automatically scans all the emails and then finds out the spam and unwanted ones.
After the software finds out the unwanted emails all you have to do is click on the Unsubscribe button and that's it. All the emails will be unsubscribed easily. Initially, the software offers five free unsubscriptions, after completing five you have to take the premium plan for further unsubscription. The plan costs $19.99/ year for unlimited unsubscription. Unlike other software, it does not limit the unsubscription in number. Though you get a time frame for the plan.
---
3. Polymail Unsubscriber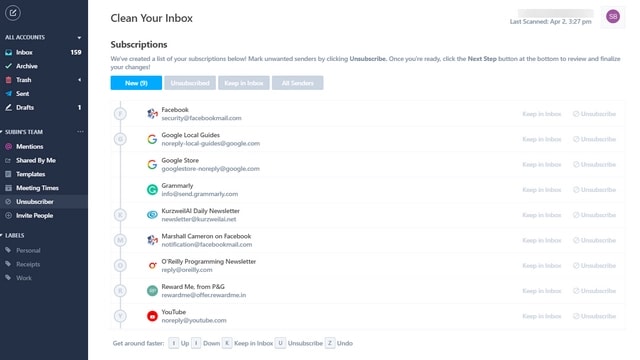 Polymail Unsubscriber is another top Unroll.me alternative that you can use. This software offers a very easy solution for all your unwanted emails. The software has an in-built unsubscriber tool that helps in unsubscribing easily and effectively. The best part about this software is that it keeps your data safe and secured.
Also Read: How To Backup Gmail Emails With Attachments
The software offers a free trial for all the users to help them get used to the interface and functioning. After the trial, you can easily choose a plan depending on use and duration. The plans of this alternative to Unroll.me are divided into three segments. You can choose between basic, premium, and enterprise plans. Each plan has monthly and yearly rates which can be chosen by the user depending on preference.
---
4. Cleanfox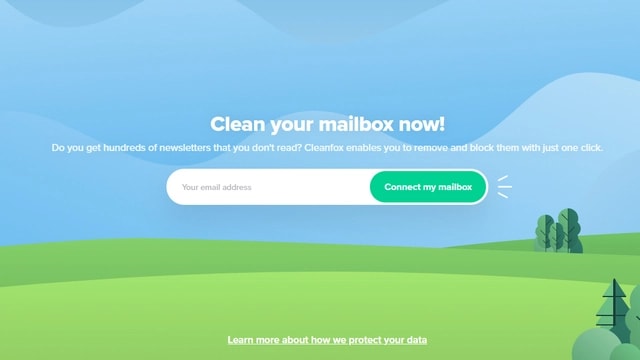 Next software on our list of top Unroll.me alternatives is Cleanfox. This is third-party software that can offer you the best solution for all emails. All you have to do is simply link your email account with this software and then clean everything you like in minutes.
Using the software you can either delete and unsubscribe from the sender or you can delete unwanted emails. The software is even available on Android and iOS platforms, you can easily download and declutter your emails from your phone also. The Cleanfox plan costs $9.99 monthly and $29.99 yearly for 1000 emails removal.
---
5. Clean Email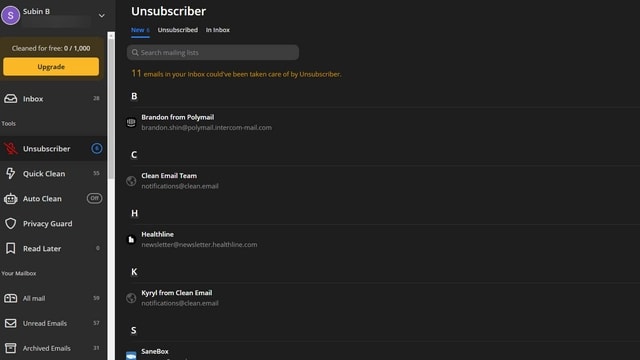 Another best Unroll.me alternative in the list is Clean Email. The name says it all about the software's functioning. This alternative to Unroll.me will offer you full access to your mailbox. You can simply remove all the unwanted emails and then unsubscribe to all of them for future ease.
Also Read: How to Delete Gmail Messages in Bulk

Apart from the basic features the software offers some advanced tools like email group, filter and sort, quick clean, read later, and many others. You need to take a plan for using the software. The Clean Email plan costs $7.99/ month and can go up to $19.99/ month depending on the offerings. You can choose the plan as per your needs and then start removing all the unwanted emails.
---
6. SaneBox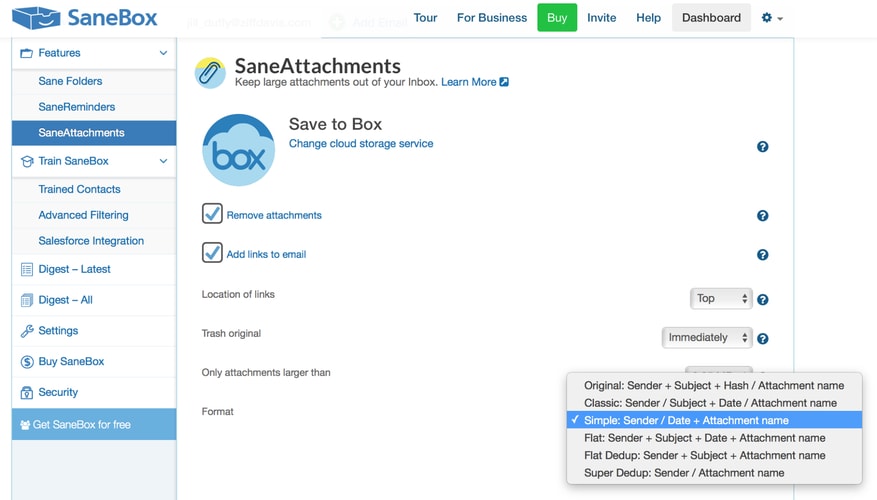 SaneBox is another top Unroll.me alternative that you should try. The software has been in the market since 2010 and it has been used by professionals like Adidas, eBay, CocaCola, Shopify, and many others. You can easily sign in with any email address and get 14 days free trial.
The software sorts all your mails and removes the unwanted ones.  The A.I. of the software works effectively in analyzing the mails and history for better performance and accuracy. The plans are divided into three categories including Snack, Lunch, and Dinner. Apart from this it even has an Appetizer plan which costs 3 Cents/ day only.
---
7. Unsubscribe Button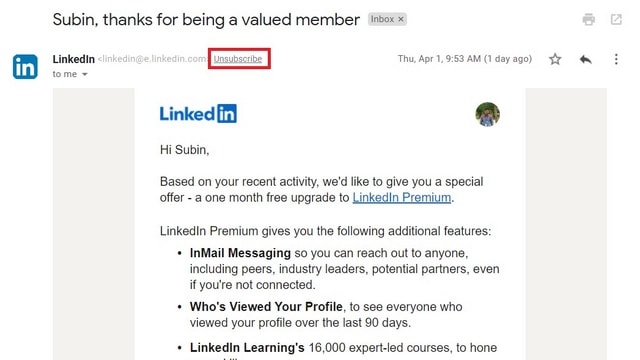 Unlike other top Unroll.me alternatives this is not a software. With every email software or application you get a built-in unsubscribe button. Though the process can be very tiring and time consuming as you have to manually look for emails and then unsubscribe to them.
The only positive thing about this method is that you can perform it for free. There is no extra charge for unsubscribing to emails using the default method. The button is located on the top of every mail which you can just click and for the rest of your life you will not receive the mail until you turn them on. Once you click on the button you will be redirected to a new page where you need to confirm the unsubscription.
Also Read: How to Send Confidential Emails on Gmail
---
Final Words on the List of Top Unroll.me Alternatives 2021
The above mentioned are the best Unroll.me alternatives which can easily help you in unsubscribing to the unwanted mails. Using the software you can keep your mailbox organized and less space consuming. At last we have mentioned a free but manual method which you can try using. As most of our readers look for free alternatives, the in-built unsubscribe option is the best free alternative. That's it for this article, we hope that you will find this article useful in choosing the best alternative to Unroll.me. Tell us which software you pick and why? Drop the names in the comments section below.
Tanmay is a technical writer from the field of mass communication. He aims to communicate the best of the technology to the readers through his write ups. If not writing you can find him with his camera capturing nature and exploring the unexplored world.
Subscribe to Our
Newsletter

and stay informed

Keep yourself updated with the latest technology and trends with TechPout.
Related Posts