5 Best Sites Like Photomosh for Windows, Android, and iOS
Published Date :
Jul 19, 2020

Glitch art is gaining a lot of popularity these days and is present everywhere including social media posts and music videos. It offers a great way to make your photos and videos visually appealing but doing it from scratch can be a highly overwhelming experience and time-consuming task.
Thankfully, there are a lot of popular options that are designed for creating glitch art, Photomosh being one of them. In addition to Photomosh, these are several other online glitch effect generator sites like Photomosh that can assist you in editing your pictures and videos.
Here in this blog, we will discuss some of the comparable and similar apps to photomosh. But before we start let's get a brief understanding of Photomosh.
What is Photomosh?
Photomosh is a well-known application that lets you add a glitch background and make class-apart glitch photography. Apart from this it also allows you to add an image, create vaporwave art, and insert a short vid. It has a massive index of 27 different glitch effects that you can use to polish your images and videos.
Also See: Best Duplicate Photo Finder for Windows
Photomosh Alternatives for Windows, Android, and iOS
With so many options to choose from, finding the best-suited sites like Photomosh can feel like finding a needle in a haystack. To simplify that task for you, here we have listed some of the best Photomosh alternatives that can help you create and add glitch effects to your images and videos.
1. Glitchatron – Top Site Like Photomosh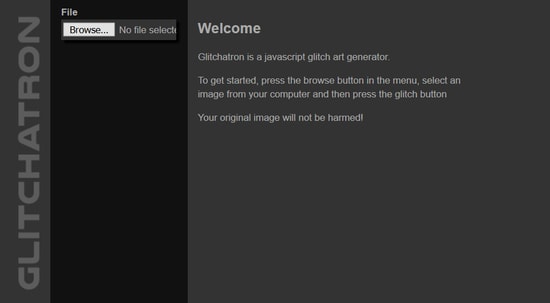 Our first pick on the list of Photomosh alternatives is Glitchatron. The tool comes with a straightforward interface that works like a breeze. It provides multiple glitch level options that you can apply to your photographs including Low, Medium, Extreme, and High.
With this comparable site like Photomosh, you can also insert text, choose its color, optimize its size, and adjust its alignment. However, it lacks the capability to change the font and has only two color options including black and white.
In addition to this, you can also use it to apply both triangular and circular masks to your images and videos and once you are done applying all the desired changes you can save your final photo in PNG format and also share them on Social media platforms.
Glitchatron is suitable for beginners and does not require any high-class editing skills.
---
2. Image Glitch Tool – Powerful Photomosh Alternative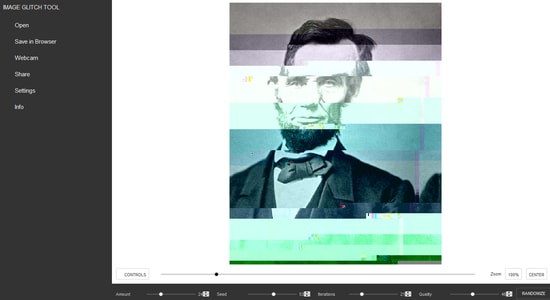 Image Glitch Tool is another popular site like Photomosh that works incredibly well as a glitch effect generator. It is backed with a simple interface and an extremely functional design.
The tool provides a preview of the photo you upload on its portal and also gives you an option to alter the size of the image so that it is free from any errors. Apart from this it also allows you to apply glitch effects to the images that you click from your webcam in a matter of seconds.
Fine-tune the glitch effect with the seed, quality, iteration, and amount slider of this powerful Photomosh alternative.
The only downside of this online image glitch tool is that it does not support text overlay.
---
3. HTML5 Image Glitcher – Incredible Site Like Photomosh

Next on our list of sites like Photomosh is HTML5 Image Glitcher. You need not be a professional to use it. With this incredible tool you can choose the resolution and size of your image and it also gives you multiple file options including PNG, JPEG, and WEBP file.
This easy to use glitch effect generator is also powered with a preview window where you can see the effects of the changes made to your original image. Apart from this, you can also choose the intensity of the glitch effect and the damage you want to apply.
1-Hit option means minimal effects and damage.
1000-Hit means maximum effects with severe damage.
The only drawback of this incredible Photmosh alternative is that it does not give any social sharing option to its users.
---
4. GFTO – Perfect Photomosh Alternative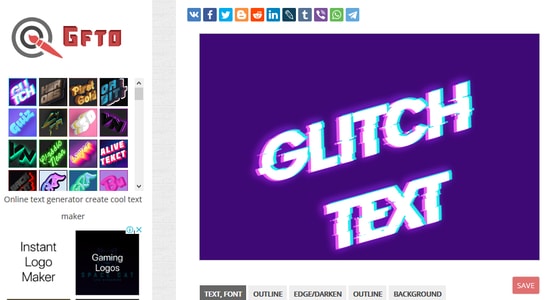 Other sites like photomosh that you can pick to add glitch effects to your videos and images are GFTO. It is a text generator application that also has several glitch text templates to offer. With this highly customizable tool, you can optimize the on-screen position of your photos along with the size, color, and font of the text.
Backed with powerful text edition tools, GFTO allows you to apply gradients, upload multiple fonts, and alter the text styles as per your requirements. If you want you can also use it to change the background, change the color of the text edges, and add an outline to your text.
What we don't love about this perfect Photomosh alternative is its outdated design.
---
5. Image Glitcher – Similar App to Photomosh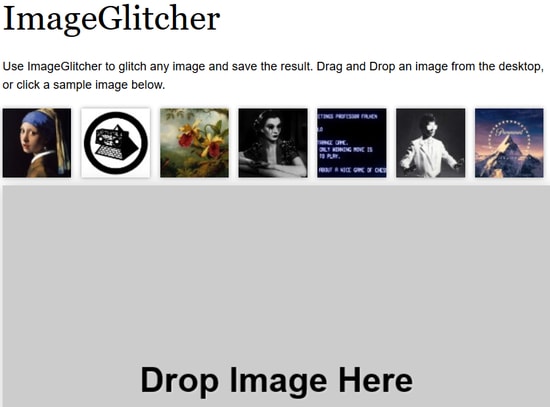 Being a basic tool, Image Glitcher only offers a few primary features and functionality. The tool is completely free of cost and comes with a simple design. If you are trying to add a glitch effect to a high resolution file you might face issues with it.
With Image Glitcher you can save your photographs in JPEG format and also use it to adjust their brightness and glitchiness.
---
Conclusion
Glitch effect generator offers a simple and effective way to add glitch and class-apart effects to your photographs and videos. Above mentioned glitch effects generator sites like Photomosh are some of the most popular and feature-rich sites that can help you perform your task like a breeze.
Create visually appealing and highly captivating images with these similar apps to photomosh. We hope that the above-mentioned tool will be able to fulfill your requirements in the best possible way.
So, which Photomosh alternative are you picking for yourself? Leave your picks in the comments section below!
Prachi Dani is a technical content writer who specializes in areas of science and technology. She is highly up to date with technological transitions and transformations. Writing is not her passion but the only thing that carries satisfaction in life. If not writing, you may find her engrossed playing action games on her treasured smartphone.
Subscribe to Our
Newsletter

and stay informed

Keep yourself updated with the latest technology and trends with TechPout.
Related Posts