10 Best Hero Forge Alternatives To Create Characters in Full 3D

Take a look at some of the best Hero Forge alternatives to create impressive modeling miniatures. But before we start, let's get a basic understanding of this popular tool.
Hero Forge is an excellent online character design program that lets users create and buy customized tabletop miniatures. Many fictional, human, and hero characters can have their heads, bodies, accessories, stances, and other features changed. You can order and have sent your character once it has been produced and corrected.
Hero Forge is a popular 3D printing platform, but it's not the only one. To further assist you, we'll list some of the top Hero Forge alternatives that you can employ to produce the desired avatar and obtain its miniature.
What is Hero Forge?
Hero Forge marked a revolution in the area of customization technology and 3D printing with its made-to-order miniatures and statuettes and easy to use character customizers. It is a long known tool for creating class-apart 3D miniatures.
It is powered with the greatest and the latest 3D printing techniques which offers an unbeatable quality along with an intuitive design and unmatched user experience. Apart from this, it also offers a bottomless ocean of incredible features including facial expressions, hairstyles, different poses, battle weapons, and also gives you an option of gender selection.
However, if you are not satisfied with its offerings and overall working, here are some at par alternatives to Hero Forge that you can use to create and design 3D printed miniatures.
These tools can fulfill your requirements in the best possible way and at the same time will not make your wallet cry.
So, without any further ado let's have a look at some of the top-rated, efficient, and cheaper alternatives to Hero Forge.
What Are The Best Hero Forge Alternatives In 2023?
Below are some of the most popular and top-rated Hero Forge Alternatives that you can give a try.
1. Eldritch Foundry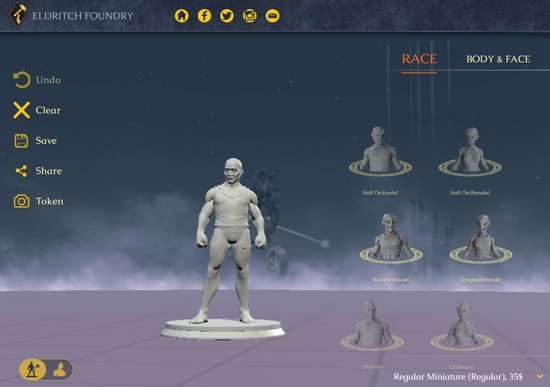 Eldritch Foundry is known for its customization and 3D character creation and modeling abilities which makes it a perfect and cheap alternative to hero forge. It comes with hassle-free and convenient working that can help you craft miniatures smoothly.
It is loaded with several pre-set and unique designs of several characters along with a huge variety of clothing, appearance, poses, to choose from. With this impressive Hero Forge Alternative, you can create and design your 3D miniatures at just $35. Use it to explore your creativity and you can also share your designs on networking sites like Facebook, Twitter, and many others.
See Also: Best Free 3D CAD Software
---
2. Creature Caster
Creature Caster grabs a place on our list of feature-rich alternatives to hero forge because of fairly good reasons. The tool is known worldwide and is highly lauded for its ability to create high-quality resin miniatures and statuettes.
It has grown over the years and each model designed by Creature Caster is an epitome of higher quality and intricate designs.
---
3. Hero Mini Maker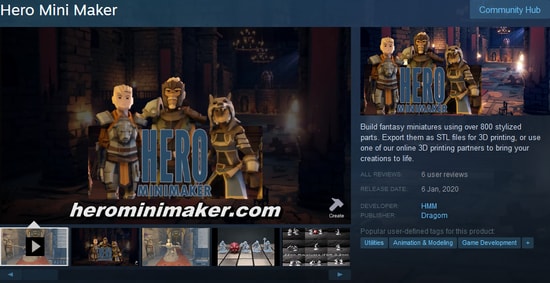 Hero Mini Maker makes a perfect alternative to Hero-Forge with its class-apart features and offerings. It is backed with a clean and convenient interface that not only promises easy working but also provides a comfortable and delightful user experience.
It adds life to your imagination and helps you build fantasy 3D miniatures. It has close to 800 predesigned style parts that you can choose from. It has a humongous library that offers both female and male body part options, clothing, and outfit options along with various custom weapons. Knee options, arms, shoulders, eyebrows, facial hair, hips, and legs are few of the body part options available.
In addition to this, you also get to choose from a massive range of helmet designs, weapons, hats, and masks to design fantasy statutes and miniatures.
Once you're through making your miniature and want to make slight changes in its final look and appearance you can easily do so by opting for an appropriate option from the library.
---
4. Desktop Hero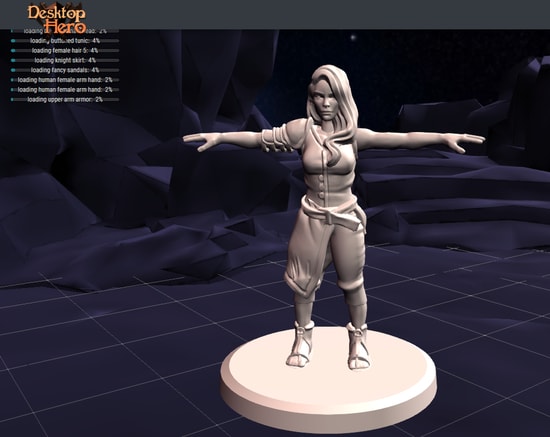 Desktop Hero is another impressive Hero Forge Alternative that you can consider. It is a cheaper alternative to hero forge and lets you design 3D miniatures at an affordable cost of 3-5$ per online creature.
The tool comes with an array of useful features and helps you comfortably define minute body parts. Pick it today to create a perfectly customized and fine-tune 3D character from scratch.
Apart from this, you can also use it to share your work on various social media platforms including Facebook, Twitter, Instagram, and much more.
---
5. PCGen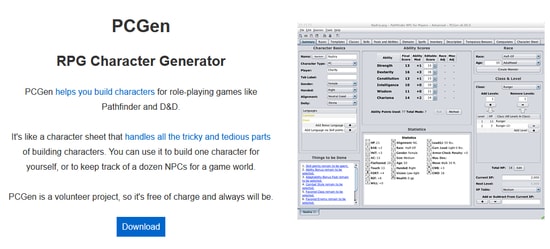 If you are looking for a free hero forge alternative, then PCGen can be a perfect fit for you. This open-source program is completely free of annoying bugs and ads which ensures uninterrupted designing experience.
This Sun Java-based software comes with a minimalist UI and can function in an effortless and effective manner. Apart from this with PCGen you also get access to a massive library of stunning features and customization options. If you want to design and craft unique and impressive 3D characters then PCGen is worth a try.
---
6. Thingiverse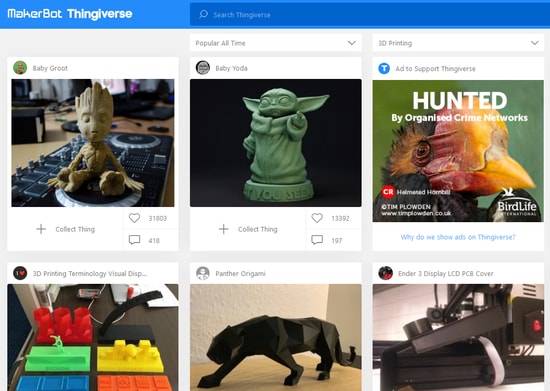 Thingiverse is another great Hero-Forge alternative that you can try to design customizable 3D miniatures. Although it is not as feature-rich and extensive as Hero-Forge it does have a lot to offer.
The application focuses on articulated 3D models and action figures that can vary in complexity and size. With its simple interface and customizable design, you can easily design and configure your 3D miniatures that exactly reflect your initial ideas.
You can use it to design the character's expressions, pose, face along with its weapons, tools, and armors which also makes it a perfect and free hero forge alternative.
See Also: Best Free Animation Software Programs For Windows
---
7. Anvl.co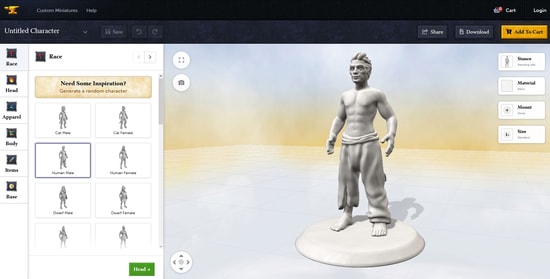 If the above-mentioned Hero Forge Alternative has not suited your requirements then consider trying Anvl.co. Its straightforward and clean user interface guarantees a comfortable experience of designing 3D miniatures and statuettes.
Bring your imagination to reality and create extraordinary designs with this cheaper alternative to hero forge. To add a personal touch you can also use its wide library of characters and designs including outfits, weapons, clothing, and much more.
---
8. Cults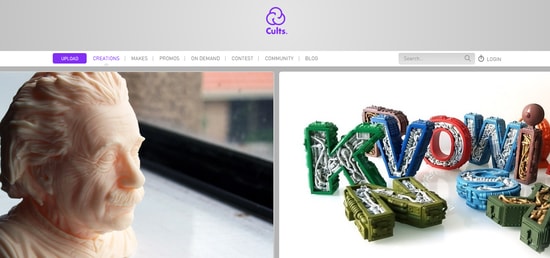 Another independent Hero Forge alternative that you can pick. Being a well-known 3D model marketplace Cults has a rich database of around 65,000 designs and provides a common platform to both designers and printing fanciers.
The website is backed with a straightforward UI and simple working. Batman Batarang Flexi, Primaris Grey Knight Squad, Brock are some of the well-known collections of Cults. And the list of its latest 3D models includes Apocalyptic X-men 3D print model, Chibi Mutated Kaiju, etc.
All-in-all Cults is a great source of articulated action figures and 3D models.
---
9. MyMiniFactory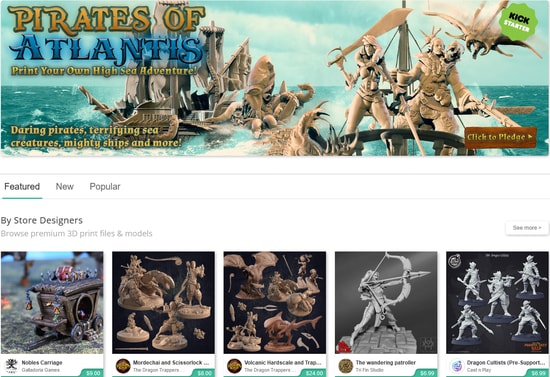 There is no way that we can miss out on this 3D model repository. It has a massive base of 3D models which also comes in a printable form.
Rick Grimes, Blastoise Pokemon, Riccardo Minervino are some of the popular figures available on it. Access highly-detailed action figures and animated characters on these perfect Hero-forge alternatives. You can access most of the model for free but some might have a premium cost attached to it.
---
10. Gambody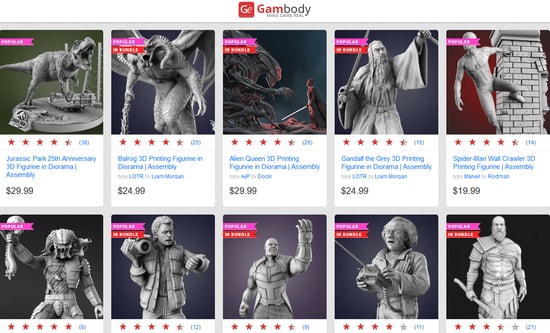 Our last pick on the list of alternatives to hero forge is Gambody. This incredible website has a limitless variety to offer that ranges from $1 to $45. Its humongous base of insanely detailed 3D models includes characters of various forms including starships, dioramas, dragons, and other animated TV characters.
In addition to this, it also gives a printable option to its users.
---
Wrapping up: Best Alternatives to Hero Forge 2023
So, this is it from our side. We hope that our list of the best Hero Forge alternatives has been of great help to you. Pick the best-suited option to design 3D printed action figures and animated characters.
Lastly, before you leave, subscribe to our newsletter for more tech-related blogs and latest happenings around the world.
Prachi Dani is a technical content writer who specializes in areas of science and technology. She is highly up to date with technological transitions and transformations. Writing is not her passion but the only thing that carries satisfaction in life. If not writing, you may find her engrossed playing action games on her treasured smartphone.
Subscribe to Our
Newsletter

and stay informed

Keep yourself updated with the latest technology and trends with TechPout.
Related Posts