14 Best Free Mp3 Tag Editor for Mac to Edit Songs Metadata in 2021

As much as it is important to play your favorite playlist and be lost in the magic of Now, some music lovers take pleasure in knowing the whereabouts along with the entire history and data related to the songs. In this article, you will come across the best free MP3 tag editors for Mac that automatically or manually help you fill in the metadata of your audio files.
MP3 metadata is the data or information related to the songs and albums that you download and listen to. This information includes, album name, artist name, title of the song, genre and even lyrics alongside the many other bits of information.
If you have a bundled collection of songs in your Mac to edit and organize the metadata for, let us tell you, there are several MP3 tag editors for Mac that not only help in editing the information of audio files but offer numerous other features that boost the management of such files.
What Are The Best Free MP3 Tag Editors For Mac in 2021?
The following MP3 tag editors, with their coolheaded interface, feature supercool features like online synchronization, multiple audio format support, downloading and many more. Let's take a stroll through the list and find the best one to fulfil your demands.
1. iMusic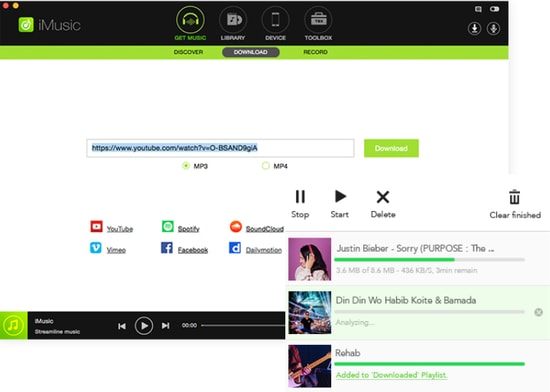 iMusic is one of the best MP3 tag editors for Mac. This amazing tool has everything you are looking for. It can be used for multiple reasons and it offers features transfer, sharing and the management of music libraries that make this software count.
Noteworthy features: 
iMusic allows you to transfer music between iOS devices, Mac, PC and iTunes.
You can download music from Archive, YouTube, and numerous other sites.
It features batch download from Youtube in multiple formats such as MP3, MP4, WebM etc.
It allows you to stream and download qualitative audio in multiple audio formats.
---
2. Kid3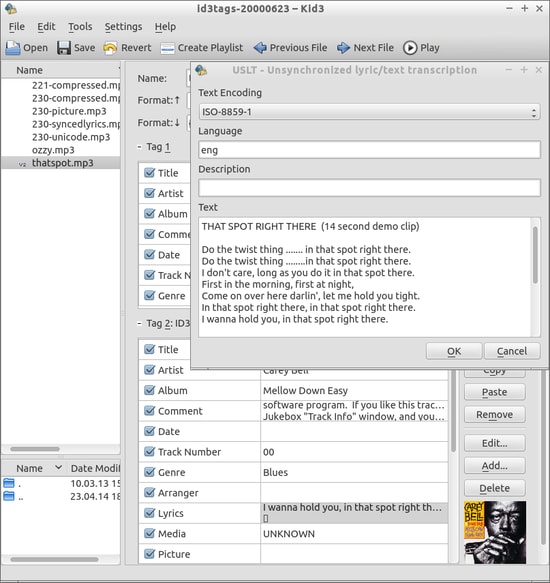 Kid3 is another best free MP3 tag editor to be available for your Mac. It allows you to edit the information for both audio and video on Mac alongside many other features such as conversion of tags, exporting tags in multiple formats etc.
Noteworthy features: 
Kids3 allows you to edit the file names for multiple files together.
It allows you to convert the tags between ID3v1.1, ID3v2.3 and ID3v2.4.
You can create playlists with this software.
It imports tags from other online directories.
---
3. Metadatics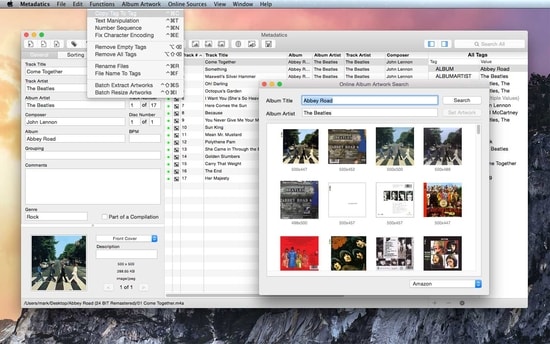 Metadatics is yet another amazing MP3 tag editor that allows you to edit the information of music on the Mac system. The best part about this software is that it lets you edit the truckload of audio files as quickly and easily as possible.
Read Also: Best MP3 Duplicate Songs Finder And Remover
Noteworthy features: 
This tool features smooth functionality which allows you to edit/replace the characters and copy tags.
It is easy to use and allows you to search the data online.
It supports ID3v1, ID3v2, MP4, Vorbis, APE, and ASF tags from multiple audio formats.
You can rename, and generate files in this tool.
---
4. MusicBrainz Picard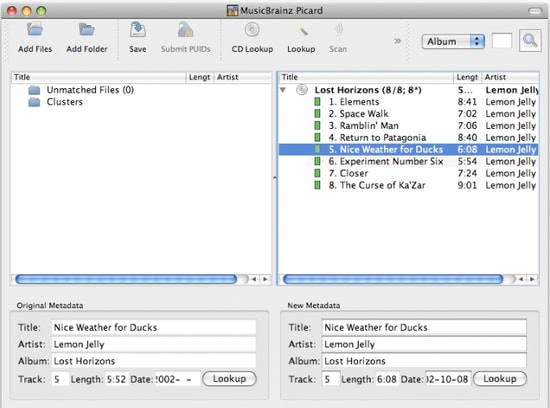 MusicBrainz Picard, introduced by MusicBrainz, counts as one of the best free MP3 Tag Editors for Mac that helps you edit metadata and supports files of several formats alongside the AcoustID feature.
Noteworthy features: 
MusicBrainz Picard supports multiple formats such as WMA, WAV, MP3, FLAC, OGG M4A and more.
It features AcoustID audio fingerprints for audio files to be recognized by actual music.
It features lookup from CDs allowing to look over the music in one go.
This tool is open source.
---
5. MetaBliss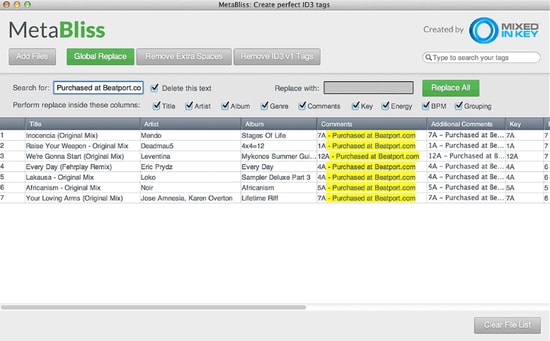 You may want to use MetaBliss, one of the coolest MP3 tag editors with friendly features that is available for MAC OS X for free. If you are looking for a steadfast editing tool then this one is worth the try.
Noteworthy features: 
Metabliss allows you to edit the song name, artist and many other tags easily.
Ity enables easy searching for multiple files.
In this tool, you can rename the filename, and remove the files easily.
---
6. iD3 Tag Editor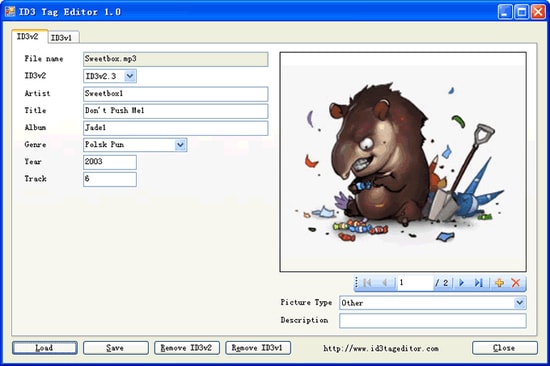 iD3 editor is one of the best MP3 tag editors for Mac operating system and Windows. It is free to use and is known to be a light software but sometimes, its interface becomes too challenging to comprehend.
Noteworthy features: 
iD3 tag editor is supported by iTunes, Winamp, Windows Media Player and many other software.
In this tool, you can easily copy and paste the data.
It allows you to write comments to your audio files.
You can easily remove the ID3 tags from the audio files.
---
7. TuneUp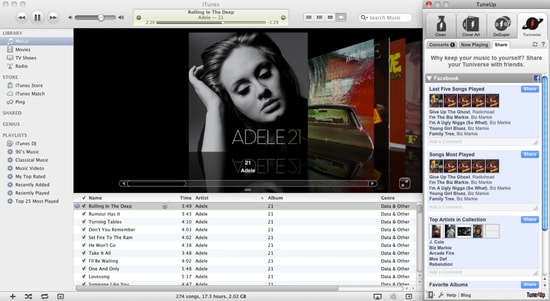 Image Source: Bitsdujour
TuneUp, another best MP3 tag editor, helps you in organizing the music collection with ease. It features striking functions along with a friendly and attractive interface. Your search for a software that keeps it organized and clean may end on this tool.
Read Also: List of Best Mac Cleaner Apps
Noteworthy features:
It features waveform recognition technology which lets it detect the acoustic fingerprints of a file and provide you the information.
The files are organized automatically and it removes the duplicate ones.
It allows you to share the MP3 you stream on social media platforms.
---
8. Music Tag Editor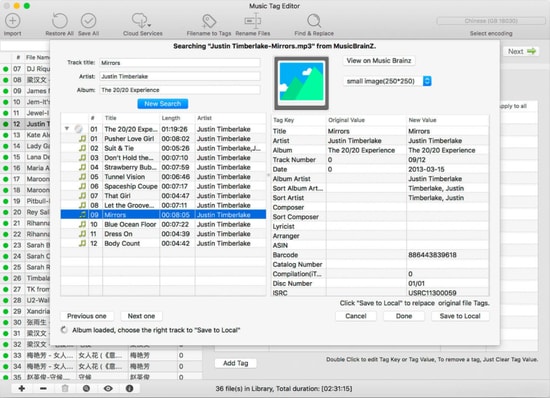 Image Source: InsMac.org
Music Tag Editor is one of the best free MP3 tag editors for Mac that offer the fastest features and help you in changing and editing the metadata of audio files.
Noteworthy features: 
In the Music Tag Editor tool, you can edit the cover photo of soundtracks as well as the tags.
This software allows you to make changes and edits in multiple files using this MP3 tag editor.
It supports iTunes tags.
---
9. Meta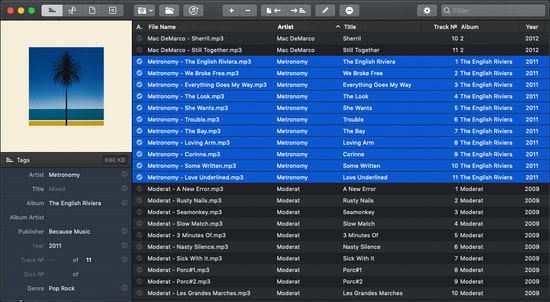 Ease your way out to edit the metadata of audio files  with this one of the best MP3 tag editors, Meta. However, you can only edit the multiple audio files together.
Noteworthy features: 
You can change and edit the metadata of audio files fastly.
You can change the cover photo of audio files.
It features a user-friendly interface and thus, makes the experience lightweight.
---
10. Tag Editor
If you are still looking for the best MP3 tag editor for mac, perhaps you should take a look at Tag Editor. Yes it does what is synonymous with its name and works with ease.
Noteworthy features: 
It allows you to edit the files in a batch and organizes your collection.
You can edit several file names together.
It allows you to cut, copy and paste the tags.
It allows you to download the tags from online platforms.
---
11. Wondershare UniConverter
Wondershare Uniconvertor is one of the most popular and best free MP3 tag editors to count in this list. This software was originally known as Wondershare Video Converter Ultimate and is often used as a video editing tool. However, when it comes to editing or changing metadata of audio files, this software will not disappoint you.
Noteworthy features:
Wondershare Uniconvertor features a decent user interface.
It offers you to edit the meta tags of files both automatically and manually.
It offers a free version.
---
12. Music Tag Editor Pro
If you cannot get enough of editing the meta tags of your audio files and need one best free MP3 tag editor for Mac which offers incredible features at zero dime then check this software, Music Tag Editor Pro. It easily helps you check off your music to-dos with its super-friendly user interface.
Noteworthy features: 
Music Tag Editor Pro automatically fills the metadata by synchronizing the information from an online platform.
This software supports almost every major audio file format.
Since it features batch processing, you can change the metadata of multiple audio files together.
---
13. MP3TAG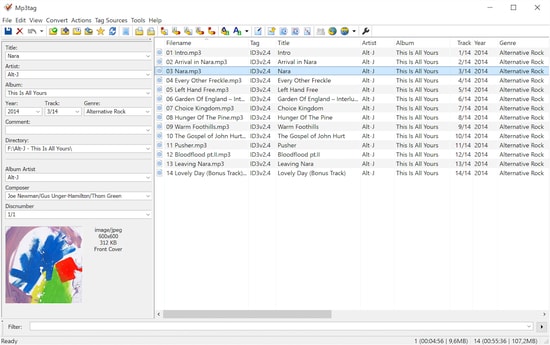 Keep calm as we still have one of the most powerful and useful software to share with you and that is MP3tag. This amazing MP3 tag editor features an attractive list of all the prominent offers that you could ask for. These features include batch tag editing, Importing tags from online databases, User-friendly interface and many more.
Noteworthy features: 
MP3tag tool features easy-to-use interface and ease your way out to edit the metadata of audio files.
It supports batch-tag editing of ID3v1, ID3v2.3, ID3v2.4, iTunes MP4, WMA, etc. Thus, it allows you to add tags for multiple files at once with support for multiple audio formats.
This tool can collect tags from online databases alongside the cover art.
It allows you to rename, import and export tag information and also lets you create playlists.
---
14. Amvidia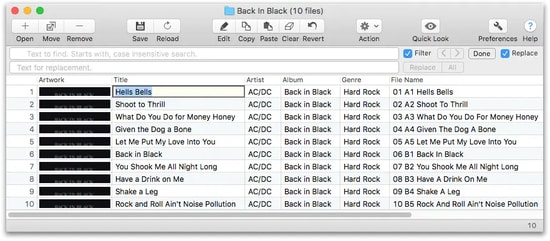 Amvidia offers the user to edit more than 60 types of tags for the videos. Using the software the user can download the information from online websites like ACoustid, MusicBrainz, and many more.  The software has two versions available including the paid and free versions.
Noteworthy features:
One-stop solution for a music tag editing

The software download the Metadata automatically from different websites in just a few clicks 

Compatible with most Mac OS  

The user can also edit the tags and remove the extra space present in the information

Using the Amvidia user can also rename multiple files together with ease
---
Conclusion
So, that was about the 14 best free MP3 tag editors for Mac that possess amazing features to help you get the metadata under check in no time. With every software featuring friendly specifications and simple interface, you have a thick list to choose from. Which one are you getting hands on? Share with us in the comment section if you have anything to add or maybe, ask?
Jyotsana is a technical writer with a non-technical background. An eye of detail and a knack for writing helps her to write technology related content.Apart from writing, she is a coffee connoisseur and an aesthete who rejoices in poetry and music during leisure.
Subscribe to Our
Newsletter

and stay informed

Keep yourself updated with the latest technology and trends with TechPout.
Related Posts