Best Free MLB TV VPN in 2023 to Stream MLB TV

In this blog post, you will find the best free MLB TV VPNs in 2023 to stream battles, without any hassles. Read more for complete information! 
MLB.tv is the home of Major League Baseball in the United States, and it has the right to broadcast each and every game. Unfortunately, depending on where you live, you may not be able to watch local games on MLB.tv since the service has blackouts. You won't be able to watch the Atlanta Braves in-market games, for instance, if you're located in Atlanta since that's the team's home market. Unless, of course, you employ a reputable virtual private network provider.
You will be able to circumvent MLB.tv's geo-blocking restrictions and watch any game you want, regardless of where you are, if you use a virtual private network (VPN). However, not every one of them is able to get through geo-blocks. Continue reading and you will get a complete list of free MLB Live Stream Sites for MLB.tv.
A List of 7 Best Free MLB TV VPNs in 2023
We put a large number of virtual private networks (VPNs) through their paces in order to compile a list of the top seven services that can circumvent bans on MLB.tv. Continue reading for guidance on how to choose the best Free MLB TV VPN for your needs.
1. Surfshark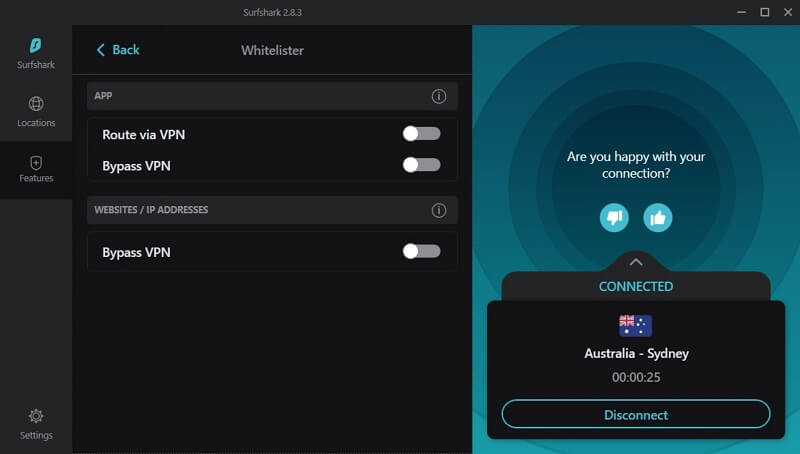 The fact that Surfshark has more than 500 servers in the United States, which are located in over 20 different locations, makes it one of the best services available for streaming MLB.tv. Therefore, you may have peace of mind knowing that blackouts on MLB.tv will become an issue of past.
WireGuard, Surfshark's cutting-edge tunneling system, allows it to give really outstanding speeds, averaging 262.6 Mbps, so it can compete with the leaders of VPN industry and not be outdone. That is wonderful for viewing live Major League Baseball game matchups. In addition to this, it provides a plethora of security measures to ensure the safety of your data. Because Surfshark adheres to a stringent policy of keeping zero records, you can rest certain that no one is monitoring your behavior.
You can also use Surfshark to unblock region restrictions on pretty much any streaming service you want to use if you grow tired of watching baseball all the time. This includes Netflix, Disney+, Amazon Prime Video, and many more video streaming services. In addition, Surfshark provides its users with an unlimited number of simultaneous connections, allowing them to watch as many MLB games as they want on as many devices at the same time.
Also Read: Best Free VPN for Warzone to Use
---
2. ExpressVPN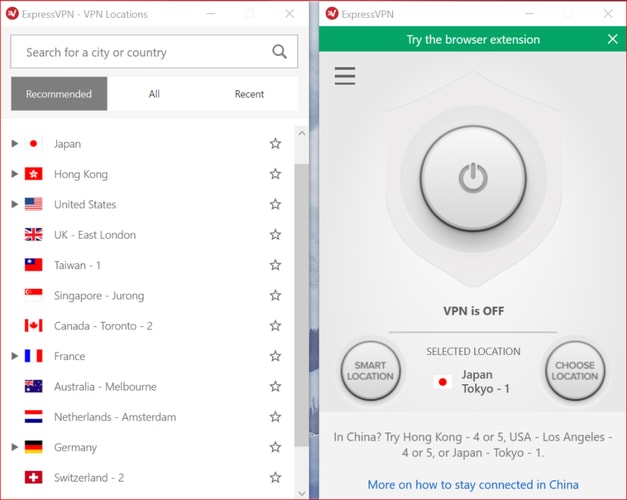 ExpressVPN is yet another excellent choice for accessing MLB.tv. You will be able to avoid blackouts and watch MLB.tv without any problems if you use servers located in 15 different US locations.
ExpressVPN offers approximately 3000 servers in total, which are located in 94 different countries. You are able to broadcast content to other platforms using this enormous server fleet as well. This free VPN for Windows is able to bypass geo-restrictions on a wide variety of streaming websites, including Netflix, Hulu, BBC iPlayer, Disney+, and more! When it comes to safety, ExpressVPN does not fall short in any way. You will get access to a dependable kill switch that will prevent data breaches in the event that your VPN connection stops unexpectedly. In addition to that, there is a threat manager that assists in preventing both harmful behavior and monitoring by other parties.
This best VPN for MLB TV employs the utilization of the Lightway protocol, which is a contemporary update of the well-known and lightning-fast WireGuard standard. Therefore, it should not come as a surprise that the VPN was able to maintain an average speed of 231 Mbps throughout our testing.ExpressVPN provides a live chat service that is available around the clock in the event that you have any difficulties when attempting to stream MLB.tv.
---
3. Atlas VPN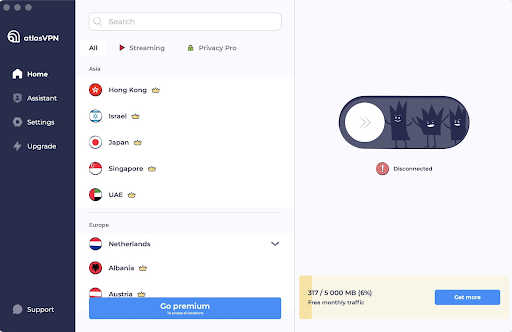 Another best free MLB TV VPN on our list is – Atlas VPN. It is an outstanding choice for viewing Major League Baseball games, in spite of the fact that it has the smallest server fleet of all of the providers on our list.
There is good scope on both coasts thanks to the servers located in Dallas, Las Vegas, Los Angeles, Miami, New Jersey, and New York City, as well as Phoenix. You may also utilize the global server web connections for streaming and torrenting when the games are not on. This is available to you even when they are. Atlas VPN is one of the most effective services on the market, with consistently quick download speeds.
In addition, all of the premium American servers are totally compatible with streaming, which ensures that the feed will be completely reliable anytime you watch a game and that there will be no buffering or abrupt disruptions. There is also a data breach scanner for your personal data as well as a kill button to secure your devices in the event that the VPN connection stops unexpectedly. This is one of the most affordable MLB streaming VPN services that you can consider.
Also Read: Best Free VPN for Craigslist
---
4. NordVPN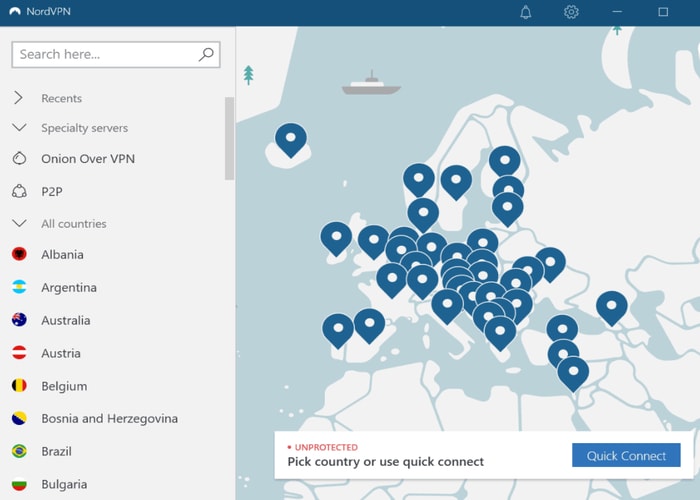 NordVPN is another best free MLB TV VPN available on our list. It has the most servers in the United States—nearly 2,000 servers spread across 15 cities—and the fastest speeds, which allow users to circumvent blackouts and watch MLB games from anywhere in the nation.
Even better, NordVPN utilizes NordLynx, it's very own customized version of WireGuard, to provide blazingly fast and dependable download speeds that average approximately 248.7 Mbps.
In addition, NordVPN operates over 5700 servers in 60 different locations throughout the world. Therefore, you will have a very long list of potential sites to choose from. Which is particularly helpful with regard to streaming. Because of this, NordVPN is an excellent choice for getting around the geographical limits imposed by MLB.tv and all of the other major streaming providers, such as Amazon Prime Video, YouTube, and BBC iPlayer.
Users of NordVPN have access to live chat customer assistance around the clock. In addition, its pricing is really rather affordable, with plans beginning at only $3.49 per month and a money-back guarantee for a period of thirty days.
---
5. PureVPN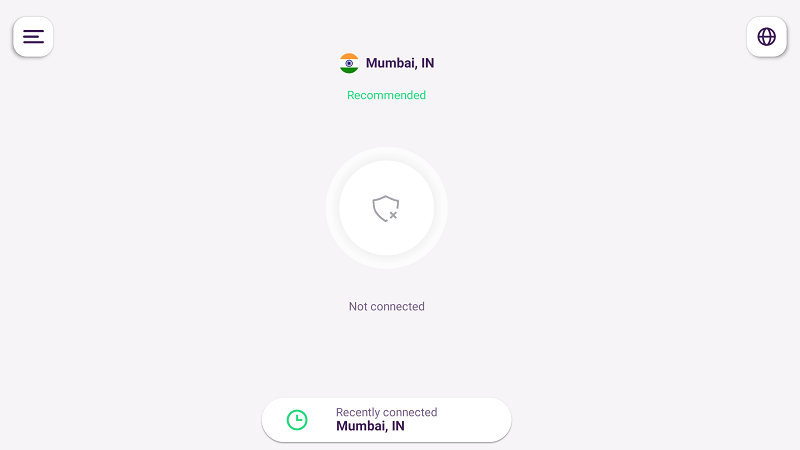 The next VPN on our list of best VPN for MLB TV is PureVPN. When it comes to streaming, PureVPN is a fantastic choice, and it performs quite good with MLB.tv. Because it has over 6500 servers located in 78 different countries, it is able to provide you with access to several international services that broadcast a large number of the baseball games. You'll have the ability to navigate around blackouts like a pro with servers that 13 different locations throughout the United States, from Seattle to Los Angeles, New Jersey to Miami, and everywhere in between.
The performance is rather good, and it is mostly due to the fact that WireGuard is a protocol that is both extremely quick and very secure. The games stream in excellent resolution, with no buffering difficulties or discernible latency and only very few connection dropouts.
Not only MLB streaming VPN, but this also excels with services such as Netflix, BBC iPlayer, YouTube, and many more. Therefore, even during the offseason, there is something enjoyable to do for everyone. Split tunneling is a feature that allows you to activate VPN exclusively on certain applications, giving you the most granular level of control over your streaming and surfing experiences as is humanly feasible.
Also Read: Best Free VPN for Disney Plus to Watch Disney+
---
6. CyberGhost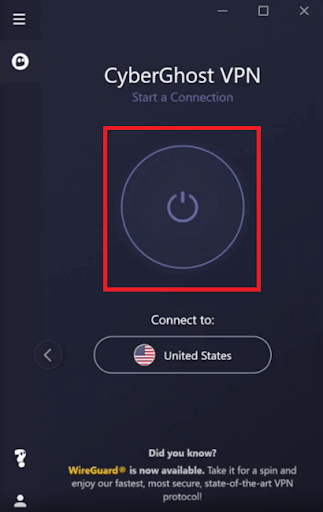 CyberGhost is just what you want in order to watch MLB.tv content without experiencing any buffering issues. If this is something you're interested in. It is one of the biggest server networks in the United States, with approximately 1,356 servers located across 11 locations.
The fact that CyberGhost makes use of the WireGuard protocol is one of the reasons for the incredible speeds it offers. In addition to this, it has approximately 9700 servers spread throughout 91 countries in total. In addition, it maintained an average speed of around 254 Mbps throughout our tests.
Utilizing this VPN with your other streaming platforms that you possess is possible. It is able to decrypt the content libraries of services such as Netflix, Hulu, BBC iPlayer, Disney+, and many more.
CyberGhost is equipped with a plethora of security measures, one of which is an industry-standard kill switch. Therefore, even if there is a temporary disruption in the VPN connection, your data will remain secure. You may reach support professionals at CyberGhost via a live chat that is available round the clock. CyberGhost has a substantial 45-day money-back guarantee in addition to having pricing that starts at just $2.19 per month.
---
7. IPVanish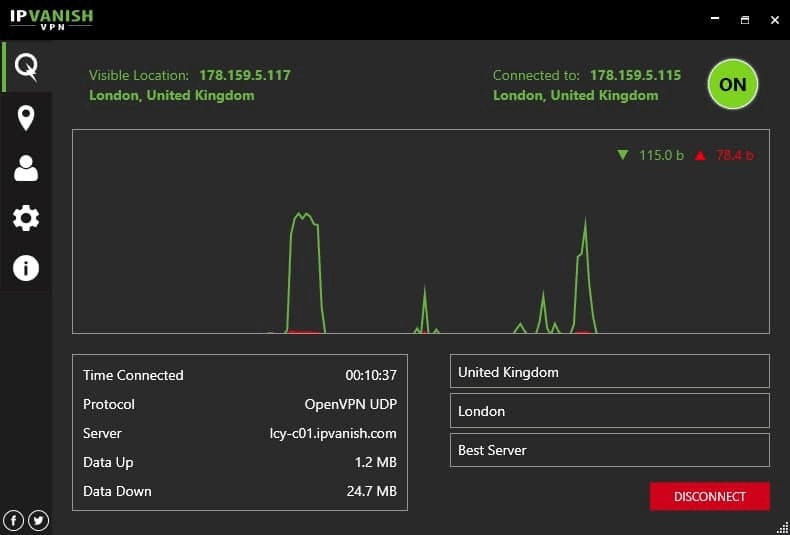 Last but not least, IPVanish is a fantastic free MLB TV VPN if you want to circumvent blackouts on MLB.tv and are seeking a VPN that is not too heavy on your system. IPVanish provides users with up to ten simultaneous connections and access to more than 2200 servers located in 52 different countries. Accessing games on MLB.tv works quite well with this service, despite the fact that it does not have dedicated servers for streaming. This is partly due to the fact that it has server locations in twenty different cities around the United States.
On the other hand, it is not quite as wonderful as some other solutions for getting around geo-restrictions on streaming networks like BBC iPlayer. However, it is able to bypass geo-blocking on Netflix and YouTube TV.
On the brighter side, IPVanish does provide quick and dependable speeds, with an average of 237.5 Mbps. It provides a sufficient level of protection against DNS or IP leaks and a powerful military-grade encryption suite, among other beneficial security features.
Also Read: The Best Netflix VPN
---
Final Words: Best VPNs to Watch MLB TV in 2023
If you want to watch every baseball game on MLB.tv but you're having trouble because of blackouts, all you need is a reliable virtual private network (VPN) that has lots of servers all across the United States, and you won't miss a single pitch of the action. Using a virtual private network (VPN) to connect to a server located in a country or territory that is authorized to broadcast the game will make it look as if your device has an IP address from that country or territory. After doing so, the information will become accessible to you again.
Obviously, this is not the only advantage of using a virtual private network (VPN). In point of fact, a trustworthy VPN comes with a multitude of advantages. To provide just one example, you may use it to view content from almost any streaming service that exists anywhere in the globe. That's all! We hope you found the article interesting and pretty much helpful. Did it provide you with all the answers you were hoping to find? Please feel free to drop your queries below in the comments section. Additionally, do subscribe to our Newsletter and follow us on Social Media so you never miss any tech-related news, information, & updates.
Harshita Sharma is a technical writer with quite a distinct understanding of the tech realm. She is a tech enthusiast who believes that tech knowledge should reach one and all and tries to convert the sketchy knowledge into the simplest possible form for making people understand the tech world better. When not playing with words, she loves to travel and explore new places. And, is a coffee & cricket connoisseur.
Subscribe to Our
Newsletter

and stay informed

Keep yourself updated with the latest technology and trends with TechPout.
Related Posts