8 Best Free Minecraft Launchers in 2023
Published Date :
Nov 22, 2023

Do you wish to take your experience with Minecraft a notch up? If yes, you can try the best Minecraft launchers shared in this article.
Minecraft has been among the most popular sandbox games for nearly a decade. It allows you to unleash your imagination and create a world you have always wanted. Moreover, the zombies, spiders, and demons from which you need to save your world make the game more fascinating. However, the default game launcher may not give you the desired customization and friendly experience, paving the way for the best free Minecraft launchers.
With the top Minecraft launchers, you can effortlessly manage the game mods, elevate your gameplay, have two game accounts, and enjoy many other benefits. Hence, this article shares a carefully curated list of the best launchers for Minecraft on Windows PC. Let us get started with it without wasting your precious time.
List of the Best Free Minecraft Launchers for PC (Free) in 2023
The following are our top picks for the best Minecraft launchers for low-end PCs and high-end computers to help you perform heavy modding and smooth your gaming experience.
1. SKLauncher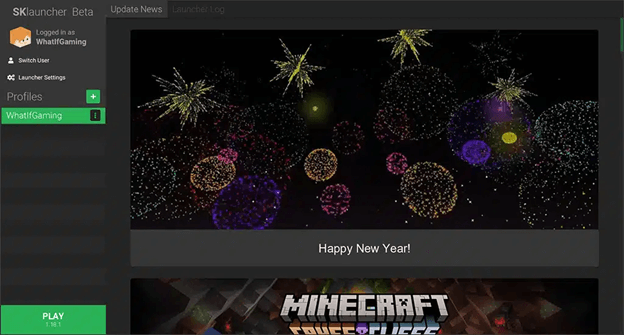 SKLauncher is among the best free Minecraft launchers in 2023 for its simplicity and elegance, in-built mod loaders, lightweight, support for 20+ languages, and the following fascinating features.
Key features of SKLauncher
Integrated Modrinth/CurseForge support for easy modpack installation
Delta Updates system for fast and lightweight updates
Easy skin and cape management through SKLauncher's website
Vibrant Discord community
Weekly patch fixes
Also Read: Best Minecraft Seeds for Players to Explore
---
2. MultiMC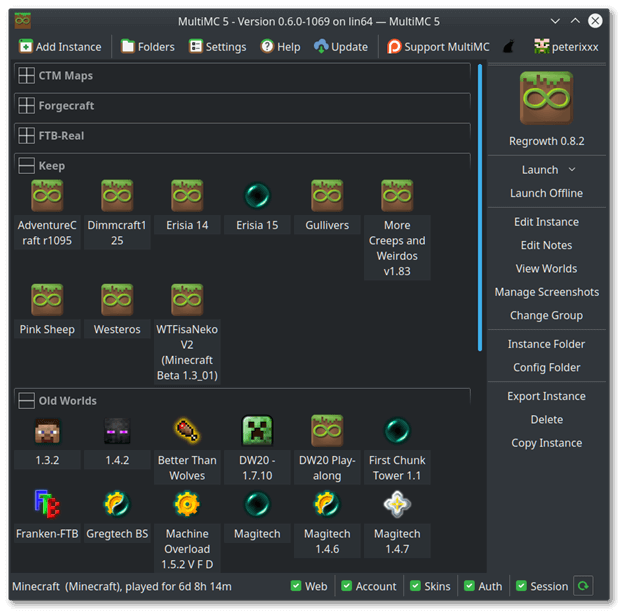 Next is a highly popular, open-source, and top free Minecraft launcher called MultiMC. Created by Petr Mrázek, it allows you to manage multiple isolated Minecraft instances, see all the details like mods, logs, etc. easily, effortlessly control runtimes and Java settings, and get the following exciting features.
Key features of MultiMC
MultiMC game logs are color-coded and have extra details to diagnose problems
Lets you play old Minecraft versions the way they were released
Kills the game easily if any freezing or crashing occurs
Easy installation of popular mod loaders like Fabric, Forge, LiteLoader, and Quilt
Supports Minecraft World and resource/texture pack management
Allows easy import and export of Minecraft instances
Modpack importing from different platforms like CurseForge, Modrinth, etc.
---
3. CurseForge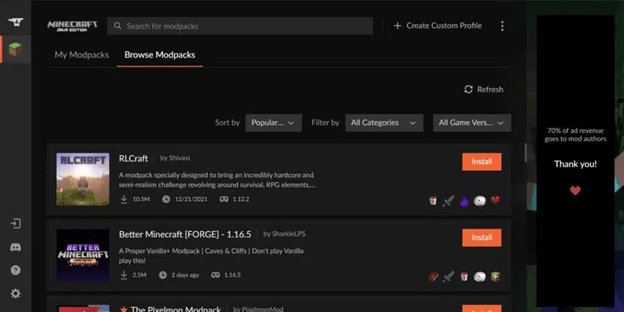 We would now like to introduce you to CurseForge. One of the top perks of this best free Minecraft launcher is you can install a lot of mods in a completely integrated environment. Moreover, it is well-known for its sleek interface and the following interesting features.
Key features of CurseForge
A quick and responsive app that runs in the background and updates automatically
Supports mod authors
Effortless management of add-ons
Also Read: How to Update Minecraft in Windows 10
---
4. TLauncher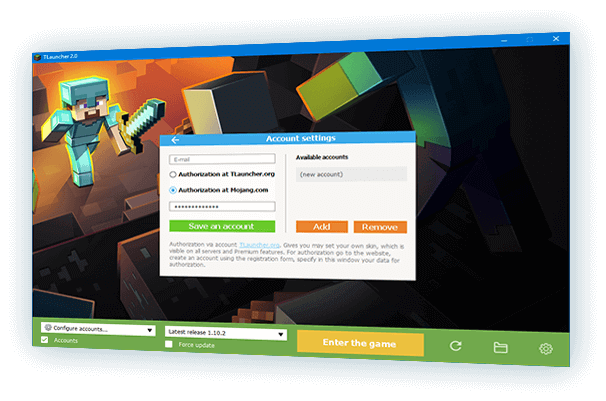 Let us now take a look at TLauncher. It is a popular and one of the best Minecraft launchers with support for all game versions ranging from Alpha to Snapshots. Moreover, it boasts some incredible features, such as a unique skin system (which allows you to set your own skin that is visible to all other users), easy one-click mod build creation, and the following.
Key features of TLauncher
An easy-to-navigate interface
Excellent support
Easy management of multiple separate Minecraft instances
One-click Forge and OptiFine installation
Login using your Microsoft account
---
5. ATLauncher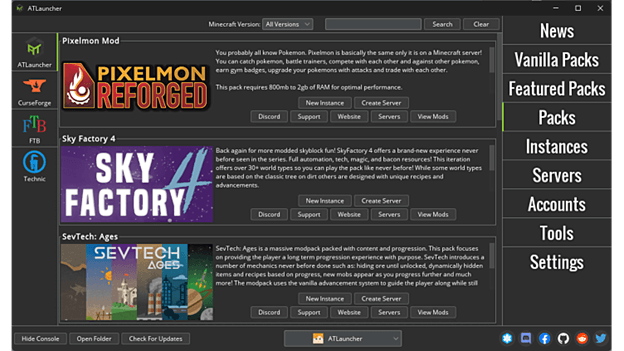 ATLauncher is also the best Minecraft launcher for low-end PCs. It is a popular choice among Minecraft players for its easy and quick modpack installation, integration of multiple modpacks, automatic use of the correct Java version, support for multiple instances of Minecraft, and the following wonderful features.
Key features of ATLauncher
Allows switching between more than one account
One-click backup saving
Supports mods and modpacks like Technic, FTB, and CurseForge
Effortless mod management
Supports both Microsoft and Mojang accounts
Also Read: Best Game Launchers for Windows PC
---
 6. GDLauncher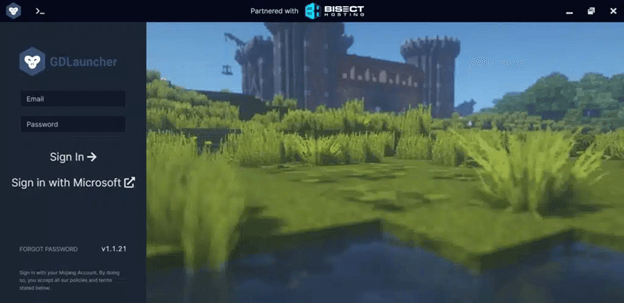 Talking about GDLauncher, it is a simple and user-friendly launcher with features like direct installation of Fabric and CurseForge mods, Microsoft account support, auto Java setup, and the following features, making it one of the best free Minecraft launchers.
Key features of GDLauncher
In-built mod manager
Boasts dark and light modes
Availability of an automatic updater
Allows you to import and export modpacks
---
7. Titan Launcher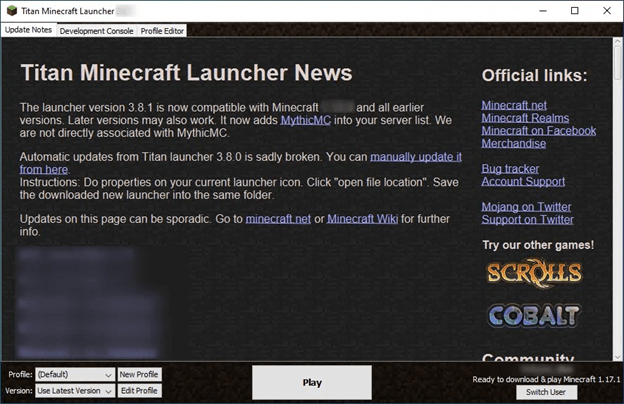 The list of the best Minecraft launchers in 2023 cannot be complete without Titan Launcher. It is an easy-to-use launcher with many amazing features, such as portability, support for all the latest Minecraft versions, and the following.
Key features of Titan Launcher
Needs no premium account
Small and lightweight Minecraft launcher
Availability of custom-made Minecraft worlds
---
8. MC Launcher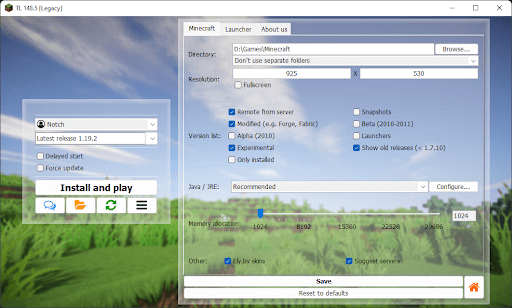 Yet another Minecraft Launcher is MC Launcher. It comes with a lot of advanced features that include inbuilt skin system, optifine, forge, fabric, etc. You can enjoy both online and offline gaming.
Key features of MC Launcher
It supports multiple accounts.
Supports all the versions of Minecraft starting from Alpha to the most recent.
Available Windows, Linux, OSX
Click Here to Launch
Also Read: [Fixed] Minecraft Won't Launch On Windows 10
---
Concluding the Best Free Minecraft Launchers
This article brought to light the best Minecraft launchers for PCs to make your Minecraft experience smooth and memorable. You can select one from any of the above launchers depending on your requirements.
In case of any questions or confusion about this article, feel free to reach out to us through the comments section. We will get back to you with another helpful post. Until then, you can check our other articles to enhance your tech knowledge.
Niharika is a passionate soul who finds immense satisfaction in putting all her thoughts in writing. Being a technology enthusiast, she loves learning new things about tech and making everyone technologically literate through her articles. When not composing tech articles, you can find her bringing characters to life in her fictional stories, reading something intriguing, or spending time with her near and dear ones.
Subscribe to Our
Newsletter

and stay informed

Keep yourself updated with the latest technology and trends with TechPout.
Related Posts