7 Best Free Image Hosting, Uploading Sites in 2023

You can store your photos better with the top paid and the best free image hosting/uploading sites listed in this article.
"What I like about photographs is that they capture a moment that's gone forever, impossible to reproduce." This quote by Karl Lagerfeld perfectly describes the significance of pictures in our lives. We capture photos to keep memories of the past alive, to relive the moments we may never be able to experience again. Moreover, modern-day users use images professionally too, for example, to make their marketing campaigns more impactful.
However, have you ever imagined losing all your precious pictures to a system crash, malware attack, accidental deletion, or any such reason? Well, it is a frightening thought to lose pictures you keep so close to your heart. Hence, uploading the shots to the best image hosting sites is an intelligent idea.
The best commercial and free photo hosting sites keep your photos safe in cloud storage, help save PC/phone space, enable easy image sharing, and ensure all-time availability of images.
Therefore, this article shares a carefully curated list of the best image-uploading and hosting websites we compiled after thorough research and analysis. We compared and analyzed all the available services based on their ease of use, availability, and features. Let us walk you through it without further ado.
Top 7 Best Free Image Hosting and Uploading Sites
Below we do a rundown of the best commercially available and free image uploading and hosting sites.
1. Google Photos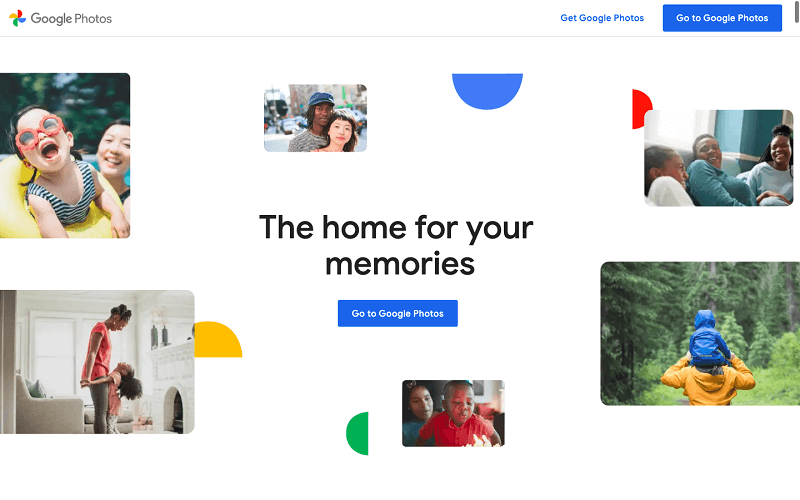 Let us first take a look at Google Photos. It is among the best free image hosting sites for its automatic backup facility, vast format support (supports various formats like GIF, PNG, JPG, etc.), and 15 GB of free storage shareable with Drive and Gmail.
Moreover, the following are some fascinating features that made Google Photos one of the best photo hosting websites.
Key features of Google Photos
Automatic photo organization
In-built tool to transform your photos into collages and animations
Allows your photos to be searchable
Easy photo sharing with friends and family
Smart filters and tools to edit photos
Also Read: Best Podcast Hosting Platforms
---
2. Wix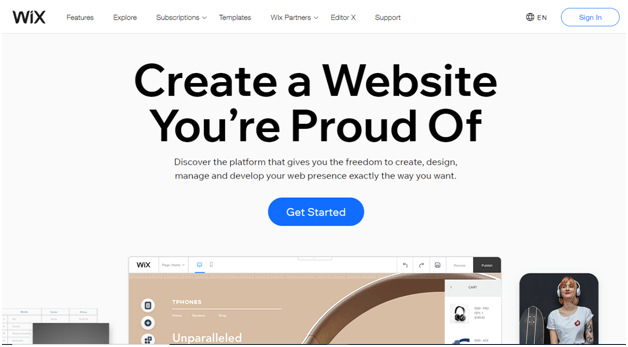 You should try Wix if you are a professional photographer looking for the best picture hosting sites to create a photography website. It helps potential clients spot you in a crowded world of photographers.
Talking about the features, Wix delights users with a massive range of web templates, private photo album creation and sharing, and the following offerings.
Key features of Wix
Allows you to be searchable on Google and various other search engines
Hassle-free customization
Preserves photo quality on both mobile and desktop
Easy photo storage and sharing
Lets you sell photos both in digital and print formats (without charging any commission)
---
3. Flickr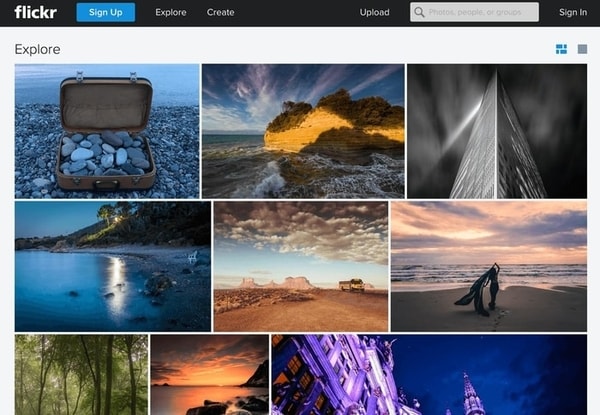 Next, we have Flickr in this post dedicated to the best free image uploading websites. It is a community of photographers where billions of photos are shared daily. Sharing the correct picture in the right group on Flickr gives online fame.
However, you can also use it purely as a picture hosting site. As far as features are concerned, below is what makes Flickr attention-worthy.
Key features of Flickr
You can add license information, geolocation, tags, etc., to your photos
Availability on desktop, web, and mobile devices
API program to help developers build a more enriching photo experience
Supports secure and private photo sharing via emails, RSS feeds, and more
You can blog the moments shot on the camera
Lets you control who can view your photos
Editing tools to enhance your pictures
---
4. Free Image Hosting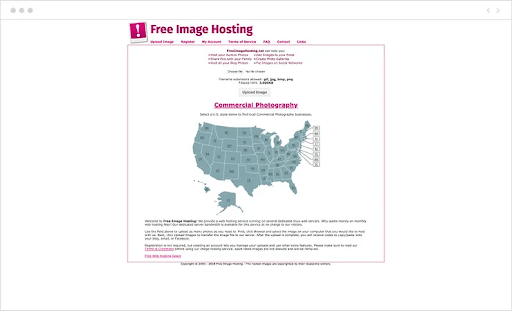 We cannot skip Free Image Hosting when discussing the best online websites to host images. It is a website allowing you to upload and share images hassle-freely, without even creating an account on the site.
Despite no account creation, it stores your photos permanently. Moreover, its commercial photographers' directory helps find local photography businesses in the US, and the following features make it one of the best free photo hosting websites.
Key features of Free Image Hosting
Easy photo sharing and gallery creation
Supports BMP, GIF, PNG, and JPG images
Straightforward and easy to use
Also Read: Best Way to Organize Digital Photos on Windows PC
---
5. 500px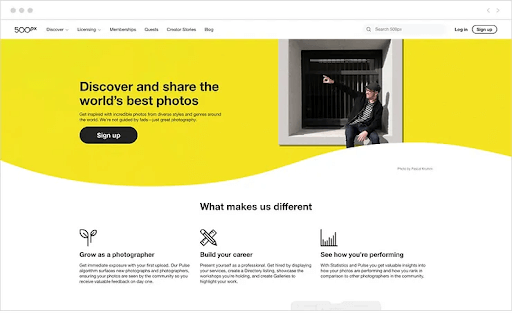 Next, we have 500px among the best free image hosting sites for photographers. It is a worldwide photographer community where you can showcase your talent and get hired. It brings new photographers to the limelight by making their photographs visible to the community.
Moreover, the following features contribute to the reasons we listed 500px as the best free photo hosting website.
Key features of 500px
Allows you to list your services and create image galleries
Shows performance statistics of your photos and your rank as compared to other photographers
Quests give you global exposure and allow you to win prizes
---
6. Dropbox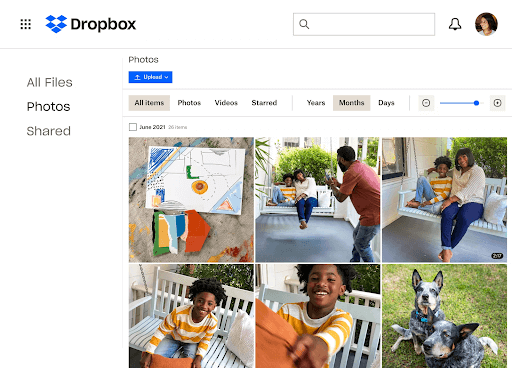 Here comes Dropbox on our list of the best services for image hosting. You can call it an alternative to Google Photos with a plethora of features, such as seamless integration with Microsoft Office and Facebook.
Let us look at all Dropbox features that make it the best image hosting and uploading site.
Key features of Dropbox
Allows you to sync images to your desktop
Supports automatic photo backups
Boasts easy image sharing
Helps you organize your folders and sub-galleries
Lets you share links to individual folders or files
Your contacts and visitors can download your photos if you permit them
Provides 3GB of free storage
---
7. PostImage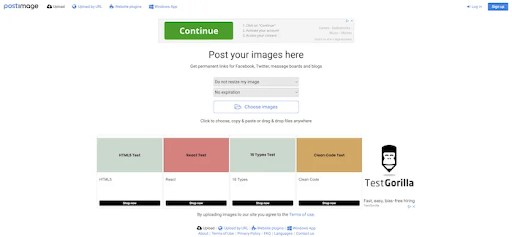 Lastly, we have PostImage to wrap up the best websites for picture hosting and uploading. It is an easy-to-use service to upload multiple photos simultaneously, resize your pictures, and set an expiration date for your images.
Moreover, below is what else you should know about PostImage.
Key features of PostImage
Suggests the best resolution for your photos
A simple and speedy image uploader
Also Read: Best Duplicate Photo Finder & Cleaner Software
---
Concluding the Top Paid and the Best Free Image Hosting Sites
This article walked you through the best image hosting and uploading websites. You can compare them in the light of their features to select the perfect fit for your needs.
If you think some other picture hosting or uploading website also deserves to be on the above list or have any other suggestions about this write-up, kindly let us know by writing a comment. We will look forward to hearing from you.
Niharika is a passionate soul who finds immense satisfaction in putting all her thoughts in writing. Being a technology enthusiast, she loves learning new things about tech and making everyone technologically literate through her articles. When not composing tech articles, you can find her bringing characters to life in her fictional stories, reading something intriguing, or spending time with her near and dear ones.
Subscribe to Our
Newsletter

and stay informed

Keep yourself updated with the latest technology and trends with TechPout.
Related Posts