Best Free Grammarly Alternatives in 2023

This article acquaints you with the best free Grammarly alternatives that are even better than Grammarly itself.
Writing is one thing, and writing grammatically correct is another. The former is a flow of emotions where the rules of grammar sometimes take a backseat, while the latter is a conscious effort to fit the words in a correct grammatical structure. Writers, including us, often write first and make our writings grammatically sound at a later step, as aligning with syntactic rules is crucial to make sense to our readers.
Moreover, ensuring grammatical correctness is essential for both personal and professional write-ups so that the readers understand and appreciate it. When it comes to making our writing grammatically correct, a lot of people take the help of Grammarly, we believe that you also do the same.
However, what if we say there are many free apps like Grammarly that are a better alternative to it? Yes, the most
to fix grammatical errors, i.e., Grammarly, is not the only application that can make your writing mistake-free, clear, and polished.
Now, are you wondering why you need an alternative to Grammarly when the app itself is so good? Well, the following section answers this question.
Why You Need the Best Free Grammarly Alternatives
The following cons of Grammarly may become a reason you switch to apps similar to Grammarly like many other users did.
Fails to catch all mistakes
Occasionally asks you to correct errors that do not exist
Suggestions are not always correct
The paid version is highly expensive
Malfunctions in case of too-long articles
If the above cons seem unbearable to you (like they seem to many others), you can pick one of the best websites like Grammarly from the list shared in the following section.
Top Best Free Grammarly Alternatives to Use in 2023
Below is our carefully curated list of the best free apps like Grammarly that are an even better alternative to it.
1. Ginger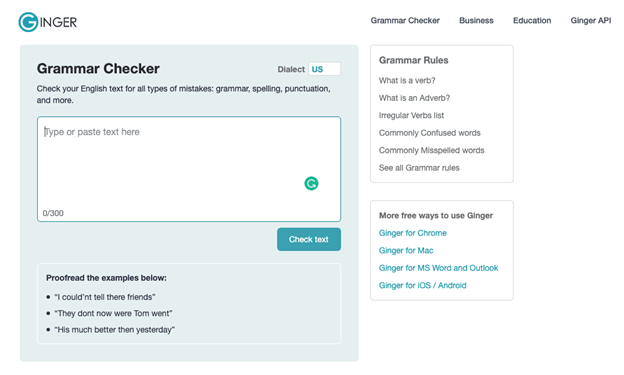 Let us first introduce you to Ginger. This one of the best free Grammarly alternatives helps you write with confidence on multiple devices. Moreover, it comes with a plethora of features, such as a sentence rephrasing tool to correct your text, boost your creativity, and improve your style.
Talking about the features, below is what we like the most about Ginger, making it the best website similar to Grammarly.
Key features of Ginger
Replaces frequently used words with their synonyms with just a double click
AI-powered writing assistant analyzes your weaknesses and offers suggestions for improvement of your writing
Allows you to listen to your write-ups like a native English speaker would say them with a text-to-speech feature
Translation of text in more than 40 languages
The "correct all" feature instantly applies all suggested fixes
Also Read: Best Free Wayback Machine Alternatives
---
2. Linguix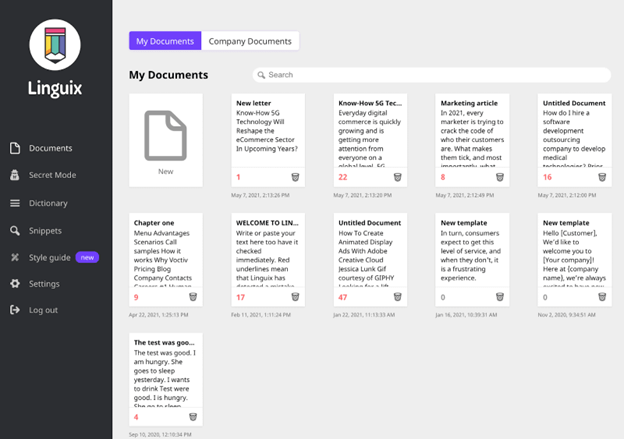 Next, we would like to talk about Linguix. Powered by AI, Linguix is among the best free apps like Grammarly to check and remove grammatical errors, typos, and punctuation mistakes when you write.
Moreover, Linguix offers context-appropriate recommendations to make your write-up clearer and more appealing to your readers. Furthermore, features like a rewriter tool to rephrase unclear or complex sentences for improved readability and the following contribute to making it one of the best free alternatives to Grammarly.
Key features of Linguix
Suggests synonyms of frequently used words
Suggestions for vocabulary enhancement
Personalized language learning
Easy content templates
Availability of Chrome browser extension
One-word shortcuts for a faster writing process
Integration with apps like Gmail, LinkedIn, Outlook, ServiceNow, Salesforce, etc.
---
3. ProWritingAid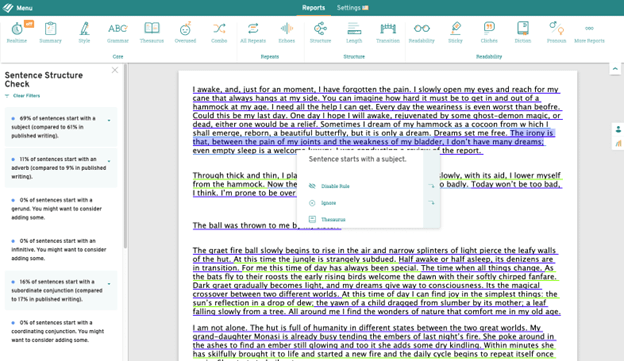 Here comes ProWritingAid. With this all-in-one tool, you can check readability, plagiarism, and grammar-related issues in your writing. If you do not wish to get the pro version, you can use ProWritingAid's browser extension to make your writing shine.
Talking about the features, ProWritingAid offers a thesaurus for word recommendations, a detailed report on all grammatical mistakes, and the following to help you perfect your writing.
Key features of ProWritingAid
Readability analysis shows how easy to read and understand your writing is
Word explorer to get appropriate words to convey your thoughts
Integration with Gmail, MS Word, Open Office, Google Chrome, Google Docs, etc
Availability of an automatic tool for paraphrasing
Data visualization for an in-depth understanding of the issues in your writing
Also Read: Best and Free Netflix Alternatives
---
4. Hemingway Editor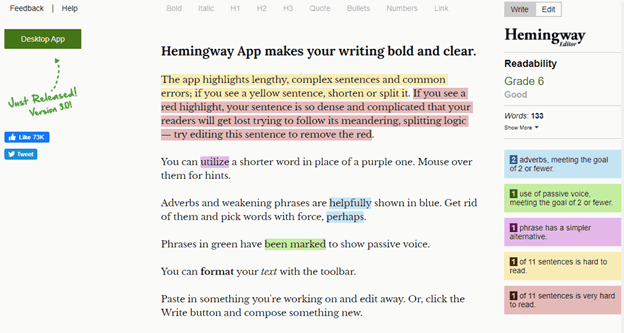 Hemingway Editor is yet another one of the best apps like Grammarly that help you write bold and clearly but for free. It is among the well-known websites to improve your writing's readability.
Hemingway Editor follows a color scheme to help you analyze your writing. The yellow color indicates lengthy, complex sentences, and common mistakes you can correct by shortening or splitting the sentence.
Moreover, the red color shows serious issues in the readability of your sentence. Removing this red sentence can help make your writing easier to read. The purple color shows words you can replace to make your writing better, the blue color is for adverbs and weakening phrases, and the green color shows passive voice.
Furthermore, the following are some other delightful features of this alternative to Grammarly.
Key features of Hemingway Editor
Clean and user-friendly interface
Does not need an internet connection
Detailed pointers and suggestions
Availability of details like reading level, paragraphs, reading time, etc.
Integration with Medium and WordPress allows the direct publishing of articles
---
5. Wordtune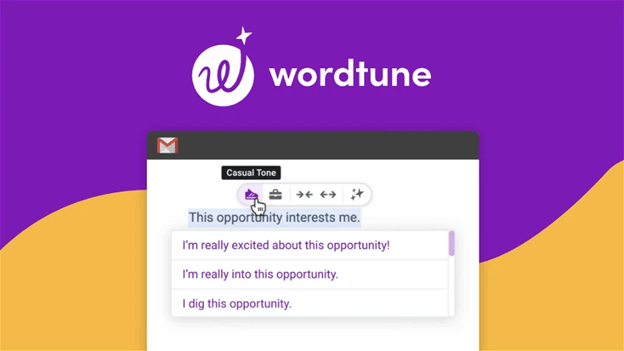 Next, we have Wordtune as a free Grammarly alternative you can use to make your writing stand out from others. In addition to correcting your spelling and grammar, it uses AI and advanced language models to suggest various alternative phrases to make your writing more impactful.
Moreover, the following are some other features that make Wordtune truly one of the best websites similar to Grammarly.
Key features of Wordtune
Integration with Gmail, Outlook (web version), Google Docs, WhatsApp (web version), Facebook, etc.
Allows simultaneous translation and rewriting of sentences
Supports writing in various tones and styles
Helps improve your English vocabulary
Availability of free extension for Chrome
Also Read: Best Flixtor Alternatives to Watch Free Movies and TV
---
6. Writer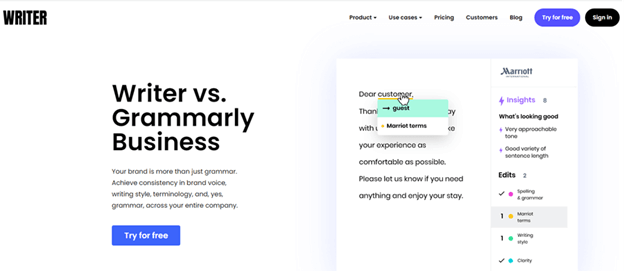 We have Writer in the sixth position on our list of the best free Grammarly alternatives, as it ensures the consistent content quality of your team. It helps create your unique style guide and manage approved and banned words to ensure content uniformity.
Moreover, below are some features that make Writer a fierce competitor for other sites similar to Grammarly.
Key Features of Writer
Aligns the team with your brand's writing style and voice
Helps you use gender-neutral language in your writing
Allows you to check the content as per the style guide of your company
You can turn on or off various kinds of writing suggestions
Effortless integration with Microsoft Word, Google Docs, and Google Chrome
Boasts plagiarism checking in all packages (including the free one)
---
7. Quillbot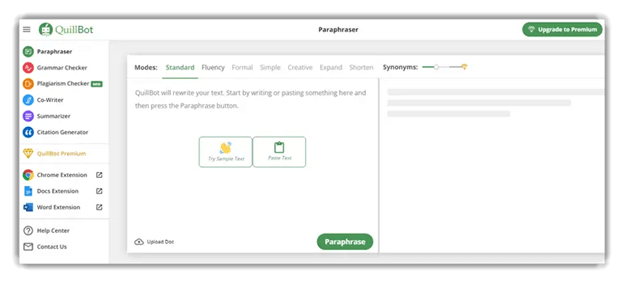 Let us conclude the list of the best free alternatives to Grammarly with Quillbot. It is a free grammar and spelling checker web application. In addition to checking the grammar and spelling in your articles, it checks plagiarism and boasts the following features to delight users.
Key features of Quillbot
An open-source Grammarly alternative
Advanced style checker
Contextual checking of spelling
Detects misused words
Checks grammar and explains errors in detail
Summarizes and paraphrase paragraphs
Also Read: Vumoo Alternatives to Stream and Download Movies
---
Summing Up the Best Free Grammarly Alternatives
This article highlighted the best free alternatives to Grammarly you can use for error-free, clear, and impactful writing. You can go through the features of each of the above apps to choose the perfect fit for your requirements.
If you know any other website or application that should be on the above list of the best free apps like Grammarly, kindly drop us a comment. And for more useful information, keep following our blog.
Niharika is a passionate soul who finds immense satisfaction in putting all her thoughts in writing. Being a technology enthusiast, she loves learning new things about tech and making everyone technologically literate through her articles. When not composing tech articles, you can find her bringing characters to life in her fictional stories, reading something intriguing, or spending time with her near and dear ones.
Subscribe to Our
Newsletter

and stay informed

Keep yourself updated with the latest technology and trends with TechPout.
Related Posts