11 Best Free File Rename Software For Mac In 2023

Managing and organizing your Photos, videos, documents, contacts, and more is an extremely painstaking task, especially if you have a massive amount of files and folders stored on your Mac.
If you're a professional photographer or a graphic designer, you must have been aware of how difficult and overwhelming it can get to rename your files one by one.
In such scenarios, you need nothing less than the best file renaming software that will help you batch rename multiple files in less than a minute.  
Since there are plenty of options out there, we've rounded up a bunch of best free file rename software for Mac, so you can decide which suits your needs perfectly. 
Best Batch File Renaming Software For Mac 2023
Here we present our top choices for the best batch files rename tools for Mac. Let's check them out: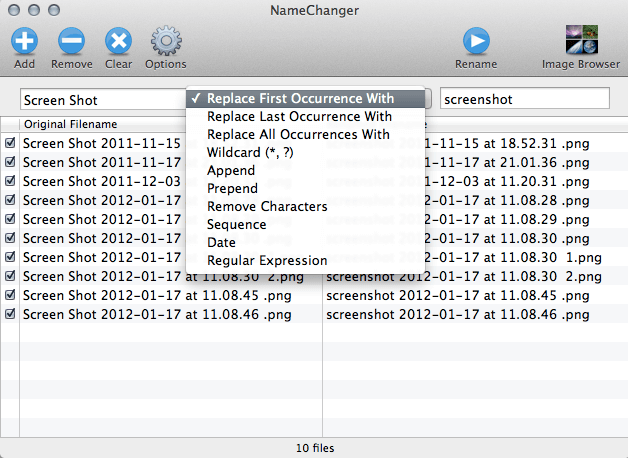 Anyone who wants to rename multiple files in bulk should check out this excellent tool from MRR Software. To rename them, all you need to do is drag and drop the files to the application and set your criteria.
Here are some criteria you can choose to change the selected file names:
Replace First Occurrence with
Replace Last Occurrence with
Replace All Occurrences with
Wildcard
Append
Character Removal
NameChanger is undoubtedly one of the most highly-rated file renaming tools that offer support for Mac OS X 10.7 Lion and later.
---
The next file renaming utility on our list is called 'A Better Finder Rename'. It has great potential if you want to change tens of thousands of file names in real-time. It offers a host of file renaming features that are organized into 15 different categories, covering various other areas like text, tags, truncation, character, conversion, and more. 
For example, the character category covers the following areas:
Replace specific characters
Remove specific characters
Keep only specific characters
Remove trailing spaces
Remove vowels 
On top of this, it seamlessly works with all popular images formats, including JPEG, ARW, TIFF, HEIC, CRW, etc. That's what makes it one of the best free file rename tools available in the industry today.
Read More: 15 Best Android File Manager Apps 
---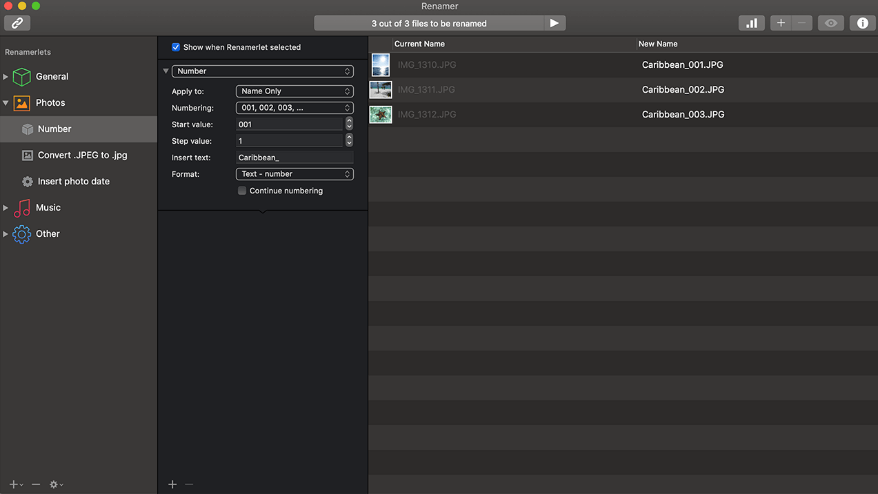 One solid file renaming software to try is Renamer, a well-designed product that works with macOS 10.14 Mojave or higher versions. It holds strong batch renaming capabilities that allows users to change the name of their files with just a click of a button. Here are some of its prominent features:
Convert the filenames to upper and lower case letters 
Add folder names
Find and replace text
Change file extensions, etc.
Apart from this, Renamer has an intuitive interface that is designed with ease-of-use in mind.
---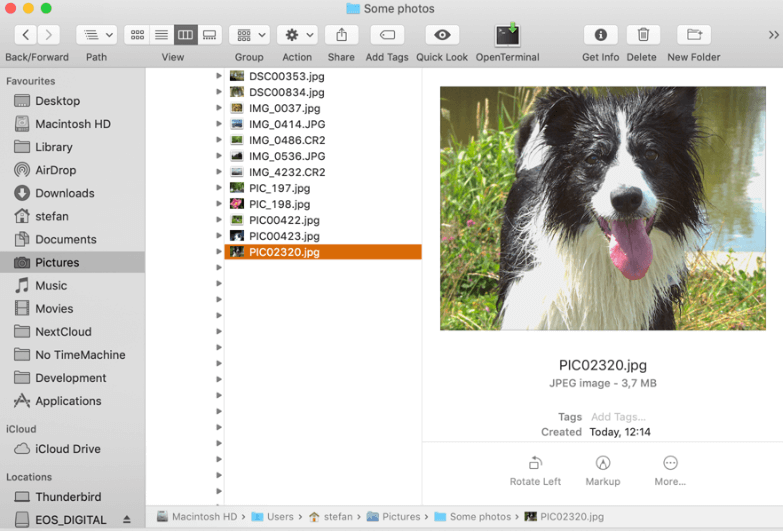 One of the most significant options for the best free file rename software for Mac is ExifRenamer. What's great about this software compared to other tools is that it automatically changes the name of recently added or downloaded files without any human intervention. 
Here's what you can do with ExifRenamer:
Add a prefix and suffix to the original filenames
Add date/time to filenames
Add data source
File preview, sequence counter, customizable naming styles, destination folder creation are some of its other notable features.
Read More: 11 Best Free PDF Editors For Mac
---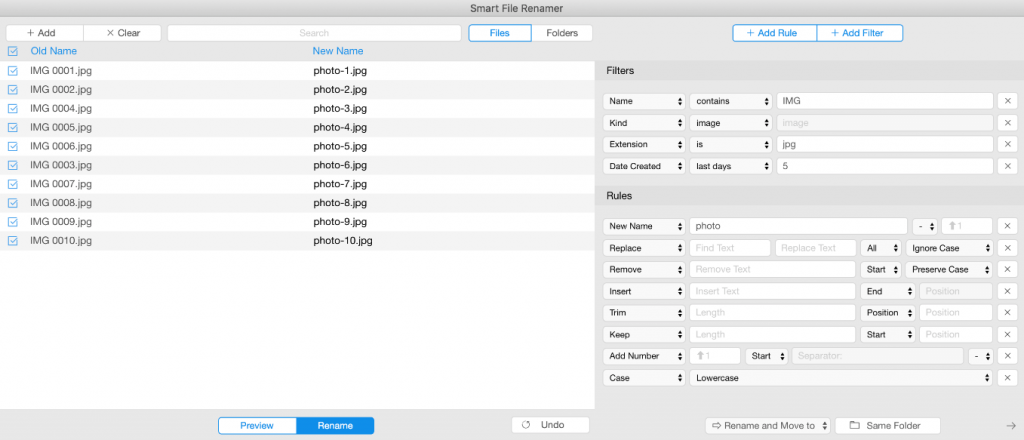 As the name suggests, it does a smart job in batch renaming files, folders or even entire hard disks with the help of extremely flexible rename patterns.
Being one of the best batch files rename tools, it focuses on making the file renaming process simple by providing a host of excellent features such as bulk rename, custom filters, photo metadata, audio tags, and lots more.
---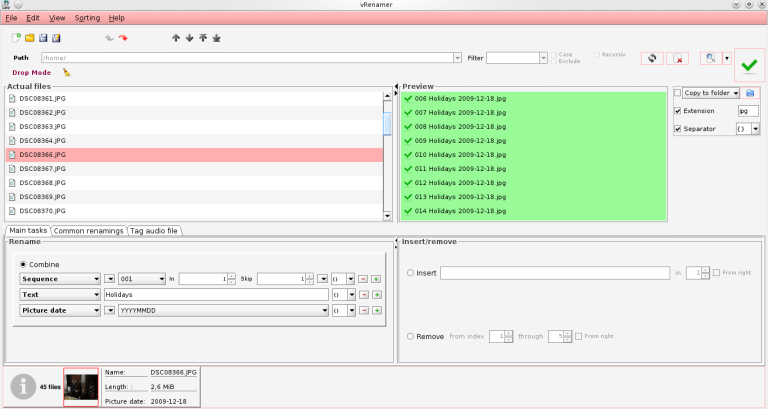 vRenamer is another fully-featured file renaming software for both novice and experienced Mac users seeking to reorganize thousands of items at once. The interface of the tool is quite fast and intuitive that allows you to easily navigate and perform your desired operations.
Here are some of its notable offerings: 
Drag and drop files or entire folders
Rename items from a Txt or CSV list
Preview files before renaming
Rename file using pictures metadata
Rename music items using ID3 audio tags
Simple to use and incredibly designed product, this undeniably deserves a more recognition in the world of mass rename applications.
Read More: Best File and Folder Lock Software For Windows
---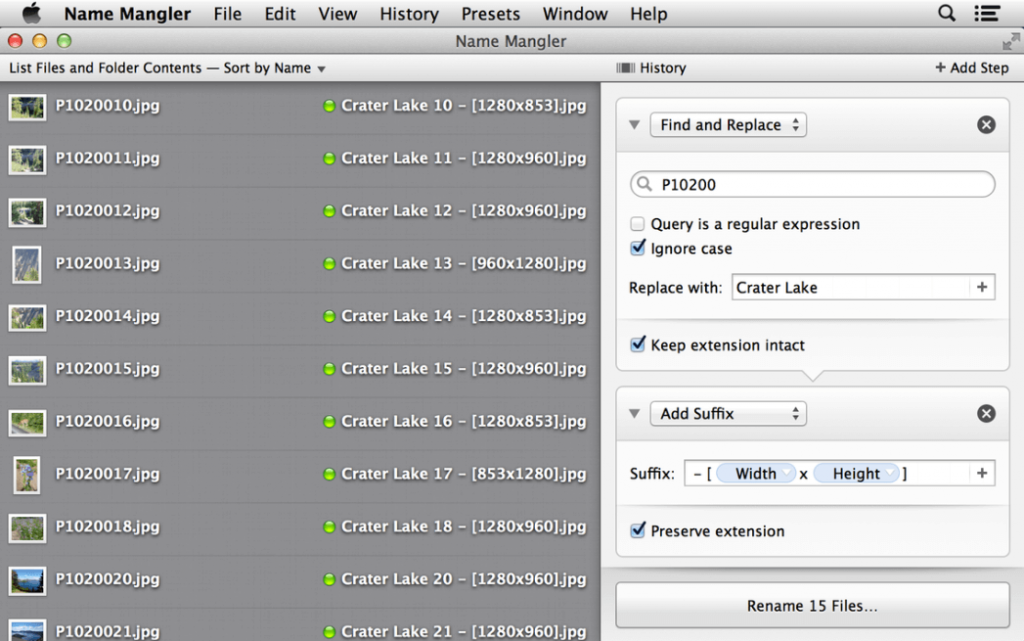 Are you still looking for the batch files rename tools for Mac? If you haven't already made up your mind, then take a glimpse at some extraordinary features of this program that make it worth considering.
It's a highly customizable tool with an intuitive and easy to use interface
Extremely fast utility, claims to rename 5,000 items in just 3 seconds
It offers more than 150 metadata options to ease the process
Users can share their file renaming  configurations between Macs via emails
All in all, the performance of Name Mangler when it comes to renaming files in real-time is exceptional.
---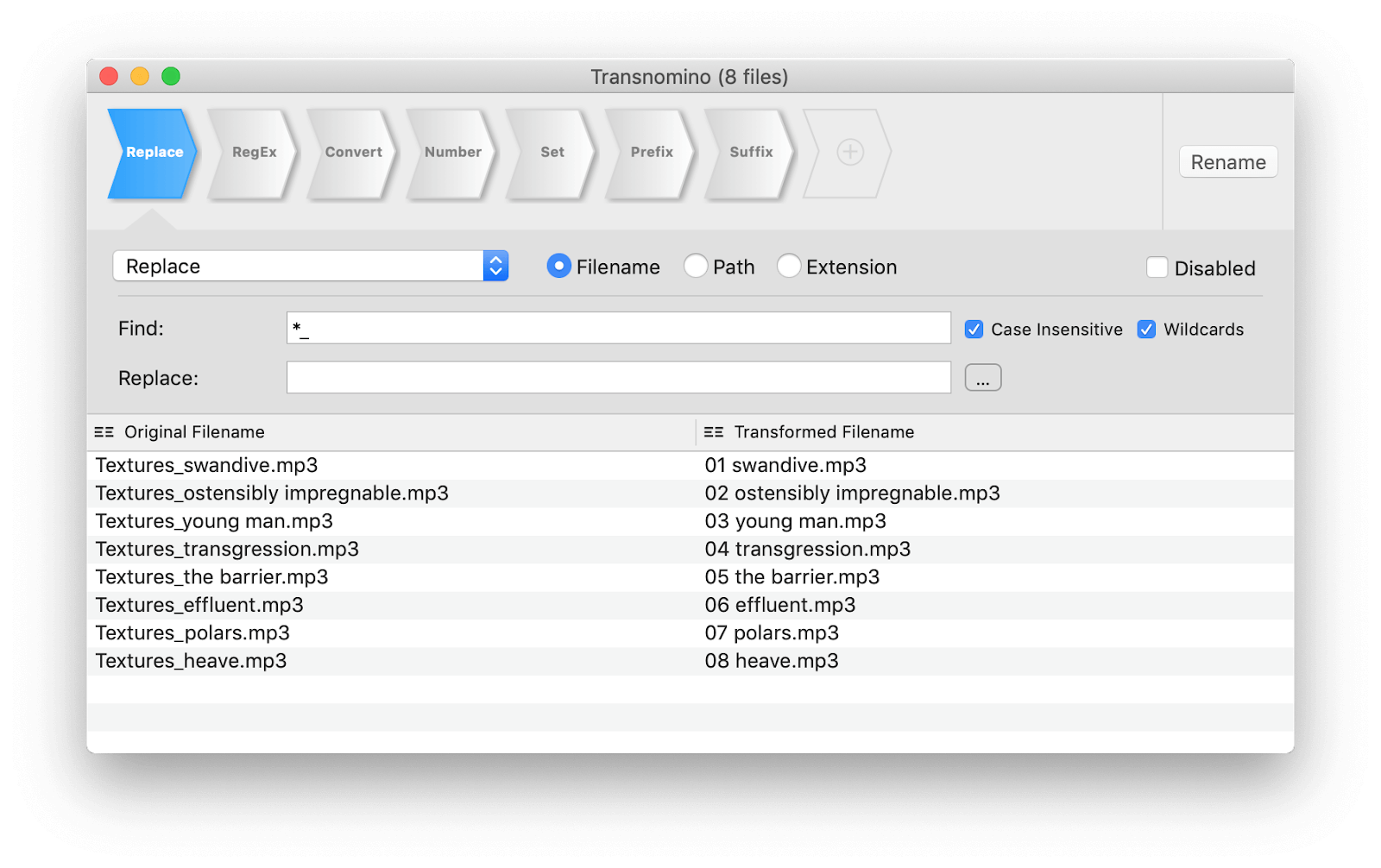 Transnomino can easily rename the file according to your requirement. Other than just remaining the software can add attributes to the file name like the EXIF data, ID3, date- created, and many more. With the pre-set format the user can delete or change the dates the way they want them. The software offers a feature with which the user can add numbers at the beginning and at the end of the name. 
Here are some of its notable offerings: 
The user can rename files easily
User-friendly interface
Easy to add file attributes 
---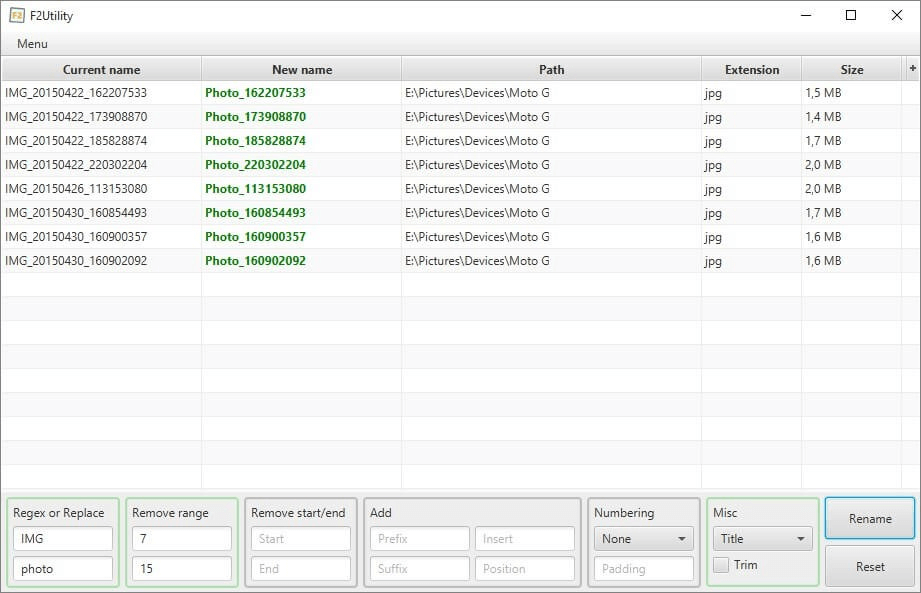 The software offers easy features that help in renaming the files, without having tools the user can easily remain using the F2Utility. With this software, the user can create a new name, edit, trim, and do everything which they like. Just drag and drop the file in the software to rename. That's how simple it is with F2Utitlity, which is why it is the best rename software for Mac.
Here are some of its notable offerings: 
Add prefix and suffix to the name
The software uses regex or regular strings to rename
Suggest the file which can be renamed
Easy and user-friendly interface
---
Bulk Rename Utility is another popular file-renaming program for Windows. It is one of the best file renamers that can simultaneously rename multiple files and multiple folders. Beginners may find the home screen a bit complicated, but it will actually become easy to use once you understand how to use it. The process of renaming files/folders has never been easier.
The following are the major features of Bulk Rename Utility:
Modifying, adding, and deleting text in the file names.
Supports usual expressions.
Available in both portable and installable versions.
Simultaneously rename multiple files.
Renames MP3 files.
Removes the symbols or digits.
Bulk Rename Utility is compatible with all Windows versions including Windows 11, 10, 8, 7, Vista, and XP. It is powerful, lightweight, and superfast file-renaming software that you can use in 2023.
---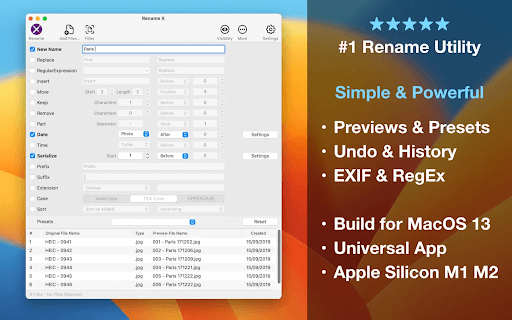 The last name on this list of the best file-renaming software for Mac is Rename X. The tool is quite user-friendly and allows you to rename multiple files at once. Apart from this, you can also rename the files individually if necessary. The tool allows you to review the files before and after renaming them.
The following are the major features of Rename X:
Lightning-fast UI and build
Available at very low price of $2.99
Contains presets
Saves user profiles
---
Final Verdict
Now that you know how to rename files in bulk, we suggest you compare the aforementioned batch file rename tools and choose the one that best suits your needs.
So, folks, this concludes our guide. We hope our fact-filled, curated list helped you sort out the best free file rename software for Mac.
Do let us know your favorite ones in the comments section below! Also, share your thoughts if you want to add any other popular tools in this list.
Monil is a professional writer whose forte is absorbing a lot of data and help large technical organizations convey their message clearly across multiple products. An engineer by qualification, his affinity for design enables him to write to inspire, energize, and influence various audiences to uncover their true potential. When not writing, Monil is likely to be found listening to music, traveling, or simply excavating into his favourite cuisines.
Subscribe to Our
Newsletter

and stay informed

Keep yourself updated with the latest technology and trends with TechPout.
Related Posts