9 Best Free Adult Coloring Apps For Android & iPhone In 2023

We cannot deny that the concept of adult coloring apps has burgeoned over recent years and it has grown popular for all the right reasons. Coloring has always been one of the surefire ways to let go of worries and anxiety and live in the moment.
Coloring is one of the toughest enemies to repel anxious wires and dejection which gently pushes you to implement positive habits in life including better sleep, reduced overthinking and enhanced vision and focus.
Now that there are truckloads of them available on your device, we have brought this section to make your search easier with 8 best free adult coloring apps for Android and iOS.
Best Free Adult Coloring Apps For iPhone and Android Devices
We all yearn for a sneak-out from mundane tasks and obligations which lands us on dissatisfaction from ourselves and thus, the head starts spinning with uninvited despondent and stressful thoughts.
While it is easy to jump to scroll through memes on Instagram or watch Avengers, it is healthy to let yourself loose in colors to relieve stress. And what else do you want when you have got a list of the best free adult coloring apps for your device? So, take your time and try them yourself.
1. Pigment – Adult Coloring Book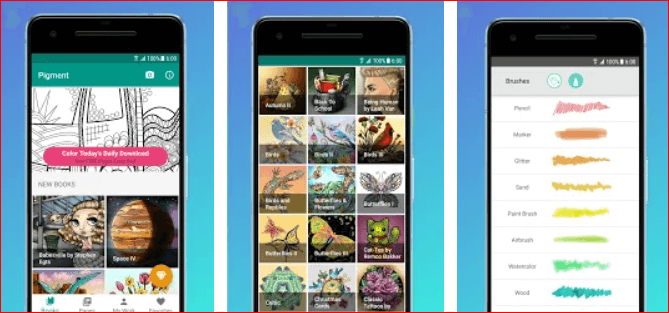 Availability: Android & iOS
Pigment is one of the best adult coloring apps for Android and iOS you can get out there. You can easily tap on each and every angle and fill them with the colors you want.
But the best part is that this app brings a variety of picks when it comes to coloring brushes in order to render the satisfaction of filling desired angles. You get 10 options in brushes that make your fingers get into activity with an experience of paint brushing. 
Read Also: Best Photo to Cartoon Picture Apps For Android & iOS 
Features
Pigment offers a wide selection of designs to color.

This app gives you the privilege of using different tools for coloring including brushes, pencils, and glitter. 

It lets you import the photos in order to color your desired designs.
---
2. Colorfy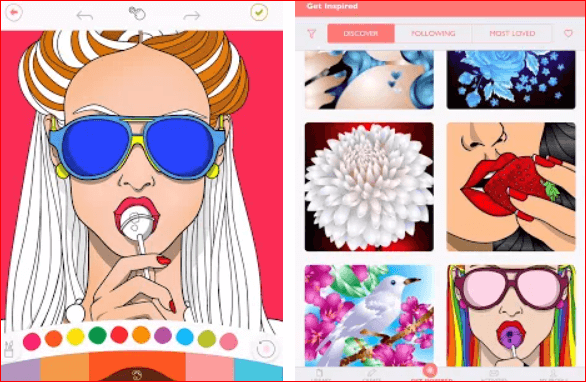 Availability: Android & iOS
Another best coloring app for iPhone and Android devices, Colorfy offers you to let go of the anxious patterns troubling your mind and give in to a colorful horizon. In this app, you get a free page daily and you can pick the images your mood sets best to color in that moment.
These categories include Mandala World, Masterpiece, Pixel Art and Animal Kingdom with about 10 images in each category for you to experience as many colors as you want. Besides, there's a heck of colors in this app ensuring your freedom to render contentment. 
Features
This app offers you to create your custom images and import artwork.

It has well-curated designs and gives you a decent selection of designs.

You can use it for free. 
---
3. Recolor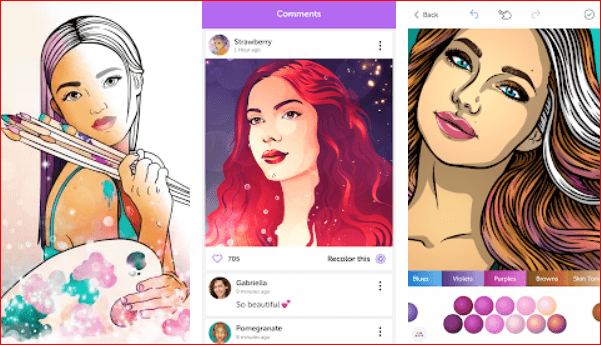 Availability: Android & iOS
Take a moment to explore what Recolor, one of the best coloring apps, has in store for your creative spirit. This one brings a platter of tons of diverse coloring pages to let you begin with a sense of joy that comes from coloring. You get to fill these images with over 100 color options to pick from.
In this app, you are offered 3 free images every day and you may want to thank this app for providing multiple categories including animals, florals, cartoons, movie characters, and whatnot. The best part? Well, you can scan the images and open any drawing page you have saved on your phone to create your own coloring pages in this app.
If you want, you can show your friends and family your colorful creations using this app's sharing feature. 
Features 
Recolor renders you the experience of coloring 3D objects.

This app brings quality color options along with a strong choice of images.     

You get to experience its Live Colors feature to enjoy more vivid coloring.
---
4. ColorMe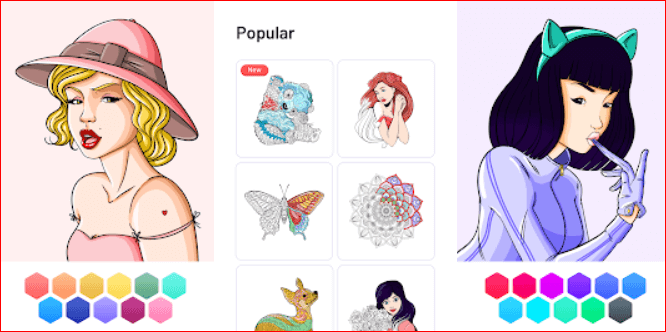 Availability: Android & iOS
Don't skip your try on this wonderful app, Color Me if you are hunting for the best free adult coloring app for Android or iPhone. You are offered over 250 images to fill with colors and that too without getting to pay for any subscription.
What's even more exciting about this app is that it keeps updating new images to have you explore more of your creatives. Whether you are in for a mere simplicity in coloring or you are the one who's willing to challenge your creativity with more complex drawings, this one goes well in both cases.
However, you may feel the void due to lack of gradients but for throwing yourself into mandalas and taking some time off your anxiety, it is worth trying. 
Read More: Best Free Font Creator Tools To Create Your Own Custom Fonts
Features
This app lets you color new images every week.

You get to fill the drawing pages with hundreds of color options.

It allows you to share your work with friends and family.
---
5. Color Therapy – Coloring Book for Everyone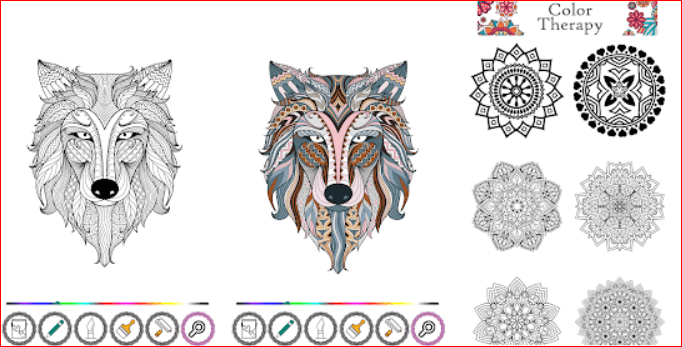 Availability: Android & iOS
This list doesn't just end like that because we have Color Therapy, yet another best coloring app for your device, to bring an extensive selection of drawing pages. You would love to revel in the different categories that range from animals to fashion and from seasonal to classic art, along with a basic collection of 30 colors and 24 gradients.
If you are looking for a strong variety in designs then this one is definitely worth a try. However, to use this app more freely, you are supposed to share your pieces of art and earn more colors. 
Features
This app lets you color over 500 pages with a hundred of color options.

You can easily save your artwork and share them with others.  

It is completely free to use.
---
6. Coloring Book for Adults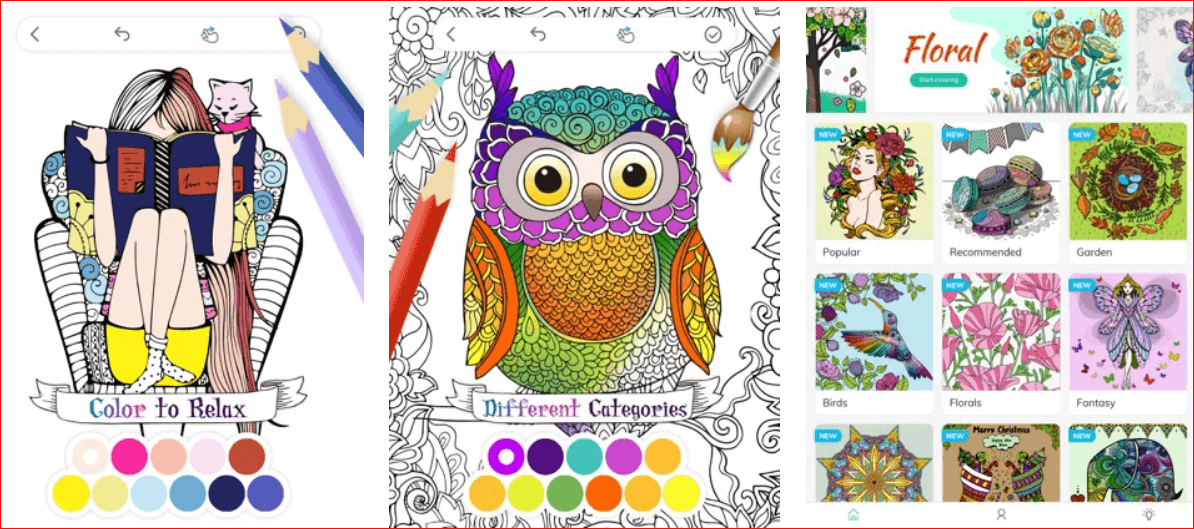 Availability: Android & iOS
If you still haven't found the best adult coloring app for yourself, this one may be the answer. Coloring books for adults have books and pages with tons of wonderful categories to boost life inside you. You will find beautiful sections like portraits, florals, nature, enchanted forest, art designs, mandalas, secret gardens and much more.
Another solid part about this coloring app is that it works for each and every age group. You have the privilege of using this one for free and it sure is one of the best coloring apps for Android and iPhone. So, why not? 
Features
Coloring Book for Adults gives you the freedom to color and print high-quality images.

You can try tons of beautiful categories in this app.

This one fits every age group. 
---
7. Unicorn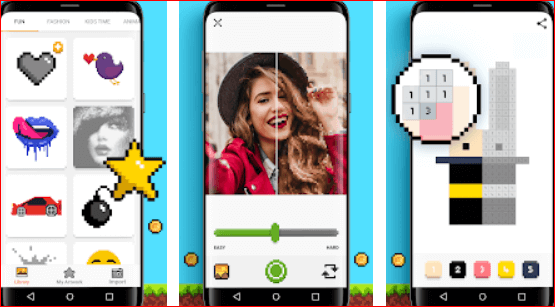 Availability: Android & iOS
Unicorn has got your love for graphics totally covered. This one may be the best coloring app if you are in search of some challenging set of drawing patterns. This app offers a collection of hundreds of pixel images and you may want to loosen up with abstract and geometric designs this app gives.
Besides, it brings over various themes to indulge your colorful side into. These themes include music, mandalas and space. 
Read More: Best Free Photo Frame Apps For Android And iPhone
Features
This amazing coloring app features tons of pixel images. 

It offers a number game to make your coloring leisure more interesting and engaging. 

You can easily share and show your work on social media.
---
8. Color by Number Oil Painting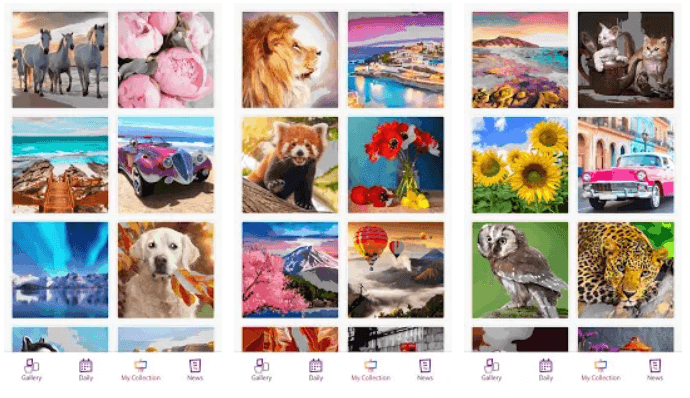 Availability: Android 
Color by Number Oil Painting is another impressive coloring app for adults. The application provides access to 500 free images from the first stage of the game. It comprises many intricate and cool categories of pictures ranging from Animals, Birds, Landscapes, Food, and Vehicles. Below are some notable features of this amazing coloring book app.
Features
The application provides 2 new free images every day.

Allows users to share beautiful colored images on social media platforms.

Automatically finds and fills all the shapes or patterns with the same color.
Download App: Android
---
9. ColorArt Coloring Book
Availability: iOS
ColorArt Coloring Book is the last name on this list of the best free adult coloring apps for iOS. If you are into flowers and mandalas, then you will love this tool. Using the smart designs present on the app, you can color as you may and show off your creativity on social media apps and with your friends.
Features
The app contains a plethora of images and objects for you to color.
The color pellets of the app are quite amazing and customizable offering you more options to show off your creativity.
You can choose between the free and paid versions of the app as you want.
Download App: iOS
---
Rejuvenate With The Best Coloring Apps For Adults
So, there you were exploring the best free coloring apps for adults. Let's hope that you have picked one of them to get started with. These coloring apps carry an extensive selection of categories and themes along with wonderful coloring tool options that turn your experience into something worthwhile.
Given that these apps are free or offer a free trial, you can make purchases in some of them to extend the options. Let us know your favorite coloring app in the comment section. Also, don't forget to share your views on digital coloring books.
Jyotsana is a technical writer with a non-technical background. An eye of detail and a knack for writing helps her to write technology related content.Apart from writing, she is a coffee connoisseur and an aesthete who rejoices in poetry and music during leisure.
Subscribe to Our
Newsletter

and stay informed

Keep yourself updated with the latest technology and trends with TechPout.
Related Posts