5 Best CPU Stress Test Software in 2023
Regular evaluation and monitoring of processor performance under conditions of stress can help you prevent computer damage. Hence, you may read this article to know the best computer stress test software.
With constant computer usage, unexpected shutdowns, slowdowns, and other errors become common phenomena. However, you should not ignore these signs of degraded performance to prevent damage to your computer. You should perform regular computer monitoring and CPU stress testing with the best CPU stress test software.
The best CPU stress test programs evaluate your computer's stability under high-stress levels. These programs test clock speed, memory usage, workloads, and various other parameters to help you judge how much stress each computer component can bear until damage occurs. However, you should not confuse these programs with the CPU benchmark software for Windows.
The benchmark programs run for a short period to score your device's performance. Whereas, the best computer stress test software may run for hours or days to assess your device's performance under stressful conditions.
However, it is a challenge to select the best CPU stress test program that does not damage your computer in the process of testing it. Hence, we dived deeper into the available programs, evaluated their features, compared them against one another, and analyzed their performance to compile a list of truly reliable programs. We share it in the following section of this write-up.
List of the Best CPU Stress Test Software [2023 Updated]
The following are the best stress test programs you can use for CPU stress testing.
1. CPU Expert

Let us first introduce you to the CPU Expert. You can use this one of the best CPU stress test software to judge your processor's performance under heavy load online. It allows you to manually set the needed load, stop, or resume testing at any time. Moreover, you only need to follow a simple four-step process to use this software.
Firstly, start the CPU stress test on the CPU Expert homepage, perform your regular work on the computer with the test tab open in the background, ensure all things run smoothly, and monitor the FPS and Speed indicators to note significant drops.
Also Read: Best Game Boosters and Optimizers for Windows
---
2. Cinebench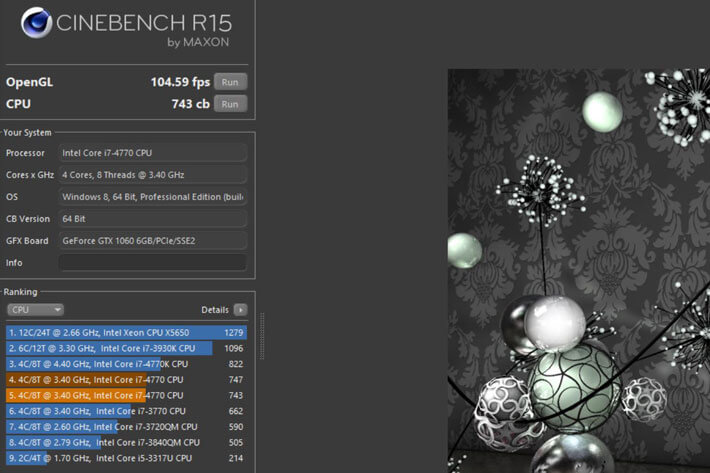 Next, we have Cinebench at this position in our list of the best computer stress test software to evaluate your CPU's performance. It is cross-platform software with high-end rendering features to ensure accurate hardware compatibility evaluation.
Cinebench uses a 3D scene to measure your CPU's performance. This scene stresses all available processor cores using different algorithms. It shows the test results in points. A higher point indicates faster processor performance.
However, it readjusts the scores as code changes and compilers, making it impossible to compare the previous scores with newer ones.
---
3. HeavyLoad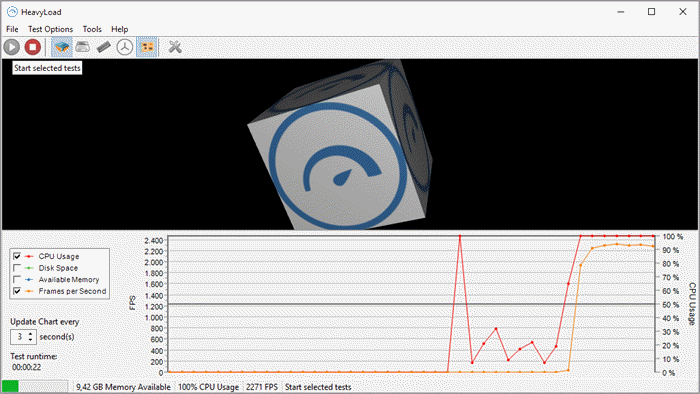 Let us now take a look at HeavyLoad. It is the third-best free CPU stress test software for multiple reasons. For instance, it allows you to customize the test methods according to your requirements, select cores for testing, and a lot more.
Moreover, system behavior checking with decreasing disk space, memory allocation checks, and use of 3D rendered graphics to stress test the GPU are its other remarkable features.
---
4. Geeks3D FurMark

The second last name on the list of the best free and openGL computer stress test software for CPU testing is Geeks3D FurMark. It is an easy-to-use software to test GPU and CPU on Windows computers. You can download and run this software to perform processor performance testing through the hash codes.
Also Read: Best GPU Benchmark Software For Windows
---
5. PCMark 10

Lastly, let us conclude the best free CPU stress test software with PCMark 10. With this software, you can perform an in-depth assessment of your computer's performance. You can benefit from its ease of use, fast and efficient testing, multi-level reporting, and no need to choose the test mode.
Additionally, its custom run and extended options are another reason we chose to list it as one of the best CPU stress test software programs.
---
Concluding the Best CPU Stress Test Software
This article introduced you to the best commercial and free CPU stress test software. You can use any program from the above list to check the performance of your processor under stress conditions.
If you have any questions, confusion, or suggestions about this write-up, you may mention them in the comment box. We will be extremely pleased to address your queries.
Niharika is a passionate soul who finds immense satisfaction in putting all her thoughts in writing. Being a technology enthusiast, she loves learning new things about tech and making everyone technologically literate through her articles. When not composing tech articles, you can find her bringing characters to life in her fictional stories, reading something intriguing, or spending time with her near and dear ones.
Subscribe to Our
Newsletter

and stay informed

Keep yourself updated with the latest technology and trends with TechPout.
Related Posts