6 Best Ashisoft Duplicate Photo Finder Alternatives For Windows In 2021

Looking for an alternative to Ashisoft Duplicate Photo Finder? Then, you have come to the right place. The post highlights the 6 top-notch alternatives of the same software.
Ashisoft Duplicate Photo Finder is the first name that comes to our mind when we search for the software to find and delete duplicate files. But, when we talk about the features of this software, it fails to offer high-end offerings.
Apart from that, many users find it a bit expensive in terms of offerings that it promises. One more thing, quite a few users reported the user interface of this application is a little bit confusing.
Comparatively, there are lots of other software available that promise advanced features, plus, comes in the same range or many of them are free as well. In this write-up, we have created a list of the 6 best Ashisoft Duplicate Photo Finder alternatives. After reading the entire write-up, you will know exactly what you all need to get rid of duplicate pictures.
Top 6 Best Alternatives to Ashisoft Duplicate Photo Finder You Could Try in 2021
To rescue you from the heavy task of finding the best alternative to this software, here we have shortlisted the best and well-known applications for you. The below-mentioned tools will help you in managing your complete photo management library. Without any further hustle-bustle, let's get started with the list!
1. Quick Photo Finder
Available For: Windows 7, 8, 8.1, or 10
Hogged-up storage space is responsible for the slow performance of the system. And, the biggest reason why your storage hogs-up is – duplicate pictures. No matter how flawlessly we manage our photo library, still, you have settled up with thousands of duplicate pictures on your system.
These dupe shots are nothing more than the trash that unnecessarily occupies a massive amount of storage space. But, luckily, Quick Photo Finder is here to save you and your PC. It is the tool that scans for the dupe shots and removes them in just a few clicks. The tool has the capability to improve the storage efficiency of the hard disk by deleting every single redundant copy. It is the Best Duplicate Photo Finder Windows 10 that you can use.
Read Also: Quick Photo Finder Review 2021: Product, Features & Details
Notable Offerings:
Uses high-end algorithms to recognize similar-looking and duplicate pictures.
Make your entire photo lobby clutter-free by erasing all the unwanted similar copies of the files.
Revives the filled storage space by removing tons of duplicates.
Helps you in taking decisions by providing group-based scan results.
Pros
Easy to use user interface.
Fast and accurate scan results.
Search filters to qualify the scanning process.
Deletes all the duplicates in one-click.
Optimizes an overall PC to run smoother.

---
2. All Dupe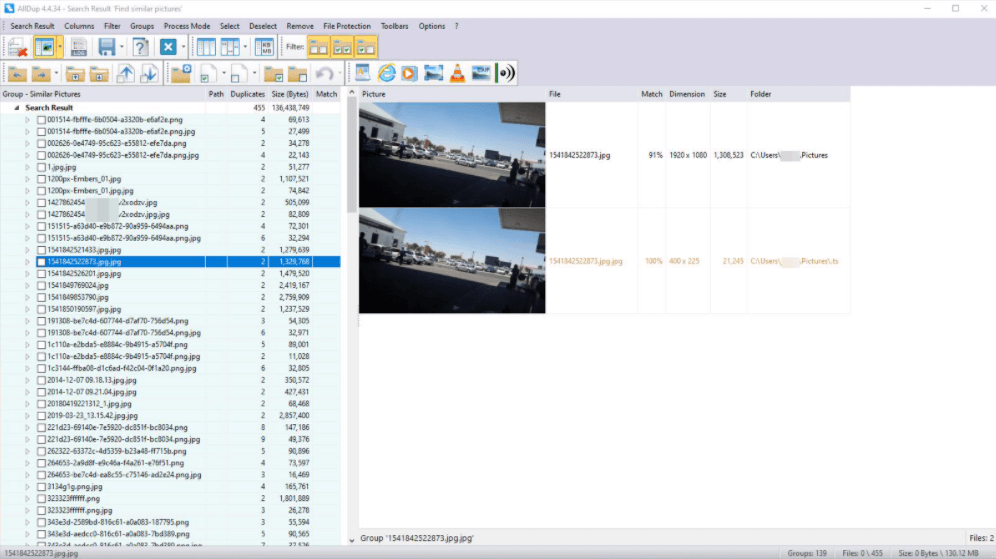 Available For: Windows XP, Vista, Windows 7, 8, or 10 (32-bit and 64-bit)
If you are searching for a tool that detects duplicate files at the speed of light, then AllDup is what you need. It is the free software that clears all the chunks from your hard drive. The fast and latest algorithms of this tool search for duplicates of any file type including text, image, video, audio, documents, and many more.
In addition to this, you can even search for almost identical files that are unnecessarily hog-up the storage space. Furthermore, the portable version of this application is also available. You can definitely consider this software a best alternative to Ashisoft Duplicate Photo Finder.
Notable Offerings:
The software allows you to move, rename, and hard link the files.
Comes with an in-built image viewer tool that lets you preview the image or any other file before you choose to remove them.
Whether it is image, text, document, or anything else, the tool can find and delete any type of file.
Supports all the major image formats including PSD and RAW.
Pros
Completely free to use software.
Compatible with any file type.
Supports all Windows operating systems.
Flexible and comprehensive search filters.
Cons
The user interface is a bit confusing.
---
3. dupeGuru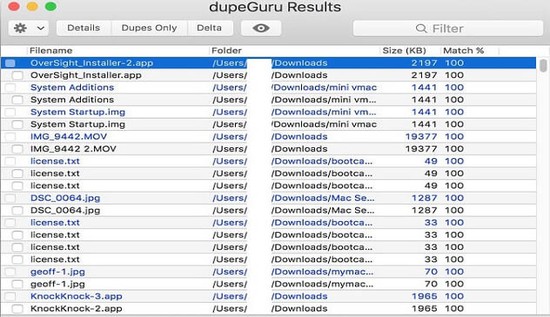 Available For: Windows Vista, XP, Windows 7, or later versions
Deleting a massive amount of duplicate files one-by-one is a complete pain and headache task. Plus, it is really very time-consuming. Hence, you can use dupeGuru to do the same task in no time. It is the application that makes your duplicate files finder and cleaner tasks much easier on your computer system.
The application does not only reveal the same file names but also finds the files that have similar file names. With the help of this application, you can also move and edit duplicate files.
Read More: Top 5 Best VisiPics Alternatives For Windows
Notable Offerings:
Super quickly finds and deletes the duplicate files.
It uses a unique algorithm to deep search for files that are similar in nature.
It not only explores or deletes the duplicate files but also allows you to rename, link, or move the files.
Can search any type of file including text, document, picture, video, and music.
It is a cross-platform GUI application that is fully compatible with Linux and all Windows versions.
Pros
Supports all the major image formats.
Smooth user interface.
Transfer duplicate files quickly.
Can scan all types of files.
Cons
Fails to delete all the marked duplicates.
Improperly marks out some files as dupe shots.
---
4. Speedy Duplicate Finder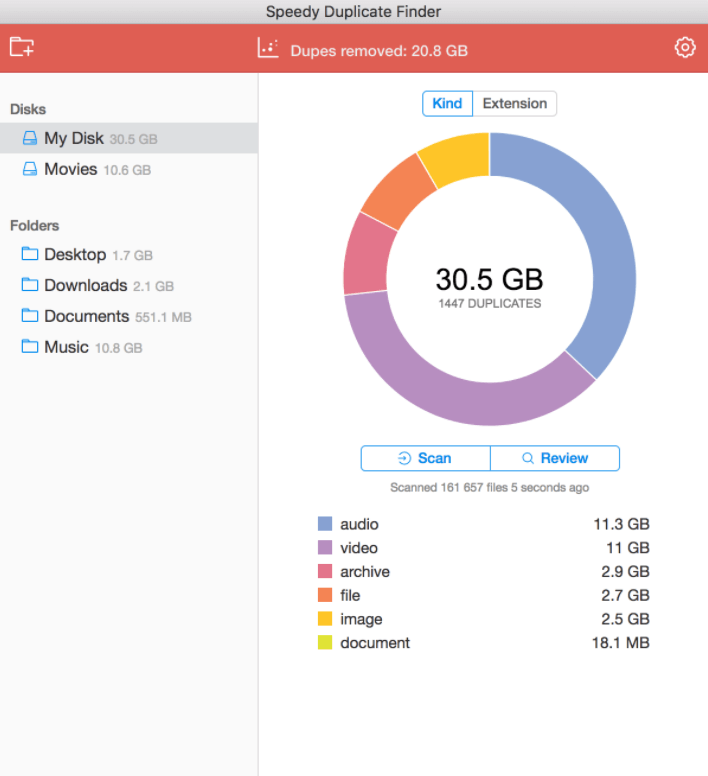 Available For: Mac, Windows, and Linux
Living up to its name, the software is the fastest way to find and delete duplicate files on Windows, Mac, and Linux. The program has an eye-catching user interface that can clean up your system in a blink of an eye. You need to start with choosing that directory or disk for which you want to run the scan. Then, the app presents you with the list of duplicate files in the main window. You can see each item separately or can perform a check/uncheck operation as per your preference.
And, if you don't want to examine all the duplicate data then, in that case, you can use filters to vary the data by size. The software has lots of filter options. Moreover, the software can manage your files either by file type or by extension. However, the free version offers limited access to its features. To enjoy an unlimited number of features you need to buy its pro version.
Notable Offerings:
Comes with a smooth and eye-catching user interface.
Capable of scanning more than 10,000 files in just a second.
It can search for duplicates on an entire disk.
Uses smart filters to group duplicates by size, type, or extensions.
Compatible with major desktop platforms including Linux, Windows, and Mac.
Pros
No installation requirement.
Smooth user interface.
Smart filters to categorize duplicates.
Frees ample quantity of storage space.
Cons
The free version doesn't support unlimited removal.
No priority assistance.
---
5. Visual Similarity Duplicate Image Finder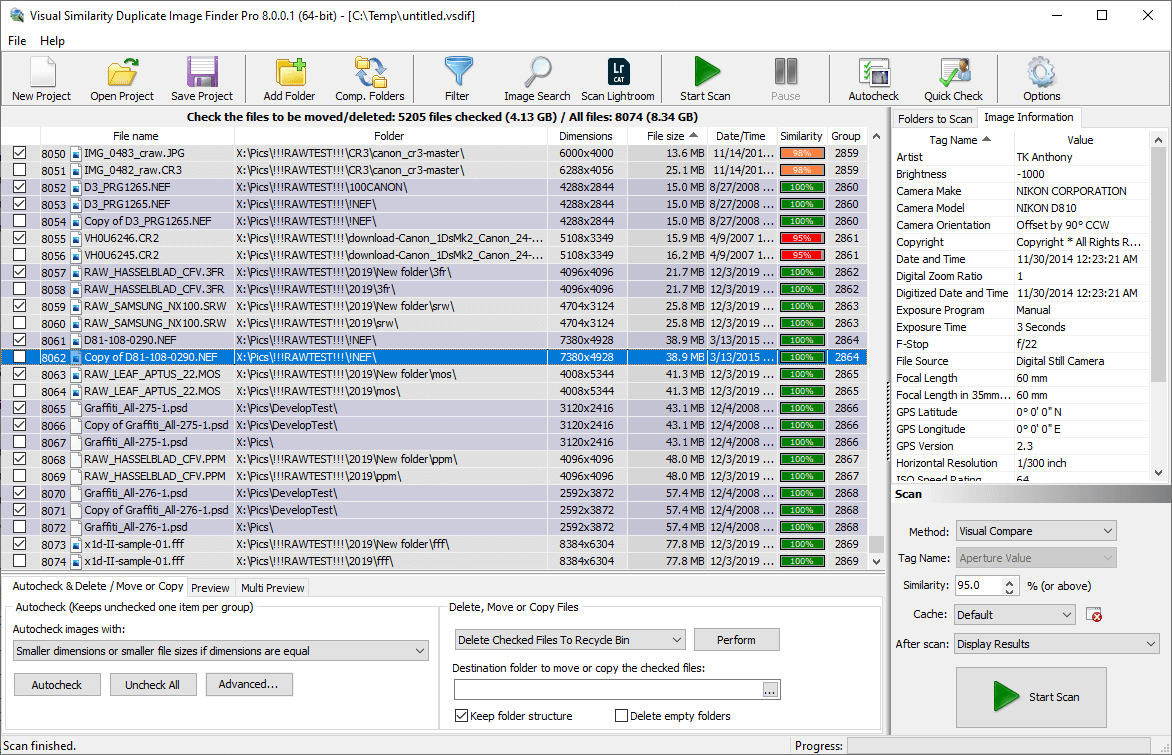 Available For: Windows XP, Vista, 7, 8, 8.1 and 10
To be able to organize your chaotic digital photo collection with ease, you need a capable software. One that can be considered up to the task is the Visual Similarity Duplicate Image Finder. The software represents a high-quality solution to scan your entire disk and find look-alike and duplicate images even if they are edited, color-corrected, flipped, or rotated. 
One of the most interesting abilities of this program is to scan Adobe Lightroom catalogs. Apart from this, below we enlist a few of its other powerful features that are worth taking a closer look at. 
Notable Offerings:
Allows you to automatically mark smaller file size/resolution images.

Supports 40 major image file types, including JPG, PSD, TIFF, etc.

The software is capable of locating files in Windows Explorer.

Allows to run duplicate photo scan on mapped network drives.
Pros
Has a simple and intuitive user interface.
Flexible search options for accurate results.
Scans exact/similar pictures snappily.
It lets you specify similarity percentage.
Cons
Quite complicated for less experienced users.
Free version includes only a basic set of features.
---
6. Auslogics Duplicate File Finder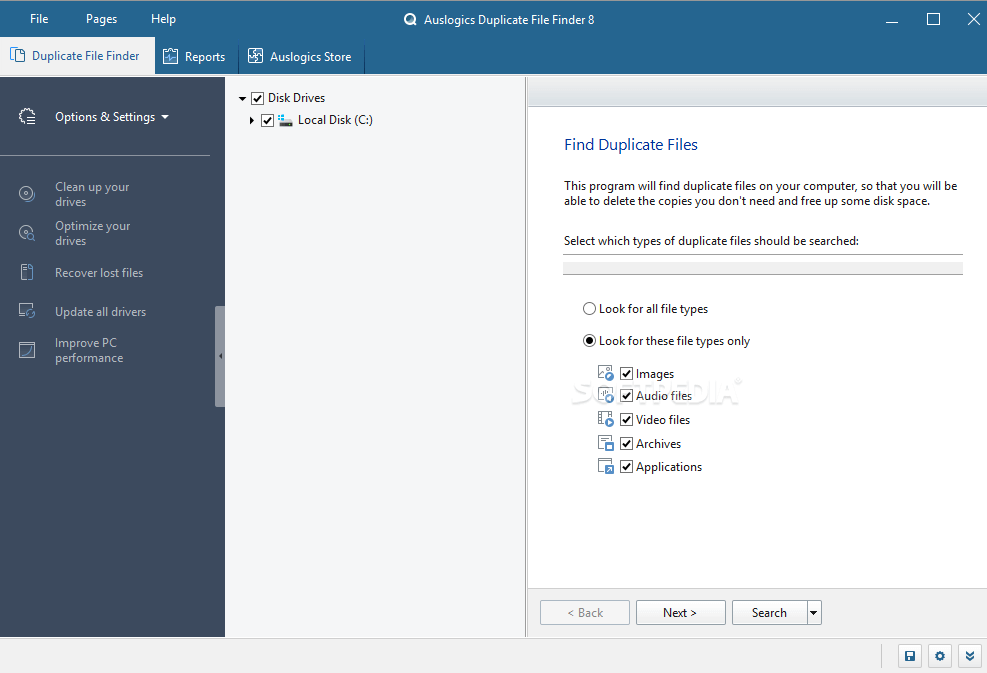 Available For: Windows 7, 8.1 or 10
Last but not least, Auslogics Duplicate File Finder is the best way to manage all the digital media collection. In order to save an ample amount of storage space on your hard drive, you can use this amazing tool to find and delete duplicate files. You can use this application at no cost for both commercial and home.
The user interface of this software is pretty clean and easy to use. In addition to this, with the tool, you can set the search criteria to ignore the files which are smaller or larger than a specific size. Moreover, the software gives you the choice of sending the dupes to the recycle bin, recovery center, or removing them permanently from your system. Undoubtedly, it is the best Ashisoft Duplicate Photo Finder alternative.
Read More: Best Free Duplicate File Finder & Remover For Windows 10, 8, 7
Notable Offerings:
The software comes absolutely free with no restrictions to the usage of its features.
To make sure no faulty search, the app uses intelligent algorithms to compare the files.
It not only compares the name of the files but also compares the contents.
Gives you complete control over the search results and lets you choose which dupes you want to delete.
Pros
Easy to set up.
Clean and slick user interface.
Can recover the files from backups.
Comprehensive search criteria.
Absolutely free, no charges included.
Free up massive amounts of storage space.
Cons
Shows ads of other software.
A bit difficult to find which group to keep or which to remove.
---
That's a Wrap!
So, that's all folks, hopefully, our list of best alternatives to Ashisoft Duplicate Photo Finder has helped you a lot to make a choice. However, still, those who are confused in choosing the best one. We would like to recommend you use Quick Photo Finder to clear all the chunks from your system in a hassle-free manner. This tool is a fully automatic tool that also manages the photo library of your system and makes it clutter-free.
Lastly, if you have any suggestions then please tell us in the comment zone below. For receiving more such tech articles do subscribe to our Newsletter. Till then, keep up the good work of your system by making it clutter-free.
Harshita Sharma is a technical writer with quite a distinct understanding of the tech realm. She is a tech enthusiast who believes that tech knowledge should reach one and all and tries to convert the sketchy knowledge into the simplest possible form for making people understand the tech world better. When not playing with words, she loves to travel and explore new places. And, is a coffee & cricket connoisseur.
Subscribe to Our
Newsletter

and stay informed

Keep yourself updated with the latest technology and trends with TechPout.
Related Posts