7 Best y2mate Alternatives for Downloading YouTube Videos

Are you trying to find an easy video downloader just like Y2Mate? Here is our detailed guide on the top 7 Y2Mate alternatives for downloading YouTube videos, hassle-free.
The demand for video downloading sites and applications has increased over the past few years. And, these downloaders are helpful for users who love to watch movies or entertaining videos on various streaming platforms like Youtube, Facebook, and many more.
Discussing the video downloader applications, there are plenty of programs available online that let you download videos or audio quite quickly. Out of all, Y2Mate is the best way to grab videos to watch later for free. It is a web-based video downloading program that is capable of getting any video downloaded from platforms like YouTube.
Moreover, the program can also be used to convert any videos to MP3 at no cost. However, if you have noticed that the Y2Mate downloader is specifically designed for downloading videos from YouTube only. It may be a bit cumbersome to download videos from other different platforms like Vimeo, Dailymotion, and more. Consequently, this made users bound to search for alternatives to Y2Mate. Additionally, we have created this comprehensive guide containing the 7 best Y2Mate alternatives for downloading videos from various platforms.
A List of Top 7 Y2Mate Alternatives to Download Videos in 2022
The below-mentioned alternatives have been picked after doing a thorough analysis and research. You can choose the one that suits you best. Without further ado, let's get started:
1. ByClick Downloader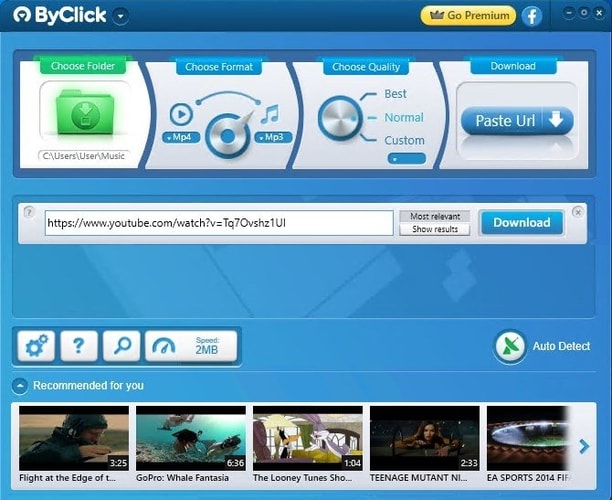 ByClick Downloader is a program like Y2Mate when it comes to downloading videos online from different video-sharing sites. Using this tool, you can get videos downloaded from more than 40 websites including Facebook, Dailymotion, Vimeo, Instagram, Lynda, YouTube, and many more. Not only the videos, but the tool enables you to download full YouTube channels and playlists in one click.
Furthermore, you can also get entire Instagram pages downloaded within a click using this software. Download online videos in 720p, 1080p, 4K, and 8K using ByClick Downloader. The most interesting thing about this downloader is that it keeps on upgrading and enhancing its platform by releasing the latest patches and updates regularly. The supported web-browsers are Mozilla Firefox, Chrome, Internet Explorer, and Microsoft Edge. In order to save a lot of time, the tool allows its users to perform multiple downloads at a time.
To use this tool, you have to just open the video that you want to download and a small pop-up window will appear at the bottom right side of your computer screen. Here you can select whether you wish to download MP3 or a video. That's it! Click on Download and sit back until the downloading gets finished.

Also Read: How To Extract Audio From YouTube Videos? Check 5 Methods!
---
2. 4K Video Downloader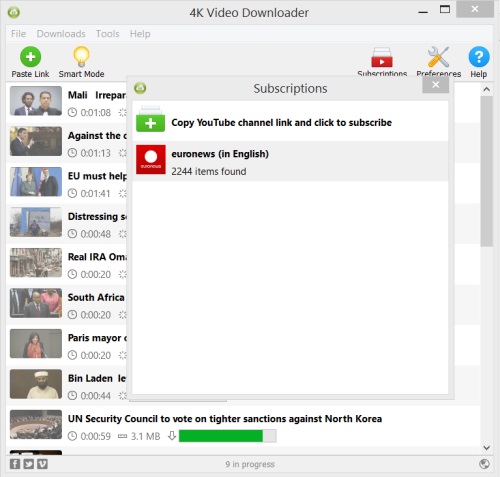 Enjoy watching videos at any time and anywhere, even when you are not having an active internet connection using a 4K Video Downloader. Downloading has never been so straightforward, just copy the URL of the video from your browser and make a click on Paste Link in the app. That's all!
Using this video downloader, you can easily save entire playlists and channels from the leading video sharing platform YouTube that's too in stunning quality. It enables you to get the private YouTube playlists also downloaded for watching later. The video downloader also extracts YouTube subtitles and annotations along with the videos.
Download videos in high quality that includes HD 720p, HD 1080p, 4K, and 8K resolution. Moreover, you can stream the downloaded videos on numerous devices like iPad, iPhone, tablets, Android smartphones, HD TV, and other devices. Its Smart Mode feature makes videos and audios downloaded easier and quicker by automatically applying the preferable settings to all downloads. Currently, more than 5 million users across the globe trust 4K Video Downloader to download videos and audios in all major formats.

---
3. YouTubNow

Next on this rundown of best alternatives to Y2Mate is YouTubNow. It works as a professional video downloader and makes it a bit convenient to download online videos from sites like YouTube. Thousands of users across the globe have downloaded videos for watching them offline using this lightweight and easy application.
Be it high-quality video downloads, consistent download speed, or several output formats, YouTubNow meets all your needs. The web-based downloads let you download videos in 4 major formats that include MP3, MP4, WebM, and 3GP. It is the safest tool to download YouTube videos that don't need any installation to start working.
As for now, the YouTubNow only lets you download videos from YouTube. But, in the coming future, the platform will expand its boundaries by allowing users to download videos from other video-sharing platforms as well including Instagram, Facebook, Dailymotion, and so on.
Also Read: 8 Best 4k Video Downloader Alternative for Windows & MAC
---
4. QDownloader

Download HD videos or entertaining content from YouTube and other streaming platforms through QDownloader. It is an effortless and quick video downloader that lets you download videos in high quality. Its simple and impressive user interface will make your day.
In addition to this, the video downloader also provides a browser extension to get the YouTube and other videos downloaded. Unlike others, it supports fluent and high downloading speed. More importantly, it provides a reliable and safe downloading environment, there will be no annoying pop ups or ads.
Anyone who doesn't want to invest money in buying any paid downloader software can use it. It is completely free to download applications. Similar to Y2Mate, it is highly compatible with downloading entire playlists and channels from YouTube. It can work on any device including macOS, iOS, Linux, Android, or Windows.
---
5. Y2Mate.info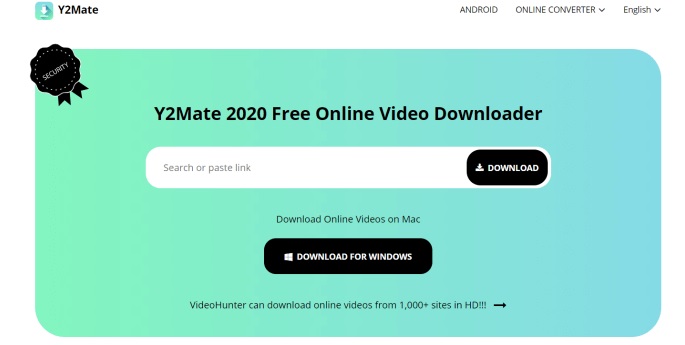 It sounds similar site to Y2Mate, but it is quite different. Y2Mate.info is a simple and stable video downloader platform. Even though the program has listed ads on its interface, fortunately, it doesn't show any pop-ups during the video downloading process.
Y2Mate.info is an online video downloader that offers professional-like services to download videos from different platforms like YouTube. Using this free software, one can easily get high-definition (HD) video downloaded in numerous formats incorporating WEBM, 3GP, MP4, MP3, and so on. The program also provides a mobile application for Android.
In order to download videos using Y2Mate.info, all you need to do is just copy the video link that you want to download offline, open the downloader, then paste the copied link, and click on the Download option. That's all! Now, wait for the video to download so you can enjoy it later.
Also Read: 12 Best Free YouTube Keyword Tools In 2020
---
6. Savefrom.net: YouTube Video Downloader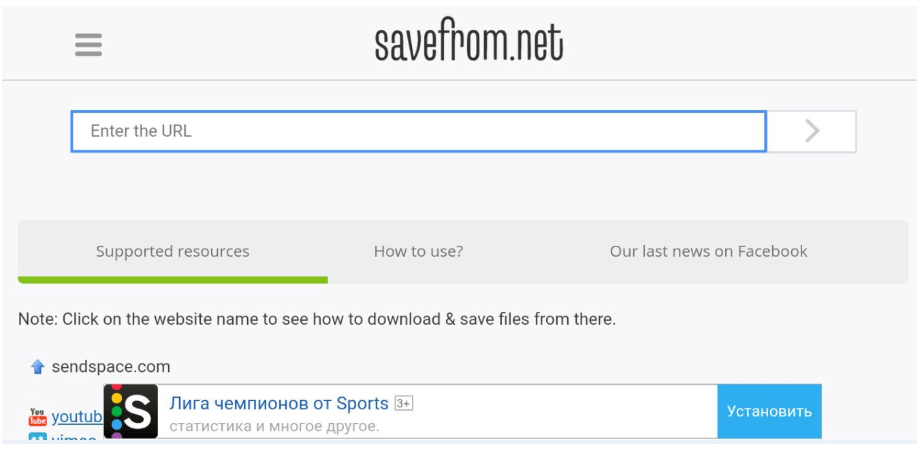 Another one of the best sites and apps similar to Y2Mate is Savefrom.net: YouTube Video Downloader. It is basically a web-based video downloader that helps movie lovers to download online videos, music, or movies quickly and easily at no cost. It doesn't require any installation or registration to get started.
This is a completely free-to-use online service to download good quality videos from numerous video sharing applications like YouTube, Vimeo, Facebook, Instagram, Dailymotion, and many more. It also provides an extension to download videos, audio, movies, TV shows, sports games, and more in Chrome. The supported video quality are 2K, 4K, FullHD, 1080p, and 720p.
To be more specific, the video quality is completely dependent on the uploaded videos. That means, if the original video is uploaded in 720p, then the online video downloading service saves that video in the same quality. The service is available in more than 20 languages including English, Italiano, Polski, Deutsch, and many more.
---
7. Converto.io

Last but not least, Converto.io is one of the underrated and simplest video downloading services available in the market. It just takes a couple of minutes to save or download any videos from distinct websites like Facebook, YouTube, etc.
The video downloader can quickly download the videos and enables you to convert the videos into MP3 or MP4 formats. Language is just a barrier when it comes to using Converto.io as it is available in multiple languages including English, Spanish, Italian, Russian and more. Just copy and paste the YouTube URL, later click on the convert or download button according to your preference.
Unlike other downloading services, the software allows you to change, rename or edit the name of the file before downloading. It is 100% free to use and a lightweight application to get the videos, music, or movies downloaded to watch later offline.
Also Read: 5 Best YTD YouTube Video Downloader Alternative for Mac & Windows
---
Which is the Best Y2Mate Alternative to Download YouTube Videos in 2022?
After testing and trying more than a dozen different online video downloaders, we have shortlisted the best ones. Through this complete guide, we have brought up the list of the 7 best alternatives to Y2Mate that you can consider to enjoy movies, entertaining content, audio, or TV shows offline.
If you are looking for expert advice, then you must try either ByClick Downloader or 4K Video Downloader. Both offer pretty good video downloading services and are also easy to use.
Hopefully, this list helps you find a secure and relevant way to download online videos from sites like YouTube, Facebook, Instagram, and more. Do tell us about your pick in the comments section below.
Additionally, do subscribe to our Newsletter for receiving regular tech updates & information. Along with this, follow us on Facebook, Twitter, Instagram, and Pinterest.
Harshita Sharma is a technical writer with quite a distinct understanding of the tech realm. She is a tech enthusiast who believes that tech knowledge should reach one and all and tries to convert the sketchy knowledge into the simplest possible form for making people understand the tech world better. When not playing with words, she loves to travel and explore new places. And, is a coffee & cricket connoisseur.
Subscribe to Our
Newsletter

and stay informed

Keep yourself updated with the latest technology and trends with TechPout.
Related Posts