Reverse Image Search – Search by Image on iPhone and Android Mobile
Published Date :
Apr 29, 2022

Image search is the power to search on a term and discover images or pictures related to what you entered. Most of the search engines provide it, and it is great too. But, what if you have a picture and you want to know its source? Or you want to find identical images? Well, here comes reverse image search.
Reverse Image Search by Google is a breeze on workstations or PCs. To use this, all you have to do is, just visit images.google.com, click on the camera icon, you can also copy or paste the URL for a picture you have seen online. Next, upload a picture from a hard drive or drag the same from another window. That's all! This works on a desktop computer. But, what if you are on mobile devices and wish to do a photo reverse search. Don't panic, this post will help you perform a reverse image search on Android or iOS mobile devices. But, before moving forward, you must learn what Reverse Image Search is.
What Does Reverse Image Search Means?
Reverse Image Search is a CBIR (Content-Based Image Retrieval) technique that involves giving the CBIR system a sample picture that it will then base its search upon: in terms of information retrieval. The sample picture is what prepares a search query. To be more specific, Reverse Image Search lets the users discover content that is only related to a particular sample image, the popularity of a picture, and explore corresponding manipulated versions.
---
Google Reverse Image Search on Mobile Devices
However, on a limited basis, Google created a reverse image search function on tablets and mobile phones. When you try to summon the images.google.com on mobile devices, unfortunately, the camera icon won't appear in the search bar. To get the icon, you will need to run the desktop version on your preferred mobile device. In addition, it works in Safari, but it functions best in the Google Chrome browser application (Android or iOS).
Also Read: How to Backup iPhone Photos to Google Photos
How to Perform Reverse Image Search in Android
You can use the below-mentioned steps to find or reverse image search on any Android phone. For this, you need to access the desktop version of Google's image search. Now, follow the steps:
Step 1: Visit images.google.com in your desired browser.
Step 2: Then, tap on the three dots at the top right corner in order to invoke the More menu.
Step 3: Tick mark the Desktop site option.
Step 4: After that, tap the small camera icon to upload a picture.
That's it! Now, you can upload an image either from your gallery or you can capture a new one through your phone's camera.
How to Perform Reverse Image Search on an iPhone
Similarly, you can also reverse search a picture on iOS devices. To do so, you just need to comply with the steps shared below:
Step 1: First of all, open images.google.com.
Step 2: You need to use the desktop version. In Safari, tap on the Share icon in order to invoke the share menu. For Chrome, tap on the three-dot More icon at the lower right corner of the screen.
Step 3: Scroll down the available options until you see the Request Desktop Site. And, tap on it.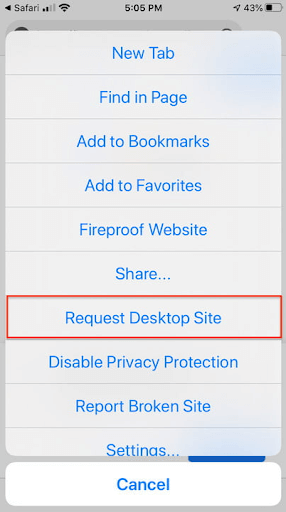 Step 4: Next, tap the tiny camera icon to get started.
Third-Party Reverse Image Search Apps for Android & iOS
Many users prefer applications over the web browser. If you are also one of them, then there are plenty of reverse image search tools available that you can keep on your phone at all times. Below, we have mentioned the best ones that you can consider:
Search By Image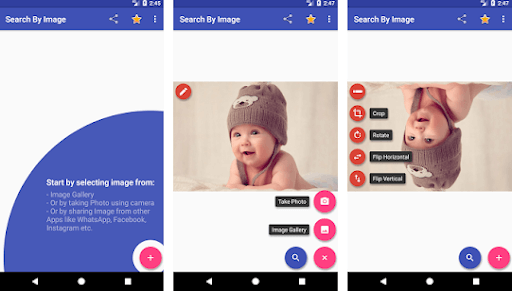 Easily & quickly find similar pictures or images using this popular reverse image search tool. Search By Image is a simple to use, fast and reliable app. It comes with an in-built image editor that allows you to rotate, flip, and crop an image. What's more, it shows results from multiple search engines at a time like Google, TinEye, Bing, and Yandex. By purchasing the full version of Search By Image, you can have a completely ad-free experience. However, this similar image finder is only available for Android devices.
Reversee: Reverse Image Search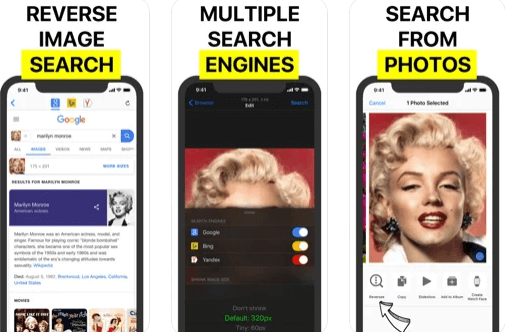 This is another excellent application that acts as a bridge between your images/pictures and reverse image search engines, enabling you to perform a search by image. You can use Reversee to stalk someone's social media profile, high-resolution pictures, and different web pages displaying an image. It also lets you rotate and crop the picture. Furthermore, it allows you to save images from the web. However, in order to unlock its complete potential, you can use Reversee's pro version.
CamFind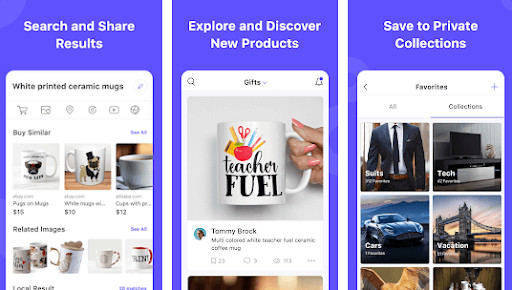 CamFind is a simple reverse image search tool that lets you capture shots with your mobile phone and look for identical or similar items. It is the world's leading mobile visual search engine and is trusted by more than 3 million active users across the globe. It boasts an in-built language translator and voice search functionality. With this reverse image search, you can directly share pictures to numerous social networks like Facebook, Email, Twitter, and more. Android users can get it from Google Play Store, and iOS users can install it from App Store.
Also Read: How To Compress Photos On iPhone and iPad
---
That's A Wrap – Reverse Image Search on Android & iOS
Reverse image search is a search engine technology that requires a picture file as an input query and provides you with the results related to that image. Using this technology you can identify similar pictures or discover other sites that have utilized a specific picture.
In this write-up, we have tried our best to explain to you everything related to the reverse image search concept. We hope you find the shared information useful. If you have any queries, doubts, or better suggestions regarding the same, then please let us know in the comments section below.
Moreover, you can subscribe to our Newsletter for more information about the tech world. In addition to this, you can also follow us on Facebook, Twitter, Instagram, and Pinterest.
Harshita Sharma is a technical writer with quite a distinct understanding of the tech realm. She is a tech enthusiast who believes that tech knowledge should reach one and all and tries to convert the sketchy knowledge into the simplest possible form for making people understand the tech world better. When not playing with words, she loves to travel and explore new places. And, is a coffee & cricket connoisseur.
Subscribe to Our
Newsletter

and stay informed

Keep yourself updated with the latest technology and trends with TechPout.
Related Posts