How To Reactivate Snapchat Account – Quickly and Easily

Want to reactivate your Snapchat account? If yes, then you came to the right place, here you will learn a few simple steps to recover your deleted account. Read on the entire write-up for more information.
Snapchat is a fast and fun way to share moments or funny images/videos with your friends and family quite quickly. This multimedia instant messaging app has introduced an all-new thing to the world i.e., to utilize filters through selfie cameras. Additionally, Snapchat users also believe that it is a very creative and innovative way to share moments among their contacts. And, that is why Snapchat is acknowledged as the most utilized app on mobile devices. But if in case, you have submitted your Snapchat account for deletion and now want to get it back, then you can still reactivate it within 30 days by just logging into your same account again. Don't panic, if you aren't familiar with how to reactivate a Snapchat account. We can help!
A Step-by-Step Guide to Reactivate Snapchat Account on Android or iPhone
Did you just deactivate your Snapchat account? Want to use it again? No worries, you can easily reactivate your account on Snapchat within 30 days. As noted in Snapchat, users can recover their deleted account in Snapchat but only within the provided timeline. If not, then the user must be prepared to encounter permanent damage to their Snapchat account. Now, let's proceed with the steps that one needs to follow in order to get the Snapchat account back on board. Read them below:
Step 1: Open the Snapchat application on your smartphone.
Step 2: Then, fill in the required information (USERNAME OR EMAIL & PASSKEY) to successfully log in to your Snapchat account.
Step 3: Next, tap on the Log In option to proceed.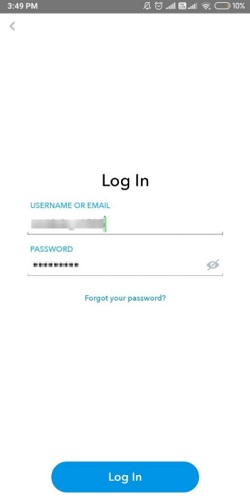 Step 4: Now, you will get a message saying, "Your account is currently deactivated. You have 29 days left to reactivate your account before it's deleted. Do you want to reactivate your account?"
To confirm your action, tap on Yes.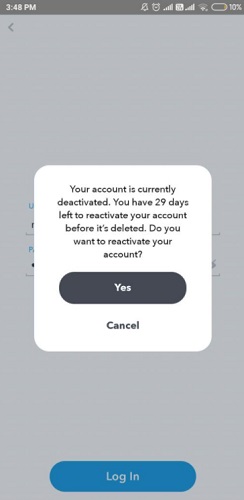 Step 5: After that, you will receive a mail on your registered email address that notifies you that the reactivating process takes a few minutes, so need to wait until it's 100% completed.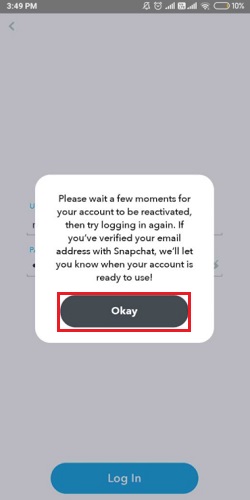 There you go, now you will be able to access your Snapchat account again. And, it will also work fine as you expect.
But, do keep in mind that it may take a while to retrieve all your memories, snaps or other data on your Snapchat account so be patient.
Also Read: How To Find Someone On Snapchat Without Username & Phone Number?
---
Bonus-Tip: How to Deactivate Snapchat Account?
The following outlined steps help you delete or deactivate your Snapchat account quite easily & quickly. Just have a look at them below:
Step 1: Head to your browser and write delete Snapchat account.
Step 2: Now, tap on the option Delete My Account Official Page provided by Snapchat Support.
Step 3: After that, you need to fill in your Snapchat account information to proceed. Then, you will be redirected to the Delete Account page. Click Continue to affirm your actions.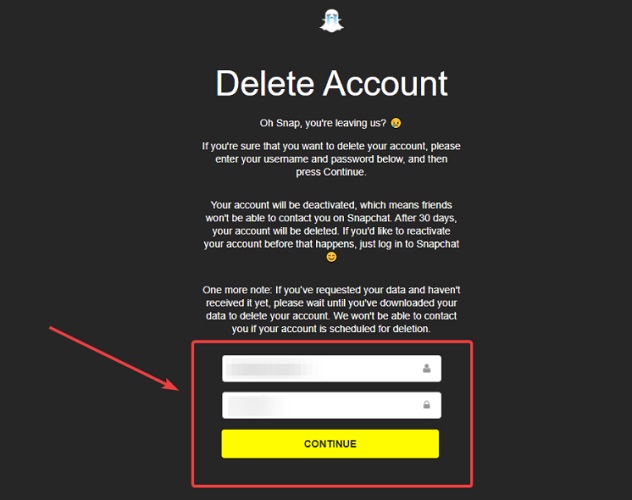 Step 4: The next pop-up will show you the mandatory information regarding how long it takes to delete your Snapchat account permanently.
That indicates, one has to wait for around 30 days to delete their Snapchat account permanently. But if in case, you changed your mind and now you wish to restore your deleted Snapchat account, then reactivate it with the help of existing log-in credentials. To do so, one needs to log in to their Snapchat account.
Also Read: How To Install Snapchat on PC: Windows & Mac
---
Closing Words on How to Reactivate Snapchat Account
In this write-up, we have talked about the simple steps that one needs to take into consideration in order to recover the deleted Snapchat account. It is quite an important thing to know before you deactivate or delete your Snapchat account. This tutorial will help you easily reactivate your deleted account on Snapchat within 30 days of the deletion action.
We hope you find this information very useful. If you have any queries, doubts, or further suggestions then, do let us know in the comments below. Also, if you want to read more informative articles, then, do subscribe to our Newsletter. Along with this, follow us on Facebook, Twitter, Instagram, and Pinterest.
Harshita Sharma is a technical writer with quite a distinct understanding of the tech realm. She is a tech enthusiast who believes that tech knowledge should reach one and all and tries to convert the sketchy knowledge into the simplest possible form for making people understand the tech world better. When not playing with words, she loves to travel and explore new places. And, is a coffee & cricket connoisseur.
Subscribe to Our
Newsletter

and stay informed

Keep yourself updated with the latest technology and trends with TechPout.
Related Posts