How to Fix Mouse Scroll Wheel Jumps Up and Down
The mouse scroll wheel jumps up and down and makes the entire control difficult. Don't worry, here are the solutions to fix the issue.
Does the scroll wheel on your mouse constantly hop up and down, making it challenging to control the pointer as you scroll? Your gaming (or work productivity) can be severely hampered by an uncomfortable scroll wheel. The mouse encoder is typically to blame for the erratic and jerky scrolling of your mouse. Sometimes the scroll wheel itself is the culprit.
There's no need to buy a new mouse if you're having the same issue because it can be fixed rather easily. You can solve the mouse scroll wheel jumps up and down by following our step-by-step instructions.
Before We Start
Try these simple troubleshooting methods first before moving on to more complex ones:
Restart the computer.
Alternatively, charge your mouse or replace the batteries.
Use a different USB port on your computer to connect the mouse.
Remove your wireless mouse from other wireless devices. The problem with the mouse scroll wheel jumping can be caused by wireless devices interfering with each other.
Use a different software and try scrolling there.
Test the scroll wheel in different software, such as Word, as according to a report from Microsoft, some programs have problems with them.
A List of Solutions to Fix Mouse Scroll Wheel Jumps Up and Down on Windows 10/11
If the basic solutions didn't help you, then you can attempt the following techniques. You don't have to try them all; simply move down the list until you discover the one that works for you.
Solution 1: Alter Mouse Settings
You can fix the mouse scroll wheel jumping problem by altering the settings. The mouse scroll wheel may hop if the wheel speed is set too high. The steps to modify/disable settings are as follows:
Step 1: In the search box, type "control panel" and hit Enter.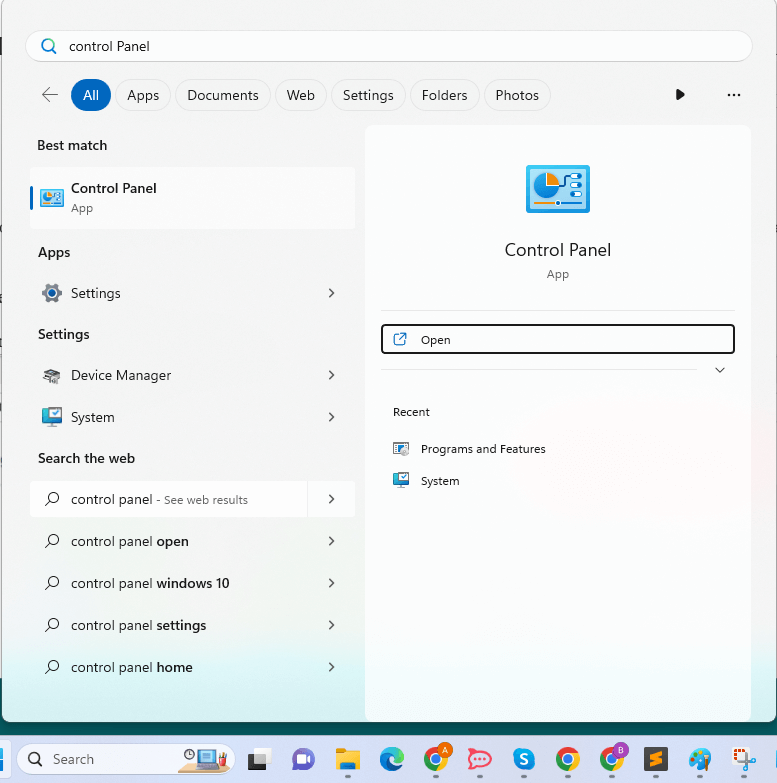 Step 2: Click Mouse after changing the Control Panel's View to Large Icons.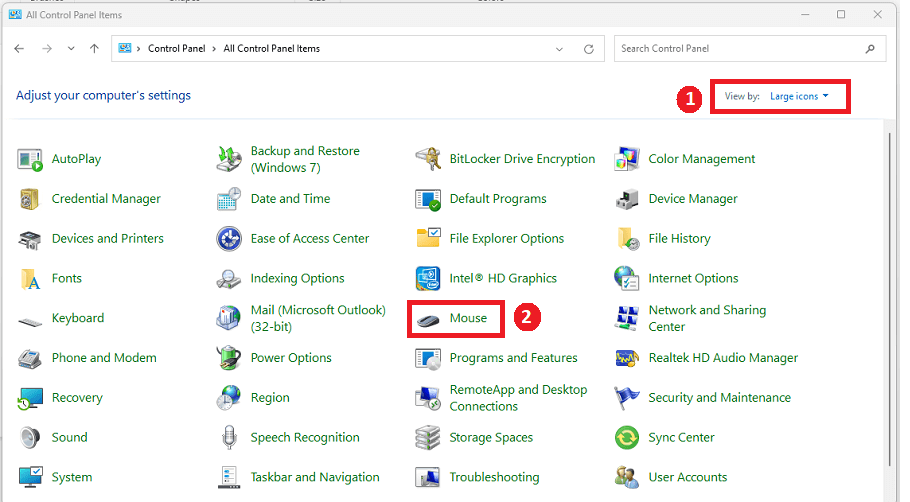 Step 3: To change the settings, select the Wheel tab. Reduce the speed if your wheel scrolls too quickly.
A Point to Remember: Ensure that scrolling is enabled. Some mouse may disable it. This feature is not accessible on all computers.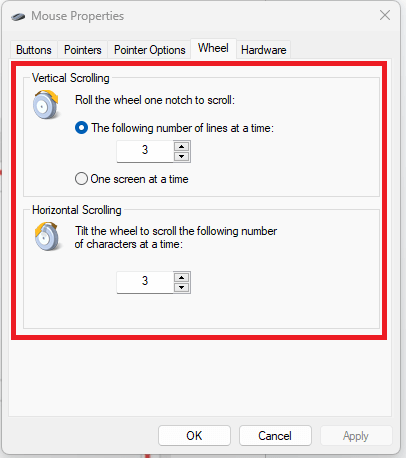 Step 4: Uncheck the box next to the Hide pointer while typing in the Pointer Options.
Once done, check to see if your mouse scroll wheel jumps issue is fixed. If not, then proceed with other solutions.
Also Read: How to Fix Mouse Right Click Not Working in Windows 10, 11
---
Solution 2: Update your Drivers
The mouse scroll goes up and down issue could be caused by a missing or out-of-date device driver. You need to update your outdated device drivers to fix the issue. You may update your driver either manually or automatically.
Manually updating your drivers requires some computer knowledge and patience because you must search online for the precise driver, download it, and then carefully install it.
The quickest and simplest solution is to update your drivers automatically. Even if you're a computer novice, it's simple to complete everything with just a few mouse clicks. We recommend you use Bit Driver Updater in order to automatically install the latest driver updates. Bit Driver Updater is a globally recognized tool and provides only WHQL-tested and certified drivers.
Bit Driver Updater automatically detects your system and discovers the genuine drivers for it. You don't need to worry about making a mistake during installation as there's no risk involved in downloading and installing the incorrect drivers. You also don't need to know exactly what operating system your machine is using.
Bit Driver Updater's PRO or FREE versions both allow you to automatically update your drivers. However, using the Pro version only requires 2 clicks, and you also get full technical support and a 60-day money-back guarantee:
Now, have a look at the steps below to update device drivers with Bit Driver Updater:
Step 1: Download and install Bit Driver Updater.

Step 2: Launch Bit Driver Updater and select Scan. After that, Bit Driver Updater will scan your computer to find any problematic drivers.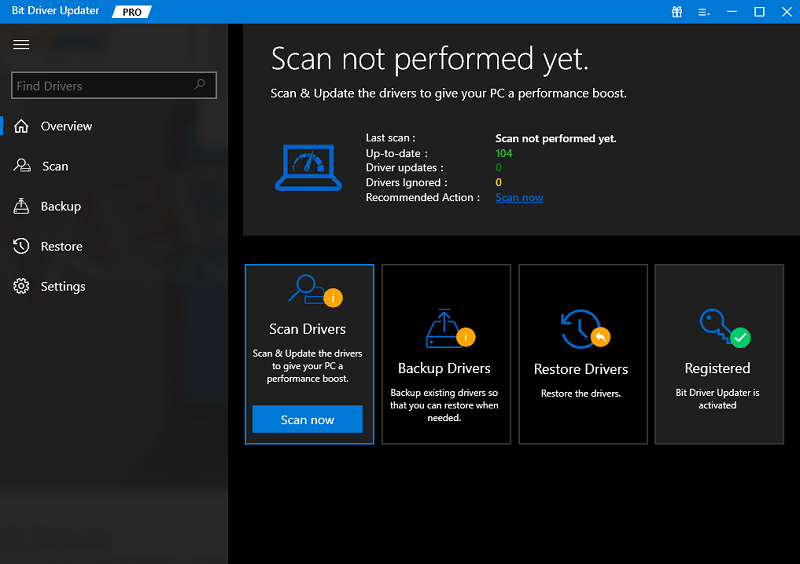 Step 3: To automatically download & install the correct version of the driver, click the Update Now button presented next to the driver (if you are using the Free version). Alternatively, you may click Update All to automatically download and install the right version of all PC drivers in one go. When you click Update All, you'll be given the option to upgrade to the Pro version.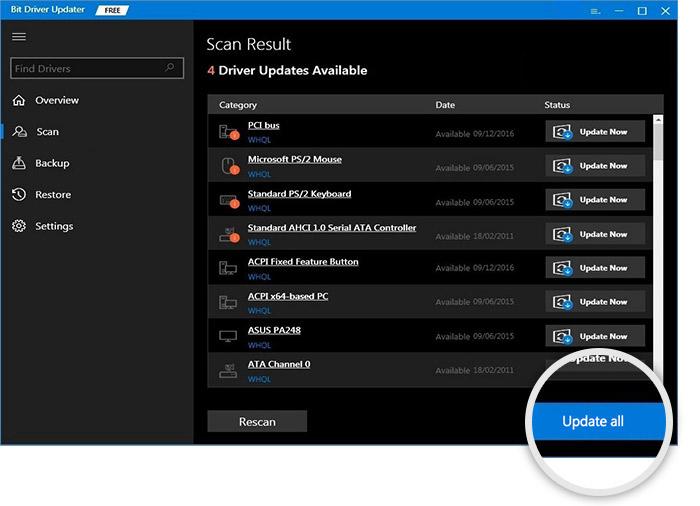 That's all! See how quickly and easily Bit Driver Updater replaces the missing or out-of-date drivers with the compatible ones on the PC. After successfully installing the software, restart your system and check to see if your mouse scroll wheel jumps issue persists. If yes, then try another solution.
Also Read: Troubleshoot Mouse Problems in Windows 10 – Fix Mouse Problems
---
Solution 3: Disable your Laptop's Touchpad
If you use a laptop, it's conceivable that your touchpad is too sensitive and is the root of your mouse scroll jumps issue. Use an external mouse and switch off the touchpad to solve the issue. It can be turned off in Device Manager. To do so, follow the steps shared below:
Step 1: Press I + the Windows logo key together from your keyboard.
Step 2: Go to Devices.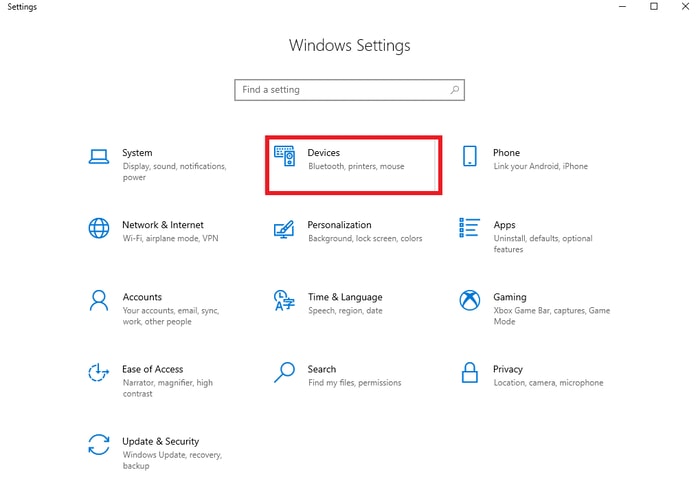 Step 3: In order to turn off the device, select the Touchpad tab.
After that, check to see if your mouse wheel jumps up and down resolved. You can use the last resort if this didn't help you out.
---
Solution 4: Hardware Problem
If none of the aforementioned techniques work to fix the mouse scroll wheel jumps up and down Windows 10 error, it's possible that the hardware malfunction is to blame. If so, you can either buy a new mouse to replace it or open the old one to clear the dust and debris out of it. You can acquire a new mouse from the manufacturer if yours is still covered by the warranty.
Also Read: How To Fix Mouse Jumping Around Windows 10 
---
Mouse Scroll Wheel Jumps Up and Down: FIXED
There you go! We hope that the methods listed above will work for you in the best way possible. Feel free to add a comment below if you have questions, doubts, or better suggestions regarding the same.
For more tech-related stuff, subscribe to our Newsletter and follow us on Social Media so you never miss any updates.
Harshita Sharma is a technical writer with quite a distinct understanding of the tech realm. She is a tech enthusiast who believes that tech knowledge should reach one and all and tries to convert the sketchy knowledge into the simplest possible form for making people understand the tech world better. When not playing with words, she loves to travel and explore new places. And, is a coffee & cricket connoisseur.
Subscribe to Our
Newsletter

and stay informed

Keep yourself updated with the latest technology and trends with TechPout.
Related Posts