Touchpad Driver Download, Update, and Reinstall for Windows 10, 11

This article guides you through the best methods to download the touchpad driver for Windows 7/10/11, install, and update it.
Touchpad errors can frustrate anyone since scrolling is among the most frequent tasks we perform on a laptop. Since most touchpad issues occur due to outdated drivers, downloading and installing a correct, compatible, and up-to-date touchpad driver can help keep problems away.
Hence, here in this article, we talk about the best methods to download, install, and update the touchpad driver for Windows 10 and 11. Let us begin with them without wasting any of your time.
Recommendation on How to Download & Install Touchpad Driver Windows 10, 11
If you don't want to perform several time-consuming steps to update your device drivers, then you can, instead, do so automatically with Bit Driver Updater in one-click. The well-designed program automatically analyzes your hardware devices and ensures that your system is always equipped with the latest driver versions for optimal performance. Below is the download button for the software.

Methods to Download the Touchpad Driver, Install, and Update It
You can apply the following ways to download, install, and update the touchpad driver for Windows 7, 10, and 11.
Method 1: Download the Touchpad Driver, Install, and Update it via the Manufacturer's Website
Like the drivers for all other peripherals, you can find the Windows 11, 10, and 7 touchpad drivers on the manufacturer's official website. However, you should know the make and model of your computer before proceeding with the below steps. To find the required system information, follow the path Settings>System>About. After finding all the details, you can proceed with the following steps to install the driver.
Firstly, navigate to your laptop manufacturer's official website.
Now, search for your computer model.
After finding your device, navigate to the Support section. 
Now, go to the Driver download section.
Click on the download link to get the latest driver downloaded.
Double-click on the downloaded file and follow the on-screen steps to install the touchpad driver for Windows 10/11.
Also Read: Download Synaptics Touchpad Driver For Windows 11, 10, 8, 7
---
Method 2: Download the Update for your Touchpad Driver via Device Manager
Device Manager on your computer lets you download and install all essential driver updates, for example, it helps you update the touchpad driver. Hence, below is how to use it to download, install, and update the Windows 11/Windows 10/Windows 7 touchpad driver.
Firstly, use the Windows+X keyboard command to launch the Quick Access menu.
Now, find Mice and other pointing devices category in Device Manager and click to expand it.
Right-click your touchpad and select Update driver from the on-screen options.
Now, Search automatically for updated driver software if you are using Windows 10 or 7. If you use Windows 11, Search for drivers automatically.
Let your system search for, download, and install the required drivers (it may take an hour or more to do it).
After the above process is complete, reboot your computer.
Also Read: Elan Touchpad Driver Download, Install and Update for Windows 10, 11
---
Method 3: Download the Updated Touchpad Driver for Windows 10/7/11 Automatically (Recommended)
Since the manual methods to download the touchpad driver update and install it are complicated and extremely time-consuming, we do not recommend them. We suggest downloading and installing driver updates via software like Bit Driver Updater.
The Bit Driver Updater software downloads and installs updates automatically with one click. Moreover, it offers several other benefits, such as driver backup and restores, driver download speed acceleration, scheduled scans for outdated drivers, and more. You can download and install this software for your computer from the following link.

A few seconds after installing the software, it displays a list of outdated drivers. You can Update All the listed drivers with a single click on the given button.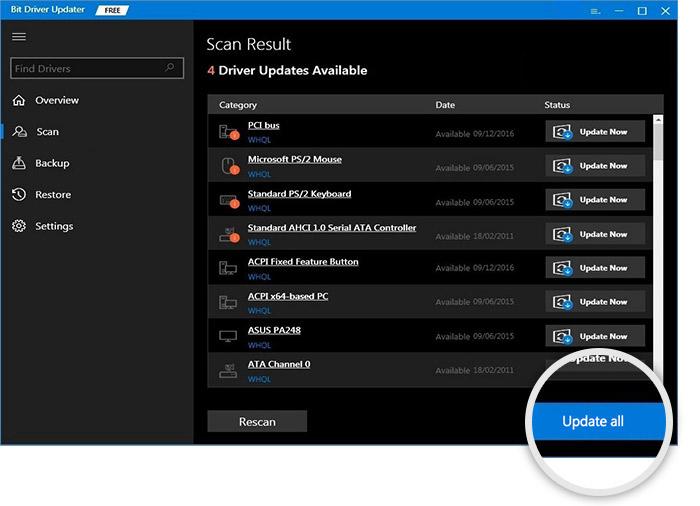 The software also offers an Update Now tool to update only the touchpad driver for Windows 11/10/7. However, we find it more appropriate to update all drivers as it significantly improves the computer's performance.
Also Read: Best Free Driver Updater for Windows 10, 11
---
Method 4: Update your OS to download and install the latest touchpad driver
Windows updates allow users to download missing drivers and update outdated drivers. However, this method may not always work if the driver updates are released only recently. Still, if you wish, you can follow these steps to try this way of downloading or updating the touchpad driver for Windows 7/10/11.
Firstly, open the settings panel using the Windows+I keyboard shortcut.
Now, select Update & Security from the available settings panel.
Click on the option to Check for updates to the OS of your computer.
Lastly, reboot your system to complete the update process.
Also Read: Asus Touchpad Not Working on Windows 10
---
Touchpad Driver Downloaded, Installed, and Updated
This article highlighted the best ways to download, install, and update the touchpad driver for Windows 10/11/7. You can follow any of these methods to do the needful. However, we recommend updating the touchpad and all other drivers through Bit Driver Updater for your convenience.
In case of any confusion or suggestions about this article, please feel free to drop us a comment. We would be waiting to hear from you.
Niharika is a passionate soul who finds immense satisfaction in putting all her thoughts in writing. Being a technology enthusiast, she loves learning new things about tech and making everyone technologically literate through her articles. When not composing tech articles, you can find her bringing characters to life in her fictional stories, reading something intriguing, or spending time with her near and dear ones.
Subscribe to Our
Newsletter

and stay informed

Keep yourself updated with the latest technology and trends with TechPout.
Related Posts