Intel HD Graphics 4000 Driver Download and Update for Windows 10, 11

In this article, we introduce you to the best possible ways to download the Intel graphics 4000 drivers, install, and update them on your Windows 10/11 computer hassle-freely.
Intel HD graphics 4000 exists on many users' computers for its powerful performance. However, like all other graphic cards, it also needs up-to-date and compatible Intel HD graphics 4000 drivers to function correctly.
However, many users find it challenging to find and download the Intel HD graphics 4000 driver's correct and compatible version. Are you also one of those users? If yes, this article is for you.
This write-up introduces you to the easiest ways to download and install the Intel graphics 4000 driver update on Windows 10 and Windows 11. Let us get started with them without any ado.
Methods to Download, Install and Update Intel HD Graphics 4000 Driver
You can download the latest driver for your Intel HD graphics 4000 and install it via the following methods.
Method 1: Get the Intel HD graphics 4000 drivers from Intel Download Center
Intel makes all the driver updates available on its download center. You can also find and download the Intel HD graphics 4000 driver update from there. Below is the step-by-step guide to doing it.
Firstly, navigate to the Intel Download Center.
Now, choose Graphics from the Select Your Product section.
Select Intel HD Graphics Family from the left pane.
Choose Intel HD Graphics 4000 from the options that appear on the screen.
Now, click on the Download button to get the driver file downloaded to your computer.
Double-click on the downloaded file and follow the instructions to install the Intel graphics 4000 drivers.
Also Read: Intel HD Graphics 4600 Driver Download in Windows 10
---
Method 2: Download and update the Intel HD graphics 4000 drivers via Device Manager
All Windows computers contain a program called Device Manager to help you download needed driver updates and install them. You can use it to download and install the latest driver for Intel HD graphics 3000 and 4000 on your Windows 10/Windows 11 computer. The following are the step-by-step directions to do it.
Search and open Device Manager using your computer's search functionality.
Now, click on the Display adapters section to expand it.
Right-click your Intel HD graphics 4000/3000 driver and select Update driver from the on-screen menu.
Search automatically for updated driver software or Search automatically for drivers depending on whether your computer runs Windows 10 or Windows 11.
Wait until the operating system finds and installs the latest Intel HD graphics driver on your computer.
Lastly, reboot your computer to complete the driver installation process.
---
Method 3: Update your operating system to get the latest Intel HD 4000 driver
Updating the OS also downloads missing drivers and updates the current ones. Hence, you can update your OS to get the newest Intel HD graphics 4000 drivers on Windows 10, 64-bit/32-bit computers. However, it is not a guarantee that this method will work as Windows may sometimes fail to find the required drivers. Still, you can follow these steps to get the needed drivers this way.
Firstly, open settings using the Windows+I keyboard shortcut.
Now, select the setting called Update & Security.
Click on the option allowing you to Check for updates.
After completing the above steps, download and install the suggested updates (including driver updates).
Finally, reboot your device to complete the update process.
Also Read: How to Download Intel HD Graphics Control Panel on Windows 11/10
---
Method 4: Download the Intel HD graphics 4000 driver update automatically (Recommended)
The above methods, as many users feel, are pretty complicated for beginners, and even experts may face problems with manual driver updates. Hence, we recommend updating drivers automatically and hassle-freely with a professional program like Bit Driver Updater.
Bit Driver Updater downloads all required driver updates and installs them automatically with one click. Moreover, it boasts many beneficial features such as driver backup and restoration, acceleration of driver download speed, scheduled scans, and much more.
Below is the link from where you can download and install this program.

After the software installation completes (it takes only a second or two), you get a list showing all outdated drivers. You can Update All these listed drivers automatically with one click on the button to do it.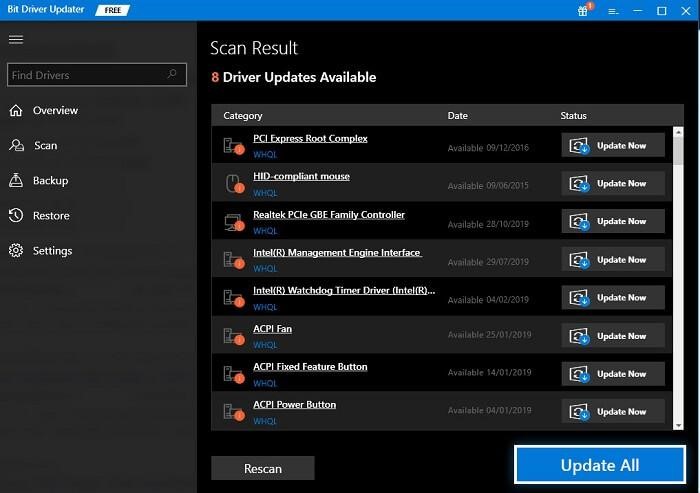 An Update Now option also exists if you want to download and install only Intel HD graphics 4000 drivers for Windows 11 or Windows 10. However, almost all other experts and we find it better to update all drivers to ensure smooth device performance.
Above, we discussed various methods to get the needed Intel HD 4000 driver. Now, let us answer some related questions to clear any doubts you may have.
Also Read: Intel UHD Graphics 630 Driver Download and Update Windows
---
Frequently Asked Questions
Below we answer some common questions about the Intel graphics 4000 drivers to clear your doubts.
Q1. Is Intel HD graphics 4000 compatible with Windows 10?
You will be delighted to know that all Windows versions from Windows 7 to Windows 10, 64-bit, support Intel graphics HD 4000.
Q2. Does Intel HD graphics need drivers?
Like every other computer peripheral, Intel graphics requires compatible and competent drivers to communicate with your operating system. Without a driver, the graphics will not function properly on your device.
Q3. How do I update my Intel HD 4000 graphics driver?
You can get an updated driver downloaded and installed for Intel graphics HD 4000 through its official website, Windows Update, Device Manager, or automatically via Bit Driver Updater. If you wish to update drivers hassle-freely and conveniently, we suggest doing it automatically.
---
Intel HD Graphics 4000 Driver Downloaded and Updated
This article presented a comprehensive guide to downloading the updated driver for Intel HD graphics 3000 and 4000 on Windows 10/Windows 11. You can get the needed drivers through the above-listed methods.
However, automatically updating drivers is the best way since it eliminates the risk of mistakenly installing the wrong drivers.
If you have anything to share about this article or any questions, you can drop them in the comments section. We will be happy to answer all of your questions.
Niharika is a passionate soul who finds immense satisfaction in putting all her thoughts in writing. Being a technology enthusiast, she loves learning new things about tech and making everyone technologically literate through her articles. When not composing tech articles, you can find her bringing characters to life in her fictional stories, reading something intriguing, or spending time with her near and dear ones.
Subscribe to Our
Newsletter

and stay informed

Keep yourself updated with the latest technology and trends with TechPout.
Related Posts