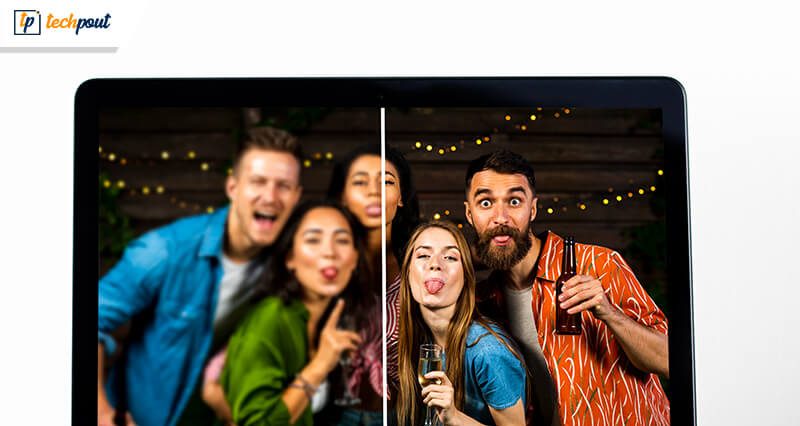 Just finished clicking several photographs and are excited to see how they look? You go back to your photo gallery to check your pictures, and what you find out is a whole lot of blur images.
Everyone has come across this disturbing issue several times and are probably trying to find a quick fix for it.
Luckily, there are a few incredible techniques with which you can unblur your images. In this article, we will show you how to unblur a photo with noticeable changes.
Most of the method works well on a desktop, but you can also use them on your Android and iOS smartphones.
So next time when you get a blurry picture, you know precisely what is to be done to make them a little better.
Let's now have a look at various methods and learn how to unblur a picture.
How to Unblur an Image? Best Methods
1. Unblur Image with Photoshop
Photoshop undoubtedly offers the best and the easiest way to edit your photographs and make them less blurry.
Learn how to use Photoshop to unblur your photographs. Let's take a look at the different methods one by one.
Methods 1
Launch Photoshop application
Click on "Filter" followed by the "Sharpen" button and then finally click on "Shake Reduction.
Wait for the process to complete.
Method 2
Open your image in Photoshop Elements Window.
Choose the "Enhance" option from the "Filters" menu.
Hit the "Unsharp Mark" button.
Alter the radius and amount as per your requirement. 
Method 3
Launch Photoshop on your device.
Click on "Duplicate" to choose a background layer.
In the next step, choose "Filter" followed by the "Other" and then finally click on the "High Pass" option and then fix the limit to 10%.
Choose "Hard Light" from the list of options available in the Blend mode.
Adjust the opacity to reduce the blur effect and make your image sharper.
Are you wondering How To unblur photos, try these simple yet effective methods to make your images look the best?
However, if you don't have Photoshop, you can use some alternative methods as mentioned below.
2. How to Unblur Your Pictures Using Lunapic
Adjust your blur images with this online tool and turn them into stunning pieces. There is no need to install this tool on your system; you can directly use it from the website.
Follow simple steps, as mentioned below:
Open Lupanic> Click on "Adjust" button> followed by the Sharper button.
Choose the file and open the photo.
To sharpen the image, drag the button to the right side.
The more you move it towards the right side, the less blurry it will become.
https://www341.lunapic.com/editor/?action=sharpen
3. How to Unblur Your Photo Using GIMP
If none of the above methods are working for you, you can use another tool to unblur your images. GIMP is a free image editing tool that can do wonders for your hazy images. Just download the tool and get started.
To start with, Download GIMP on your system and open the image within the application. 
Select Blur/Sharpen from the "Toolbox"
Select the Sharpen option and drag it over the picture to adjust the sharpness.
You can also adjust the sharpness of a particular portion of the image by simply tapping on it. 
4. How You Unblur a Picture from Your Smartphone Using Snapseed
Are you searching for a handy option to unblur your images directly from your smartphone? Try using Snapseed.
This stunning tool work on both the Android and iOS device, download it for free from the App Store and Google Play store to quickly unblur multiple images.
Launch Snapsee on your phone and upload the image.
Click on the "Details" button followed by the "Sharpen" button, and in the end, click on "Unblur."
In the end, choose Structure to see more details.
5. Unblur your images using Pintools
Another simple method to adjust your blur images is by using an editing tool called Pintools. Use this free application to sharpen your not so good photos.
Download Pintools using the below link
https://pinetools.com/sharpen-image
Choose a specific file that you wish to adjust. 
Drag the button to add sharpness to your image.
Finally, click on "Sharpen" to complete the process.
With this stunning tool, you can also adjust the color of your image, flip it, change the contrast, and lighten it.
Wrapping up
So these are some of the most simple yet effective ways to unblur your images. Choose the one which suits you best and get started.
Image Source: Techzillo
Prachi Dani is a technical content writer who specializes in areas of science and technology. She is highly up to date with technological transitions and transformations. Writing is not her passion but the only thing that carries satisfaction in life. If not writing, you may find her engrossed playing action games on her treasured smartphone.
Subscribe to Our
Newsletter

and stay informed

Keep yourself updated with the latest technology and trends with TechPout.
Related Posts