There is no need to panic if the PS4 controller is blinking or flashing white light. This article shares how to fix this problem quickly and efficiently.
PS4 is among the most sturdy gaming peripherals, popular in the gamer community for the experience it provides. However, recently many gamers complained about an unusual PS4 controller flashing white light problem.
This article is going to be your most memorable read for the day if you are also concerned about the PS4 controller blinking white light. This article acquaints you with the quickest and easiest solutions to the problem.
However, let us take a quick look at this problem's possible causes before discussing its fixes. Knowing the underlying causes of an issue helps you troubleshoot it better. Hence, we list them below.
Reasons PS4 Controller Is Flashing White Light
The following factors may be responsible for the blinking of the white light on the PS4 controller.
Hardware problems
Software issues
Bluetooth problems
Above, we answered one of the most common questions, i.e., "why is my PS4 controller flashing white light?" Now, let us start with its fixes.
Fixes to PS4 Controller White Light Flashing and Blinking Problems
You can follow these solutions to get rid of the blinking PS4 controller white light.
Fix 1: Check for hardware problems
White PS4 controller flashing may result from hardware issues like loose PS4 cables, broken controllers, etc. Hence, fixing these issues can help you tackle the flashing white light on the PS4 controller. Below is what you can do to fix the hardware problems.
Check the USB cable
The improperly plugged or loose USB cable may result in PS4 controller white light blinking or flashing. Hence, you should check the USB cable to ensure it is plugged in correctly.
You can also try using another USB cable to plugin the controller and check if there is some problem with the original cable. If the white light flashing stops after connecting another USB cable, replace the original cable with a new one. Below is a glimpse of the kind of cable you should use to connect the controller.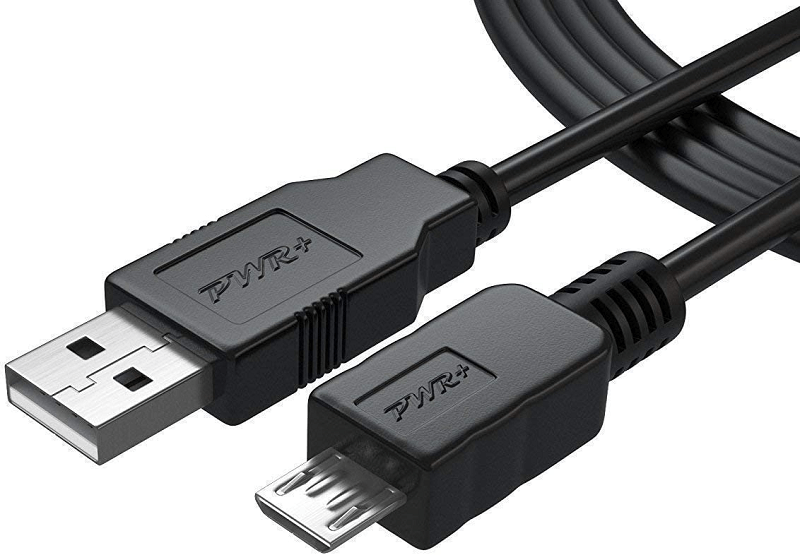 Try using another controller
There may be some issues with the controller hardware. Hence, you should try another controller to check if the PS4 controller flashing white light is a result of hardware damage. You may follow the below directions to do it.
Turn on your PS4 using another controller.
Turn off your PS4 controller completely.
Now, unplug the cable from your PS4 controller and keep it unplugged for 3 minutes.
Replug the cable to your controller.
Now, try plugging another connector into the PS4 controller.
Turn on PS4 and check whether or not it functions properly.
Also Read: How to Fix PS4 Controller Not Connecting to PC
---
Fix 2: Perform PS4 controller reset
Resetting the controller can fix many random software glitches that may have resulted in PS4 white light flashing. Hence, you can reset the controller through these steps.
Firstly, turn off your PS4.
Find the reset button. Usually, it is located at the controller's back adjacent to the L2 shoulder button.
Now, push and hold the reset button using a small and unfolded paper clip for a few seconds.
Release the controller and pair it again with PS4 by connecting the USB cable properly.
Turn on the PS4 to log in to your PS4.
Check whether or not the PS4 controller blinking white light is fixed. If it keeps blinking even after resetting the controller, you may try the next solution.
---
Fix 3: Reinstall the PS4 controller driver
A  driver is an interface between the computer and the controller. Without a compatible and correctly installed driver, you may face problems like the PS4 controller flashing white light. Hence, you should reinstall the controller driver through the following steps.
Find and open Device Manager using Windows search functionality.
Click on the section of Sound, video, and game controllers to expand it.
Now, right-click your PS4 controller and select the Uninstall/Uninstall device option.
Tickmark the Delete the driver software for this device option.
Click on the Uninstall button and complete the driver uninstallation.
Now, come back to the Device Manager and select Action from the top menu.
Scan for hardware changes and restart your computer after the scanning process is complete.
---
Fix 4: Update the PS4 controller driver (recommended)
The computer cannot communicate with the controller without an up-to-date driver. Moreover, outdated drivers are among the top causes of issues like the PS4 controller's white light flashing. Hence, performing a driver update can most certainly solve the problem.
You can update the PS4 controller and all other drivers hassle-freely with Bit Driver Updater. The Bit Driver Updater software is a renowned program to update drivers automatically and instantly with just a click.
Moreover, this software comes loaded with many incredible features, such as driver backup and restoration, acceleration of driver download speed, scheduling of scans, and a lot more.
You can visit the following link to download this program and install it on your device.

After the software installation is complete, all outdated drivers become available on your screen. You can Update All instantly with a click on the button to do so.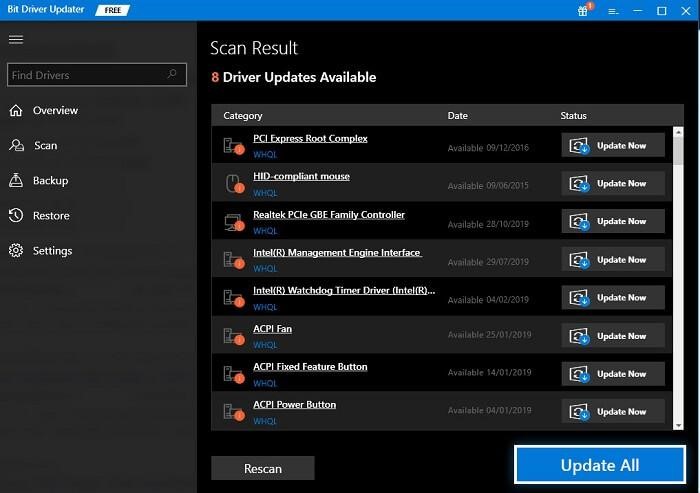 There is also an Update Now tool. If you do not find it appropriate to update all drivers, you can use the Update Now button to get the PS4 controller driver updated. However, it is better to update every out-of-date driver to ensure top-notch PC performance.
---
Fix 5: Start your controller in safe mode
Safe mode helps users perform tasks such as firmware updates, advanced diagnosis, and database resetting to fix the PS4 controller flashing white light. Hence, you can follow these steps to restart your controller in safe mode.
Press your PS4 controller's Power button to turn it off.
Now, press and hold the Power button until the controller beeps twice.
Use a USB cable to connect your controller and hit the Playstation button. 
Now, select the Rebuild Database mode to scan your whole drive and effectively build a new content database.
Note: Rebuilding the database can remove all your PS4 data and configurations. Hence, you should save your data before performing the above steps.
If rebuilding the database does not help fix the PS4 controller white blinking light, you can update the controller.
---
Fix 6: Press Share and PS4 buttons simultaneously
Pressing the PS4 and share buttons at the same time fixed PS4 controller white light flashing for many users. Hence, you can also follow these steps to try this hack.
Press and hold the PS4 and share buttons simultaneously.
Wait until your PS4 turns on.
See that PS4 controller white blinking has stopped.
Also Read: Best PS4 Exclusive Games
---
PS4 Controller Flashing White Light Fixed
This article discussed some effective fixes to the white light blinking and flashing on the PS4 controller. You can try them sequentially to solve the problem.
If you do not want to try all the solutions, you can directly apply the best fix, i.e., updating drivers with Bit Driver Updater to fix the problem.
In case of any questions or confusion, do not hesitate to drop us a comment.
Niharika is a passionate soul who finds immense satisfaction in putting all her thoughts in writing. Being a technology enthusiast, she loves learning new things about tech and making everyone technologically literate through her articles. When not composing tech articles, you can find her bringing characters to life in her fictional stories, reading something intriguing, or spending time with her near and dear ones.
Subscribe to Our
Newsletter

and stay informed

Keep yourself updated with the latest technology and trends with TechPout.
Related Posts