How to Remove Watermark From Video?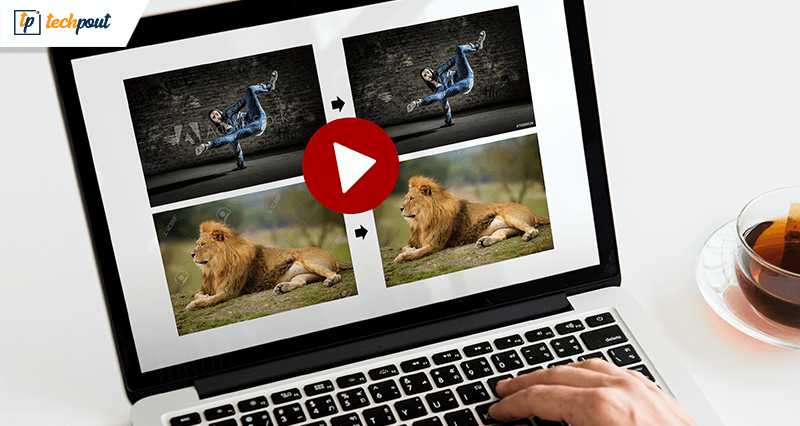 What is a Watermark?
Watermark or a logo is a copyright symbol either embedded in images or in videos. It is presented in different ways, shades, hues, text, and shapes to stop media content from being copied without any authorization. It depicts the owner's identity and mark.
It is never present in an overpowering way, just imposed with a heavy amount of transparency.
You know how you don't feel disturbed or distracted because of its presence, but you do feel that there's something amiss. Which, in the end, is its major goal.
But sometimes you just need to get rid of such watermarks to enjoy your video watching experience. And for that, you will require the help of watermark remover software for videos.
3 Best Ways to Remove Watermark From Videos:
1. Blur the Watermark
Although deleting the logo or watermark completely might sound like a better idea, it might make the video look odd. Blurring, on the other hand, will help the watermark vanish more naturally and less obviously.
2. Replace the Watermark With a New One
If the option of blurring doesn't suit you, and you want to completely get rid of it from your video, then you can plan on replacing it with a new one.
3. Crop the Watermark
Sometimes the easiest option is to crop the area where the watermark actually resides. But the stipulation is that it should be in the corner, be very small in size, and losing that area shouldn't affect the quality of the video.
But all of these ways require the support of an adept video editing software.
Here are some software and applications to remove a watermark from videos online and offline:
Best Watermark Remover Software & Apps
1. Easy Video Logo Remover
Easy Video Logo Remover, as the name suggests, is a tool that helps you remove watermark or logos from your videos easily and efficiently.
This incredible software helps in removing the watermark from videos, in turn leading to a clearer quality of the said videos. Its interface is user-friendly and comprehensive.
You can remove the logos or watermarks with just a few clicks. Here's how you can do it:
Step 1: Install the program and launch it.
Step 2: Import the video file from which you want to remove the watermark.
Step 3: Select the area covered with watermark and then proceed with further instructions. 
Not only is it smaller in size it is also a free video watermark removal tool.
2. Remove Logo From Video
Remove Logo From Video is a highly competitive application to remove watermarks from videos. It comes with a fully automated process and supports many video formats such as WMV, MP4, AVI, MP2, FLV, and many others. It is free to download too. 
Here's how you can use it:
Step 1: Choose the target video either from your gallery or shoot one on the device.
Step 2: A rectangle would appear. Now move and scale this rectangle around the logo or watermark that needs to be removed.
Step 3: Just click on Create to remove it. 
It automatically analyzes the video streams, locates and removes the unwanted additions in the video. All this leaves almost zero visible traces.
3. Adobe Premiere Pro
Adobe Premiere Pro is undoubtedly one of the best video editing software in the market. Even though it lies on the expensive side, the numerous features and customizable options it offers more than make up for the price. Removing watermarks from videos is just another simple task for this software.
Here's how you can use it:
Step 1: Install the software in your system and open it.
Step 2: Opt for a new project template file and load the video to be edited on this screen.
Step 3: Drag this imported file to the "Timeline" and bring up the "Effects Control" window.
Step 4: Click on the "Zoom" effect and increase the zoom in the area of watermark until it becomes bigger and beyond the outline of the video.
Step 5: Finally save the video by clicking on File > Export > Media. Save it under a new name and new destination. The video will be saved without a watermark.
4. Sony Vegas Pro
Sony Vegas Pro is one of the most significant and most effective watermark removers for videos. The entire process is very simple, easy to understand, and even easier to perform.
The interface is very comprehensive and comfortable to work with. It encourages customizability and full control in the editing process.
Here's how you can use it:
Step 1: Install the software in your system and open it.
Step 2: Select a new project template file and locate the video file to be added there.
Step 3: Click the video file in the "Timeline" to bring the "Effects Control" of the video. Now "Zoom" in the watermark area so that it is beyond the outline of the video.
Step 4: Now click on "File", then "Export", and then on "Media" to save the video in a new destination as a new file. It will be saved without a watermark. 
Sometimes you don't like the Windows logo on your Desktop, which can also come in your screen recordings. But what to do about it?
Don't worry. There's a special software for that too.
5. Universal Watermark Disabler
Universal Watermark Disabler is a freeware application that is more than competent to remove watermarks from Windows 8, Windows 8.1 and Windows 10.
More watermarks like warning text, Test Mode, BootSecure, build hash, and the Build string in evaluation are easily removable by this application.
It supports any user interface language, and all builds starting from Windows 8. It is not accustomed to modifying system files nor at deleting branding strings.
Here's how to use it:
Step 1: Download the software in your system and run it by confirming the UAC prompt.
Step 2: The installation window will load on the screen. Save all the opened files before and then click on the install button. This way, you will be signed out.
Step 3: And finally, the next time you sign in, there won't be any watermark on the Desktop. 
Final words
Watermarks are annoying. Nobody can question that fact. But how do you get rid of them?
By simply choosing one for the above-mentioned watermark remover software for videos and images. Don't wait anymore to enjoy a good video watching experience.
Diksha Lalwani is an aspiring content marketer and a self-declared bibliophile. An English honors graduate, she likes to keep up with the recent happenings around the world and form an opinion. Her interest in anything and everything tech made her follow the path into becoming a technical writer.
Subscribe to Our
Newsletter

and stay informed

Keep yourself updated with the latest technology and trends with TechPout.
Related Posts