How to Fix YouTube Vanced Not Working in 2023
Published Date :
Oct 13, 2023

YouTube vanced not working? If you are facing this problem, then you have come to the right place. Here we will show you how to fix the problem, easily & quickly. For more information, read on to the entire article!
YouTube Vanced is a well-known mod offered by YouTube, which allows people to access many of the platform's advanced features for Free. This renowned third-party application brings all the premium features of stock YouTube incorporating additional features such as background playback, built-in ad blocker, and more. To be more specific, YouTube Vanced has all the main features & functionality of the original YouTube application. You can easily sign in with your desired Google Account and also sync your logs or data across all existing accounts.
Irrespective of its robust functions, it is not suggested to utilize due to some security reasons, however, those who are interested in YT Vanced can obviously access it on their Android devices, But, quite lately, we have witnessed numerous users complaining about YouTube Vanced not working properly in 2023. This is really annoying. An outdated version of the application or corrupted app's data is mainly responsible for the inconvenience. However, the good news is that the issue can be solved.
So, if you are also experiencing the same type of problem, then make sure to read this tutorial to fix it.
Solutions to Fix YouTube Vanced Not Working on Android Device
Listed below are a few tried and tested troubleshooting tactics that you can use to fix YouTube Vanced not working properly. Simply work your way through each and apply the one that works best for you. Now, without further ado, let's get started!
Solution 1: Restart the Device
First and foremost, you need to perform a manual restart of your Android handset to confirm that there is not an issue with the momentary malfunction or the cache data. There are instances when something as basic as restarting the system can be of great assistance. Therefore, you shouldn't move on to any other strategy before giving this one a shot first.
Also Read: Best YouTube Vanced Alternative
---
Solution 2: Make Sure that the Internet Connection is Working
If you are getting an error message saying that YouTube Vanced is not working, you need to check your internet connection. Check to see if the Wi-Fi is operational; if it isn't, you will need to switch to the data plan for your mobile device, and vice versa. Proceed with the advanced solutions provided below if you are still experiencing issues with YouTube Vanced.
---
Solution 3: Try Installing the Appropriate Route
In order for the program to function properly on your device, you will need to ensure that the relevant route with YouTube Vanced has been recently installed. To do this, you will need to follow the steps below:
Step 1: You may download the Vanced Manager App from the official Vanced website.
Step 2: Unzip (or extract) the MicroG & YouTube Vanced application in the correct manner.
Step 3: After that, install the app for MicroG, followed by the installation of the app for YouTube Vanced.
By restarting the device, you can ensure that all of the tabs that are now running in the background will be closed.
Once everything is done, check to see if the YouTube Vanced app is working properly. If not, then move on to the next tactic.
---
Solution 4: Delete the App Data And Cache
Clearing the app's cache and data will likely help you refresh the application in the vast majority of situations. That means issues like Vanced YouTube not working can be resolved by clearing the App Cache and other associated data. If you want to delete the cache and data stored in the YouTube Vanced app, then make sure to follow the procedures that are listed below.
Step 1: Head to the menu on your machine labeled Settings, then navigate to the section labeled Apps & Notifications.
Step 2: Now, select See All Apps > from the menu. Navigate to the YouTube Vanced option inside the App details menu.
Step 3: Select Storage & Cache, then select Clear Cache from the menu that appears.
Step 4: When you are finished, select Storage & Cache from the menu.
Step 5: After that, select the option to Clear Storage.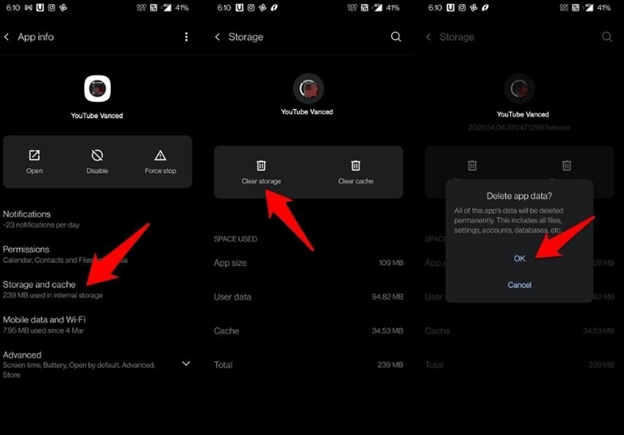 Next, try to launch the YouTube Vanced app and check to see whether the problem still exists. If YouTube vanced doesn't work, then use the next solution.
Also Read: Best YouTube to Mp3 Chrome Extensions of All Time
---
Solution 5: Disable Battery Optimization
YouTube Vanced stopped working? This could be happening due to the battery optimization function. Even though the battery optimization option can be helpful in reducing excessive power usage, it causes you a great deal of frustration at times. Therefore, in order to double-check that the problem hasn't been fixed, you should follow the instructions below to deactivate or turn off the Battery Optimization option on your device.
Step 1: Navigate to the Settings menu on your device, then select Battery from the list of options.
Step 2: After that, select the Battery & Performance option.
Step 3: Find and open the YouTube Advanced settings, then select the Battery Optimization option.
Step 4: To disable it, select 'Don't optimize' from the menu.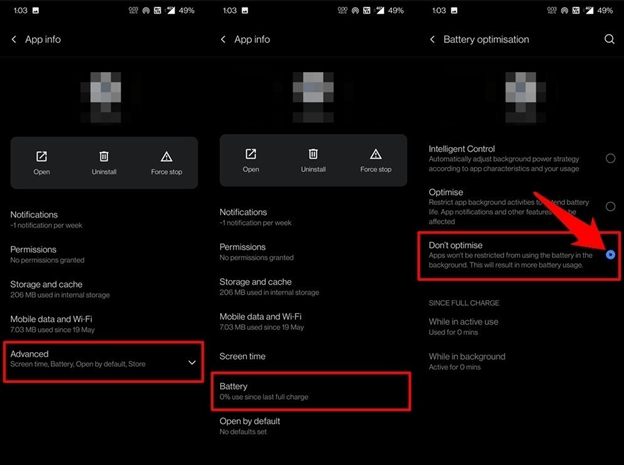 Step 5: Restart the device and check it again to see if the problem persists.
---
Solution 6: Consider Some Alternatives to YouTube Vanced
There are a number of free alternatives available to you in the event that YouTube Vanced continues to crash and you are unable to fix the issue. The best alternative to YouTube Vanced is a program called Newpipe, which is open-source and free to use. There are also Revanced, Skytube,  FreeTube, VidLii, TubeMate, and FlyTube to consider.
Also Read: How To Download YouTube Videos For Free
---
How To Fix YouTube Vanced Not Working in 2023: Explained
So, that was all about how to fix YouTube Vanced crashing, easily and quickly. Hopefully, you found the information helpful and informative. Please tell us in the comments below if you have any questions or further suggestions regarding YouTube Vanced not working.
For more tech-related information, you can subscribe to our Newsletter and follow us on Social Media (Facebook, Instagram, Twitter, or Pinterest) so you never miss an update.
Harshita Sharma is a technical writer with quite a distinct understanding of the tech realm. She is a tech enthusiast who believes that tech knowledge should reach one and all and tries to convert the sketchy knowledge into the simplest possible form for making people understand the tech world better. When not playing with words, she loves to travel and explore new places. And, is a coffee & cricket connoisseur.
Subscribe to Our
Newsletter

and stay informed

Keep yourself updated with the latest technology and trends with TechPout.
Related Posts