How Can Personal Information Manager Assist You with Your Work Schedule?
Published Date :
Apr 20, 2020

Having an organized work schedule in place can hike up your efficiency level to a great extent. It can provide you with all the necessary inputs regarding the tasks you need to perform and the order of doing the same. Maybe this is why time management is considered as a super power as it lets us unleash greater productivity within our normal 9 to 5 schedule. This a skill which is possessed only by a selected few. The rest of us however can bank on a personal information manager like EssentialPIM to excel in all the spheres of life. Let us now take a look at the different ways in which this affordable software can organize our work schedule in a seamless manner.
Maintaining a Central Directory of Information
Growing work complexity makes it necessary for employees to deal with huge amounts of data. The data is procured from various fields of work and needs to be stored in a systematic manner for easy access. EssentialPIM stores all the data in a fast, secure and scalable database while cross-linking the same with various other aspects. In this way, making changes in just a single variable can impose the changes on the other linked variables. Users of EssentialPIM can thus benefit out of massive savings in time and energy which can be redirected to other important avenues.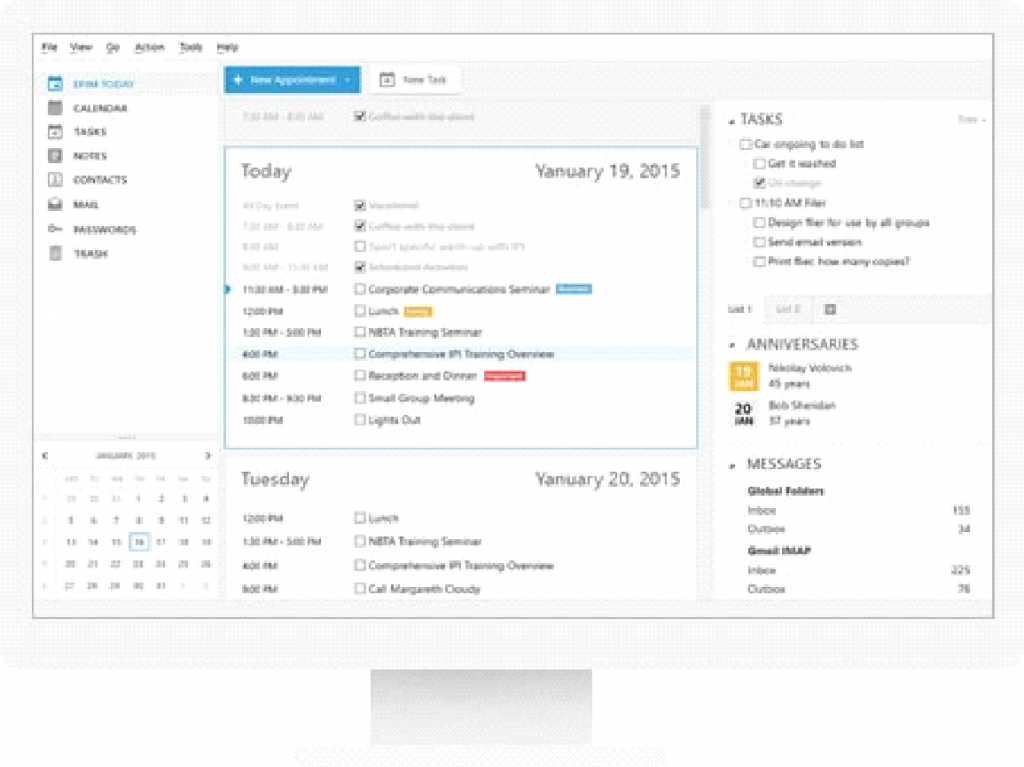 Userscan bank on its Notes module for organizing notes as pictures, tables, textsand even attractive sticky notes. You can even deliver premium grade formattingwith top-notch features like indexing, automatic clipboard capturing etc. Basicfont formatting, as well as, advanced structures with tables and bullets can beguaranteed by the built-in text editor of EssentialPIM which also allows usersto export notes and undertake advanced grade editing on the same.
Creating a Chart of the Upcoming Tasks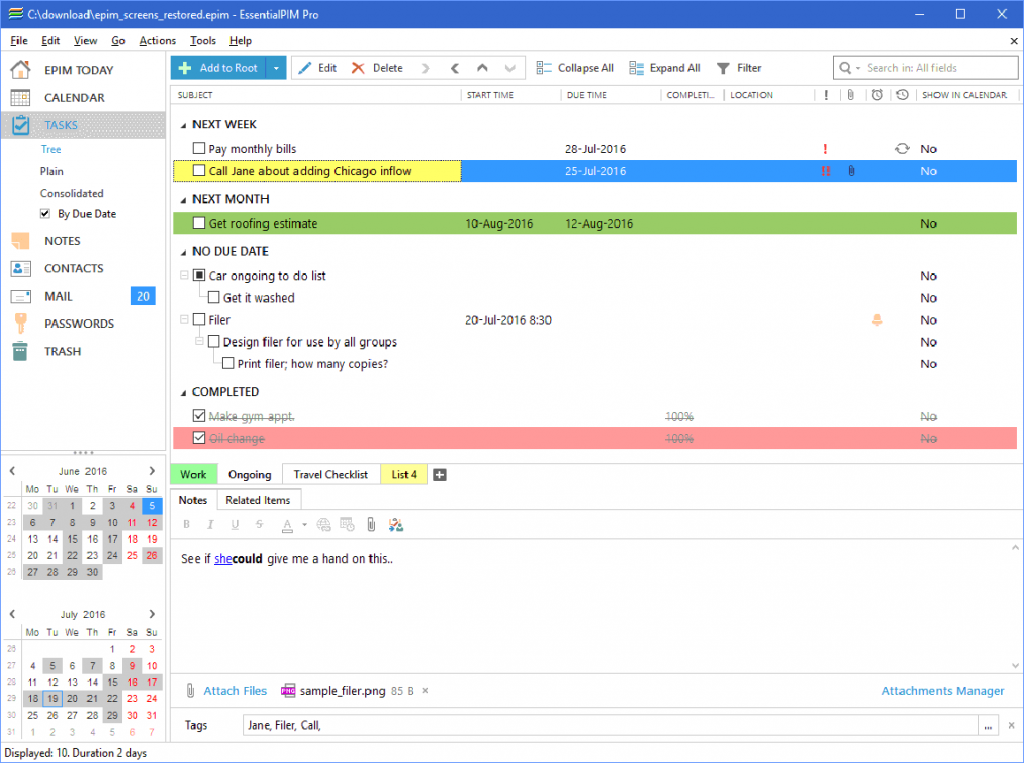 Our productivity level increases rapidly if we have a clear notion of the tasks that we need to undertake during work hours. This is where the Calendar module of EssentialPIM can come to your rescue. You can manage all of your appointments, daily tasks and schedule under a common umbrella. It even allows the addition of multiple tasks to a single day with time reminders so that you don't miss out on deadlines. Managers can mark the tasks of utmost importance in the 'To-Do' section. This is particularly helpful if you have to juggle with multiple projects at once. Progress of different tasks can be measured in terms of percentage so that managers can take related decisions properly.
Wise Usage of Time
One of the biggest roadblocks faced by people in the path of organizing their work schedule is time shortage. This mostly happens as we tend to be a hard worker rather than being a smart one. EssentialPIM can fill in all these loopholes with its Contacts module which stores both personal and business contact information in an intuitive format. It offers a bird eye view of various information pertaining to first & last name, mobile number, email address, pictures etc. Searching for any particular information also become super easy with the powerful filter tools.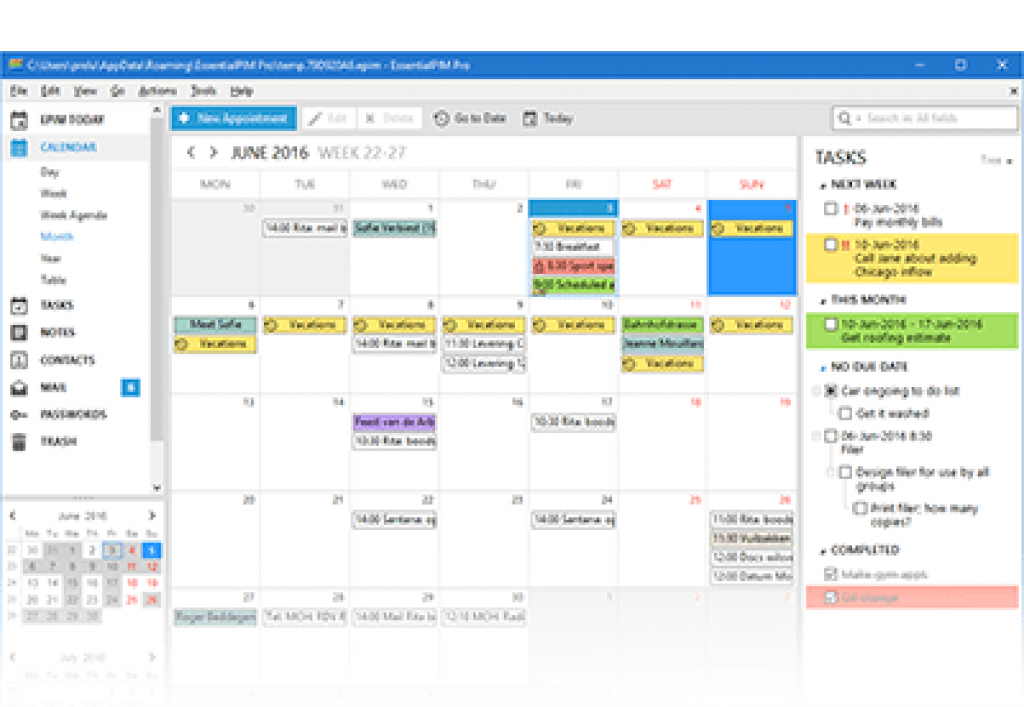 Anothertime taking work is sending mailers which can be taken care of by the Mailmodule of EssentialPIM. You can enjoy massive time savings by utilizing itsmass messaging feature. Newsletters and important announcements can be easilysent to your selected or all contacts with a single click. A unique thing aboutEssentialPIM is that it synchronies with Yahoo mail and Gmail. Users can thussend the mails from the software itself without having to navigate toindividual mailboxes.
FinalWords
Growing advent of digitization is leading to the setup of remote offices where people from across the world are collaborating on a single project. A personal information manager like EssentialPIM has an extremely important role to play in such setups as it brings all the information together with adequate tagging support. It even synchronizes the data with various cloud solutions such as Google Drive/ Tasks/ Contacts/ Calendar, CardDAV, CalDAV, Outlook.com/ Office 365, iCloud and many more. All the data is encrypted with the AES (Rijndael) 256-bit key which can guarantee you complete security as you get the organization game on point.
Remy is a technical writer at TechPout. Being an IT enthusiast, he inclines to write about contemporary technology and growing security for machines. One steadfast follower of Baseball, Remy is an active social worker and a gastronome.
Subscribe to Our
Newsletter

and stay informed

Keep yourself updated with the latest technology and trends with TechPout.
Related Posts