How to Fix Device Manager Not Working in Windows 11, 10

Are you running into, "Device Manager not working in Windows 11, 10"? If yes, then you have come to the right place. Here you will learn about a few handy tricks to resolve the issues with Device Manager.
Microsoft Windows operating system comes with an in-built component called Device Manager. This computer program allows PC users to view and manage the hardware connected to their computer systems including USB drive, Keyboard, graphic card, hard disk, and so on. So, if any hardware device connected to your system malfunctions or just stops working accurately, you can utilize the Device Manager to detect it.
The Device Manager is a useful tool that you can use to update, uninstall, or roll back the device drivers, recognize unknown devices, disable software or hardware devices, and many more. However, sometimes, the Device Manager fails to load or won't respond properly as expected. While accessing this tool, many users complained about an error message that says, "This app has been blocked for your protection." They also reported that some other technical glitches prevent Device Manager from opening or loading on your Windows PC.
Whatever the cause may be, the good news is that the issue can be fixed. In this write-up, we are going to discuss several solutions that you can consider to fix Device Manager not working in Windows 11 and Windows 10. Keep reading for more information.
Easy Ways to Fix Device Manager Not Working on Windows 11
Unable to manage your hardware devices in Device Manager? Here are a few potential workarounds for you to solve Device Manager not working Windows 10, 11. Let's get started!
Way 1: Use Alternative Methods
Can't access Device Manager in Windows 10 through the start menu? Don't worry, you can use other alternatives to open the default computer program.
Use Run Dialog Box to Open Device Manager-
Step 1: On your keyboard, press the Windows + R keys together to launch the Run terminal.
Step 2: In the Run box, write "devmgmt.msc" and press Enter from the keyboard.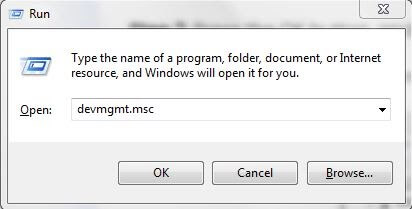 Step 3: This will open the Device Manager on your screen.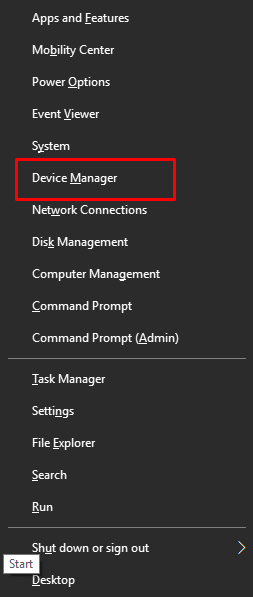 Use Keyboard Shortcut-
Step 1: Press Windows + X keys simultaneously from the keyboard.
Step 2: Then, you will see various options. Find and click on Device Manager from the available options.
Use Command Prompt-
Step 1: In the search bar of your taskbar, type Command and choose Run as administrator.
Step 2: After that, type the following command in the Command Prompt windows and press the Enter in order to run it.
devmgmt.msc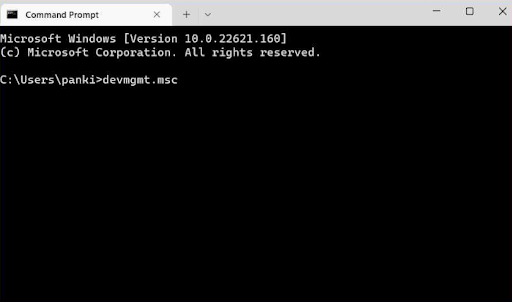 Once the command executes, the Device Manager window will load on your device. If in case, you are still unable to open Device Manager through these alternative options, then proceed with the next ways.
Also Read: How to Fix Skype Not Detecting Webcam on Windows PC
---
Way 2: Using Computer Management Tool
Computer Management Tool is an essential utility tool in Windows that provides you access to Event Viewer, Task Scheduler, Device Manager, and so on. So, yes, Windows PC users can use this all-in-one utility program to get access back. Below are the steps you need to follow:
Step 1: Click right on the Windows icon shown on the Taskbar and choose "Computer Management" from the context menu list.
Step 2: Next, choose System Tools to expand the same.
Step 3: Then, click Device Manager to open it.
Now, check if the Device Manager loads or responds correctly. If not, move on to the next trick.
---
Way 3: Perform SFC Scan
The major reason behind this inconvenience is a temporary glitch to corrupted or damaged system files. So, if a misconfigured or corrupt system file is preventing Device Manager from opening on your machine, you can SFC command to fix the problem.
SFC (System File Checker) is Windows in-built utility that scans your device for corrupt or faulty system files and restores them too. To use this approach, all you need to do is – just follow the steps below:
Step 1: Open Command Prompt under Administrator's privileges (you can use the above-shared operation).
Step 2: Once the Command Line window opens as an administrator, input the following command and press the Enter key from your keyboard in order to execute it.
sfc/scannow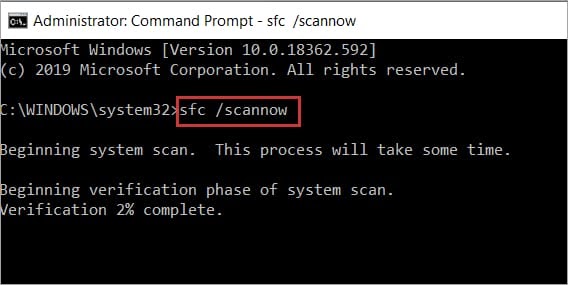 Step 3: Wait for the command to finish the scanning process.
Once it's done, restart your computer and try to invoke the Device Manager app to test the issue. Unfortunately, if still  Device Manager not responding on your machine, you can proceed further.
Also Read: How to Fix Windows 10 Not Responding Error
---
Way 4: Use System Maintenance Troubleshooter
Windows comes with several in-built troubleshooters, which are sometimes useful. Since this issue is likely to occur due to a system maintenance problem. So, we suggest you first run the System Maintenance troubleshooter to fix the issue. Here is how:
Step 1: Summon the Run terminal by pressing Windows + R keyboard keys together.
Step 2: In the text field of the Run box, write msdt.exe -id MaintenanceDiagnostic and hit Enter.
Step 3: On the next prompt, you will need to click on the Advanced option and tick the box before Apply the repairs automatically option.
Step 4: Click on Next and follow the on-screen instructions to complete the troubleshooting process.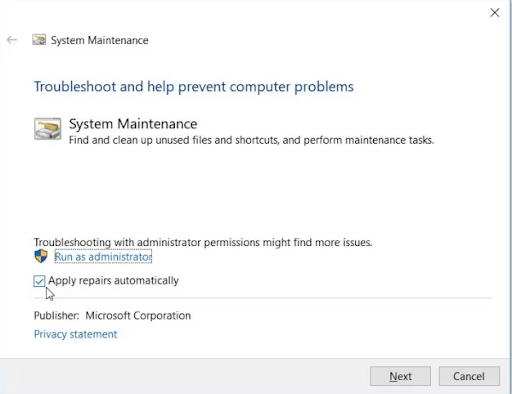 If you are dealing with a problem related to hardware, running a Hardware and Devices troubleshooter is recommended to resolve the issue. Follow the steps below to do so:
Step 1: Press the Windows logo from your keyboard.
Step 2: Click on the gear (Settings) icon.
Step 3: Then, click on Update & Security, then look for Troubleshoot option on the left menu pane and select it.
Step 4: After this, you need to click on the View additional troubleshooters option.
Step 5: Next, choose Hardware and Devices troubleshooter and click on Run the troubleshooter.
Wait for the troubleshooter to find and fix the possible glitches. Once done, reboot your computer and check if the Device Manager not working issue is resolved. If not, try another hack.
Also Read: Fix "DNS Server Not Responding" Error On Windows
---
Way 5: Create System Restore Point
Last but not least, you can also try to use the System Restore feature in order to roll back your system to its previous state. This might help you fix, "can't open Device Manager in Windows 10, 11". Follow the steps outlined below:
Step 1: Go to the search bar on the Taskbar and write Create a Restore Point. Then, hit the Enter key on your keyboard.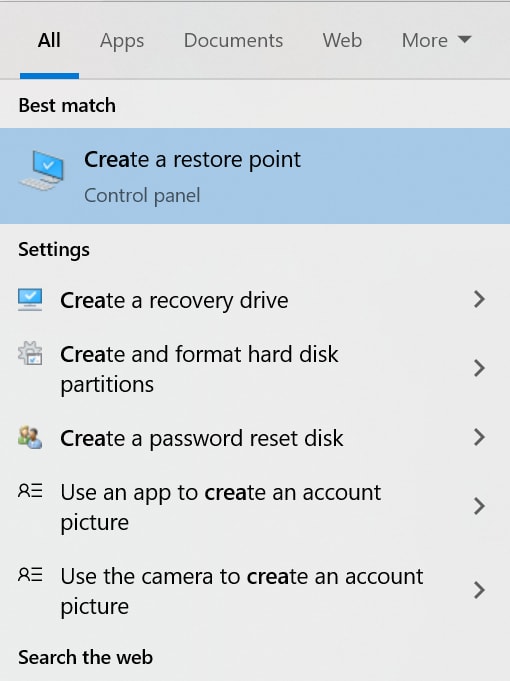 Step 2: Head to the System Protection tab.
Step 3: Then, under this tab, click on System Restore…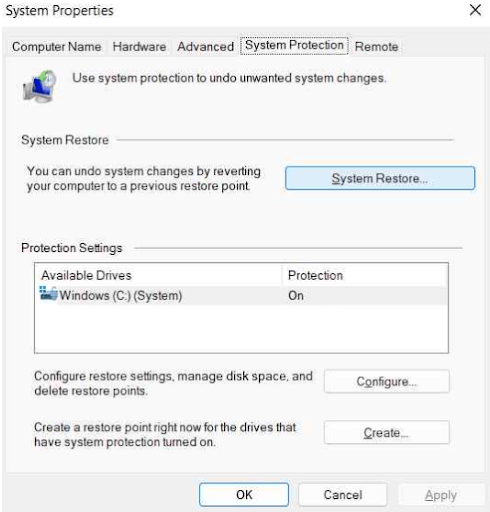 Step 4: Click on Next to proceed further.
Step 5: Now, you will need to choose the recently created restore point and click on Next.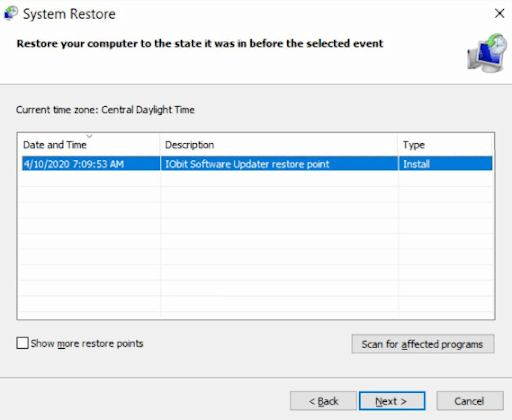 Step 6: After that, click on Finish to complete the process.
Once everything is done, restart your computer and open Device Manager to check whether the problem has disappeared or not.
Also Read: How to Fix The Spotify Application is Not Responding
---
Device Manager Not Loading in Windows 11, 10: FIXED
So, the above was a few effective and quick fixes for Device Manager not working in Windows 11, and 10. The Device Manager is a helpful computer program in Windows operating system that enables you to perform multiple tasks that include, enabling or disabling hardware devices, updating outdated device drivers, troubleshooting BSOD or other errors, and many more.
Hence, it is important to make sure that the Device Manager works perfectly. By using any of the above-shared methods you can ensure the proper and consistent functioning of the default utility tool in Windows.
Please feel free to drop your queries in the comments section below. Additionally, do tell us which fix helped you in the best way possible to resolve the issues with Device Manager in Windows 11/10.
Do subscribe to our Newsletter for more troubleshooting articles related to technology. Follow us on social media – Facebook, Twitter, Instagram, and Pinterest.
Harshita Sharma is a technical writer with quite a distinct understanding of the tech realm. She is a tech enthusiast who believes that tech knowledge should reach one and all and tries to convert the sketchy knowledge into the simplest possible form for making people understand the tech world better. When not playing with words, she loves to travel and explore new places. And, is a coffee & cricket connoisseur.
Subscribe to Our
Newsletter

and stay informed

Keep yourself updated with the latest technology and trends with TechPout.
Related Posts