How to Fix Book Not Downloading to Kindle

Kindle book not downloading? Are you running into trouble while downloading books on Kindle? Then, you have come to the right place. In this blogpost, you will find numerous ways to resolve the issue, easily & quickly. 
Kindle Book by Amazon is a sure-shot way for e-book readers. You'll be able to browse, download, and buy digital versions of books, periodicals, and other kinds of literature with the help of Amazon Kindle devices.
But recently, many users have reported that they are unable to download e-books onto their Kindle devices. There may be more than one cause for this issue; it all depends on the circumstances. The majority of the time, this issue is brought on by sluggish network connections and problems that are connected to the server. On the other hand, it can be because of incorrect setups or damaged data.
To help you with this, we have decided to provide a guide explaining the different solutions to fix book not downloading to Kindle. Continue reading!
A List of Solutions to Fix Kindle e-Book Not Downloading in 2023
Listed below are a few tried and tested solutions that you can use in order to fix the Kindle book not downloading issue. Without further ado, let's get started!
Solution 1: Reboot the Device
If your Kindle Book not downloading, the first thing you should do is shut down the device and then start it back up again.
Simply restarting the device will solve broken processes and minor software issues. Therefore, start by doing this before looking at any other potential resolutions.
To begin, you need to reboot the tablet. To do so, you will need to press & hold on the device's Power button until the Power dialog box appears on your screen.
Wait until the screen becomes completely black before attempting to access the Power dialog box.
After this, continue to press and hold the Power button for a total of forty seconds before letting go of it.
The tablet will automatically resume once a few seconds have passed.
After shutting off the Kindle reader, you should wait a minute before turning it back on. After you have done this, you should attempt to download the book once again.
Continue to the second solution below if you are still facing a Kindle book not downloading problem.
Also Read: How to Fix Microsoft Print To PDF Not Working in Windows 10, 11
---
 Solution 2: Checking Amazon Servers
If you are having issues when utilizing the services that Amazon provides, we recommend that you check Amazon's servers. Because you are using an online service, there is a considerable likelihood that Amazon's servers are now down for some reason, either because they are undergoing maintenance or because an error has occurred.
However, there is no separate status page that Amazon provides for its products and services. Because of this, you are able to monitor the current status of Amazon's online services via the usage of third-party websites. Waiting is your best bet in the event that the servers are down since problems on your end cannot be used to troubleshoot server-related difficulties. On the other hand, if there isn't anything wrong with the servers, you may go on to the next possible solution to resolve the Kindle book not downloading.
---
Solution 3: Restart your Network Connection
Restarting your network connection might help you to fix the Kindle book won't download issue. A network reset may address problems caused by your connection in the same way that rebooting your tablet can fix minor software problems.
To begin, switch your smartphone to airplane mode for a short period of time, and then turn off airplane mode. Next, if you are linked to a router, you will need to reboot the router as well.
This assures that the Kindle book not downloading error is not occurring due to a problem with your network. Simply shutting off the wireless connections on the device and then turning them back on will allow you to simply reset your network. Alternatively, you may use the hotspot on your mobile phone to test the functionality of your network connection in order to ensure that everything is operating as it should.
You only need to connect your Kindle to the hotspot address on your phone, and then check to see whether the ebook is downloading successfully. If this fix didn't work for you, then try other solutions mentioned below to resolve Kindle not downloading new books.
Also Read: How to Fix HID Keyboard Device Not Working [2023 Fixes]
---
Solution 4: Check Your Orders
The 'Your Content and Devices' page will automatically update to reflect the addition of any e-books that you buy or download. It is conceivable that the money for the transaction did not go through properly, or that something else went wrong if you are unable to download a particular book on your Kindle.
To fix Kindle book not downloading, visit Amazon's website and sign in to your account there so that you can verify this information. After reaching that page, go to Manage Your Content and Devices and search for the Kindle book that won't download. Finally, choose Deliver from the drop-down menu under Actions. It would be best if you redownloaded your e-books to see if it fixed the Kindle not downloading issue.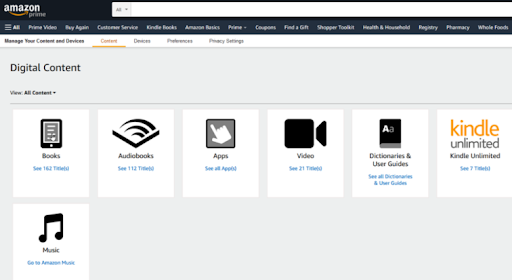 ---
Solution 5: Updating your Kindle
If you are still having trouble downloading e-books and facing a Kindle book not downloading problem, another option available to you is to upgrade the Kindle to the most recent version. This should fix any errors or malfunctions that may have been present in your system. The following is what you need to do:
Firstly, check to see whether your Kindle is linked to the Wi-Fi network.
After that, go to the Settings menu and choose More from the menu that appears in the top right corner.
Now, choose Update Your Kindle from the menu, and then follow the on-screen instructions.
After that, you may test to see whether the Kindle book not downloading issue still exists by downloading any electronic books. If you are still having trouble downloading e-books, then move on to the next possible option below.
---
Solution 6: Checking Storage Space
E-books, just like any other file or piece of material, may take up storage space on your Kindle. If your Kindle book is not downloading, it's conceivable that the storage space on your device is becoming low. To resolve this issue, you will need to manage the storage that you have available and delete any e-books that you no longer need or that you have already completed reading. To effectively manage your storage, follow the instructions below:
Go to the Settings menu on your Kindle, and then choose All Settings.
After that, choose Advanced Options by going to Device Options.
Select Storage Management, and then locate the files that are no longer required on your computer.
Then, you may test to see whether the Kindle book not downloading issue still exists or not.
If you find that you often need more space for your files, you might consider signing up for an Amazon Cloud Drive subscription. This should make it possible for you to read your e-books online and only download them when you are in a location where you do not have access to the internet.
---
Solution 7: Amazon Support
In the event that none of the methods presented above were successful, your last option is to get in touch with Amazon's support staff. There may be an issue with your account that requires action on their end. Please check again later.
To do this, go to the Help & Customer Service page on Amazon's website and file a ticket with information on the problem you've been having. It will be much simpler for their staff to fix the Kindle book not downloading problem if you provide all of the information they need about the book you are downloading as well as the model of your Kindle.
You might also go through the other manuals that are available on their website to see if there are any other answers there.
Also Read: How to Fix Conexant isst Audio Not Working in Windows 10, 11
---
How to Fix Kindle Book Not Downloading: Explained
Our step-by-step instructions on how to repair your Kindle Book if it is unable to download e-books is now complete. We hope you found the tutorial on how to resolve Kindle Book not downloading helpful. Please feel free to drop your queries or further suggestions in the comments section below.
For more tech-related information, you can subscribe to our Newsletter and follow us on Social Media so you never miss any updates.
Harshita Sharma is a technical writer with quite a distinct understanding of the tech realm. She is a tech enthusiast who believes that tech knowledge should reach one and all and tries to convert the sketchy knowledge into the simplest possible form for making people understand the tech world better. When not playing with words, she loves to travel and explore new places. And, is a coffee & cricket connoisseur.
Subscribe to Our
Newsletter

and stay informed

Keep yourself updated with the latest technology and trends with TechPout.
Related Posts