How to Fix Apple Watch Dying Fast [2022 Latest Fixes]
Published Date :
Sep 19, 2022

Are you screaming, "why is my Apple Watch dying fast"? If yes, then, fortunately, you have come across the right page. Here you will find numerous effective tips & tricks to get rid of this issue. Read more! 
As compared to other digital or smartwatches, Apple Watch doesn't have a specifically powerful or long battery life. Talking about the same, an Apple watch lasts for just 18 hours. That means you will need to charge it on a daily basis.
This usually involves charging the watch overnight, but if you are finding that your Apple Watch is required to get charged before that, then there are a couple of things you can consider to fix the Apple watch dying fast in 2022. Continue reading for more details!
Why is My Apple Watch Dying So Fast?
Undoubtedly, the Apple watch is one of the most popular but that doesn't suggest that it's the longest-lasting one. Well, there can be several reasons for your battery draining relatively faster but if it's draining within hours. Then, it directs that there are some bigger factors involved. There is not a streamlined answer for your problem but issues like these are easier to fix.
Factors To Keep In Check Before Moving Forward To Solutions
Software Update
Apple regularly releases software updates for their products whether they are iPhones, Airpods, or apple watches. Before trying any of the upcoming tips to fix your 'apple watch battery dying fast' ensure that your watch is up-to-date with the latest available version.
Pairing Factors
Apple Watch loses power more effectively if it's struggling to connect or uphold the connection with your iPhone. Try re-pairing your iPhone to your watch and check if that's the issue you're fostering. If yes, make sure to keep the Bluetooth of your iPhone always open in order to avoid issues like Apple Watch dying fast.
Product Age
Any smart or tech-helm product loses its touch after a certain period, especially in the context of battery. So, the battery life of your apple watch is evident to be adversely affected if it has passed a specific time frame. You can get your watch replaced. But, we recommend you upgrade to the latest Apple watch.
Weather Conditions
Batteries also lose their touch if the weather in your region mostly is polar. If you live in a place with scorching heat and keep your apple watch in direct sunlight. Such climatic conditions can decrease your battery life and might also hinder its performance. Apple recommends their users to use the Apple Watch "in ambient temperatures between 32°F to 95°F (0°C and 35°C)." This might help you avoid Apple Watch battery dying fast issues.
Also Read: How to Setup Apple Watch Without Pairing With an iPhone
---
Tips To Prolong Your Apple Watch Battery Life
As compared to its competitors FitBit and Garner, the Apple Watch seems to not give a serious challenge on the battery front. The battery life of your watch should at least last for a day between charges.
Tip 1: Switching Off the Heart Rate Monitor
Apple suggests its users switch off the heart rate monitors of their watches while running or going through a workout session. This may result in getting inaccurate calorie counts but worth giving a try if you desire your watch's battery life to last a jog. Steps for doing so are: Open the Apple Watch application on your phone> Navigate to My Watch> Privacy> Motion and Fitness> turn off Heart Rate.
---
Tip 2: Adjust Display Settings
Display gobbles the most battery life of any smartwatch, not only apples'. Consider lowering your Apple Watch's brightness and wake time, and disable the always-on display to save an 'okay' amount of battery. All three options can be found by navigating to Settings > Brightness & Display.

---
Tip 3: Background Applications
Background running apps could be a cause of why your Apple watch battery dying fast. Possibly, you're not using the programs or apps currently, but numerous apps which you've opened earlier, keep running in the background, which eventually consumes the power or battery of your watch. The same happens with smartphones as well. So, to get rid of the problem, you should try to disable the background running apps.
To do so, open the Watch app on a connected iPhone, then tap General. After that, make a tap on the Background app refresh. You will now see a list of all the apps on your Watch, toggle the turn-off for the ones you no longer need or do not want to run in the background.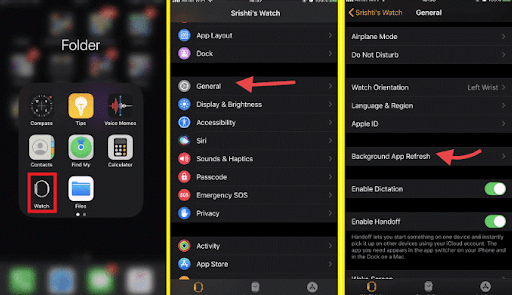 Also Read: How To Use WhatsApp on Apple Watch
---
Tip 4: Notification Center
If you have several applications and activities/ tasks going on simultaneously, then you may experience the Apple Watch dying fast issue. By managing the notifications on your Apple Watch you can overcome the problem. For this purpose, you will need to use a connected iPhone and launch a Watch app.
Then, navigate to the My Watch tab and make tap on Notifications. After that, choose a program or application for which you wish to disable notifications. Next, tap Notifications Off to turn off the notifications.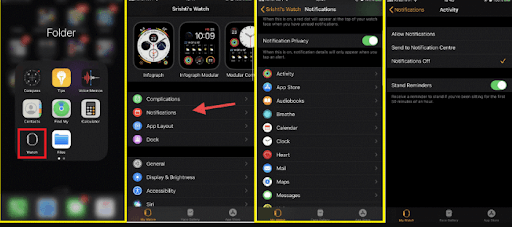 ---
Tip 5: Switch Off Apple Watch
Last but not least, you should try to turn off your Apple Watch for some time. You can do it once a week, or once every 2 weeks. This can help you use the watch with better battery life. Apple Watch battery dying fast could be a problem because it has been running for a long while without having a pause.
Additionally, it's also suggested to unpair it from your preferred iPhone and then pair it again for a clean start. Moreover, you can also consider resetting your Apple Watch. This might help you fix the Apple Watch dying fast issue.
Also Read: How to Use Walkie-Talkie on Your Apple Watch
---
Final Words on How to Fix Apple Watch Dying Fast
With all that, now you have effective tips & tricks to resolve the battery issues with your Apple watch. We hope now your Apple Watch won't drain so fast.
If you still face any issues with your iWatch, then do tell us in the comments section below. We will definitely try our best to help you. Want to read more troubleshooting articles related to technology?
If yes, then subscribe to our Newsletter and follow us on Facebook, Twitter, Pinterest & Instagram.
Harshita Sharma is a technical writer with quite a distinct understanding of the tech realm. She is a tech enthusiast who believes that tech knowledge should reach one and all and tries to convert the sketchy knowledge into the simplest possible form for making people understand the tech world better. When not playing with words, she loves to travel and explore new places. And, is a coffee & cricket connoisseur.
Subscribe to Our
Newsletter

and stay informed

Keep yourself updated with the latest technology and trends with TechPout.
Related Posts