8 Best Free Easy Duplicate Finder Alternatives For Windows

Unwanted fillers and clutter do no good to nobody, not even the Windows. If you are looking for the best alternatives for Easy Duplicate Finder, then this article has got your back with the tools that, with ample features, help you find the duplicate files and save the system before it overwhelms.
What is Easy Duplicate Finder?
The truckloads of duplicates resting in the system to exhaust its speed and overall performance. Avoiding this mess, Easy Duplicate Finder is an amazing tool to find the duplicate images, files and documents.
Performs flexible search and process user-friendly interface.
Allows you to search multiple types of content and performs comparison by document, music, images etc.
Features emergency file recovery
Is integrated with Windows Media Library, iTunes and iPhoto.
Easy Duplicate Finder offers a free trial version and demands a paid version to offer its best. However, there are several other tools that do the same deed and turn out to be the alternatives to Easy Duplicate Finder. In the light of that, we have gathered 8 best Easy Duplicate Finder alternatives for Windows that, in no penny, make the system detox gear up.
Best Free Easy Duplicate Finder Alternatives For Windows 10, 8, 7 in 2021
Let us scroll through the best alternatives for Easy Duplicate Finder that help you search and find the duplicate content of all types e.g. music, texts. Images and many more. These tools also help you delete the file and several other features that you could possibly ask for to keep the system safe and sound.
1. Quick Photo Finder
The top spot for the best alternative to Easy Duplicate Finder alternative goes to Quick Photo Finder. This is an incredibly easy-to-use program that packs a very generous amount of features within a sleek and intuitive interface. With the help of this tool, you can detect and remove unwanted copies of duplicate and similar photos in just a few clicks. Now, let's have a quick look at some of its most appreciated features.
Prominent Features of Quick Photo Finder
Detects duplicates irrespective of filename and size.
Intelligent algorithms for quick and accurate results.
Auto-mark option for quick selection of duplicates.
Shows you a preview of the scanned photos before deletion.
One-click duplicate removal tools.
Provides group-based duplicate results.
Supports all major image formats.
Supports external storage devices (e.g., pen drive).
---
2. SearchMyFiles
SearchMyFiles is one of the best free Easy Duplicate Finder alternatives. It allows you to search files in your system quickly and offers accurate results. It is free of cost and designed for Windows.
Prominent features of SearchMyFiles
SearchMyFiles allows you to search files in your system based on filters like last modified, file attributes/ content etc.
It offers fast and accurate search.
This alternative for Easy Duplicate Finder is portable and can be used from a USB flash drive.
---
3. DupeGuru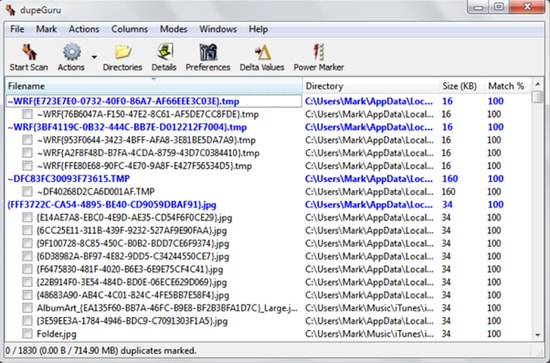 Image Source: Downloadcrew
DupeGuru can be an amazing alternative to Easy Duplicate Finder for Windows. It is an open source and allows you to scan and find duplicate files in your system.
Prominent features of DupeGuru
DupeGuru allows you to scan filenames and content.
This tool even offers a feature that helps you in finding the filenames that are not exactly same.
It is an open source and works well on Windows, Mac OS X and Linux.
---
4. AllDup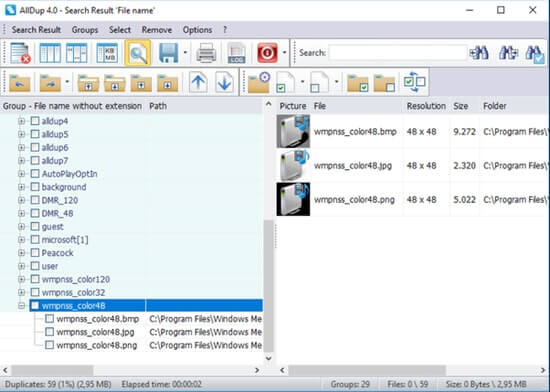 Search and wipe the duplicate files off with one of the best Easy Duplicate Finder alternatives for Windows – AllDup. It performs fast search and allows you to find the files of any type.
Prominent features of AllDup 
AllDup lets you enjoy a quick search on duplicate files and find the files of any type – pictures, music & movies, texts etc.
You can find the files with the same filenames and the files that have similar names.
You can safely and quickly remove the duplicate files.
It is free to use and compatible with Windows.
---
5. CloneSpy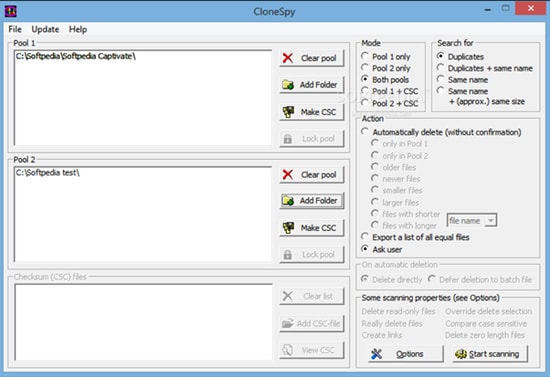 Image Source: Softpedia
Coming to another Easy Duplicate Finder alternative for Windows, it is safe to say that CloneSpy can be a useful tool to help you in finding and cleaning the duplicate file from the system.
Prominent features of CloneSpy
CloneSpy can easily spot the files that don't exactly have the same filename.
It allows you to remove the older versions of any file.
With CloneSpy, you can find the files that have no content.
It is freeware.
---
6. AntiDupl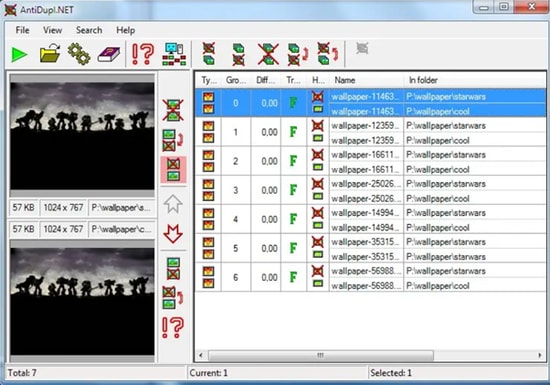 Image Source: Ghacks
If you are done burdening your system with duplicate images and want to do a quick cleaning then perhaps you should go for AntiDupl, an amazing Easy Duplicate Finder alternative to help you spot and wash off the duplicate images. It is open source.
Prominent Features of AntiDupl
AntiDupl allows you to find the images in JPEG, GIF, TIFF, BMP, and PNG.
It allows you to fetch the images that are not exactly identical but similar.
It can also unveil the defected images for you.
---
7. GlaryUtilities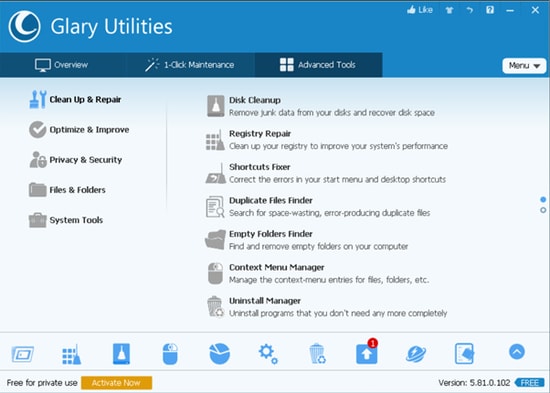 You may want to use GlaryUtilities for the amazing features it will treat you with. It's striking features to speed up and take care of your PC make it one of the best Easy Duplicate Finder alternatives for Windows.
Prominent Features of GlaryUtilities
This tool clears away the cluttered space in your system, speeds up the process and the internet and protects your PC.
It fixes the errors and is available in over 23 languages.
It has a smooth interface, allowing you to keep from any hassle.
It's features are engineered for both common users and professionals and is an amazing option if you want a fast solution.
---
8. Duplicate Cleaner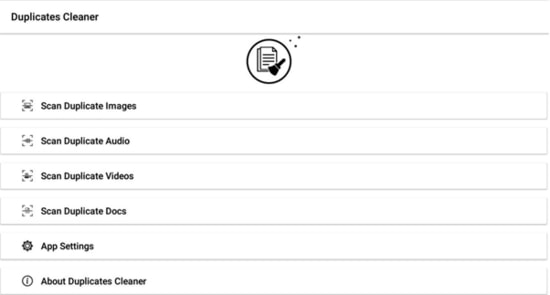 Your search for a perfect Easy Duplicate Finder alternative may end on Duplicate Cleaner. This tool helps you to declutter and organise all types of content.
Prominent Features Of Duplicate Cleaner
Duplicate Finder can easily and quickly find the duplicate content such as audio files, images, documents etc. from multiple locations.
It features the MD5 Hash algorithm to perform the duplicate comparison.
This tool deletes the files to recycle bin.
It supports multiple languages.
---
Wrap-up
That was it for the best alternatives for Easy Duplicate Finder to help you cut the burden off your Windows. These tools, along with their super useful features will keep the system from exhaustion and maintain the process and its speed.
Know a better one? Sure. You can spill everything in the comment section.
Jyotsana is a technical writer with a non-technical background. An eye of detail and a knack for writing helps her to write technology related content.Apart from writing, she is a coffee connoisseur and an aesthete who rejoices in poetry and music during leisure.
Subscribe to Our
Newsletter

and stay informed

Keep yourself updated with the latest technology and trends with TechPout.
Related Posts